The Merdeka Square is designed as four diagonal streets coming together to form an 'X' with the
National Monument
in the centre. These streets divide the square into the North section, South section, East section, and West section. While the South section has been developed into a building complex, the other sections remain open park spaces.
The roads were initially made of asphalt but with renovations in the 1990's, these were changed to French stone pavement. Moreover, a plaza was created at the square's centre around the National Monument.
You'll find that Merdeka Square has two zones: Taman Medan Merdeka (the garden spaces) and Ruang Agung (the grand space) around the National Monument. Taman Medan Merdeka zone has four parks which include small attractions like a bust of Indonesian poet Chairil Anwar, a statue of Indonesian hero Kartini, a deer park, food stalls, and a musical fountain. These areas are used for other activities like football games, jogging, flying kites, and family picnics.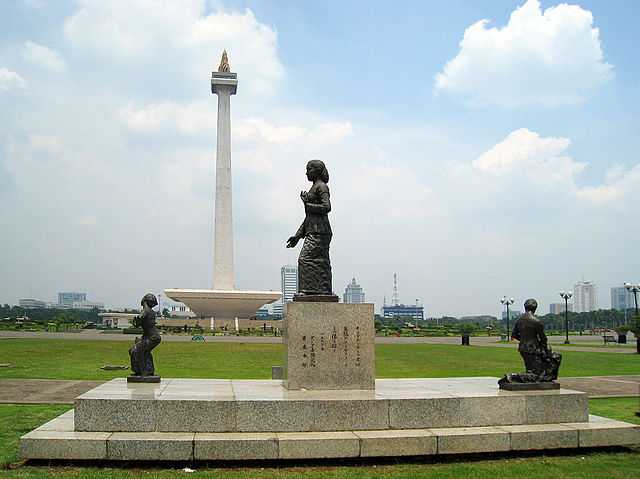 Ruang Agung zone has no trees, assuring full attention on the national monument. It has small grassy areas, a paved plaza, and plenty of decorative plants. This zone is used for national events like military parades, flag-raising ceremonies, and civic demonstrations. Every Independence Day, it is customary for replicas of the national flag and the text of the Proclamation of Independence to cross Merdeka Cross on the way to Merdeka Palace in the morning and in the evening.