When people think partying in
Indonesia
is all about
Bali
, that is where you need to turn your head towards another epic tourist destination of the country. The capital of the beautiful island,
Jakarta
has a blend of history, architecture, metropolitan culture, modernity and nightlife. It is the most populated city in the world after
Tokyo
and stands amongst cities like
Singapore
,
Hong Kong
,
Bangkok
when it comes to modern advancement. It has been an attraction for big companies in Indonesia and people willing to live the dazzling city life. With so many things around the city, people here are looking to let their hair down, especially at night, and the nightlife in Jakarta does not disappoint.

Jakarta's nightlife is popular among the tourists and working class with a large variety of clubs and bars with different themes and choices, as well as night markets for those looking for a change from the usual. We bring you the best nightclubs to go to at night in Jakarta that will make your night just fine!
Nightlife in Jakarta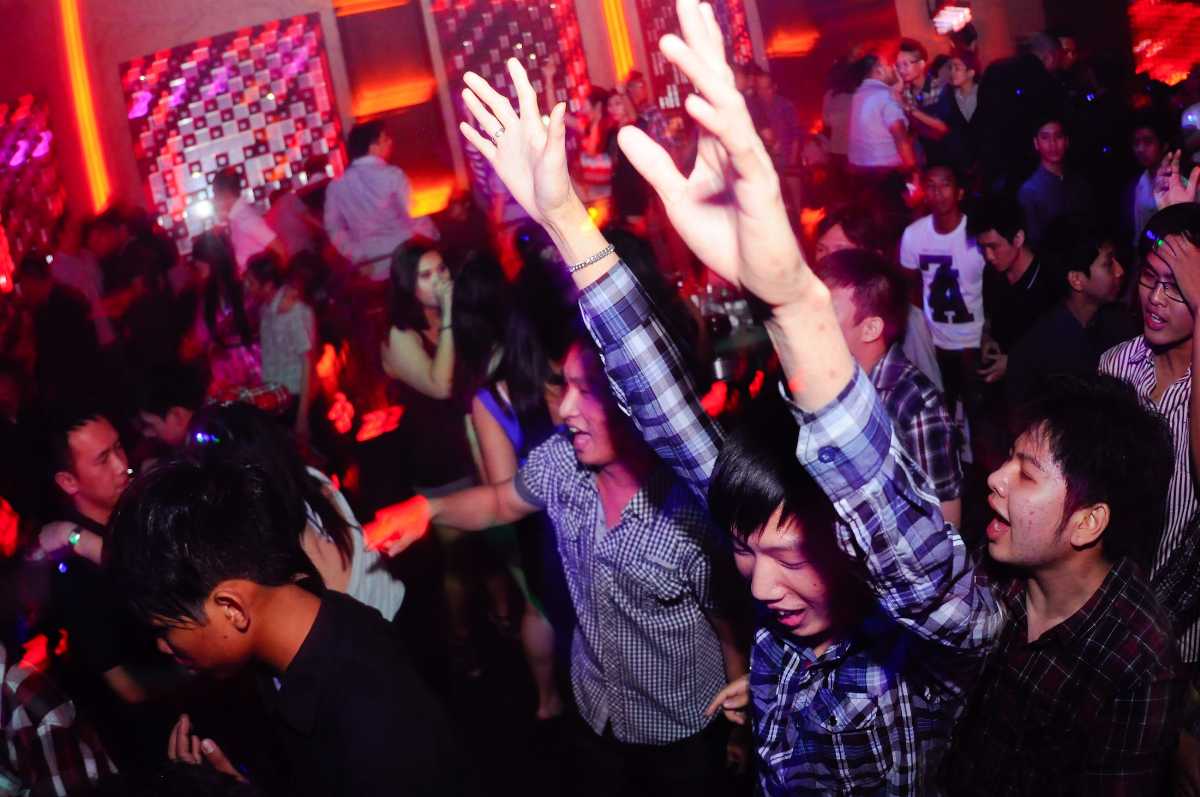 Nightlife in Jakarta is very cosmopolitan and metropolitan in nature and is majorly defined by its clubs, bars and lounges. When it comes to these place, the clubs in Jakarta are category specific. Few bars are meant for partying, while others what corporate crowd prefers and some for backpackers and young crowd.
Jakarta nightlife is expensive due to its metropolitan culture and an entry in a good bar could cost you 100,000 IDR- 300,000 IDR. Apart from this, alcohol is expensive as there is a high tax on the alcoholic drinks, smoking is cheap and hard drugs are strictly prohibited and have legal consequences if you are found in the question. The clubs in the city are very strict about the dress codes. Men are required to wear semi formals and for women, dress and heels. Always carry your ID card as it is checked at the time of entry in most clubs.
Best Nightclubs in Jakarta
1. Dragonfly Club - A Global Name for Jakarta Nightlife
Opening Days:
Friday, Saturday, Wednesday
Timings:
9:00 PM - 4:00 AM
Address:
Graha BIP Ground Floor Lobby, Jl. Gatot Subroto No.Kav. 23, Karet Semanggi, Daerah Khusus Ibukota Jakarta.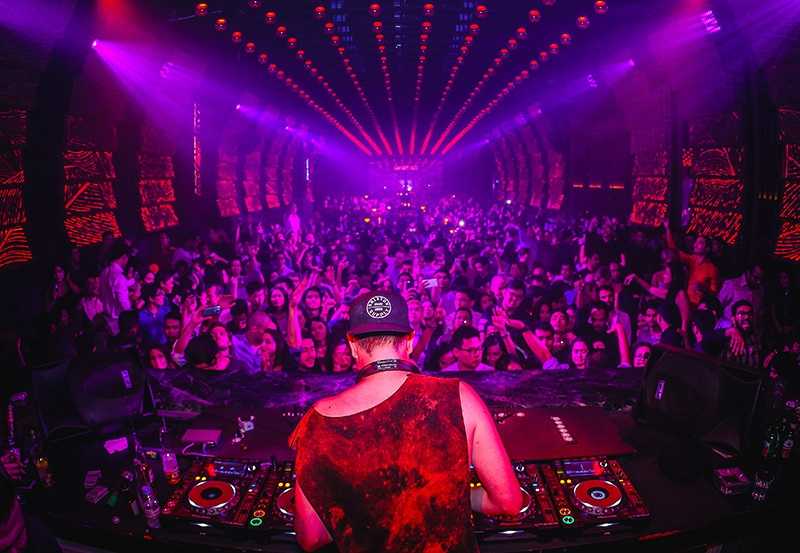 This club was set up in 2004 and has been the top choice of the party goers for nightlife in Jakarta. It has been awarded as the top nightclub in Jakarta and among the top 100 clubs in the world by Mond*dr awards. And the place lives up to its expectations. It is lavish interiors with a modern touch, a huge dance floor and the epic lightening system that will do just too good for a party night. If you are looking for a place to sit and relax while you enjoy your drink, this can again be your place. It has a pretty lounge which is perfect for a party cum chill mood.
Being one of the most popular nightclubs in the country, the alcohol here is very expensive and the entry can cost you as high as 200,000 IDR. There is a strict dress code for both boys and girls. Boys need to wear semi-casual, no ripped jeans, shorts or casual footwear. Girls are required to wear a dress and heels.
2. Colosseum Club - a Huge Club With an Even Bigger Crowd

Opening Days:
Wednesday - Saturday
Timings:
9:30 PM - 4:00 AM
Address:
Jl. Kunir No.7, RT.7/RW.7, Kota Tua, Pinangsia, Tamansari, Kota Jakarta Barat, Daerah Khusus Ibukota Jakarta.
Sprawled over an area of 1,000 sqm that can fit as many as 2000 people at a time, the Colosseum Club in Jakarta is known for its massive size. It has a 16 m high ceiling and a balcony with a view of the city lights. That goes without saying, their dance floor is huge and the DJ playing electro, techno and EDM and just perfect for a party mood. Their light and sound system is just out of this world and with a crowd of the most happening place, this is an apt party destination in Jakarta.
The entry will cost you IDR 200,000 and you will get a drink free with the entry.
3. Blowfish - Party like it's 2050
Opening days
: Thursday - Saturday
Timings:
9:00 PM - 4:00 AM
Address:
City Plaza at Wisma Mulia, Jalan Gatot Subroto No.3, Kuningan Barat, RT.3/RW.2, Kuningan Bar., Mampang Prpt., Kota Jakarta Selatan, Daerah Khusus Ibukota Jakarta.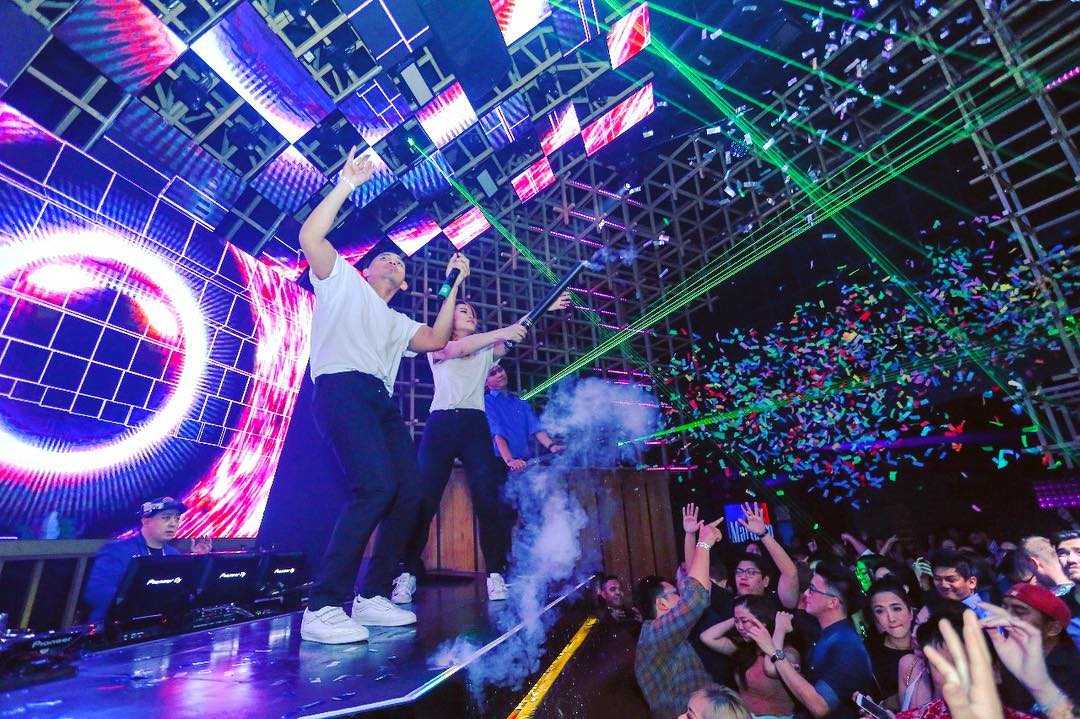 Blowfish is a venture by the same group who brought Dragonfly to Jakarta and it is yet another place to experience the best of Jakarta nightlife. Blowfish has an interior to make you feel like you are in the future. The amazing lighting of this club in Jakarta is not just for the ceiling, but for the walls and on the wooden flooring as well. Their interiors and lightening system is to die for and offers a perfect party ambience. To complement it, they have some of the finest DJs of the country playing for them and they have hosted international DJ such as Yellow Claw, Afrojack, Richie Hawtin to name a few.
Blowfish is known for the young and hip crowd looking for great music and party experience. They have a mini stage where you can see some sexy moves by the dancers while you drink off their long menu of drinks.
4. Empirica - Elegance Redefined in Jakarta
Opening Days:
Thursday - Saturday
Timings:
10:00 PM - 4:00 AM
Address:
SCBD Lot. 8 Hall A, Jalan Jendral Sudirman No.Kav. 52-53, RT.5/RW.3, Senayan, Kebayoran Baru, RT.5/RW.3, Senayan, Kby. Baru, Kota Jakarta Selatan, Daerah Khusus Ibukota Jakarta.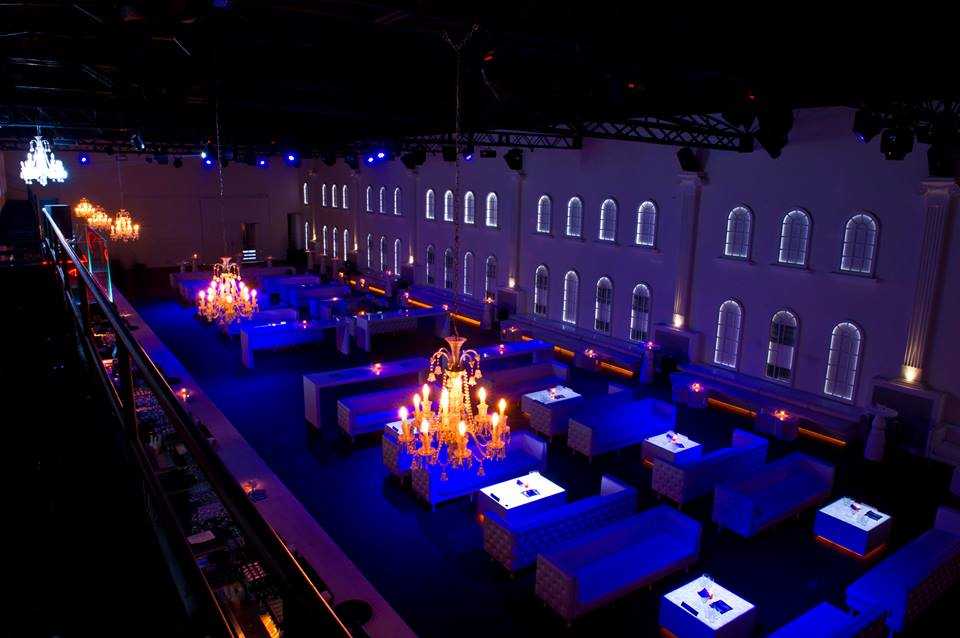 There is a time when you want to let loose in a party and there are times when you want to enjoy your drink in peace. If you are in a mood for the latter, there is no better place than Empirica in town. It is the plushest lounge that Jakarta has ever seen. If you're looking for a more classy experience of Jakarta nightlife, this is the place that stands out from other places with their state of the art interiors. They have a whole floor dedicated to the comfortable seating with the LED lights adorning the interiors. That's not all, their furniture is also lit by the beautiful LED lights that are controlled on the beats of music. How amazing is that?
It is spread over an area of 1000 sqm and they have a huge bar which is 38 m long, and it is claimed to be the longest bar in Asia. They host multiple DJs from time to time and hosts the socialites of the town.
5. Fable - International Nightlife Brought to Jakarta
Opening Days:
Wednesday - Saturday
Timings:
10:00 PM - 4:00 AM
Address:
53 lot, 14, Fairgrounds Lantai 2, Jl. Jend. Sudirman, RT.5/RW.3, Senayan, Kby. Baru, Jakarta, Daerah Khusus Ibukota Jakarta.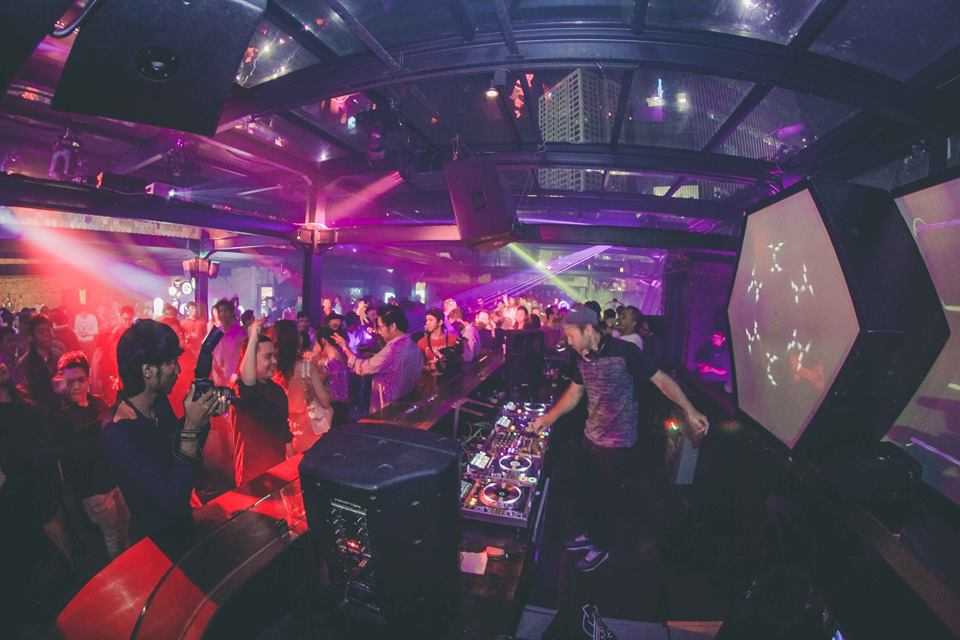 What happens when you're looking for something fun from Jakarta's nightlife options, and you can't decide if you want to party hard, enjoy good drinks in a lounge or just want to have a good dining experience, what do you do? Would you not like if you could do it all at once? Fable is where you can have it all in one night. One thing that makes Fable so distinctive is its architecture. Enclosed in a glass space it has a huge space suited both for dining, lounge and clubbing experience. It is spread over an area of 1500 sqm and has a comfortable seating area with the massive dance floor, LED lights and throbbing sound system. A perfect place to party all night long. It hosts generally the young and riches of the city who makes the ambience very lively.
They are known to host the best country and international DJs. The entry fee on the normal days when in-house DJ is playing is 150,00 IDR while it can go up to 250,000 IDR when an International DJ is playing in the house.
6. Jenja - Bali's Favourite Nightclub now in Jakarta
Opening days:
 Wednesday - Saturday
Timings:

Wednesday - Thursday: 9:00 PM - 4:00 AM
Friday - Saturday: 10:00 AM - 4:00 AM
Address:
Cilandak Town Square Lantai 1, Jl. T.B. Simatupang Kav. 17, Cilandak Barat, Cilandak, RT.2/RW.1, Cilandak Bar., Cilandak, Kota Jakarta Selatan, Daerah Khusus Ibukota Jakarta.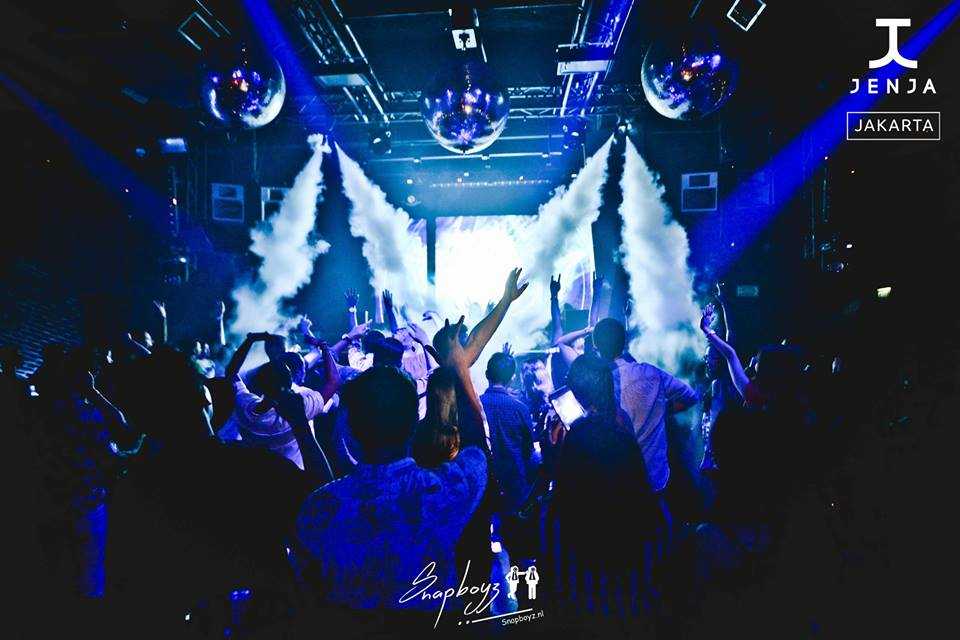 After the success of Jenja in Bali, they decided to bring it to the capital city in Jakarta. Jenja is known for its performances by DJs from all around the world. They have a crazy light and sound system to match the tipsy beats of the DJ. If you are looking for a party place in Jakarta with amazing people and the young crowd who loves to dance as much, then Jenja is where you should be for the party. It has people from different walks of life, the students, the young people, the expats, the corporates and the travellers. Jenja has huge space. It boats off six comfortable lounge areas and one VIP lounge which is enough to make your party with lavishness.
Best Rooftop Bars in Jakarta
That was all about nightclubs in Jakarta which is the best way to experience the nightlife of Jakarta. If the nightclubs in Jakarta is not your idea of the perfect nightlife experience, you should check out one of the many rooftop bars in Jakarta. Here are some of the best rooftops bars we have picked out for you.
7. Cloud Lounge - Sophistication above Jakarta's Skyline
Timings:
4:00 PM - 2:00 AM
Address
: Altitude The Plaza Office Tower Lantai 46&49, Jalan M.H. Thamrin No. 28 - 30, RT.9/RW.5, Gondangdia, Menteng, Kota Jakarta Pusat, Daerah Khusus Ibukota Jakarta.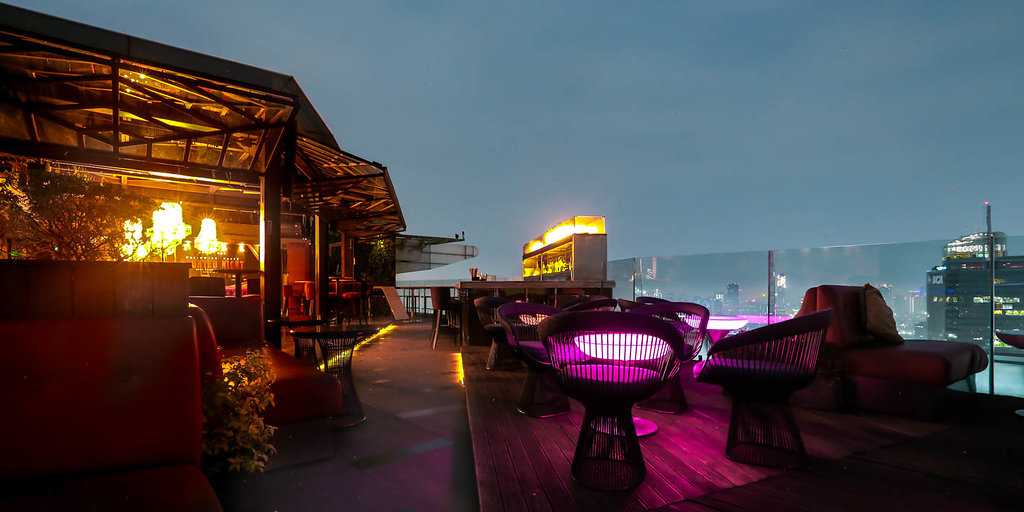 It is located on the 49th floor of the building dedicated to the Altitude of the Plaza and you can't imagine the views that you gonna get from here. Cloud Lounge offers the 360-degree views of the city's skyline. This rooftop bar in Jakarta is known for its sophisticated ambience with an extensive menu of cocktails and drinks and the super fine dining restaurant. Their USP is the zero degrees vodka room which offers the great experience of drinking vodka in sub-zero temperature.
They have a dress code of simply elegant to match up with the standard of the place, promising a classy experience of Jakarta nightlife.
8. Karumba - Rooftops with Rum in Jakarta
Timings:
12:00 PM - 1:00 AM
Address:
Jl. R.A.Kartini No.18, RT.7/RW.7, Lb. Bulus, Cilandak, JAKARTA, Daerah Khusus Ibukota Jakarta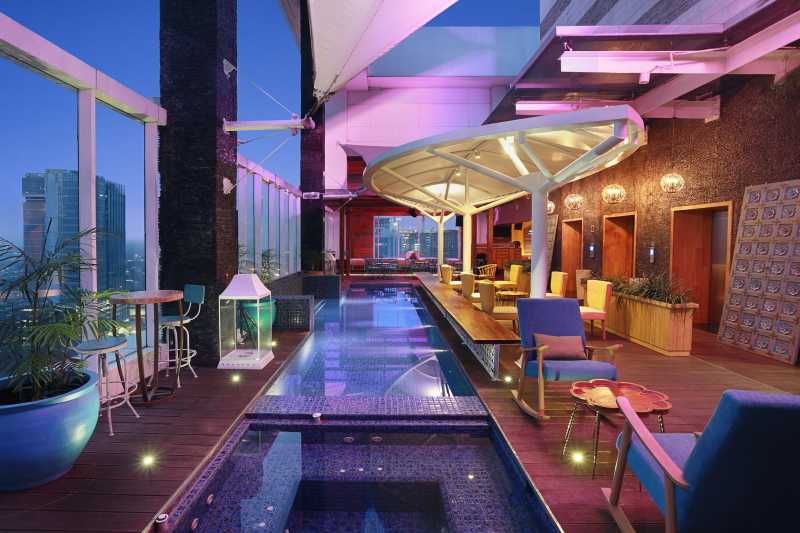 The Karumba Jakarta is probably the most beautiful lounge in the city when it comes to interior design. Apart from being one of the top rooftop bars in Jakarta, they have open seating, they have an indoor pool and the views that will make your drinks and food better. Their interiors are inspired by the Caribbean West Indies culture. Karumba is known for its variety of drinks so much so that they label themselves as the only rum bar of the city. If rum is your poison, then this is Jakarta nightlife experience you can't miss.
9. Lucy in the sky - Disco cum Rooftop
Timings:
4:00 PM - 1:00 AM
Address:
SCBD, Jalan Jendral Sudirman No.55, Senayan, Kebayoran Baru, RT.5/RW.3, Senayan, Kby. Baru, Kota Jakarta Selatan, Daerah Khusus Ibukota Jakarta.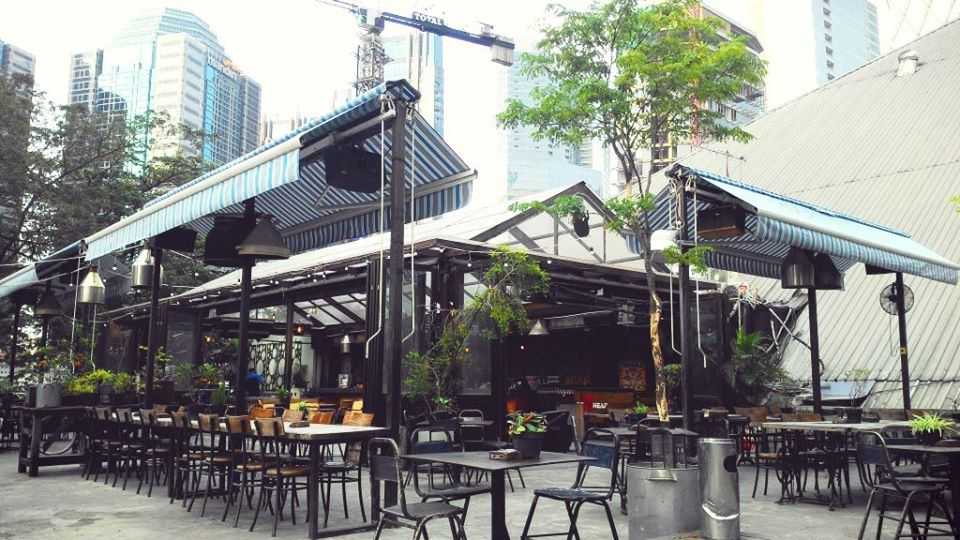 Lucy in the sky is a place meant for some chilled out nightlife in Jakarta with lots of vibrancy in the atmosphere. It is located on the second floor and their distinctive feature is that their interiors are entirely made from recycled material. They have a huge variety of the drinks, which is affordable as compared to the other places in town. They serve wine, signature cocktails and mocktails, beers, rum and other drinks as well. Music is simply perfect to match the ambience of the place and would keep you fun-filled for the night.
10. BART - Bar At The Rooftop like never before
Timings:
5:00 PM - 1:00 AM
Address:
Jl. Sunda No.3, RT.8/RW.4, Gondangdia, Menteng, Kota Jakarta Pusat, Daerah Khusus Ibukota Jakarta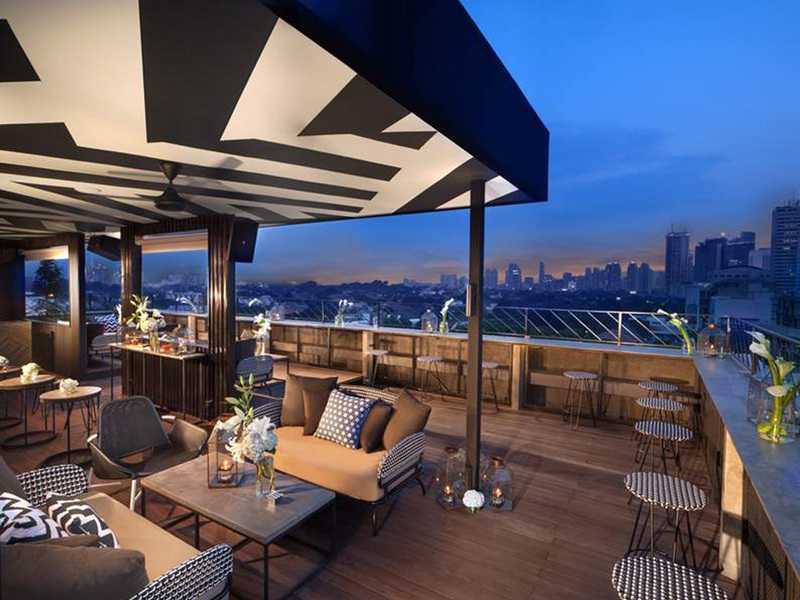 BART stands for Bar At The Rooftop and they have a distinguishing feature that will catch your attention the moment you enter the place. BART has a monochrome theme and all the interiors and designing is done in black and white. It is located on the 7th floor of the Artotel hotel and you can witness a beautiful sky and sunset from the rooftop. Make yourself home with their delicious food menu and an expansive drink menu, and enjoy serene view of Jakarta's night from this divine rooftop bar.
11. Sky Pool Bar Cafe - Enjoy a Pool with a View
Timings:
9:00 AM - 10:00 PM
Address:
RT.1/RW.5, Menteng, Central Jakarta City, Jakarta.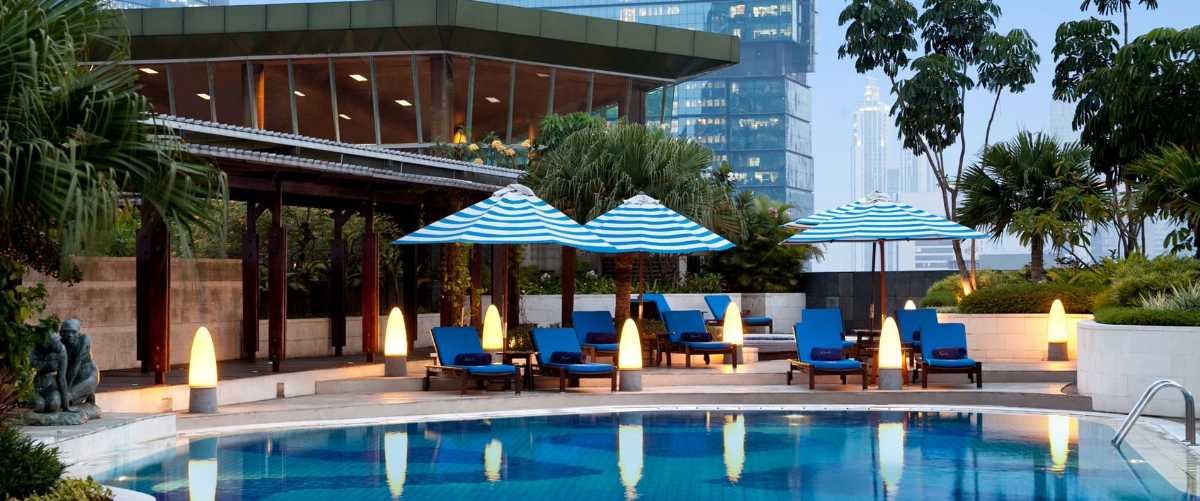 If you are in a mood for a pool party, then be ready for a great experience of this rooftop bar in Jakarta, the Sky Pool Bar. They have a huge open pool coupled with the bar and a 360-degree view of the city. Located on the 17th floor of the Kempinski Hotel, this poolside bar has plush seating and soft lights that are not only perfect for a relaxing evening but also sets the mood for a romantic splurge. They specialize in local and Asian cuisines, and they also have a BBQ session along the pool. Now, tell me if nightlife in Jakarta it can get any better.
12. SKYE Bar and restaurant - Enjoy Jakarta from the 56th Floor
Timings:

Monday - Friday: 4:00 PM - 1:00 AM
Saturday - Sunday: 4:00 PM - 2:00 AM
Address:
BCA Tower Lt. 56, Jl. M.H. Thamrin No. 1, RT.001 / RW.005, Menteng, RT.1/RW.5, Menteng, Kota Jakarta Pusat, Daerah Khusus Ibukota Jakarta.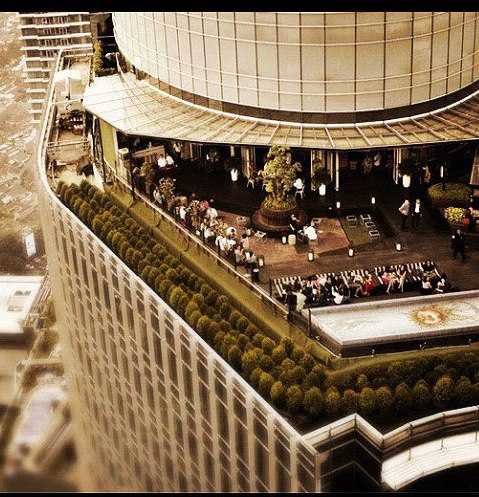 Located on the 56th floor of the BCA towers, one thing you will not compromise on at this rooftop bar in Jakarta is the views of the whole city that you will witness from here. It has a huge open space and even better menu and bar. The decor of the place has a South American touch. Known for their signature and unique cocktails so make sure you ask them and try as many as you can while you are here. They have a rooftop pool, meaning that pool parties are a part of this experience of Jakarta's nightlife. This place will give you a plush experience at a slightly high price, but it's worth it!
13. 33-degree Skybridge - Elegance with a Rooftop
Timings:
Tuesday - Sunday: 3:00 PM - 12:00 AM
Address:
Aston Marina Mediterania, Tower A Lantai 33, Jl. Lodan Raya No. 2A, Ancol, Jakarta.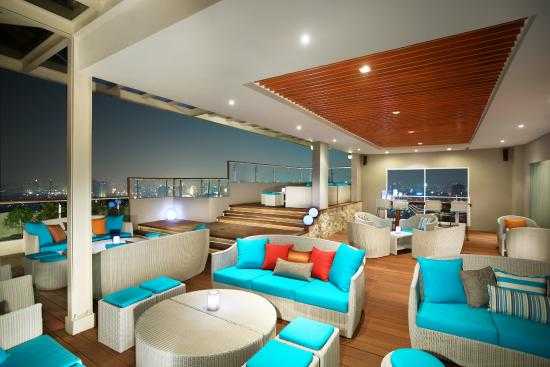 The 33-degree Skybridge has one of the prettiest setups of all the rooftop bars in Jakarta, guaranteed to dazzle you when you will see their seating, a combination of sky blue and white with minimal efforts. Make yourself at home with the comfortable ambience and their delicious dishes. The USP of this place is that not only you will get the stunning views of the city but the shores of Jakarta with the oceans as well. Space is divided into two parts, the bar and dining area which is connected by a bridge and hence the name. This place is known for the unique dishes and Spanish tapas, which are probably the best in town.
Night Markets in Jakarta
If you want to explore the local culture and go shopping at night, the night markets in Jakarta are the places to be. Locally referred to as Pasar Malam, the culture of night markets isn't very popular in the city, but are definitely worth a visit to witness local culture. It is perfect for those looking for a taste of Jakarta's nightlife that doesn't involve parties and alcohol. Moreover, they get lively during the festive season, a real treat for culture buffs. Don't forget to go nuts on the numerous food stalls found at these markets, serving up some amazing Indonesian street food.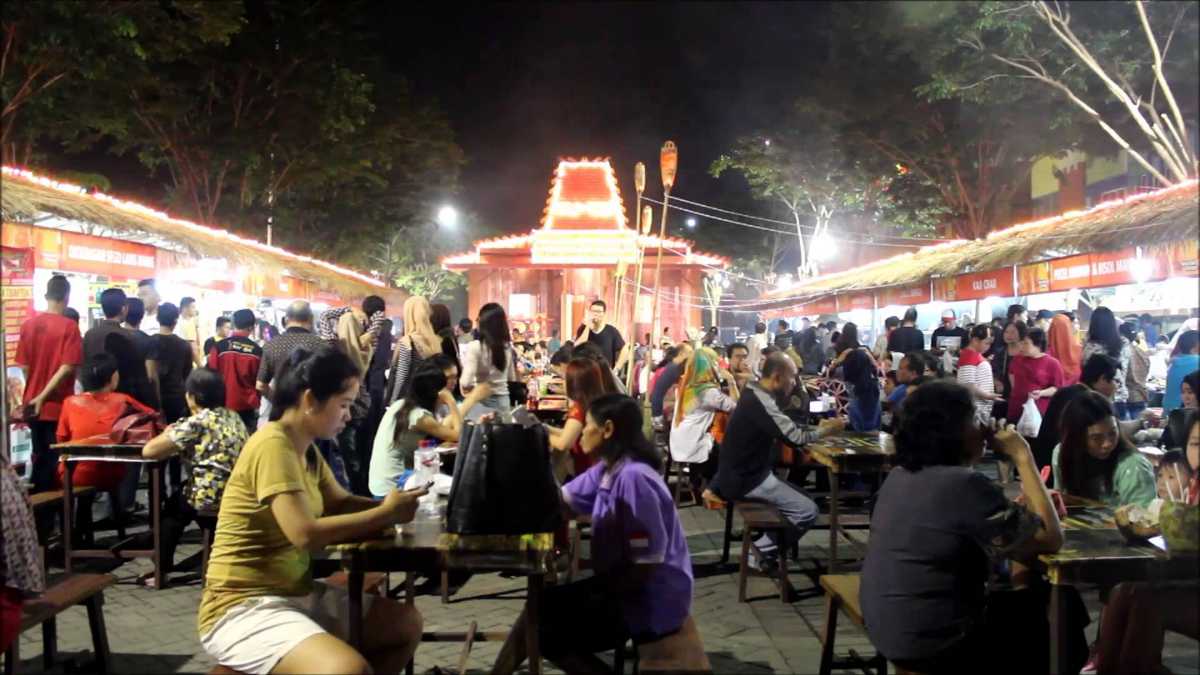 Here are the 3 best night markets in Jakarta.
14. Santa Night Market - A Taste of Local Life in Jakarta
Timings:
Morning till midnight
Santa night market is filled with housewives during the day but as the night approaches it is made lively by the young crowd and tourists. Apart from the famous food stalls and a number of local dishes you will find vintage stores, shoe stores and other small stalls around this night market in Jakarta. You might not go here for a typical shopping experience, but a stroll around the market for food is worth a visit.
15. Kota Tua Night Market - A New Experience in the Old Town
Timings:
5:00 PM- 12:00 AM
Kota Tua
is the old city area of Jakarta and is very popular among the tourists. It has a number of colonial buildings which becomes picture perfect at night. Tourists come here for Dutch architecture and history. While visiting this site of Indonesian heritage, they can also buy little souvenirs, indigenous products and local handicrafts from this night market in Jakarta. You can also rent a bicycle from here to explore the market better.
16. Pecenongan Night Market - The Foodie's Paradise in Jakarta
Timings:
6:00 PM- 12:00 AM
The Pecenongan Night Market is what foodies should look for when they are considering their options for nightlife in Jakarta. If you want to try different varieties of local food at one place at affordable prices then this market will offer you a great variety of food. Most dishes are non-vegetarian and some of the unique local delicacies can be found here at reasonable prices.
So there you have it! Whether you fancy breathtaking views at rooftop bars, sipping cocktails by the pool, dancing away the night or strolling through a market with the locals, the nightlife in Jakarta is sure to have what you're looking for plus a little more. We guarantee that you'll be back for more.