Temples and Churches
1. Marikamba Temple
Also known as Doddamma Temple, Marikamba Temple is a place where goddess Durga resides and gives blessings to the tourists. Built in 1688, this temple is home to a fierce idol of goddess Durga with eight arms sitting on a tiger and killing a demon. The goddess is also called Renuka and Yellamma. The architecture of this temple is splendid making it a must visit place.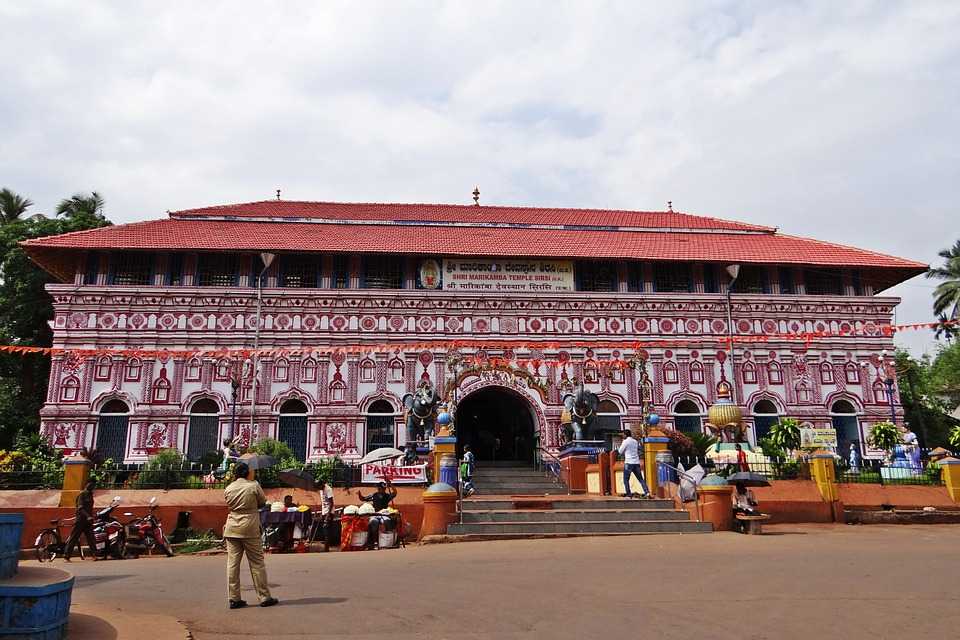 2. St Anthony's Church
Built to resemble an upside down boat, St Anthony's Church is a pristine place attracting people from all walks of life. The splendid architecture and tranquil aura that surrounds the church makes it a must visit. If you are travelling to Sirsi during weekends, make sure to attend the Sunday mass in the church. The Hymns are sung melodiously in a native language which will brighten not only your morning but the whole day.
3. Sri Mahaganapathi Temple
A favourite among the devotees, this holy shrine of Lord Ganesha located in the centre of Sirsi witnesses a large number of people coming to seek blessings every day. The large idol of Ganesha which stands 183 cm tall is carved in Hoysala style and is believed to have existed for the past 400 years. The temple was constructed by the ruler of Sonda Dynasty and was later renovated.
4. Sahasralinga Temple
Located 17 km away in the small village of Shalmala, Sahasralinga Temple was built in 1678 by the ruler of Sirsi, Sadashivaraya. The name of the temple translates to 1000 Lingas, this temple is replete with Lingas with a 'Nandi' in front of each of them. Devotees flock to this place during Maha Shivratri and take part in the celebrations and rituals in large number. The Lingas are carved amidst water and provides with a spectacular view.
5. Infant Jesus Church
A holy shrine dedicated to the early days of Jesus is one of the oldest churches in Sirsi. The church is famous for its architecture. Make sure to visit this church and light candles inside its chambers.
6. Ambagiri
Located on one of the hills in Sirsi, this temple is the place of worship of goddess Sri Kalikbhavani and Sri Ramakrishna Kalikamatha. Being at an elevation, this place provides a mesmerizing view of the whole city.
7. Shri Subrahmanya Temple
Dedicated to Lord Subrahmanya, this is one of the oldest temples in Sirsi. Popular amongst the devotees, this place is always full of people seeking blessings and making offerings. The temple is filled with celebration during Rathotsava and it is the best time to visit it.
8. Shri Shidhara Paadukashrama
The shrine of Shridara Swamiji's padhuka, this holy place is filled with quietude and an ideal place to introspect and pray. A number of devotees from all over Karnataka visit this temple and purge their souls.
9. Shri Raghavendra Swamy Mutt
This pious place where the rituals of a lot of marriages commence every year. A shrine of Raghvendra Swamy is situated in the mutt and is visited by a lot of people to seek blessings.
10. Shri Gopalkrishna Temple
Shri Gopalkrishna Temple is an ancient temple where people come to seek blessings from Lord Krishna. This temple has splendid architecture. It is a must visit to feel the positive vibes and energy that can be felt in this temple.
Waterfalls
1. Burude Falls
Burude Falls is located 55 km away from Sirsi and it is accessible through trekking only in summer. During the monsoon season the way becomes muddy and slippery. Burude translates to skull in Kannada, but even after the strange name this place is mystical. The waterfall is very long full of gushing water and a perfect place to unwind.
2. Muregar Falls
At a mere distance of 22 km, there lies another mystical waterfall hidden between trees. The Muregar falls is petit and a perfect place to play around with water. It also known as Teppige falls and Daggumane Falls. Amidst the waterfalls you will be able to see Shivalingas and carvings of Gods like Ganesha, Shanmuka on the rock surrounding the waterfalls.
3. Unchalli Falls
Discovered by J.D. Lushington, a British Government Collector, Unchalli falls is also called Lushington Falls. Located 20 km away from the city of Sirsi, this waterfall is 116 meters long and merges into Aghanashini River. To see the beauty of this waterfall you will have to undertake a trek of 5 km through picturesque forest and it will be totally worth.
4. Mattighatta Falls
Popular by the name of Hasehalla Falls, this fall is a like a gem hidden from the public eyes. The waterfall lies deep inside the forest and involves a lot of trekking because of which many travelers do not visit it. But this place is as beautiful as heaven surrounded by vivid butterflies and endangered birds.
5. Magod Falls
At a distance of 60 km, Magod Falls is a collection of several small waterfalls that originate from Bediti River. The Magod falls are spread over an area of 17 km and are major source of water to many villages. The mist surrounding the waterfalls makes it look magical and it is a must visit.