Flora:
The vegetation in the park is mostly temperate and alpine, stretching right up to the snowy mountains. The most dominant Flora found in the Singalila National Park is Bamboo, Oak, Magnolia, Rhododendron, Primula, Geranium, Saxifraga, Bistort, Senecio, Cotoneaster, etc. There are also a variety of orchids found in the park. During the spring months of March-April, you can see around 20 different types of rhododendrons blooming in colourful hues all across the park. Over 600 varieties of orchids and ornamental primulas carpet the forest floor creating a beautiful panoramic view.
Fauna:
Singalila National Park is the home to very exotic and rare red panda and Himalayan black bear that can not be found anywhere else in the country. Apart from that, you also get to see leopard, pangolin, chinkara, elephant, barking deer, etc. in their natural habitat. The main speciality of the park is the very rare red pandas. There are around 32 of them, so consider yourself lucky if you spot one. They are herbivores and mostly found devouring the bamboo leaves and fruits. Another significant and exotic animal is the barking deer that looks like a small deer with short horns but bark like dogs. You can also spot the rare lizards here like amphibians Himalayan Newt. Occasionally even tigers can be seen in the park.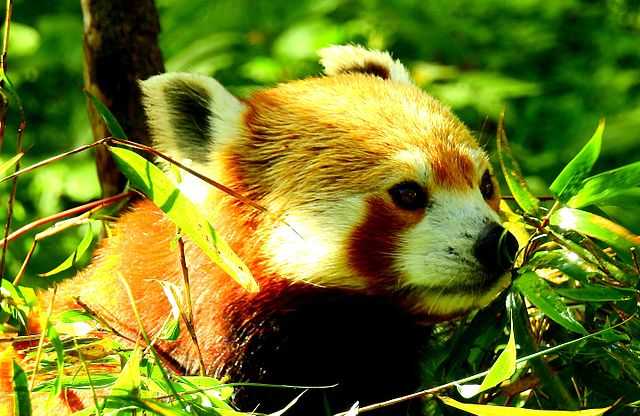 Avifauna:
A delight for the bird watcher, Singalila National Park houses more than 120 varieties of both common and rare birds like scarlet minivet, kalij pheasant, satyr tragopan, blood pheasant, etc. It also serves as a temporary home for migratory birds. Some of the popular birds in the park include long tail minivet, blood pheasant, Black-throated & brown parrotbill, robins of many types, cuckoo, slender-billed babbler, satyr tragopan, fire-tailed myzornis and lot more. It is one of the most popular birding spots in Eastern India, attracting thousands of people during the blooming season.
Unlike most of the other national parks, there are no watchtowers here to see all the varied flora and fauna. The gravel road that passes through it is the only place accessible to human beings to see the biodiversity. It is strictly prohibited to venture into the forest as there are several deep gorges there that can be very dangerous.