The king of markets in Bangkok, and one of the largest markets in the world, Chatuchak is spread over 35 acres with more than 8,000 stalls. Everything ranging from clothing, accessories, handicrafts, furniture, art, food, books, antiques, and many more interesting souvenirs are is available here. Keep your bargaining skills ready to enhance your shopping experience at this bustling market.
What is the Chatuchak Market?

Also known as Jatujak or 'JJ' market by locals, Chatuchak Market is one of the world's largest outdoor markets. It is hugely popular among tourists and locals alike for its most extensive variety of goods. Each day, it sees over 200,000 visitors seeking the best buys.
This weekend market in Bangkok has been open since 1942. It was formerly called Phahonyothin Market, but the name was changed in 1987. It received the name 'Chatuchak' from the close by a park of the same name. Chatuchak Market is divided into 27 sections (each intended to sell a different kind of product, although these sections often overlap) that cross 65 small lanes from the main walkway encircling the market. These small lanes are numbered as Soi 1, Soi 2, and so on. While locating a certain product in the market might be difficult, the numbered lanes and shops mean that it isn't too hard to find a particular store. A visit to the market is a full day's trip to explore all the shops adequately. We'd suggest coming early to Chatuchak Market to beat the crowds and spend the day wandering these lanes, even grabbing a bite at their many food stalls.
The market is most popular on the weekends. Open from 9:00 AM to 6:00 PM on Saturdays and Sundays, Chatuchak Market sees large crowds during these days varying from tourists making one last shopping trip before their departure to locals making their monthly purchases. On Fridays, the weekend market is open from 6:00 PM to 12:00 AM.
Map of Chatuchak Market

How to Reach Chatuchak Market?
To reach Chatuchak Market, you can take the sky-train (BTS) to Mo Chit station to exit #1 which is a short walk away from the market entry. Or you can take the subway (MRT) to Chatuchak Park station and walk from there. Both options are both cost and time-effective. If you'd like, you can take a local taxi although these drivers often charge inflated prices of THB 100 to the market.

What to Buy in Chatuchak Market?
The different sections are intended to sell various kinds of products. According to the Chatuchak Market website, the divisions are:
Section 1 : Books, collectables, cafes, food shops
Sections 2-4 : Home décor, paintings and pottery
Sections 5-6 : Clothes, adornments and miscellaneous products
Sections 7-9 : Furniture, handicrafts and antiques
Sections 10-23 : Clothes, household appliances, pet accessories and consumer products
Sections 17-19 : Fresh and dry food
Sections 22-26 : Furniture, crafts and antiques and Section 27 for books, food shops and collectables.
Public toilets are available near the entry and exit gates of the market. You can use them for a nominal fee of THB 2.
As you can see, there are overlaps between the sections. Antiques, in particular, are prevalent sales here. However, it's best to stay cautious about these. Remember to always check your goods for any signs of damage as Chatuchak Market is notorious for re-selling factory rejects. As documentation of authenticity will be hard to obtain from these small shop owners, it always remains in question. If you are particular about buying antiques, you can choose to bring an expert along while shopping.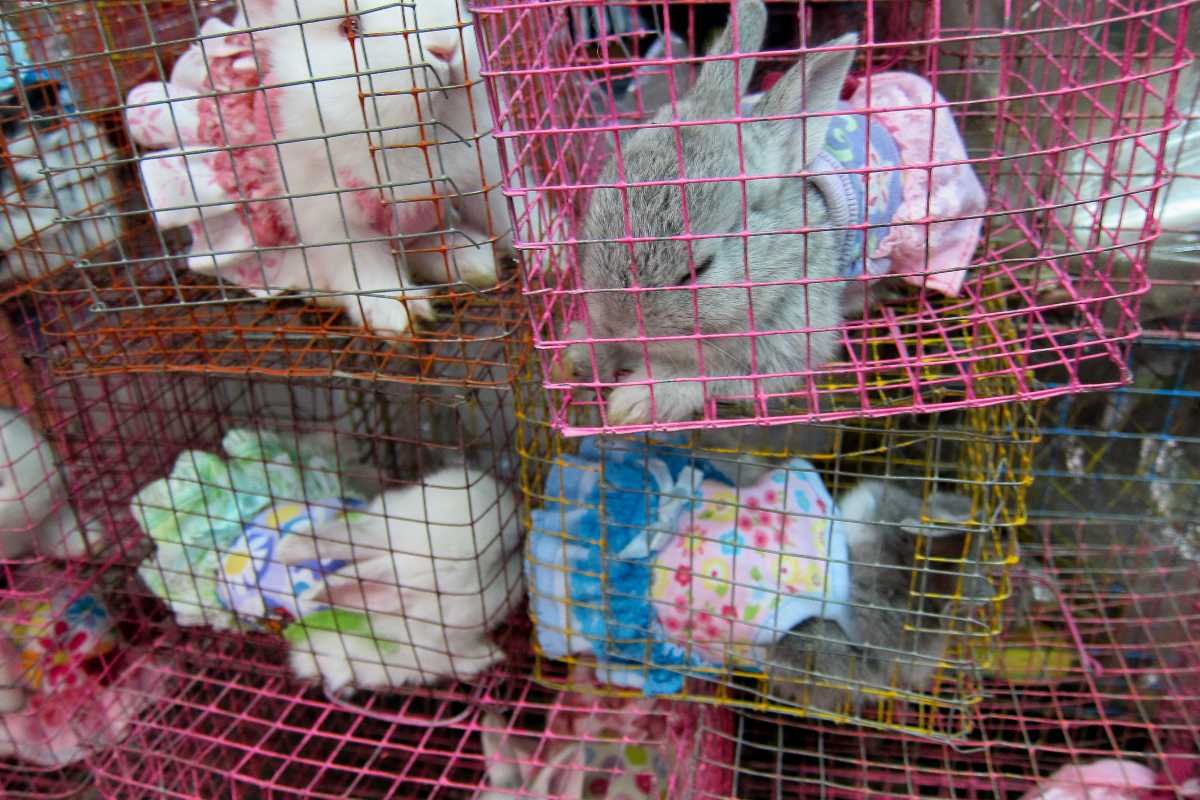 While it could be tempting to play with the adorable animals being sold in the market and possibly take one home; do remember that Chatuchak Market's sections for pets and pet accessories are notorious for illegal wildlife. Research by animal welfare groups has found that this market houses multiple endangered species for sale. Stronger regulations by the
Thailand
government have improved the situation in recent years, but this continues to be a significant problem.
While shopping for clothes, don't be swayed by the brand names. Just like the case with antiques, the shops here often sell second-hand clothes, or factory rejects. Check the quality of the material and look for any signs of damage (loose threads, stains, missing zippers and the like) before you spend any money. The market could be a fun place for budget shopping but it isn't hard to be duped either.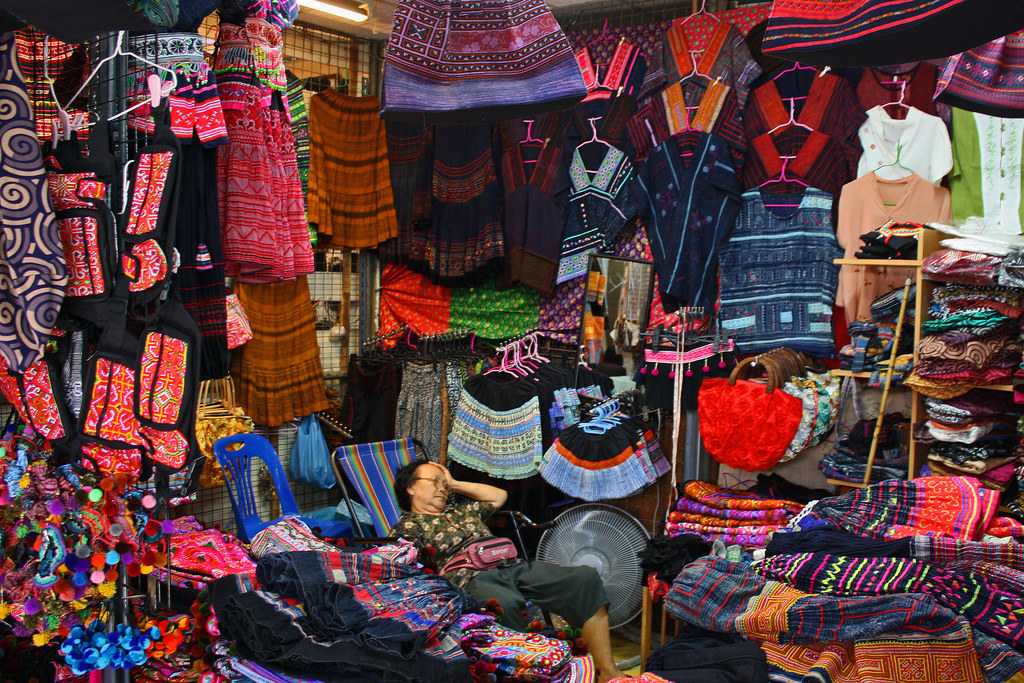 Grab a Bite at Chatuchak Market
Of the market's 15,000 stalls, at least 500 stalls are dedicated to food and drinks. This means that there are plenty of culinary delights to be explored here. From traditional Thai street food and seafood to continental and Spanish cuisine, you'll be spoilt for choice.
Coconuts are bountiful in Thailand and are very prominent in their cuisine. One of the most recommended food items at Chatuchak Market is their yummy coconut ice-cream. It is soft, juicy and a welcome change from the humidity of the market. There are multiple ice-cream vendors on the market where you can buy coconut ice-cream for approximately THB 60. Other Thai street foods include honey roast pork called 'moo yang' and water chest in gelatinous rice flour called 'red ruby'. They can be bought for THB 35-45 depending on the vendor.

For other savoury dishes, you can try the chicken noodle soup for THB 50. In Section 8, a Spanish food vendor sells delicious paella (a Spanish staple of seafood and rice) for THB 150. End the meal with fresh juices available for THB 30. There is a food stall called Mango Tango on the side-roads of the Chatuchak Market entry that specialises in scrumptious mango desserts. Their pricing starts at THB 39.
Mobile Application Guide to Chatuchak Market
If the market should get too confusing, you can always refer to the Chatuchak Guide app. It includes a live map, search functions and regular updates on promotional offers. Available on both iOs and Android, it could be quite useful during your shopping trip. But if you'd like to shop old-school style, there are free maps available at the market's information kiosks.
Tips For Travellers
Be prepared to bargain a lot. Most items are heavily overpriced. But with a little bit of convincing, you can get great deals for most things you purchase.
Remember to dress smartly in light clothing. The weather can be hot and humid. Wearing sandals or sneakers is highly recommended.
Carry a backpack to keep your all your items after purchase. A lot of the shops will not provide carry bags.
Cash is a must! Most of the vendors do not have card machines or other forms of electronic payment.
Vigilance is a good trait to have when shopping here. There are a lot of pickpockets who hang around in the market area. So always be careful of your wallets, watches and mobiles while shopping.
In the rainy season, the market area turns mucky. Most shops remain closed or close early. Avoiding the market during this time is highly advised.
No matter what you seek at Chatuchak Market, you're bound to find it at fairly reasonable prices. From unique furniture and collector's items to budget clothing and pet accessories, you'll walk away feeling quite satisfied with your loot.