"Only let this one tear-drop, this Taj Mahal, glisten spotlessly bright on the cheek of time, forever and ever." - Rabindranath Tagore
A celebration by the day, of Agra's tourist rush, of native pride and of all the tales of love and history it is spun about and keeps guarded in its walls which escape occasionally leaves its visitors in awe at night. Taj Mahal post-sunset is sparkling, unreal, and glowing white.
WHEN: Viewing the Taj Mahal at night is available on five days on a month, including a full moon night and two nights before and after the full moon. All these aspects, the dates and the timings for the night viewing of the Taj are decided by the Archaeological Survey of India. Viewing the Taj Mahal at night takes place between 8:30 pm to 12:30 am in 8 batches of about 50 people for about 30 minutes each. Hence, only 400 people are allowed on a single night.

While visiting the Taj Mahal at night, visitors are required to reach half an hour before their scheduled time at the Shilpagram complex. They aren't allowed inside the monument at night and can view the Taj Mahal only from a bit of a distance. All belongings and luggage have to be deposited at a security counter before the night viewing starts. Video cameras are not allowed inside the monument during the night viewing.
TICKETS: Tickets for viewing the Taj Mahal at Night have to be bought 24 hours in advance from the booking counter of the Archeological Survey of India, 22 Mail Road, Agra(Contact no. 0562-2227261, 0562-2227262).
Indians (Adult): Rs 510
Foreigners (Adult): Rs 750
Children between 3 – 15 years of age: Rs 500
Children below 3 years of age: Free Entry
The monument, however, remains closed for night viewing on Fridays and during the month of Ramzan. Apart from these, the following calendar for full moon nights is followed. Since the dates are based on astronomical calculations, they tend to vary and it is recommended that you call and check the dates before planning your trip.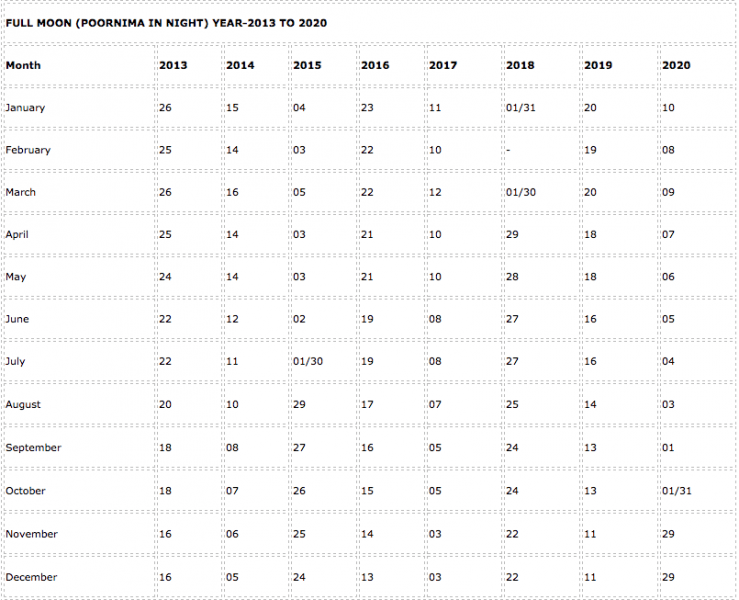 Taj Mahal Night Viewing Stay Packages
Since Night viewing at Taj Mahal has become popular of late, quite a few hotels and resorts in Agra have been offering certain packages meant only for this purpose. Places like the Radisson Blu at Agra offer amazing packages to tourists, especially couples who come to visit the Taj Mahal on a full moon night. Prices vary from to room. Plenty of local tour operators also arrange packages based on the night viewing of the Taj Mahal.
Tips:
It might be preferable to choose the later batches, as the moon may not always be high enough or visible clearly during the early batches.
Be prepared for pretty strict security checking during night views.
Bags and mobile phones aren't allowed inside the monument, with an exception of cameras. However, only still photography is permitted and not video. Not to mention, it often tends to be really dark and quite a pain to click a decent photograph, without glaring and noisy flash to ruin it.
A lot of times, it is extremely dark and the moon may not be visible clearly, not leaving enough light for the Taj to acquire its blush. Do not be disappointed and remember that it is mostly just luck, when it comes to seeing the Taj Mahal at night.
While you are there, do not miss the sunsets and sunrise at Taj Mahal. They are not pearly white and sparkling like the night view, but are as beautiful and the sky does seem to rub off some of its tints on to the Taj. These also tend to be great for photographs.