Knowing the safe nooks and corners is extremely important before you begin your journey to Istanbul. In the recent past, safety is becoming an issue in Istanbul. There have been some threats of terrorism in the past in the city, but apart from that, it is a safe place to visit. The most common problem faced by tourists is related to money. Purse snatching has been reported too in some areas, and it is mostly done by children.
The next important thing to keep in mind is to look out for the taxi driver scam. There are various issues like language problems, and often the taxi drivers pretend not to have change money with them so that they can charge you extra money. Also, the day rate and the night rate on the meter are different, and as a foreigner, it is likely that you will get charged the night rate even though you are going out during the day. The crime rates are not much, but pickpockets and lurkers can create a problem for you.
Safety in Istanbul During the Day

Istanbul is pretty much safe during the daytime, so you can explore various places. Even the threat of murder is not common. It is always advised to walk the streets where you see many people. Areas to be avoided even during the daytime:
Neighbourhoods like Tarlabasi,
Dolapdere
Parts of Galata and Karakoy
Recommendation:
It is better to pick a taxi from the taxi station and not one that is passing by.
Safety in Istanbul at Night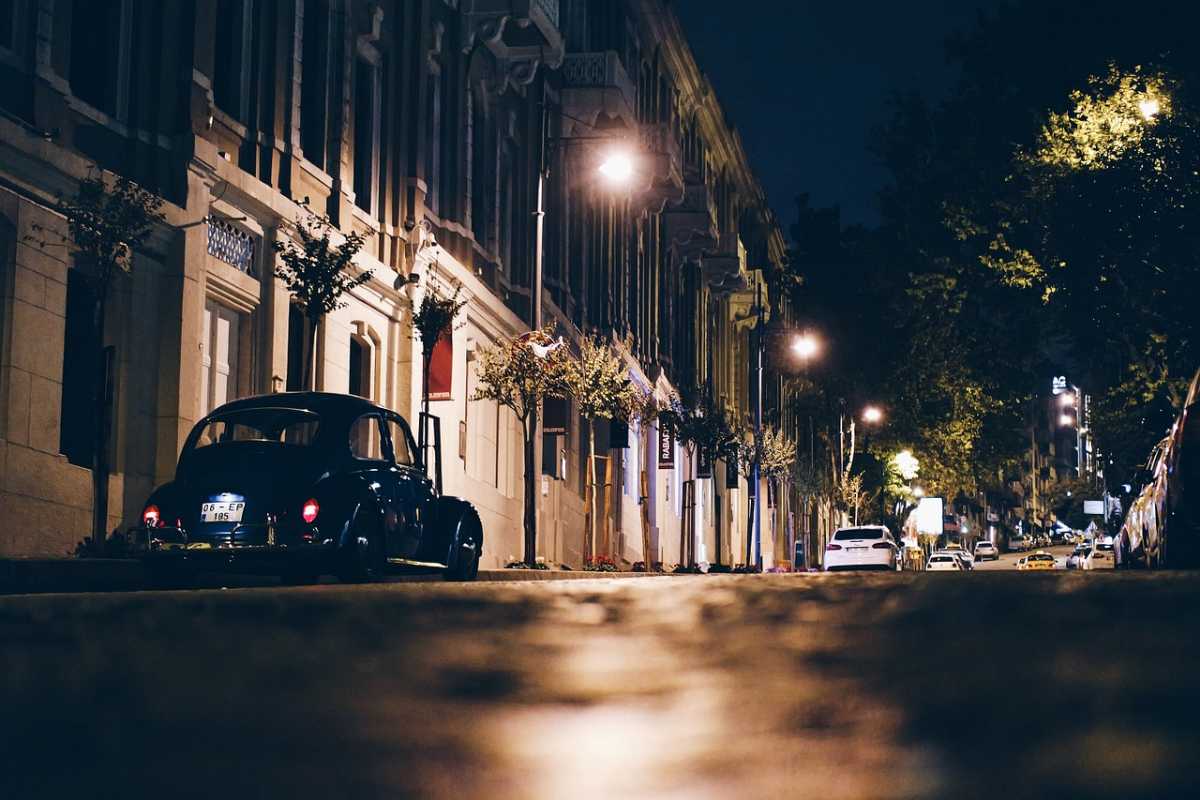 You can see some parts of the city are sketchy and empty, so avoid those streets and do not try to go to the poor neighbourhood. If you want to go to a restaurant or club, you can take a bus, dolmus or taxi. Most of the bus lines stop functioning after 10 PM. So, it is better to walk with someone and not take a lot of cash with you. Until midnight, the safest areas in Istanbul are:
Sultanahmet, Beyoglu (Pera)
Taksim
The European part of the Bosphorus
Kadikoy
Uskudar
Main roads on the Asian side
The Taksim-Levent axis (where the subway runs) on the European side
Scams in Istanbul
Pickpocketing: Pickpocketing is very common in Istanbul. As it is a crowded city, you can face this threat. If you are in tourist destinations, then be careful. Some of the places where you can face this are Sultanahmet, The Grand Bazaar, Taksim Square, and the Spice Bazaar. But by taking some precautions beforehand, you can be protected from it. For instance, you can hang your bag like it is a belt bag.
Taxi Scam: To avoid taxi scams, it is better if you familiarize yourself with Istanbul's standard taxi cab fares to avoid taxi overcharging scams.
Shoe Shine Scam: Another common scam in Istanbul is the shoe shine scam, where a shoe shiner drops his tools in front of you, and after you help them pick them up, they offer you a free shoe shine. But, at the end of the polish, they end up charging way more than a regular shoeshine would cost.
Restaurant Scam: The restaurant scam is another one. Suppose you order your meal in a restaurant and the waiter insists you try another dish you did not order. You might think it is free, but no, it is not! You can avoid it by reading the reviews of restaurants online.
Tourists have also complained of overpaying for rugs, carpets, or leather goods.
Traffic in Istanbul

Istanbul is the most crowded city in Turkey. The reason for so much traffic is poorly timed traffic systems, traffic accidents, special events like festivals or concerts and insufficient traffic coordination. So expect traffic on the road while you travel.
Health Standards in Istanbul
The food in Istanbul is clean and good, and especially the street food (which is a must-try) is amazing. However, it is better if you make sure beforehand only that what you are going to try is healthy and safe. You must always look out for foods that have been lying around under a lamp for a long time and look unhealthy. You should be wary of unpeeled vegetables and fruits.
Infectious Diseases:
Some of the common infectious diseases are Roundworm infections, mycoplasmosis, malaria, and tuberculosis.
Water and Sanitation:
Authorities say that it is perfectly fine to drink tap water. However, still, most of the people here prefer to drink bottled water.
Food Safety:
If you are going to eat street food in Istanbul, then do not worry, as it is perfectly safe. In Istanbul, the certificates and permits are issued by the municipality to the sellers of street food.
Pollution:
Pollution has gone down to an extent since the 1990s. But still, due to the traffic in Istanbul, people get affected by heart and respiratory system diseases.
Drinking Rules in Istanbul
Turkey is a Muslim-majority country but still, alcohol is legal, and many individuals consume it in Istanbul and the rest of the country. Between 10 PM - 6 AM, you cannot shop for alcohol in the shops, but if you still want it, you can easily get it at the restaurants, bars, and hotels 24*7. 18 is considered to be the legal drinking age in Turkey, so if you are asked for proof, you must show identity cards. But the sale of alcohol is usually regulated near mosques and schools as you cannot sell within 100 meters of the area. Also, there are some restrictions on advertising alcoholic beverages on television and in print.
For smoking, the law states that it is prohibited in indoor places. However, there are a few exceptions where smoking can be allowed in the ventilated designated smoking areas.
Drug Laws in Istanbul
You must remember not to consume drugs while in Istanbul because it is illegal, and you can face a juridical process. If you are found to possess, receive, or indulge in purchasing, then you can go to prison for 1 – 2 years. If you are found selling it, then you can go to prison for 5 – 10 years. If you are accused of production or trafficking, then the jail term can be up to 10 years. The fine for littering in Istanbul is TRY 351.
Is Istanbul Safe for Solo Female Travellers?
Istanbul is safe for female travellers as it is a liberal country, and you can pretty much do everything, but there are some challenges too. Here are some of the useful tips to keep in mind if you are going to travel alone:
Istanbul falls in both Europe and Asia so you can wear whatever you want but try to wear appropriate clothes. You can wear dresses in a club, but if you are visiting a mosque, it is recommended to dress conservatively.
Do not go out alone, especially at night.
Catcalling is also common. Try to ignore it.
It is a good idea to always have maps on your phone so that you can cross-check anytime if you are going in the right direction.
Drug trafficking is considered to be a crime, and you might even go to jail, so do not accept any drug or buy it.
If someone approaches you out of the blue, is overly friendly, and wants to take you around, just walk away.Is Istanbul safe for families to travel to?
Is Uber Safe in Istanbul?
Yes. Uber is safe in Istanbul, and you can also opt for it. However, the only problem with uber is that the cost is too much compared to a regular taxi. But you do not need to hassle a lot too.
Are Taxis Safe in Istanbul?
They are safe but certainly be cautious if your taxi driver has not put the meter on (tell him to do so) or if he takes a longer route to increase the fare. You can do a little bit of your research to check how much certain trips should cost so you might get a cheaper fare.
For example, the usual fare from Sultanahmet to Taksim Square is 20 Turkish lira.
Tip: You can use the BiTaksi app to see the estimated fare.
Is Public Transportation in Istanbul Safe?
Not only is the public transportation system in Istanbul very cheap, but also public transport in Istanbul is safe. The first thing to do is to get yourself an Istanbul Kart (a contactless card) that will make travelling around Istanbul super easy. You can use it on all kinds of public transportations.
There is various public transportation available:
Trams:
Trams are quick and cheap. There are five different networks.
Metro:
There are two systems which connect large portions of the city.
Funicular:
It goes uphill and is pretty much fun.
Ferries:
You can opt for ferries because it is coastal and spans two continents.
Buses:
There are 400 different routes. It is not very quick since there is a lot of traffic in Istanbul. Also, they get super crowded.
Is Istanbul LGBTQ+ Friendly?
You can notice that Istanbul has a more open-minded culture than the rest of the country. Homosexuality is not illegal in Turkey. But still, it is better to be careful while showing public affection as it is mostly frowned upon, especially by the older generation. Generally, LGBT rights in Istanbul are established, and it is a gay-friendly city. Also, the LGBTQ+ community has full legal protection.
Tips:
Be careful of street children, especially near the Süleymaniye Mosque.
Be careful if you want to buy a Turkish rug, as you can get a fake one too. The same goes for fake gold coins.
If you have a bag, you must check it occasionally to see if it is open. It is advised to hang it across your chest.
It is better to hold your cell phone close to you while speaking, as cell phones are the main target of street theft.
You should carry your passport or residence permit if the Turkish authorities stop you from conducting the ID checks.
It is advised not to take photographs near official installations.
It is an offence to insult the national flag or the Turkish nation. You could face a prison term of between 6 months to 3 years.
Emergency Services and Medical Care
Istanbul has one of the best emergency services available, including excellent hospitals and fast ambulance services. You can be assured that you will get good medical care here. Some of the emergency numbers to remember that will always come in handy are:
For Police Services: Dial 155
For Fire Services: Dial 110
For Ambulance Services: Dial 112
Istanbul is surely charming and a magical place, but it is advised to be cautious. If you keep all these tips in your mind, you will surely have a surreal experience. So, what are you waiting for? Iyi ve güvenli yolculuklar! (Have a nice and safe journey).