The supernatural is something that you cannot ignore. Believe in it or don't, there are some unexplained phenomena that are bound to catch your interest. Be it ghosts, demons, witches, spirits, or other yet to be discovered beings, an encounter with them will leave your adrenaline pumping.
A few such mysterious happenings have added a certain suspense and danger to the city's otherwise laid-back and fun atmosphere.
So, if you're looking to go explore the 'other' side of our world, here are a few of the most haunted places in Bangalore for you to start you off with!
1. Kalpalli Cemetery
Cemeteries are spooky enough already, but this cemetery near Old Madras Road is scarier than your usual cemetery. Several passerbys have reported sightings of a creepy man lurking about the graves at odd hours. The unease felt at the cemetery will make your hair stand up. Maybe, just maybe, you'll find a few dead who have risen from the grave, taking a stroll in the graveyard. At night, people have reported feeling an eerie presence around them. That definitely doesn't form a very pretty picture in your head, does it?
2. Victoria Hospital
This century-old hospital located near the City Market has been a witness to strange happenings. Ghost sightings have been reported on the premises of this Haunted Place in Bangalore. People have reported incidents in which they've claimed to see a white ghostly figure on one of the trees in the hospital compound. But more than wanting to scare people, this ghost seems to be the fun kinds. It is said that the packets of food have gone missing. An ever hungry ghost is lurking around here, so keep your food safe if you ever decide to make a trip here.
3. Naale Baa
Bangalore's favourite demon of the 90's! What do you do when a demon/witch comes knocking at your door? Be polite and invite it inside? Well, obviously not! That wouldn't be the best thing to do if you want to stay alive. Bangalore in the 90's witnessed this extremely creepy phenomenon where a demon/witch would knock the door at midnight and call out to potential victims.  Answering the door would definitely ensure your death. So the only way to keep yourself safe was to write Naale Baa (Come back tomorrow) on your door every day! Let's hope the demon makes a comeback.
4. The Bangalore International Airport
The next time you take that late night flight at the airport, watch out! This is the most recent addition to the haunted places in Bangalore. Pilots have reported the supernatural presence of a lady walking around in white on the runaway. The ground staff has also sighted her in the Cargo section of BIAL. If anyone approached to help her or enquire anything, she just disappeared. Poof! A picture of her using an infra red camera emerged soon after. There have also been rumours of a headless ghost being sighted near the escalators of BIAL.
5. Terra Vera, St Marks Road
This colonial abandoned house on St. Marks Road is famous with the Bangaloreans for the screams and inexplicable happenings that have taken place. This colonial house on St.Marks belonged to two sisters, Dolce and Vera Vaz. In 2002, the house witnessed a gruesome murder in 2002 where Dolce Vaz, one of the two sisters, was killed by an unknown attacker. The other sister eventually moved out and the house due to some property issues. But the house has now become well known for satanic signs like inverted crosses, screams, colder temperatures and all that will send shivers down your spine. The house has been demolished but the stories continue.
6. Call-Centre on M.G Road
If you work the night shift, it might not be a good idea for you to read this. But well, if you're really on the lookout for the most haunted places in Bangalore, then this is something you shouldn't miss out on. The story goes that a young woman who worked at the call-centre was killed in a drunk and driving case. The driver left her there screaming on the road, where she died. Office goers claim that they hear her screaming on the same night, every year. It's exploring time!
7. NH 4
Highways and ghosts go together! Always hand in hand! People say that a pretty girl in white once asked a passer-by for a lift around midnight. He turned around to ask the girl where she wanted to go and to his surprise, she was missing. The surprise got better when she reappeared and started laughing hysterically. The poor man got out and ran for his life and rammed into a compound wall and wounded himself. Now, you know what not to do the next time you drive down this highway. NH 4 is the Mumbai -Bangalore- Kolar - Chennai highway.
8. Hoskote Route

This is one road that no one should venture out during the late hours of the night. Isolated and surrounded by graveyards on both side, motorists beware as there have been many chilling tales of an old woman who asks motorists for a lift. One such incident was of this very woman who asked an auto driver to drop her. But the driver sensed something odd and refused to get out of the auto. it was then the woman said that if he had gotten out, he would've been killed. And another saving grace here was that the auto had many holy pictures inside which prevented the spirit to enter the vehicle.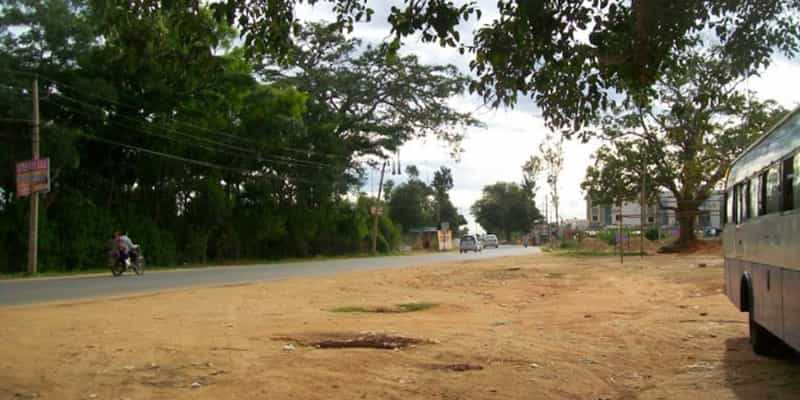 P.S.: This article has been compiled by studying various sources online and offline. The author and Holidify.com are not trying to create rumours or defame any place by writing about it.
So here is the list of the Most Haunted Places in Bangalore that you must explore if you love supernatural adventures! If you know of any more such places, tell us about it in the comments below.