Camera? Check. Tripod? Check. Sunglasses to protect from the glaze of snowy peaks of Spiti? Check. Anjali—my girlfriend and I had set course to the mystical land of Kinnaur and Spiti. After watching a lot of travel vlogs, we worked out an itinerary that covered the whole of Spiti for us in 10 days, covering Sarahan, Kalpa, Kaza, Pin Valley and Chandratal Lake. It would be a trip to remember. But sadly, the plans we set don't always work out, and the same happened to us. The truth is, we could never reach the Spiti Valley, and yet it's a story we love to tell.
Shimla
It was 19th June when we reached Shimla. The city greeted us with a haze, but the sun went on to play a peek-a-boo game with us throughout the day. Hiring a car at Shimla—we stared in awe, driving past the hordes of tourists that soon faded into lush green trees. The mad tourist rush of Shimla made us appreciate Mashobra and Fagu, where we stopped and lingered around the pristine trails to catch some of the best views. It was almost 2 PM when we realised we need to reach Sarahan by the end of daylight, so we hurried our way back to the car.
Sarahan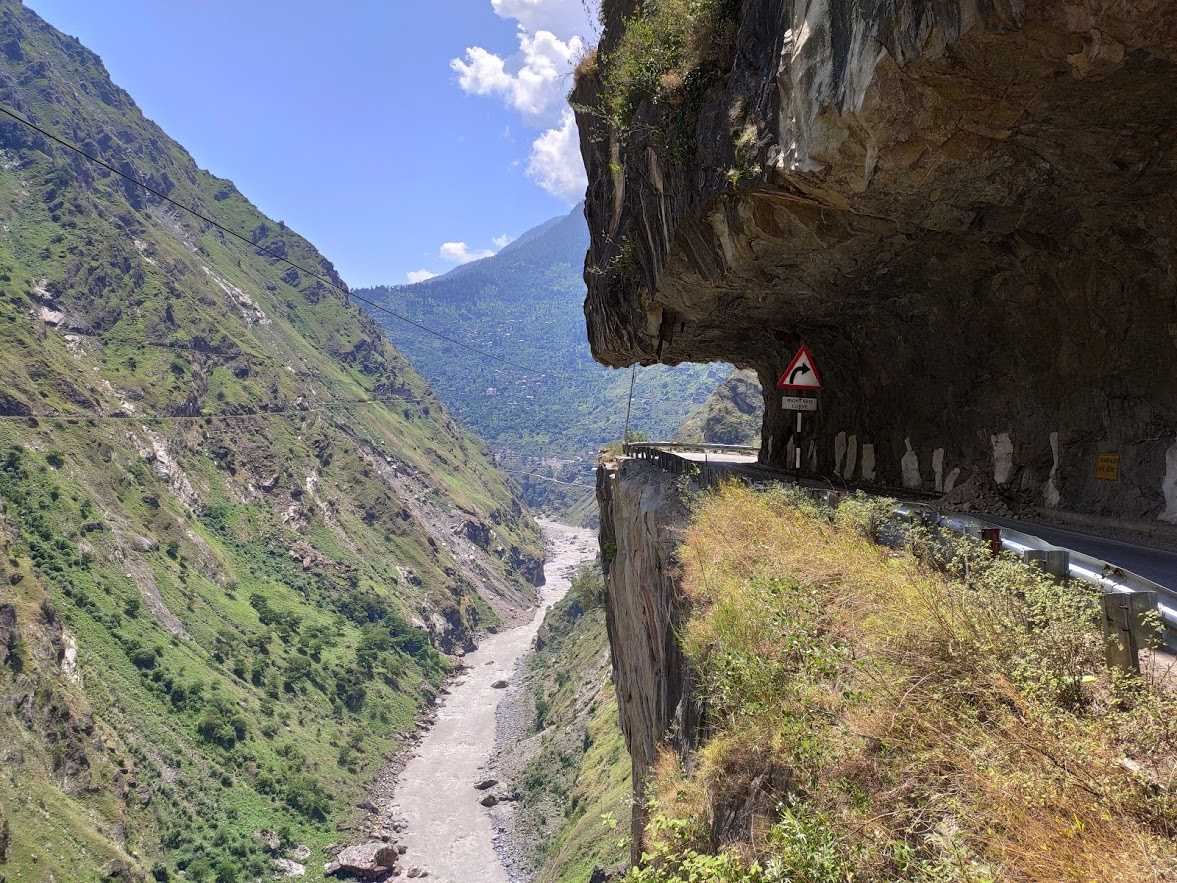 After having our lunch at Rampur, where we also found an ATM to get some cash, we drove towards Jeori and took the narrow, steep road that led to Sarahan. The roads were narrow at some points, with cliffs at one side. The ride was extremely scenic, and videos and pictures could never cut it. Since it was already getting dark, we ended the day by visiting the monastery behind our homestay, where we spent the evenings watching the prayer flags flutter in the cold wind.
Kalpa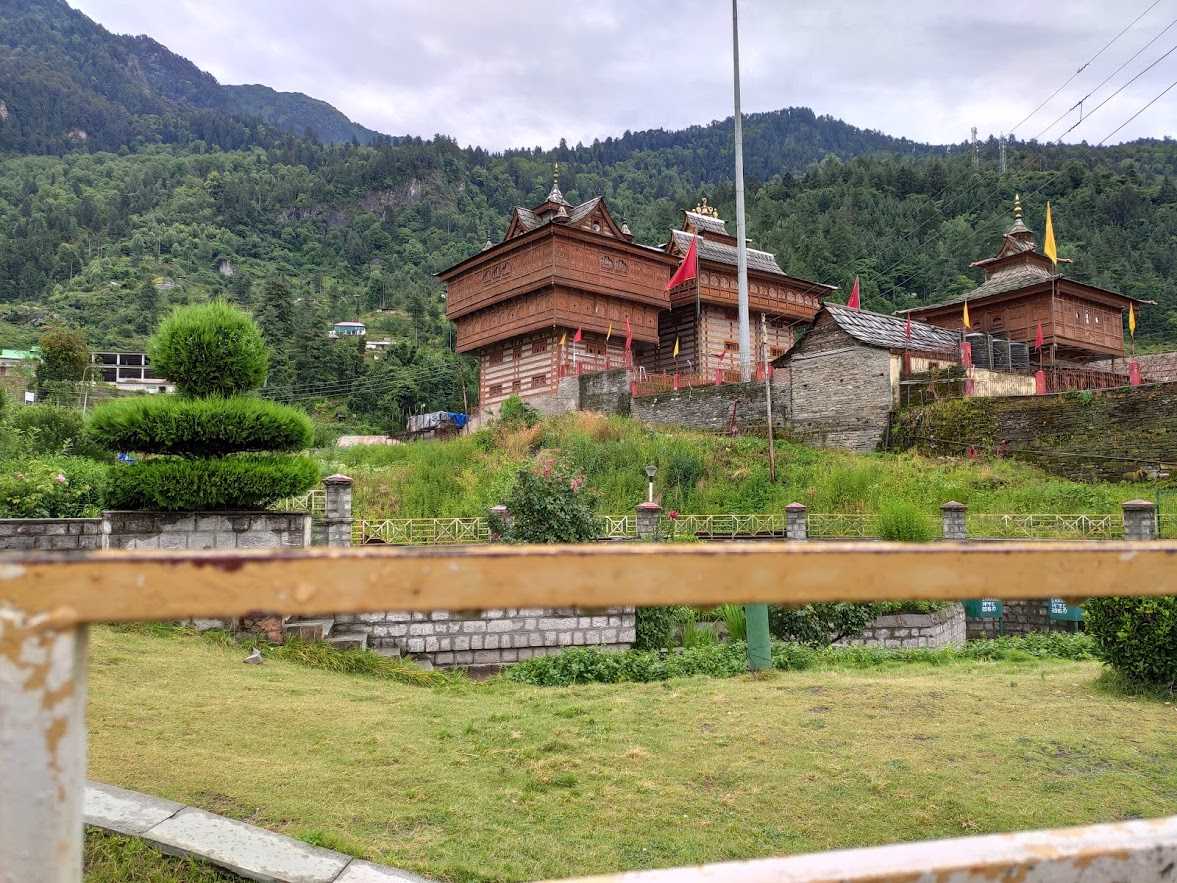 Seeking blessings at the Bhima Kali Temple, that had an architecture unlike any other temple in the country; we started quite late for Kalpa. We chose to skip Chitkul as we were on a tight schedule. We reached Kalpa at 3 pm—it is a quaint little village, where the air smelled of apples. The view of snowcapped Kinnaur Kailash (6500m) was breathtaking. Roghi suicide point at Kalpa—a jaw-dropping cliff that falls 800 meters sent shivers down our legs. When we left for Kaza early morning, we were greeted with a constant trail of cars and trucks—there was a massive landslide between Kashang and Pangi Nala. Later we came to know two unfortunate bikers were killed by it. There was no option but to turn back.
But where would we go? Here: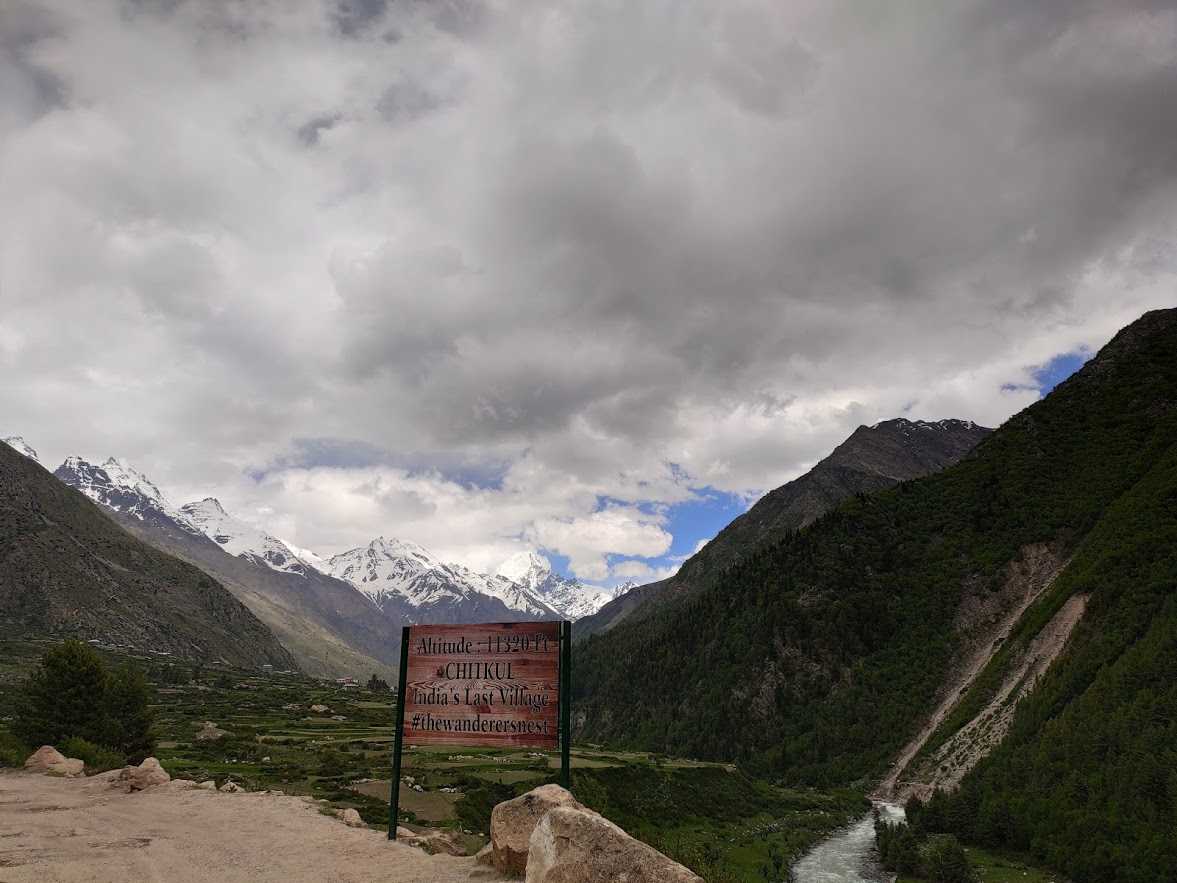 It was decided that we would cover Sangla Valley and Chitkul. We doubled back to the Karchham Dam that we had left behind and took the narrow off course towards Sangla. The road had sharp hairpin bends that would scare the most seasoned driver. We reached Chitkul around 1 pm—it was the most picturesque place we had ever been to. Chitkul is the last inhabited village near the Indo China border at the height of 3500m.
Chitkul
The water from the Baspa river gurgled loudly among the pine trees that stood erect against the backdrop of snow-clad mountains. Before reaching Chitkul, we were clicking and posting pictures all along the way. But, here we were cut off from technology since there was no network. We realised there was no need for the internet, no need to post a picture.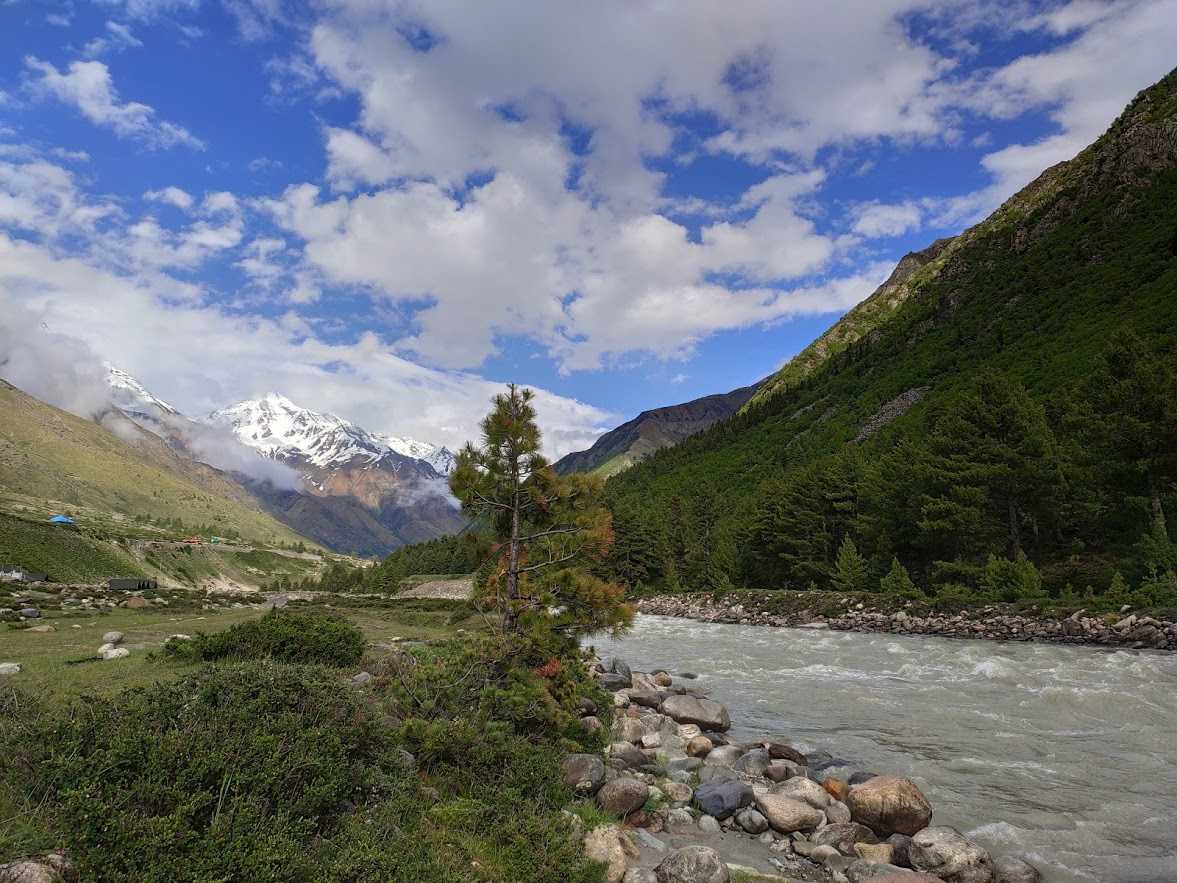 After a few light showers, the sun came out painting a rainbow across the sky, and we witnessed something that we could never forget. With the sun rays falling on those snow-capped mountains, the realisation dawned on us that we occupy such a tiny space in this world. We are both mountain lovers, and that sight further reinforced our love for mountains. In a world that runs by time and deadlines, those lofty mountains remind us of the fact that the past, present and future are not linear, but rather enveloped together to form a moment. And this moment was the highlight of our trip. Chitkul gave us something that we never felt that we needed until we reached there—inner peace.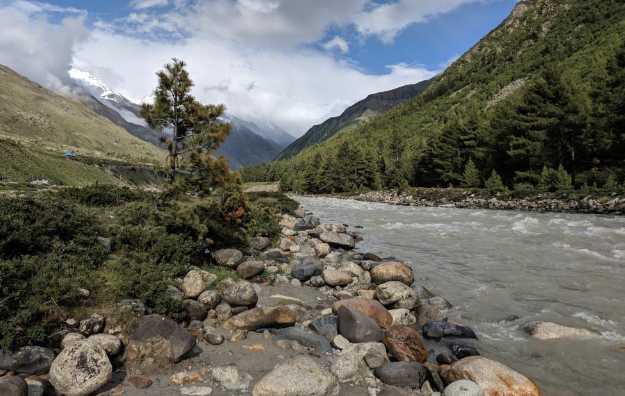 As night fell, we indulged in some stargazing and let the mountain-fresh air put us to sleep. We had completely forgotten that we were in a no-network place. Returning from Chitkul made us thank our stars that we decided to visit it. Sure, we didn't know what Spiti had in store for us, but it is for sure that the trip had been a life-changing one. We returned with more reverence for our life, of every minute that passes by. Whenever we decide to go to Spiti—and we will—we'll definitely spend a night stargazing at Chitkul.
Some helpful Information (that we found wasn't available on any website)


ATMs
1. ATM at Rampur (Next one is at Rakcham)s
2. HPSCB ATM at Tapri, between Karcham and Wangtu
3. UKO Bank ATM After Rakcham
4. SBI ATM at Sangla
5. ATMs at Reckong Peo (Kalpa)
Public Washrooms worth using:

1. Petrol Pump before Tapri
2. Sangla, 37 kms before Chitkul
3. Rampur Petrol Pump
4. Tukpa Valley Entrance Gate Petrol Pump