Co-working and Co-living spaces have been gaining some popularity in recent times. While some are entirely using it, some are unaware of the concept altogether.
The Idea of Co-Working and Co-Living
In co-working and co-living ideology, large homes are used to shelter people from different work cultures. These individuals are mainly nomads and entrepreneurs who come together under one roof to share their workspace and living space as well. It's a condominium of sorts. The primary focus of such spaces is to provide a friendly work environment. The target audiences are largely those who don't have an assigned work area or those work on the go. Particularly near the hills, many individuals and especially travellers need a workspace hosting a conducive atmosphere. Such areas are specially built for such individuals. The advantage of this space is you get to interact and strike conversations with your fellow workmates!
Karyashaala

Karyashaala is one such co-living and co-working space nestled in the magnificent hills of Bir, Himachal Pradesh. The areas are an abode for freelancers, digital nomads, travellers, writers, designers who require work resources, setup, and infrastructure suitable enough to work. It offers rooms to live for wandering workers in the hills.
Offered Facilities

With bricked walls, Karyashaala holds a very homely, quaint and rustic environment. There is a dedicated
20mbps lease line
with an entire floor dedicated to a working space with WiFi.
Power backup, printer, copier
are also there.
There are six rooms in the property for accommodations. It has dormitory rooms with bunk beds as well as budget and Deluxe bedrooms with double beds. Each room has a private bathroom and an attached wardrobe.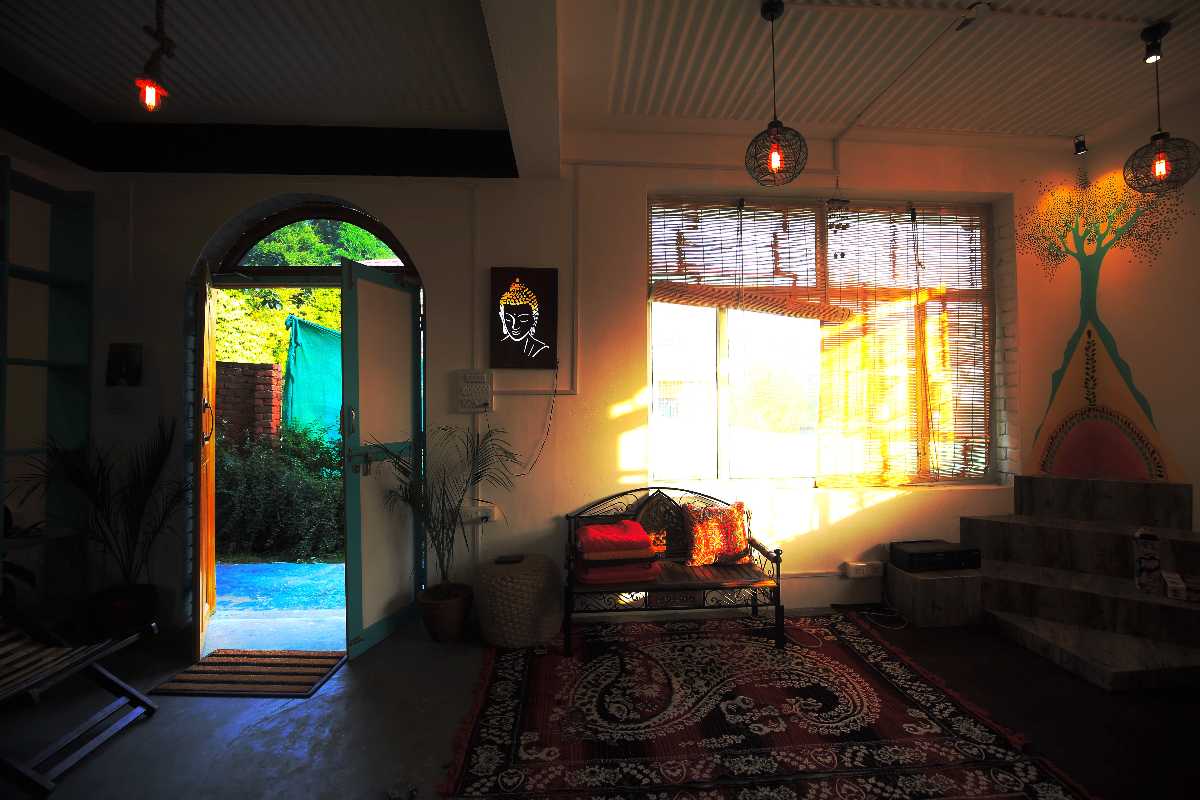 Highlights
It has an in-house cafe and a common area to hang out. It has a kitchen which takes orders from 8:00 AM to 10:00 PM. You are also free to cook your own meals here. It has a shared lounge, as well. It has a massive garden-compound with hammocks. You can play darts here, which is an added entertainment factor. Equipment for badminton is also provided here. You get a breathtaking view of Dhauladhar mountains from Karyashaala.

Around Karyashaala
There are places to visit around Karyashaala too, like tree plantations, cafes, waterfall hikes, and activities like paragliding to indulge in.
Cost
The price of accommodation in the dorm starts at
INR 599 only,
which includes WIFI and common space access.
Book Here
Monthly Packages
They have
monthly packages starting from INR 15999
, which includes a dedicated work desk, internet, and unlimited coffee along with free access to all community events.
Skill Sharing

Karyashaala holds regular sessions where the in-house co-workers sit together and share ideas, enlighten each other on art. They hold creative sessions where they make something artsy. Poetry sessions, writing, discussions, and motivational talks take place regularly. It's a place to live and grow together.
Life at such spaces, especially Karyashaala, is not just a regular and monotonous space to live and work but to share experiences, habits and enlighten your co-workers. If you don't want to work behind a cubicle or love working at home, then make Karyashala a good home-working and living space.