Arunachal Pradesh is a land of diversity with over 26 tribes and 100 sub-tribes. People here love their traditional costumes and are proud to showcase them on each and every occasion that comes across. Among the traditional dresses of Arunachal Pradesh include shawls, wraps and skirts. The most significant tribes of Arunachal Pradesh include Adi, Aka, Galo, Nyishi, Bori, Apatani, Bokar and Tangsa. Though the tribes share common ethnic but depending on the geographic region they belong to the dressing style also changes. Weaving is said to be in the blood of the natives of Arunachal Pradesh with Apatani tribe leading the lot with the capability to turn fibres derived from goat, human hair and trees to shawls, skirts, loincloth etc in numerous designs.
Origin of the Traditional Dresses in Arunachal Pradesh
Arunachal Pradesh exhibits massive cultural diversity when it comes to clothing. Being essentially a tribal state, there are many tribes and each have their own set of traditions and customs. This is reflected in the distinct clothing styles. While most of them are ethnically similar, they have different origins of their clothing. Mostly, they have derived the most style of clothing from their ancestors. The geographical separation has brought in the other little changes in the styling. The tribes in Arunachal Pradesh are known for weaving, which is also why the handloom industry is a thriving industry there. Aptami tribe have been progressing with advanced techniques. The tribal people prefer wearing indigenous organic materials only. The raw materials used are basically goat hair, human hair, tree barks etc. Using all these, they create skirts, shawls, ceremonial coats, etc. The colours preferred by the local craftsmen are dark blue, scarlet, yellow, emerald, black etc. The origin of these colours are natural dyes, extracted from trees, flowers, barks and seeds. The skull caps known as Gurdams worn by the Monpa tribe are made of yak hair. The men of Adi tribe wear helmets carved out of deer and bearskins and canes. The accessories of women, although different for all tribes, commonly use bamboo bits available in plenty in the state.
Sources of Inspiration
The vibrant and offbeat clothing style of the various tribes are mostly inspired and dominated by geometric patterns. These patterns can be found in the costumes of Adi, Aptami and Mishmi tribes, with the most popular design being zig-zag lines and angular designs. Even floral designs are given a form of pattern in these costumes. Stripes are another common pattern. The colours, designs and patterns of the costumes they wear all hold a symbolic meaning. The straight lines in the costumes of Adi and Aptami tribe are symbolic of their disciplined lifestyle. The complex and worked out patterns in the costumes of Mishmi tribe reflect their celebratory nature. The motifs of shapely pointed triangles in
Tuensang
are symbolic of hornbills and depict arrows. The small red squares on sanctum cloth depicts ferment used to make beer. The red colour in shawls represent blood enemy, blue represents the sky and black nights.
Sherdukpen Tribe
Men's Clothing
They are natives of
Bomdila
and resemble the Monapas. Traditionally, a Sherdukpan male wears sleeveless silk material with its edges attached to the shoulder. The costume falls down till knee length. The look is complete only after a skull cap which has yak's hair decorated on it is worn on top of the head.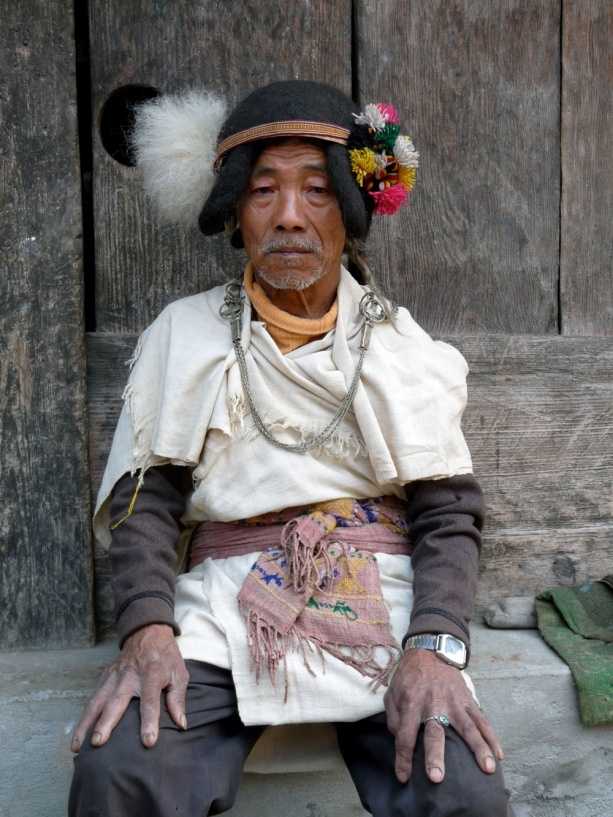 Women's Clothing
They wear collarless and sleeveless dresses till knee length. Along with this, a wear waist cloth along with a fully embroidered jacket having full sleeves is worn. Women make a bun on the backside of their head and have super-awesome weaving skills.
Tangsa Tribe
Men's Clothing
This tribe wears costumes on similar lines to Burmese. The men wear green coloured wrap around spun in white, red as well as yellow coloured yarn. A sleeveless shirt along with an upper garment too is worn.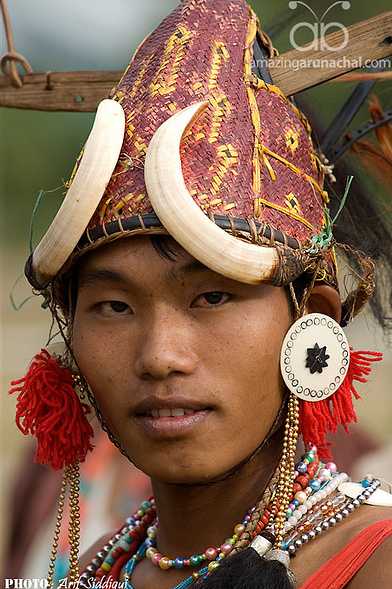 Women's Clothing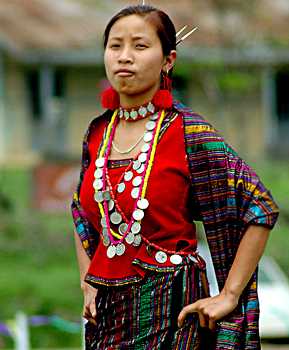 Women, on the other hand, wear a petticoat which is intricately woven and is extremely catchy to the eyes. Along with it, a linen blouse is worn too.
Miji Tribe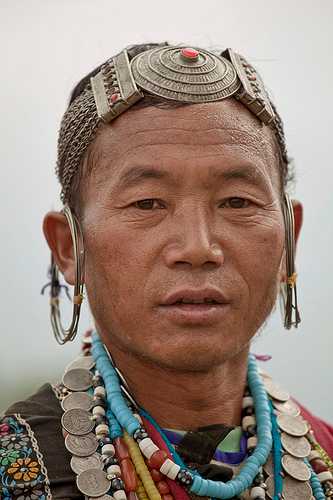 The residents of Miji Tribe believe in keeping it simple which is why women inhabiting the districts of East and West Kameng put on outfits which are very simple but bring out their elegance. A long cloak is generally worn by them. Clothes without accessories are a waste. Therefore, the dress is accessorized with huge earrings and beautiful neckpieces.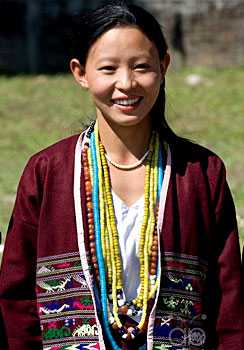 Adi Tribe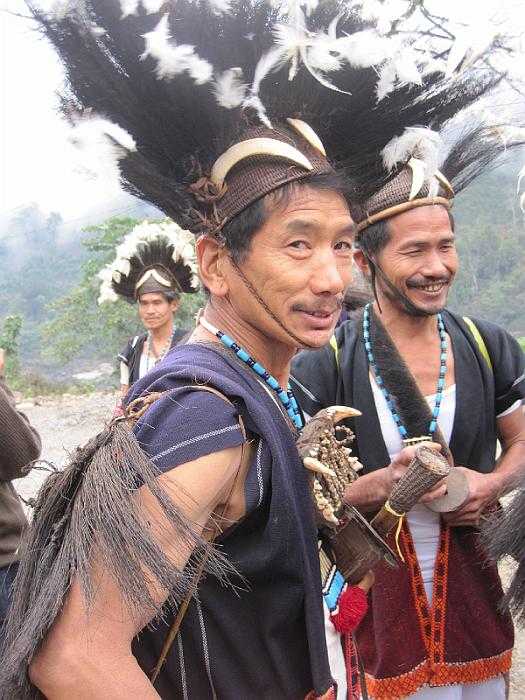 These people reside in the sub-tropical regions of Upper Siang, East and West Siang, Dibang Valley and Upper Subansiri. Because of the cool temperature in the region, men, as well as women, are required to wear jackets and woollen clothes so as to keep themselves warm. The clothes of both men as well as women are made out of deerskin, bearskin and cane skin.
Monpas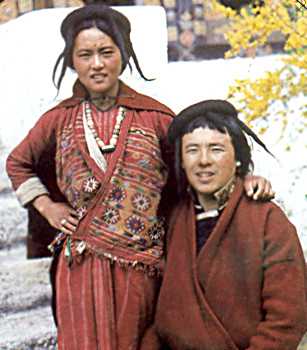 This is a Buddhist community of Andhra Pradesh which is very famous for its skull cap. This skull cap is made up of laces and fringes. Women also wear sleeveless chemise paired with a long jacket. The chemise is tied to the waist by a long and narrow cloth so as to keep it in place properly.
Tribe of Lower Kamla Valley
The costumes worn by the people of this tribe are very attractive. Women tie their hair above their forehead in a knot. Crinoline of cane rings is the unique feature of female dresses of the region. These rings cover the upper part of the body and are an alternative to the use of blouse. However, as far as today's scenario is considered, not many women can be seen sorting this kind of dress.
Aptani Tribe
Women's Clothing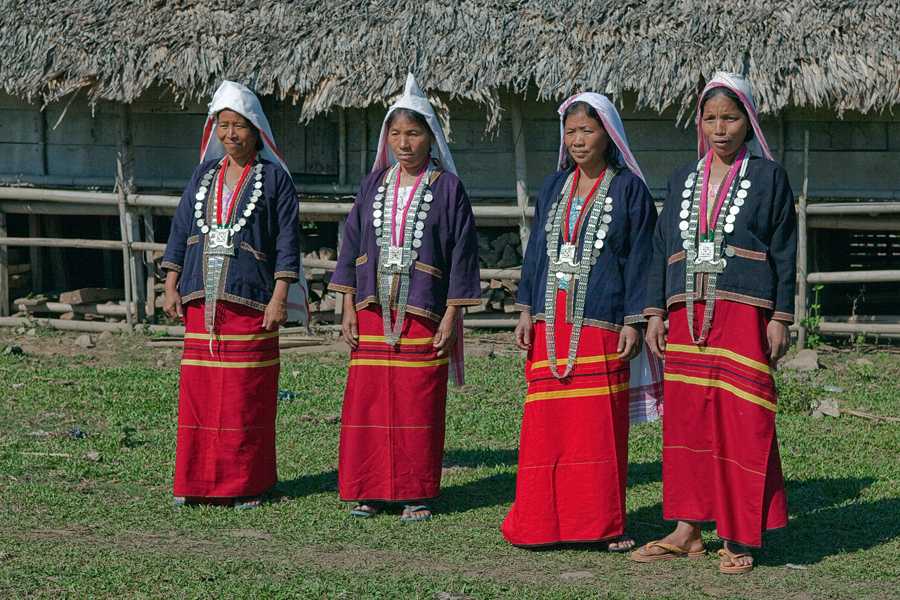 Women get a tattoo made which consists of blue stripes which are broad in shape and extend from head to the nose tip with five lined drawn vertically under the lower lip on the chin. The hair is neatly arranged on the top of the head into what is known as Dilling. Ading Akh which is nothing but a brass skewer is passed right across the Dilling horizontally.
Men's Clothing
Traditionally, Aptani men make a knot of their hair on top of their forehead. This hairstyle is known as Piiding. A brass rod is used for creating the knot which is known as Piiding Khotu. Tattoos or Tiippe are applied by men on their chins.
Accessories
Accessories enhance the value of clothes. Some of them which are worn very often during any wedding that takes place in the tribe include BiangSipi which is a chain comprising of blue-colored beads, BuahGatjiang which is a bead of red color tied on the wrist of the left arm of the groom, koktung which is a headgear, doumuiChe which is the sword of the bride, habo terri which refers to the garland worn by girls, pebar which is jewelry in the shape of a rectangle and talei which refers to the mixed size bowls.
People make hats with cane and bamboo along with beaks and feathers of birds.
Earrings and silver rings which are intricately designed with beads of various colours are a very popular accessory in the state of Arunachal Pradesh.
Reading about the culture and traditions of a place sure does acquaint us with a place but, visiting it and observing everything, every minute detail of it is where all the difference lies. It is thereby advisable to go and take a peek at the natural beauty and cultural diversity that the place offers. 'Simplicity is elegance' is a saying which the people of the state follow very religiously which is why they have a sense of preservation and love for their traditional costumes. Thereby, make it a point to buy some dresses as souvenirs there and some accessories along with them would be a perfect match to be gifted to friends!
'Almost everyone knows about cultures, but very few actually respect and live them.'