Flora
The area covered by the Mollem National Park is heavily forested with natural vegetation. The evergreen forests densely populate the higher altitudes of the park. They also include the areas in a criss-cross pattern along the banks of a perennial river and on the upper slopes of the Ghats. Among primary species of trees that can be found in Mollem National Park, the important ones are Lagerstroemia, Terminalia, Dalbergia and Xylia. Due to the dense forest cover, sunlight does not reach the forest floors in many places. Other than trees, the park is home to around 722 flower species and 128 endemic plant species that can only be found in the Western Ghats. Even though the growth of grass is sparse, one can discover shrubs and bushes scattered around the park.
Fauna
Mollem National Park is an ideal destination for wildlife enthusiasts as one gets to see a large number of animals and birds within the forests. The park is the natural habitat for several herbivorous animal species such as the Sambar, Barking Deer, Hog, Spotted Deer and Mouse Deer. The forest grounds are also home for carnivores like Leopard Cat, Toddy Cat, Panther, Tiger and Jungle Cat. Keen observers can spot the lesser seen Indian Civet, Slender Loris, Sloth Bear, Scaly Ant Eater, Giant Squirrel, Bonnet Macaque, Hyena, Jackal, Common Otter and Flying Fox making an appearance amidst the dense forests.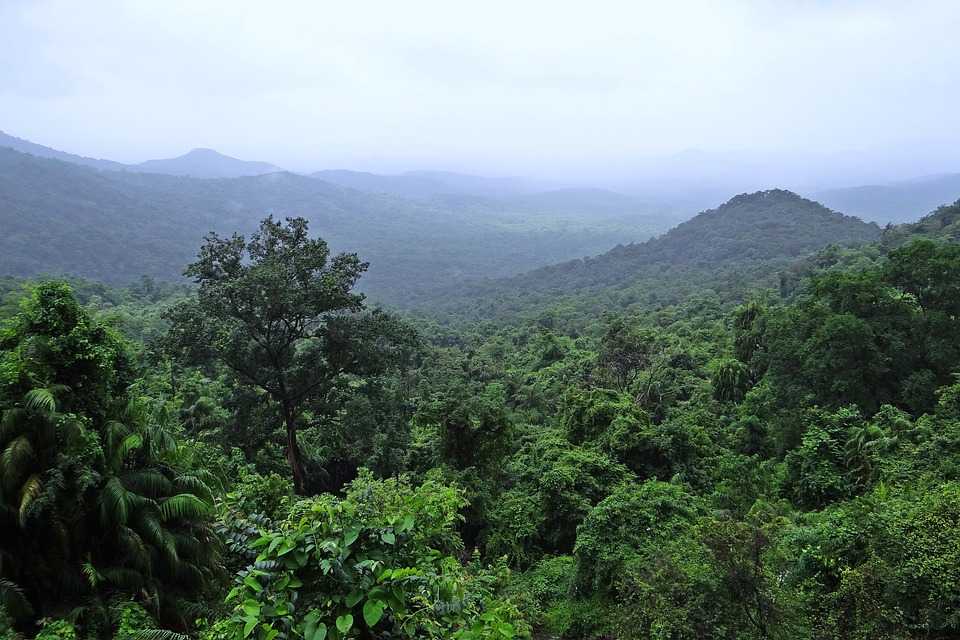 Among the 120 bird species, Ruby-Throated Yellow Bulbul – the state bird of Goa – is the most commonly spotted bird in the park. Ornithological enthusiasts should keep an eye out for some of the exotic bird species like
Golden Oriole, Common Grey Hornbill, Emerald Dove, Great Pied Hornbill, Paradise Flycatcher, Crested Serpent Eagle, Malabar Trogon, White-Rumped Spine Tail, Crested Honey Buzzard, Asian Palm Swift, Ashy Wood Swallow, Olive-backed Pipit, Jungle Babbler, Jungle Owlet, Pompadour Pigeon, Black-crested Bulbul, White-bellied Woodpecker, Scarlet Minivet, Forest Wagtail, Sulphur-bellied Warbler and Velvet-fronted Nuthatch.
Apart from the birds populating the park with their colourful avatars, there are many beautiful butterfly species as well. The ones that can be frequently seen include – Common Jezebel, Blue Mormon, Common Mime, Crimson Rose, Plum Judy, Lime Butterfly, Southern Birdwing, Plain Tiger and Tailed Jay.
With some luck, Lepidopterist enthusiasts can notice some endemic butterfly species like the Tamil Yoeman and the Malabar Tree Nymph.
Finally, yet importantly, Mollem National Park is also famous for its reptile population. The most famous among the different types of snakes found in the park is undoubtedly the King Cobra. The other snake species in the park include – Hump-nosed Pit Viper, Bronze-back Tree Snake, Malabar Pit Viper, Indian Rock Python, Common Krait and Russell's Viper.