There is a lot more to Wat Lokaya Sutha, besides just the Reclining Buddha. The entire temple is set up on an east-west axis. The central chedi and ubosot are in the courtyard, which again is surrounded by four chedis, one in each corner of the courtyard. These chedis, however, are in ruins. All that remains of them is their base. The ubosot, on the other hand, is a 14 metres wide and 33 meters long structure that is made up of brick. This place has six sema stones that mark the boundaries of its sacred area – a place where people used to come to obtain monkhood.
The 30 meters high central prang is the oldest structure built as a part of Wat Lokayasutharam. The remains of a stucco ornamentation can be seen at the head of this structure. There are also three viharns, that stand side by side in a line. These brick viharns are placed at the eastern side of the central area of the temple. The foundations of a gallery that surrounds the courtyard are all that remains of this place today.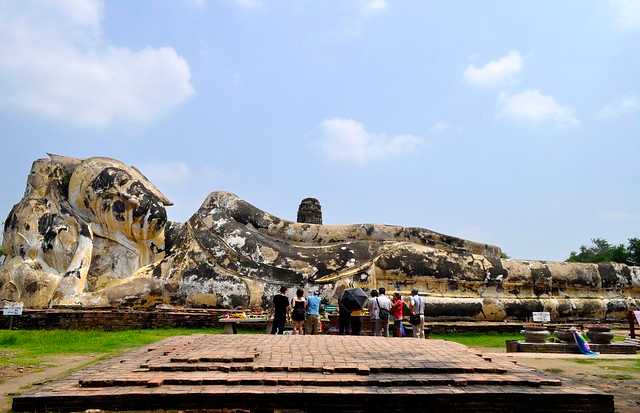 The main attraction of the temple that the Reclining Buddha. It is located on the western side of the central region and there is an altar with a miniature Buddha image right in front of it for people to be able to worship him and give their offerings. The entire image is made up of brick and mortar only. The image is also known as 'Phra Buddhasaiyart', and it depicts Buddha at the time of his death as he was entering Nirvana. The head of the image is seen resting on a lotus and the legs and feet overlap squarely at the opposite end of the body. The entire place is surrounded by a number of chedis that are of varying styles and sizes.