With modernization kicking in and people going crazy for brands such as Zara and H&M, ethnic as well as traditional antiques is something which is still prevalent and holds value in some cities,
Jodhpur
 being one of them. People from all across the world want to go Shopping in Jodhpur for its rare finds. In fact, there is an endless list of items which can be bought from the place. So, let us have a quick look at some of the most amazing places to shop at in Jodhpur.
Here is a list of 8 Best Markets for Shopping in Jodhpur: 
Clock Tower Market

Nai Sarak
Sojati Gate Market
Mochi Bazaar
Umaid Bhawan Palace Market
Kapraa Bazaar
Sarafa Bazaar
Tripolia Bazaar
1. Clock Tower Market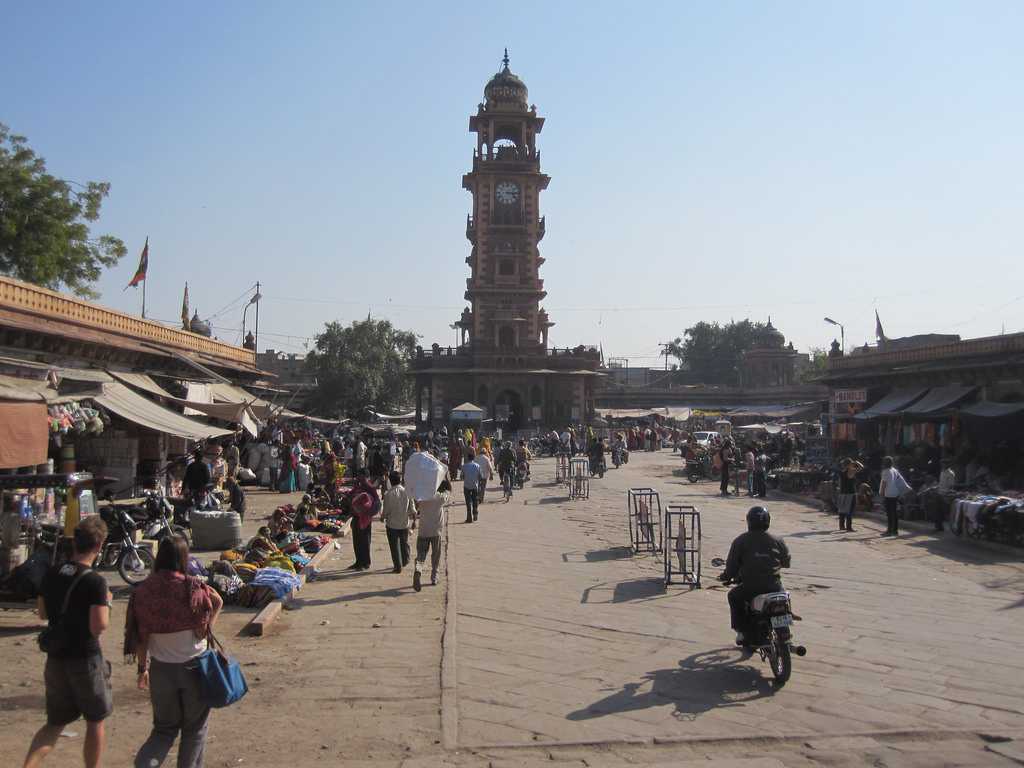 This market has been ranked number 1 by the residents as well as tourists for shopping in the entire city of Jodhpur. People visiting the city surely take a quick peek at the market at least once before leaving. It is also known as 'Ghanta Ghar' (the literal Hindi translation of clock tower).
Best Known For: The market is famous for its diverse varieties of spices, especially Mathaniya's red chilli. Some other interesting items to buy include handicrafts, fabrics having intricate embroidery done by hand, flavoured teas and other antiques.
Tips: Though the shopkeepers are all very helpful and welcoming, it is a must to bargain on the price as prices charged on even the simplest items are sometimes inflated for tourists. 
People are likely to get tired after wandering through streets, and what other than some delicious and refreshing Makhania Lassi can take away all the weariness. This market is famous for its Lassi and is voted as the best lassi in the world by tourists. Along with the lassi, try the Shahi samosas too and give your shopping experience a satisfying closure.
Timings: 11 AM to 11 PM, Sunday Closed
2. Nai Sarak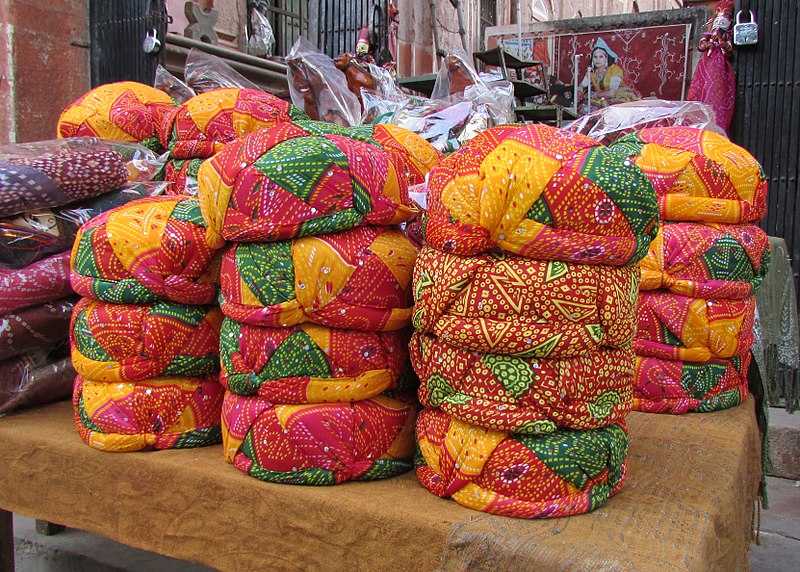 Best Known For: 
Your experience of shopping in Jodhpur will not be complete without buying the traditional tie and dye fabrics from this marketplace. This fabric also known as bandhani or bandhej is one of the most famous fabrics all over the world. In addition to this, some other very famous items of the market include saris, bandhej suit pieces, turbans and dupattas. One can take these cloth materials bearing such beautiful and intricate patterns as gifts for their loved ones. Also, items made of leather are quite the speciality of the place and can be taken as a homecoming gift or a souvenir to save one from getting kicked out of the house for coming back empty-handed. This is by far the most visited bazaar of Jodhpur.
Tips: Always, BARGAIN!. Also, take care of your belongings.
Timings: 10 AM to 10 PM, Sunday closed
3. Sojati Gate Market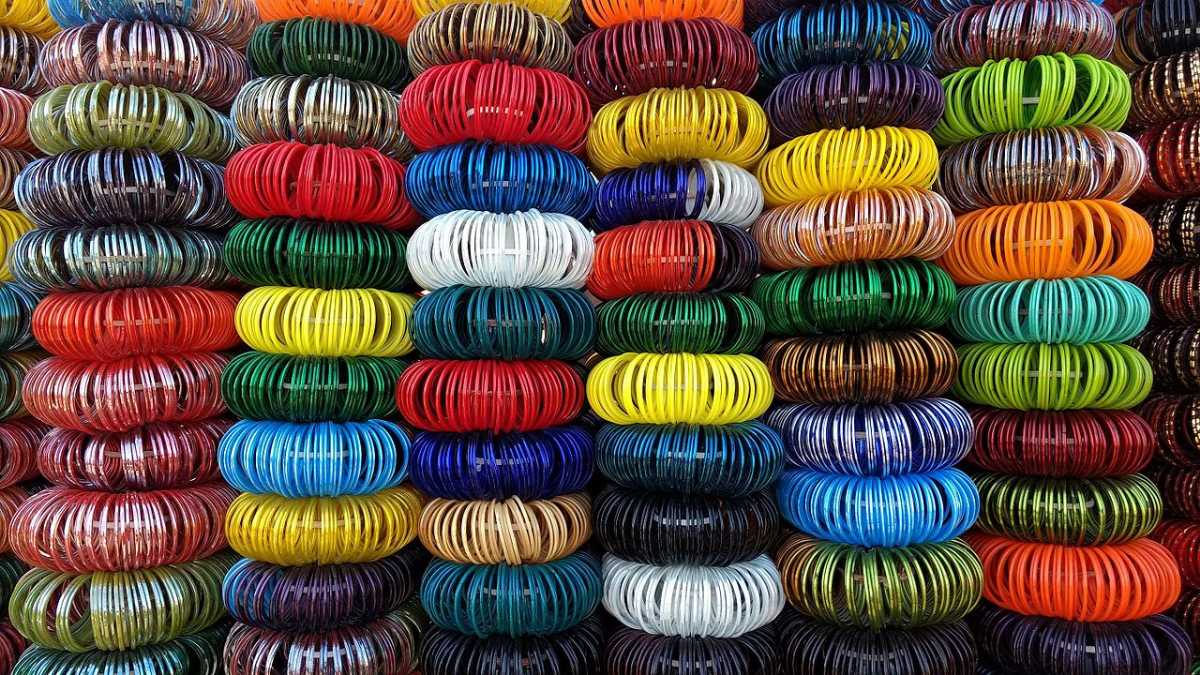 Every bazaar that we talk about in the article is a significant market of Jodhpur and should not be missed out on! One of them is Sojati Gate Market. This market is like one of the most sought-after places in the city and is visited by a lot of tourists every year.
Best Known For: 
The marketplace is huge with lots and lots of stalls and shops offering Rajasthani handicrafts, jewellery, tie and dye fabrics and souvenirs lined up for the visitors.
Any lady coming for her shopping here should surely visit the stall of Henna designs to get her hands decorated.
Tip: 
Although the material offered is great and genuine, it is always advisable to cross-check the product for defects before buying it. 
Timings: 7 AM to 11 PM, Sunday closed
4. Mochi Bazaar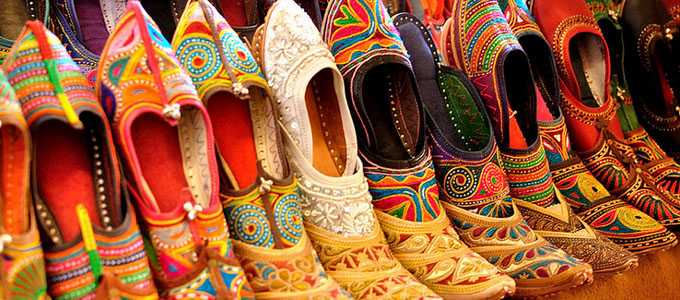 Even a layman would know the speciality of this bazaar which is also known as 'cobbler's market'.
Best Known For: 
The place for Shopping in Jodhpur is the best place to find the very famous Jodhpuri juttis also known as mojaris. Available in numerous designs adorned with bright
colours, patterns and ranges, these Mojaris give a very royal look to any attire. Mojaris are in demand not only in India, but foreigners too are so crazy for this type of footwear that they sometimes fly down to get a hold on some of these. Some other items which can be picked up from the market include lac bangles and junk jewellery. A shop having so much to offer right from head to toe is one of the best markets of the city.
Tip: 
Do not give whatever price is quoted by the shopkeeper right away. Be patient and bargain- always works!
5. Umaid Bhawan Palace Market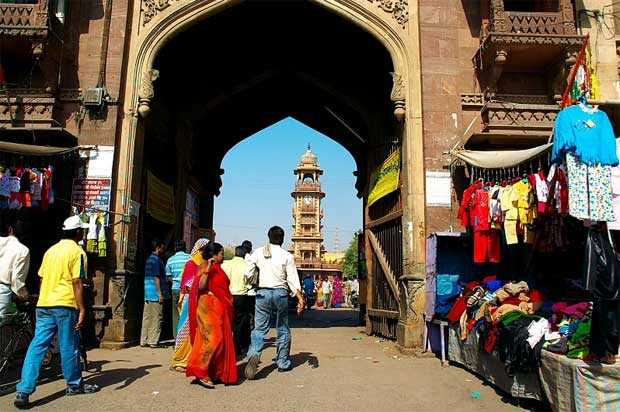 Best Known For: 
This market is amazing for its metal works, delicate antiques and exclusive designer furniture. It is like a collection of items for the people with a royal taste. Lots and lots of varieties of handicrafts varying from mirrors, beads, sequins, metal, pottery, marble, brass and copper ware, paintings, textiles and silver jewellery to puppets are a part of the marketplace.
Tips: 
Do not forget to visit the road of the palace present between Umaid Bhawan and Ajit Bhawan. Though the prices of the items here are fixed, they are likely to be worth the quoted price. There is a sense of satisfaction and joy that one gets after shopping in this market. However, it is also advisable not to pay any price. Look for a good street food joint to hog and complete amazing shopping experience.
Timings: 9 AM to 5 PM, Monday closed
6. Kapraa Bazaar
Best Known For: 
Very evident by its name, one is like to find varieties of clothes in this market (also known as clothes market). However, the speciality of the place is the traditional Rajasthani attire known as 'leheriya'. This design was started in Jodhpur city with the unique print being imprinted on suits, saris and dupattas. One is also likely to find bandhej cloth material which is available in abundance in the marketplace.
Tips:
If you are genuinely looking for shops which sell good quality leheriya and bandhej patterns on silk, cotton and chiffon clothes, head directly to this market. With the kind of prices at which products are available here, it turns out to be a pretty good deal.
7. Sarafa Bazaar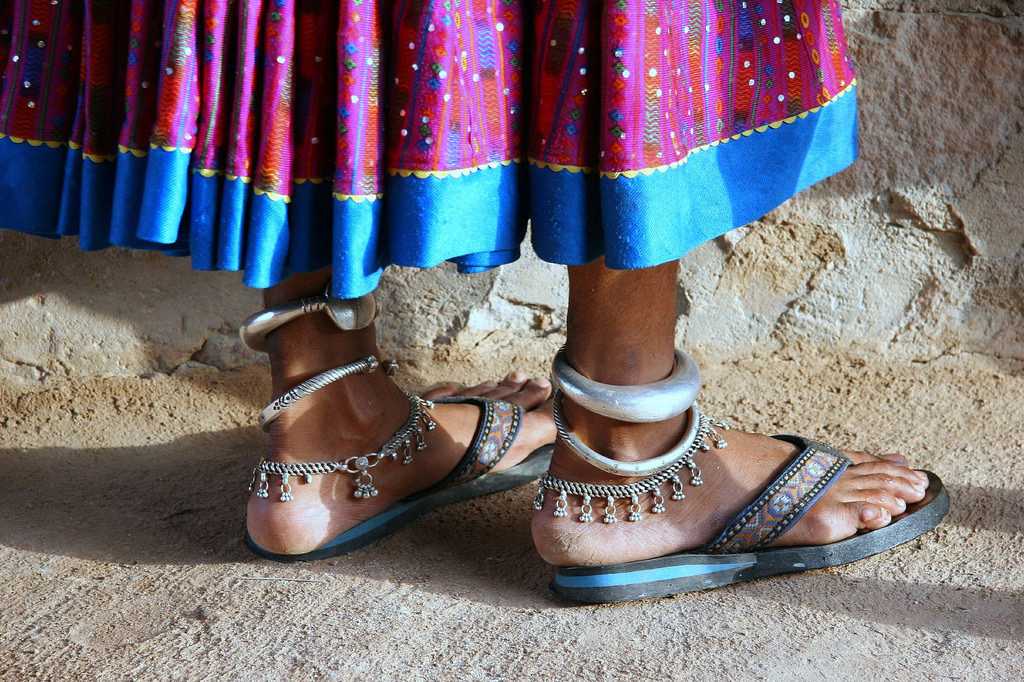 Best Known For: 
It is said that diamonds are a woman's best friends but so is silver. This place for Shopping in Jodhpur is famous for its silver ornaments and accessories. Some other famous items in the market include leheriya and bandhani fabrics and home décor items including photo frames, trinkets and artefacts.
Tip: 
Put all your negotiating skills to use at once and get yourself a good deal.
8. Tripolia Bazaar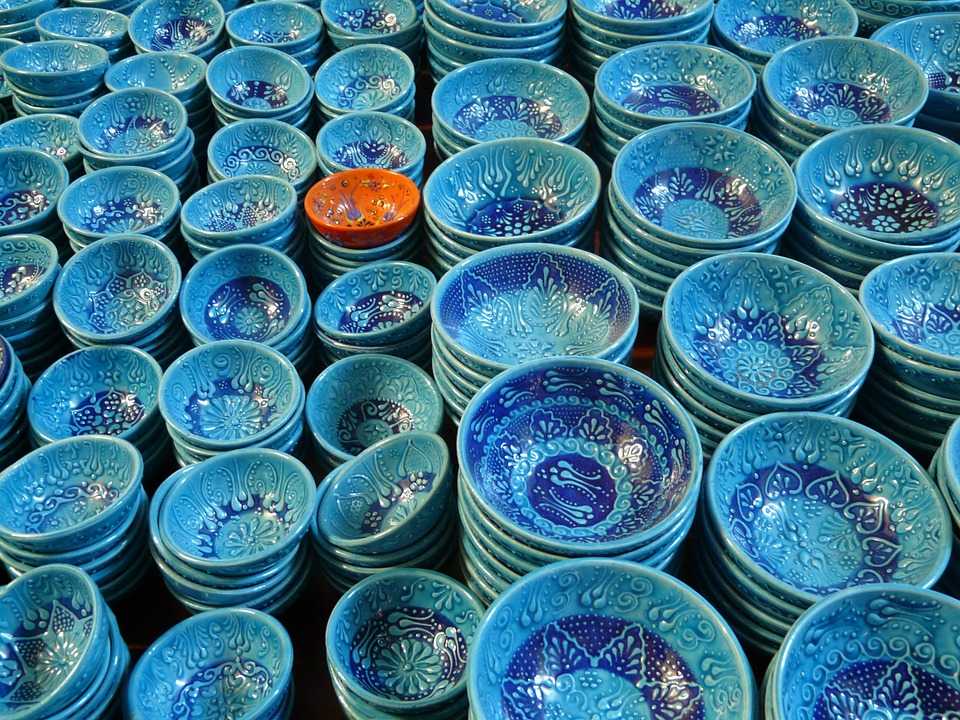 If you love to collect colourful handicrafts, Tripolia Bazaar in Jodhpur is the right place for you. Buy marble artefacts, traditional jewellery and textiles without burning a hole in your pocket. 
Things to Buy in Jodhpur
Bandhej Fabric
Mojris
Handicrafts
Scroll Paintings
The mind is to body what shopping is to vacation. So all the travellers out there pack your bags at once and go out on a vacation and don't forget to get souvenirs!