Rosie's Retreat is a quiet sanctuary which should definitely be your home when in Udaipur when you are here for a longer time. It is recommended to ditch the hotels for this Airbnb, it's that appealing. With a very homely feeling, the retreat is a quaint little building with a lakeside spectacle. Space is so well done with antiques and modern interiors. 
It's called Rosie's retreat for a reason. The lady who runs this Airbnb is named Rosie, who is an Englishwoman. You need to contact her in case you want to live here. 
Location and Space 
Located near the thriving area of City Palace, the home of the Maharajas of Udaipur, Rosi's Retreat is one of the best Airbnb in India. It is located in a very quiet alley which is about a two-minute walk away from the palace. 
Rosie's retreat is placed in a very safe location in the city. The street may be quiet and isolated but it's completely safe. The Airbnb is suitable for single women. 
It can accommodate 2 guests at a time only. You will be living only with your accompanist you're travelling with. It has one bedroom, one bed and one bath housed in the living space.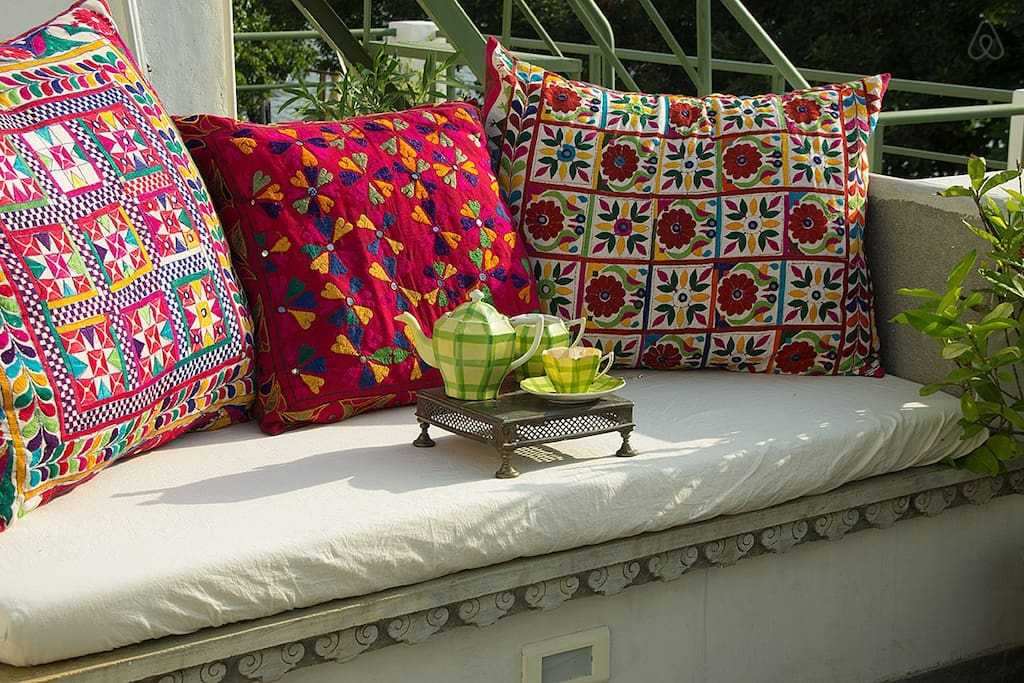 The self-catering two-floor boutique apartment is an alluring little place with colourful and attractive rooms where you can lay back and unwind. There is a private roof terrace overlooking Lake Pichola which lets you enjoy the picturesque sights and contemplate about life and nature. There are a number of plants around for you to stay in a very pleasant and positive environment. The kitchen is fully furnished if you wish to spin up a dish or two while you're living there. It's definitely worth every penny you pay for when you live here. The home is so tranquil and refreshing.  It is perfect for your elongated stay. It is maintained well and cleaned daily. 
The lane where it is situated is unfit for large vehicles and only two-wheelers and tuk-tuks can make an entrance here. 
Cost 
INR 5000 per night!
Book This Homestay
Things to Note
Check in time is at 12 noon and checkout is at 10 AM. 
Rosie's Retreat is not suitable for children.
The property is under CCTV surveillance. 
No staff lives on the premises. 
Other Facilities Available at Rosie's Retreat
International standard sockets
Free WiFi is available 
It has an inverter power backup system in place in the event of city power cuts.
Fully Air-conditioned 
Fans and heaters are available
The bedroom has a King-sized bed with handmade cotton mattress.
A selection of books and magazines are provided
Games like Scrabble, Chess, Backgammon and playing card for entertainment.
Iron and ironing board
Power shower in the luxury bathroom
Hairdryers are available
Umbrellas are provided during monsoons
Gas hob, fridge, toaster are available in the fully furnished kitchen 
Tea, coffee and sugar are provided.
2 bottles of mineral water per day( free of cost) 
Welcome fruit basket and milk on arrival.
Yoga mats are provided for your morning sun salutations
Chargeable, daily laundry service at 11:30 AM 
All guests are provided with up to date tourist information including where to eat, where to shop and what to see.
A housekeeper is assigned to the Retreat named Ajju who is assigned to clean the apartment. He is scheduled daily at 10 AM. 
Reviews 
As per the reviews gathered, the last 12 guests who stayed here said that it was sparkling clean. Rosie retreat has been reviewed as a Superhost 15 times in a row now as it is committed to providing a very comfortable stay for guests. 95 per cent of the guests gave it a 5-star rating.
Guest Access 
The guests have access to the breakfast courtyard outside the bedroom suite, the kitchen and the roof terrace.
Rosie's retreat will ensure a very cost, comfortable and luxurious space. It is all you want under a roof to enjoy a vacation. It is quaint, homely and perfect! 
Are you going to live at Rosie's Retreat when you head to Udaipur? Let us know in the comments below!