Sharjah
is a popular tourist location mainly looked upon for its massive number of parks present in this city. The city boasts of over 50 parks located in the downtown which are a huge tourist attraction. Let us now look at some of the parks in Sharjah.
1. Al Majaz Park

Launched by the Sharjah Investment and Development Authority in 2010, the Al Majaz Park is a combination of several recreational activities which it offers to its visitors ranging from kids to senior citizens. Covering an enormous area of 231,000 square feet, this fabulous park in Sharjah is a depiction of the city's rich cultural heritage.
The Al Majaz Waterfront is an extension of the original park and it adds to the beauty of the place. The waterfront is a family-friendly area aimed mainly for relaxation of the soul through an audio-video dancing fountain, miniature golf and plenty of eateries. It also arranges a variety of events, concerts and festivals throughout the year which makes it a tourist magnet.
Entry Fee: Entrance is free but charges may apply for some activities within the park.
Timings: Open 24 hours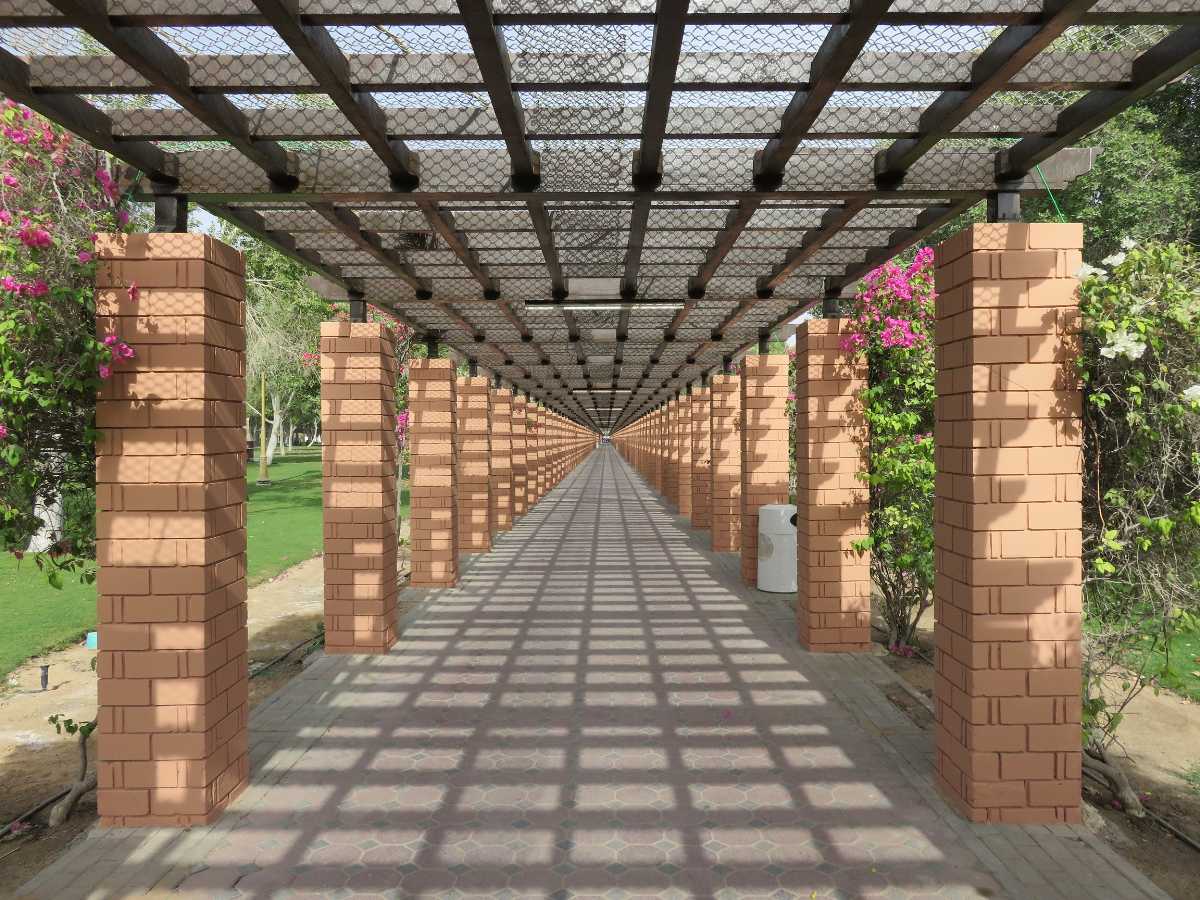 The largest park in Sharjah with an expanse of 630,000 square metres, this park is designed inspired by the European parks but has a distinctly Middle Eastern feel. It is the one stop solution for family get-togethers, picnics and other leisure activities. The park is equipped with large playgrounds, lush greenery as well as a large jungle gym with all sorts of facilities. The park is mainly famous for its barbeque facility. People can use this facility at their free will if they bring in their own coal. Small canteens are available around the park. Visitors are also allowed to rent a bike to move around.
Entry Fee: AED 2 = INR 37.76
Timings: 8:00 AM to 10:00 PM

3. Al Montazah Park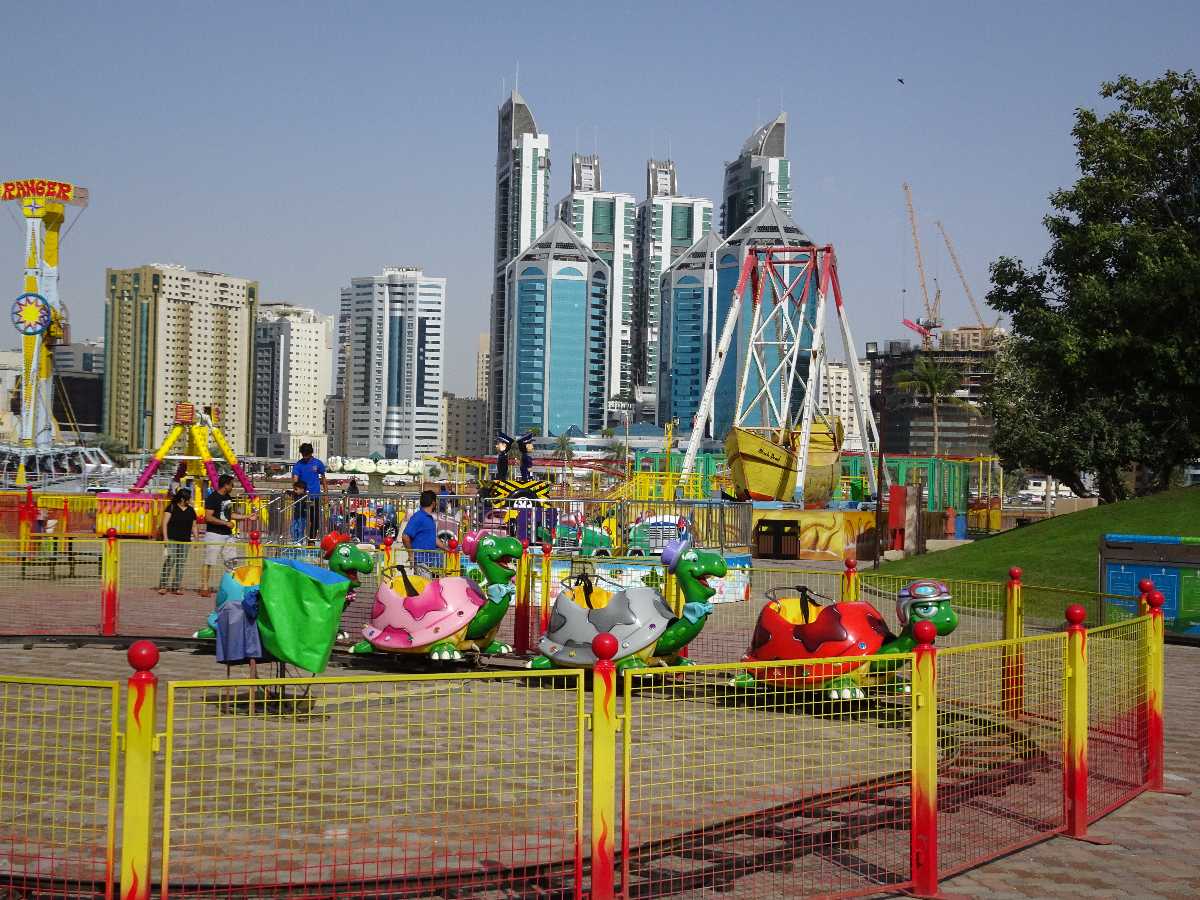 Al Montazah Park is one of the best family parks in Sharjah which offers a spectrum of opportunities, rides and sports ideal for a dream vacation. It has been gaining a lot of fame in the recent past and is visited by tourists from all over the globe. It provides 500 parking lots, includes disability bays and also offers additional facilities at the Flag Island located opposite. It is also equipped with an amusement park and a water park which is the recipient of the Sharjah Tourism Excellence Award for 2014 as the best new tourist destination in the emirate.
Entry Fee:
Children below 80 cm in height - Free
Main park entrance - AED 10 INR 188.80
Water Park Entrance:
Adults: AED 120 INR 2265.54
Children: AED 75 INR 1415.96
Timings: 6:00 PM to 2:00 AM
Cost:
Tickets for some of the sports and games -
AED 10 to AED 25 (INR 188.80 - INR 471.99)
4. Al Darari Park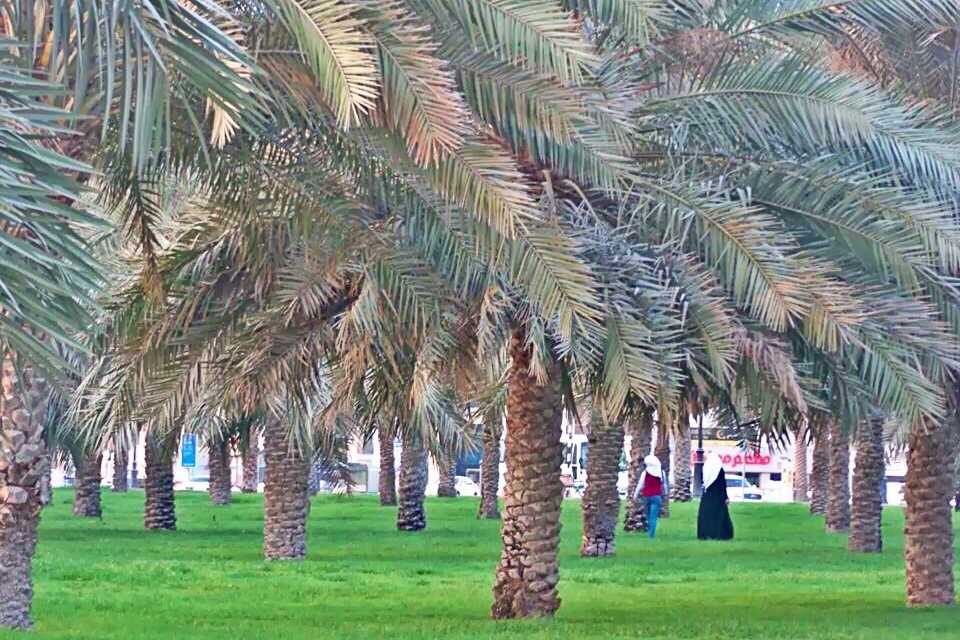 Al Darari park in Sharjah is located nearby to Al Darari and Al Darrare with an elevation of 13 metres. It lies southwest of Al Tala and south of Al Khezamia Park. Needless to say, this place is popular for its interlocking of parks and serves as a huge tourist spot. It is rated highly by the tourists due to its lovely and conservative ambience which is of great importance to the Asian culture.
Entry Fee: None
Timings: 4:20 PM to 9:00 PM
5. Al Ittihad Square Park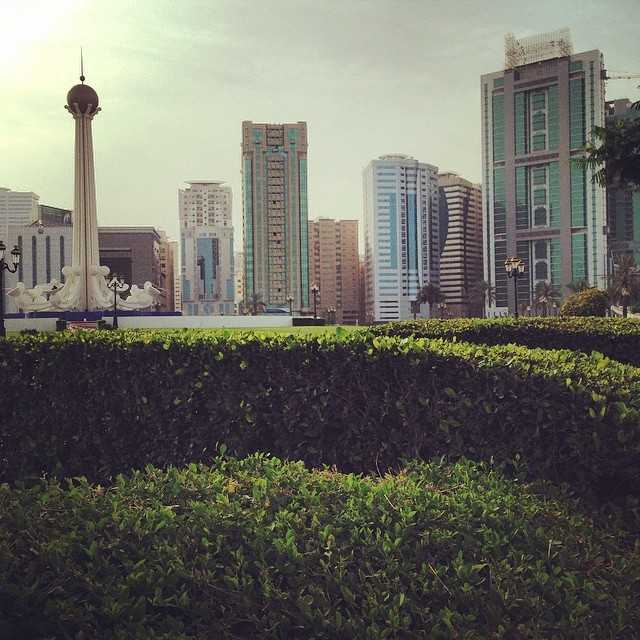 Located right in front of the King Faisal Mosque, Al Ittihad Park is an ideal location for tourists to jog or do yoga. It is marked by a 2.5 km stretch characterised by fountains, ponds, children's play area, healthy eateries and supermarkets. It also provides great photographing opportunities with the iconic pearl monument located right in the centre.
Entry Fee: None
Timings: Open 24 hours

6. Rolla Square Park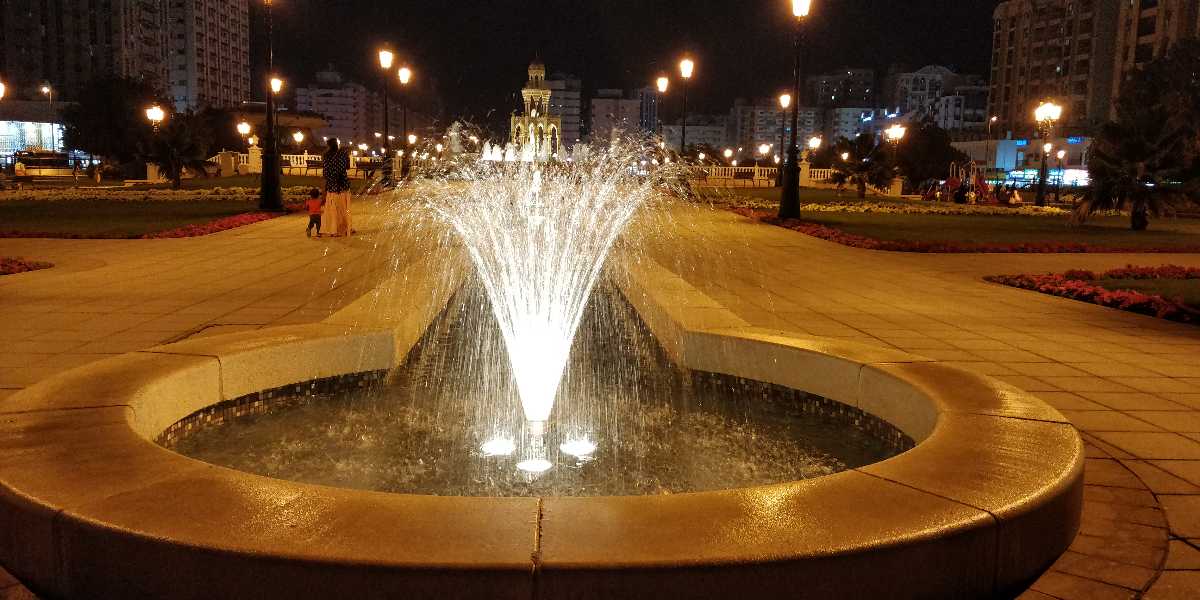 The Rolla Square park is located in the Al Rolla square famous for its historical significance because of the plantation of the first banyan tree in the 1800s. The Rolla Square Park is a modern park with fountains and lagoons and had been open for the public in 2012. Its vast green lawn stretch is ideal for walking, jogging and even for children to play. This park in Sharjah is really well maintained and well shaded with Banyan trees all around. The entrance of the park leads through a magnificent large gate which enhances the beauty of the park.
Entry fee: AED 2 = INR 37.76
Timings: 8:00 AM to 10:00 PM
7. Al Talah Park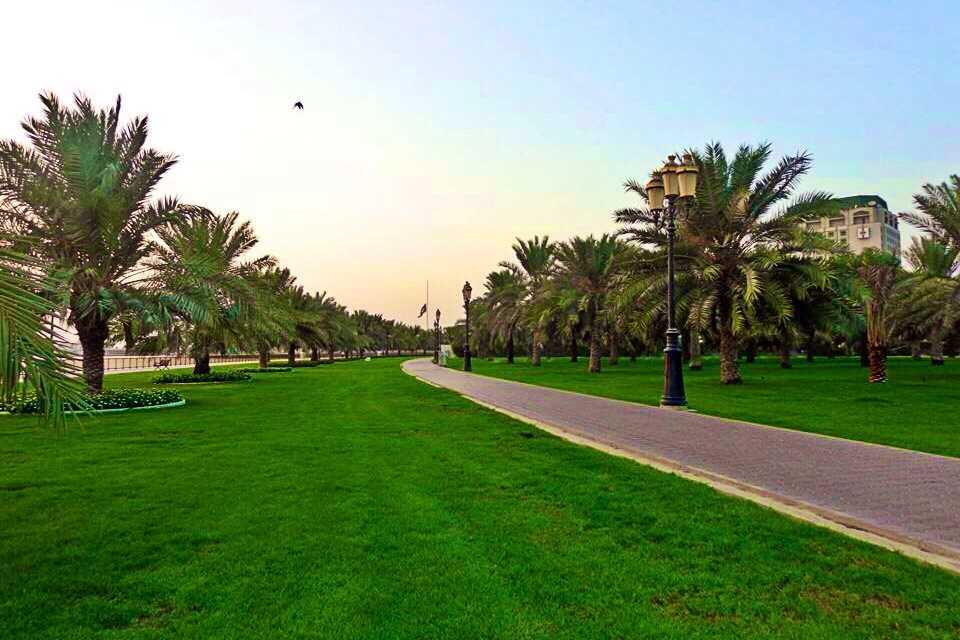 The Al Talah park is a nice and small park which serves mainly for relaxation and recreational purposes. It is quiet and calm, making it ideal for families to spend some quality time on a weekend. It is ideally suited for carrying out social activities by the younger generation.
Entry Fee: None
Timings: 4:00 PM to 10:00 PM
8. Al Ghafia Park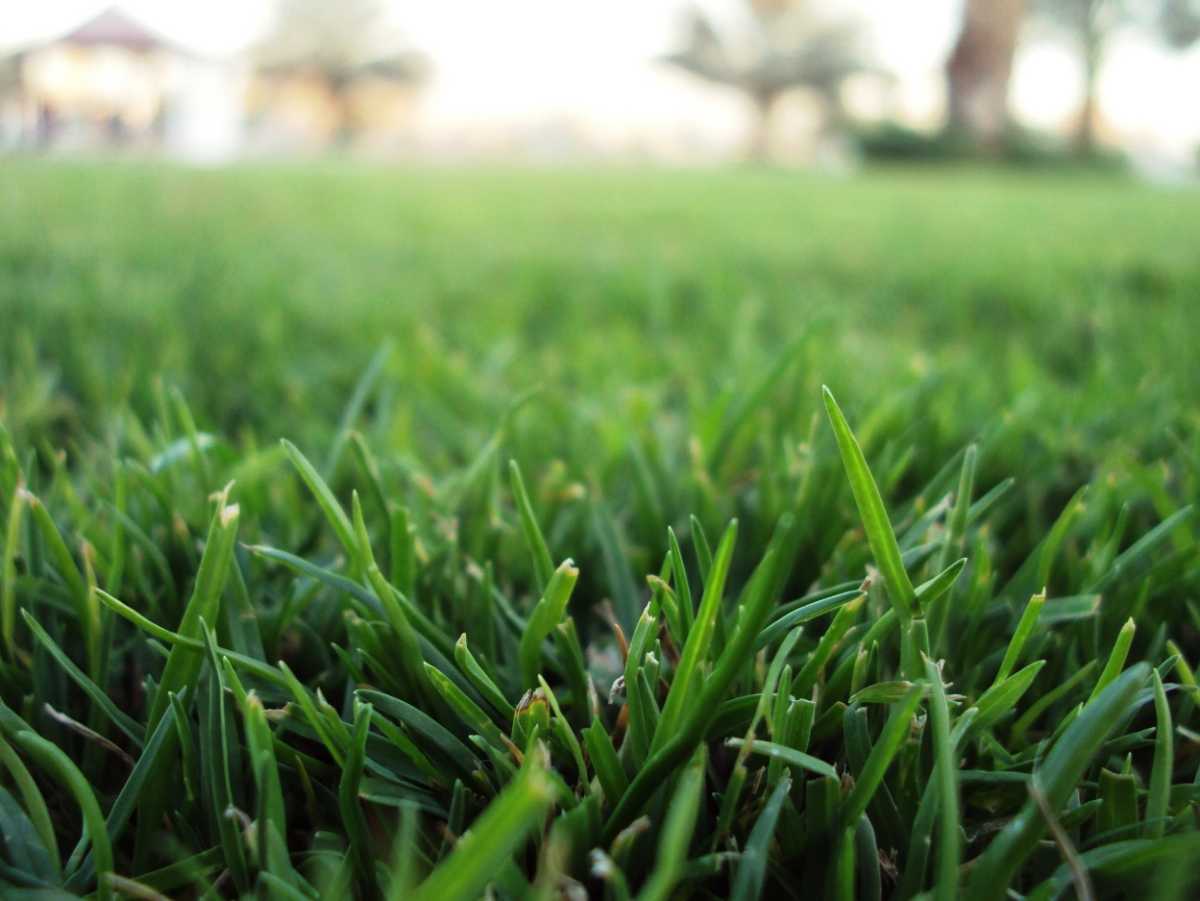 Situated in the Al Ghafiya district of Sharjah, this park is a bit off the city limits of Sharjah. However, it can serve as an ideal picnic spot, a place for some casual time going for a stroll and some peace. So if you are looking to spend a lazy Sunday afternoon, do consider heading towards Al Ghafiya.
Entry Fee: None
Timings: 8:00 AM to 9:45 PM
Have a great time at these parks in Sharjah. Do make a note to acknowledge the beauty of this place and rate it highly to make its tourism flourish even more