Going to the cultural capital of the United Arab Emirates and not visiting one of the mega malls in the area is almost a sin!
Sharjah
's attraction lies not only in its modern malls but also in the numerous individual boutiques and unique bazaars (souks) that add on to the allure for shoppers. The range of goods that can be purchased here varies tremendously, from handcrafted souvenirs to some of Sharjah's delicious delicacies.
Here's a quick look at some of the grand malls in Sharjah:
1. Sharjah City Centre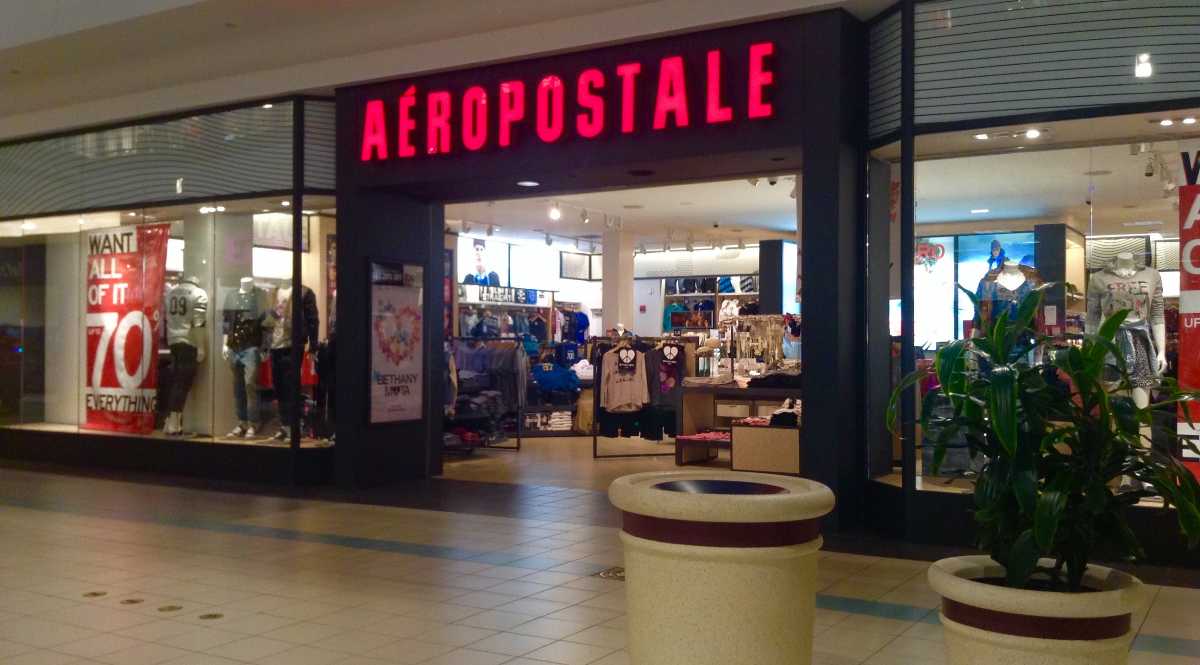 Opened in 2001, this massive mall in Sharjah has over 120 international brands. From household furniture to books, stationery, toys and electronics, one can find almost every possible thing in this place. Some of the common brands available here are Aeropostale, H&M, Levi's, Balmain, Miniso, Aldo Shoes, Accessorize. Apart from an enormous assortment of shopping stores, City Centre mall also has various dining outlets. Some of the mouth-watering cafes, restaurants and confectionery stores are Baskin Robbins, Cold Stone Creamery, Big Apple Bagels Cafe, KFC·, Pizza Hut, Chili's, Nando's The mall's favourite attraction is the Magic Planet which offers a wide variety of games, rides and other activities along with some enticing rewards.
Timings: 10:00AM-10:00PM
Address: Al Wahda Road, Sharjah, United Arab Emirates
2. Sahara Centre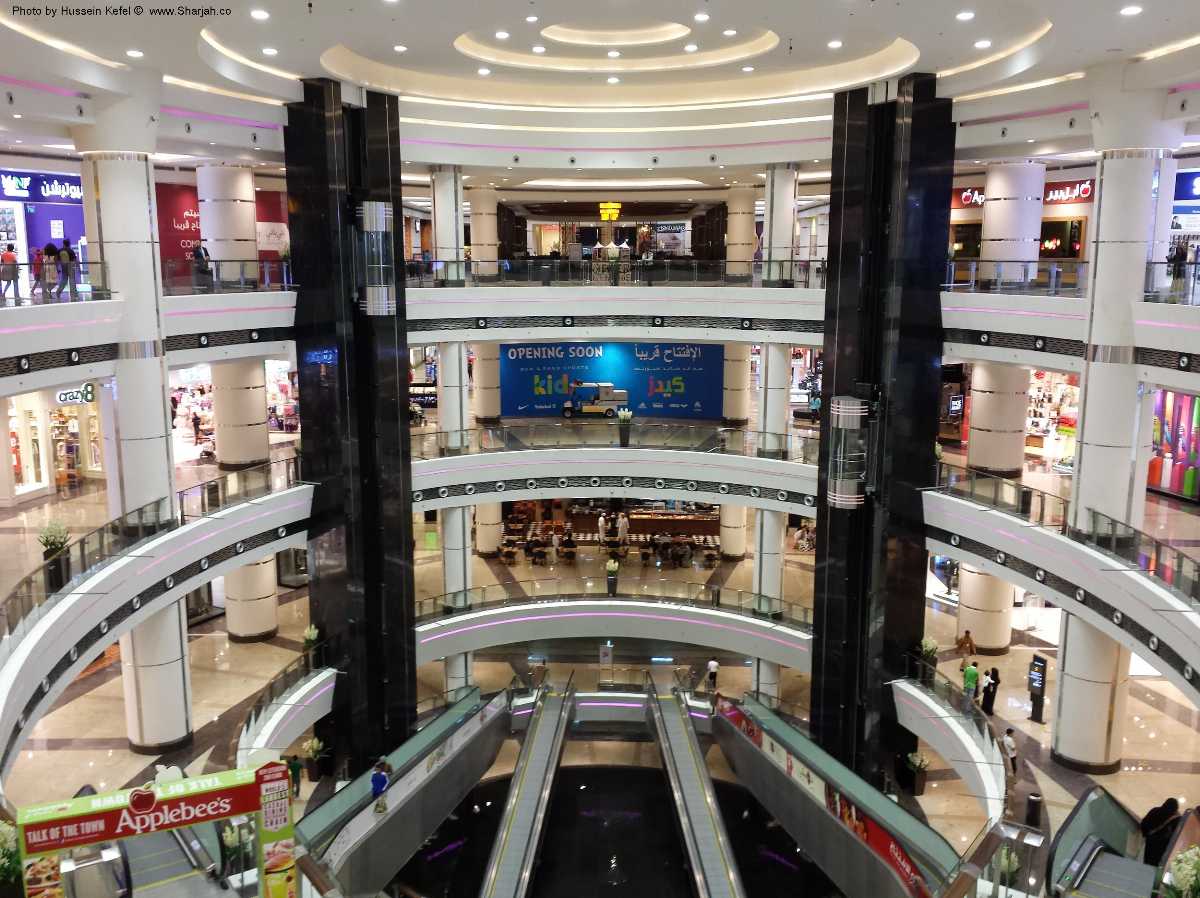 One of the leading malls in Sharjah, Sahara Centre offers a guaranteed good time. The wide variety of shopping outlets, fine dining options and entertainment facilities make sure that the visitors have an incredible time here. Fashion stores like Allen Solly, Da Milano, La Senza, Mango, Lifestyle, Promod, etc. keep all the shopaholics more than satisfied. Restaurants like Applebee's, Russo's New York Pizzeria, Yoko Sushi, etc. work perfectly well with the atmosphere of the mall. To further up the level of fun, the mall has a section called Adventureland, a premier family entertainment centre, which runs 17 rides and various other enjoyable activities.
Timings: Saturday-Friday: 10:00AM-1:00AM
Address: Al Nahda St. Near Ramada Sharjah, Sharjah, UAE.

3. Ansar Mall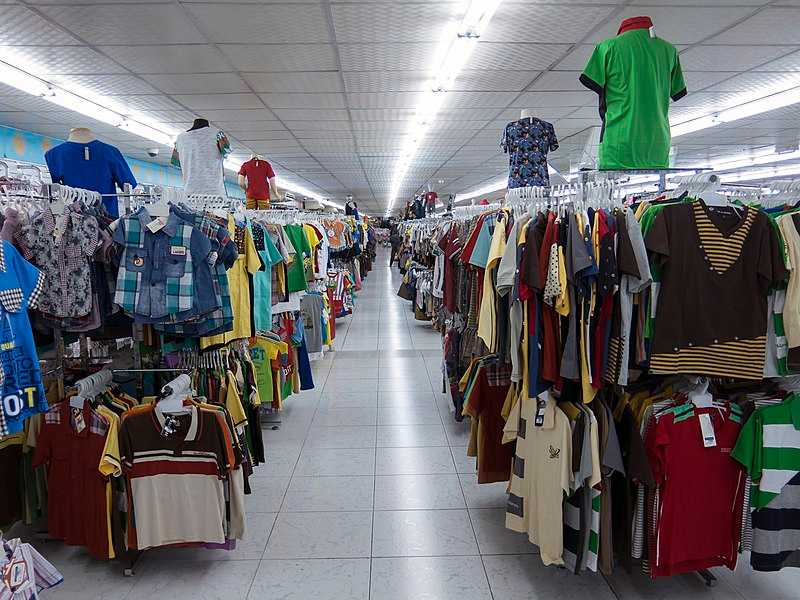 The mall boasts a rich shopping experience due to its high-end purchase outlets and fine restaurants. People hunting for a fusion of local and international brands need not look anywhere else and directly land in this mall to go on that much dreamt about shopping spree. This mall in Sharjah always has a sale going on and is sure to give any shopper the best of deals. Need to get presents for the family back home? This mall is the perfect place to go!
Timings: 10:00AM-12:00AM
Address:  Sharjah Bridge, Sharjah, UAE
4. Mega Mall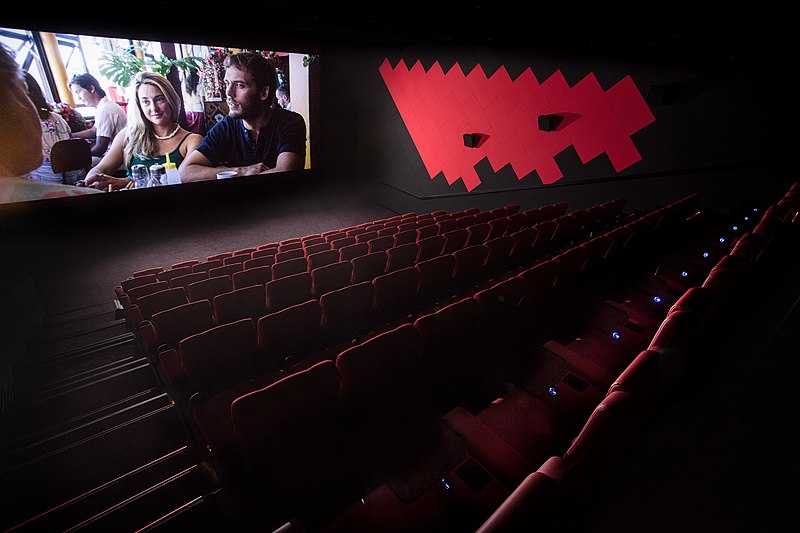 Besides providing a blend of local, regional and international brands, this mall in Sharjah houses some of the world-class entertainment destinations. Antic's Land is the ideal place to drop off those little ones while going to surf through the array of fashion and electronics stores. Novo cinemas and Games Corner further keep the enthusiasm to visit this mall high.
Timings: Sunday-Wednesday: 10:00 AM- 12:00 AM, Thursday & Saturday: 10:00AM-1:00AM
Address: Al Istiqlal Street, Al Bu Daniq, Near Immigration Office
5. Al Shaab Village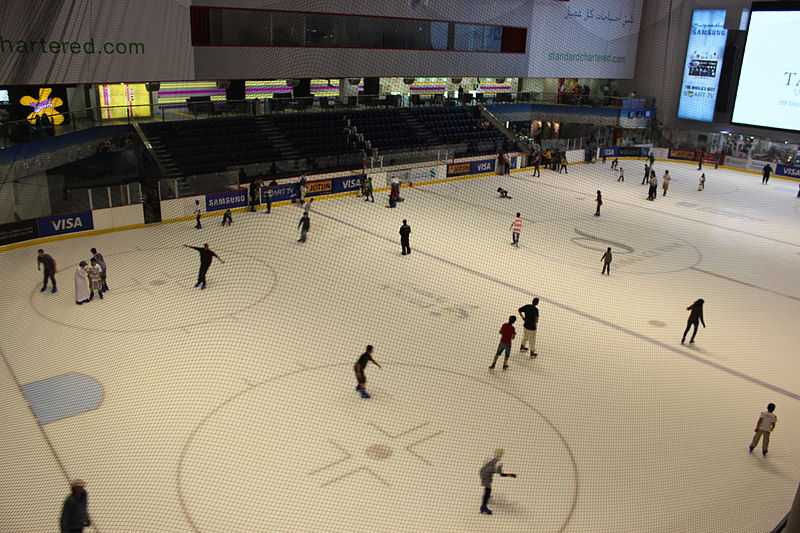 It is well-known for its stores of traditional men and women attire, electronic shops and style accessories. Al Shaab Village is a mall in Sharjah that is the best place to take your kids to while you spend some leisurely time in some retail therapy. Sharjah's largest ice skating rink makes Al Shaab Village one of the most visited locations. In addition to the beautiful indoor games and activities, it has an amusement park with various rides that are updated from time-to-time to keep the experience joyful and thrilling.
Timings: Saturday-Wednesday: 11:00AM-11: 00 PM, Thursday: 11:00AM-12:00AM, Friday: 4:00PM-12:00AM
Address: Sheikh Khalid Bin Mohammed Al Qassimi Street, Al Hazannah
6. Central Market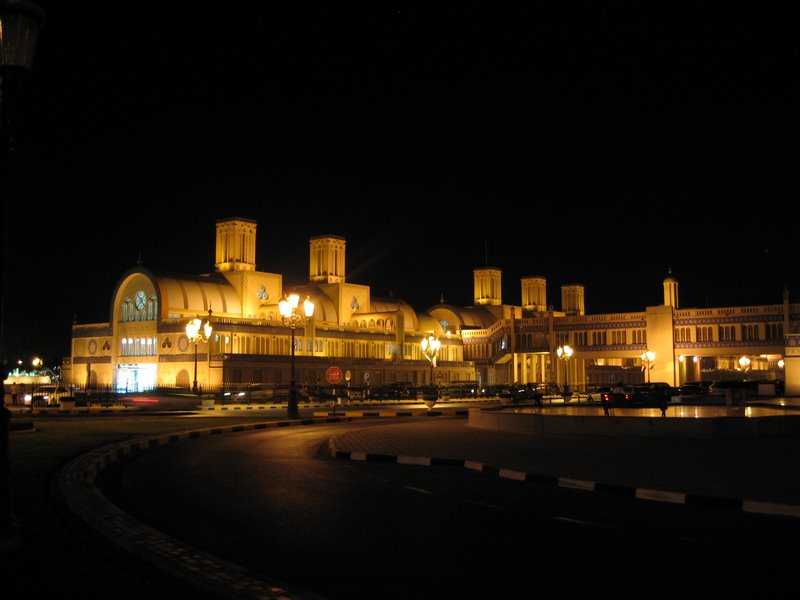 Popularly known as the Blue
Souk
, Central Market has a fascinating architecture style. Completed in 1978, it consists of two large buildings connected through bridges. One of the captivating features of the structure is its unique skyline of 20 wind towers. The market has over 600 shops filled with gift products, electronic appliances, jewellery, antiques, rugs, clothes, etc.
Timings: Saturday-Thursday: 9:00AM-1:00PM, 4:00PM-11:00PM. Friday: 9:00AM-12:00PM, 4:00PM-11:00PM
Address: Al Buhaira Corniche, Khalid Lagoon
7. Souk Al Arsah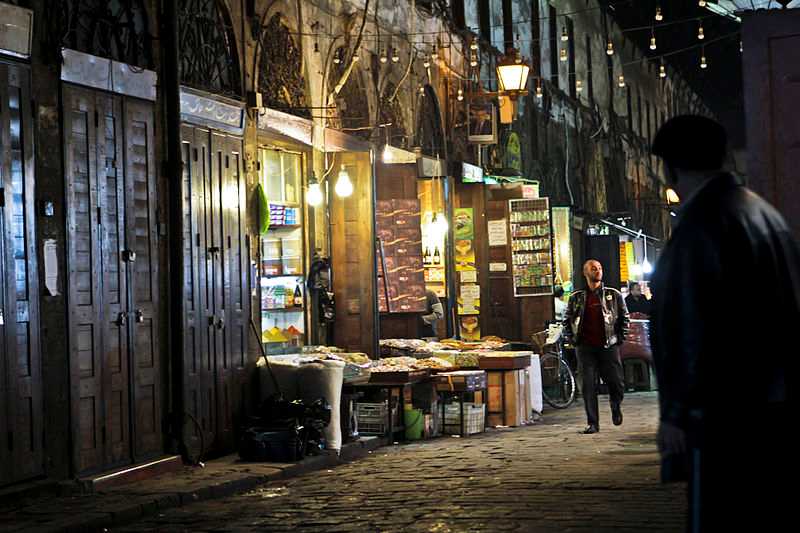 Known as the Courtyard Souk, this is the oldest market in Sharjah. Walking along the air-conditioned alleyways of Souk Al Arsah gives a feeling of going down the roads of the past. Not much of a mall in Sharjah but rather a traditional souk, this beautiful place takes you back in time with its architecture stuck in time and the vendors selling Arabic products. The place can provide beautiful antiques, copper coffee pots, ethnic and handmade jewellery, shawls, palm-leaf baskets, and so much more to the shoppers. This is the perfect place to buy souvenirs for your family and friends!
Timings: Saturday-Thursday: 9:00AM-9: 00 PM, Friday: 4:00PM-9:00PM
Address: Al Sharq Street, Opposite Old Souk, Shuwaihean
8. Safeer Mall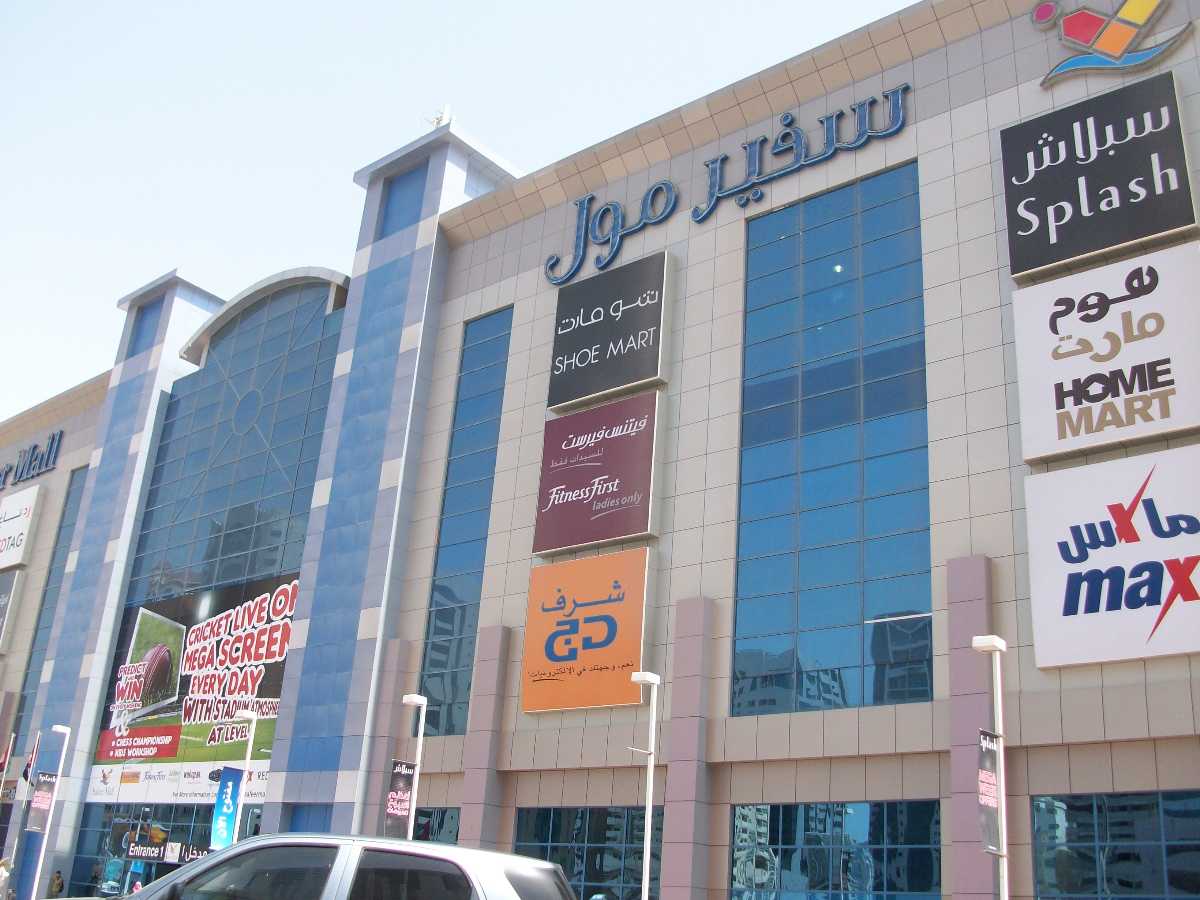 Located amidst residential area, the mall offers a wide range of apparel, accessories and gadget stores for the wholesome shopping experience. Space City provides a fitness centre as well as a kids' corner to have a perfect blend of good health and enjoyment. The multi-cuisine restaurants and cafes further help the shoppers to immerse in flavoursome eating affairs.
Timings: 10:00AM - 10:00PM
Address: Industrial Area 7, Al Ittihad Road
With a plethora of local and international brands, classy and contemporary restaurants, as well as fun-filled kids' corner and other entertaining centres, these malls in Sharjah call all shoppers to spend their time, energy and of course money to get the best shopping experience of their lives!