I've spent 25 years of my life without ever feeling the chilly, flaky goodness of freshly fallen snow. But all that changed last month when I finally went to the lap of India's most majestic mountain range – The Himalayas.
My friend and I – we took a flight to big bad Delhi (Chandigarh is a better option but the flight is more expensive from Mumbai) and then an overnight bus to Manali from ISBT Kashmere Gate. Read about 
my impressions of Delhi here
.
The bus ride
The bus ride was surreal – we paused at strange little pit-stops consisting of tea shops and a barely serviceable loo; sometimes a shop selling the ubiquitous lays and biscuits – at odd hours of the night and early morning. And though I knew we were travelling across New Delhi, Punjab and finally Himachal Pradesh, everything looked the same; just bearing the air of Northern India. The men at these all-night eateries spoke in varying accents rather like the contestants on MTV Roadies and I wondered about their lives; for that matter even the bus conductor; spending their nights staying up and their days nuzzling into fitful sleep.
Our sleep wasn't much better than what they got – every time I felt like I was passing through the doors of light slumber into the world where even dreams cannot invade, the bus would stop and jolt me into unwilling wakefulness. We also watched a re-run of Kuch Kuch Hota Hai of all movies and I was reminded anew of how inappropriate the plot actually was – glorifying and romanticising the 'second choice' who was earlier ignored in favour of a prettier one.
The next morning, we witnessed a beautiful dawn over the mountains of Himachal Pradesh and the entire route to Manali was an incredibly picturesque one – dotted with storybook villages, colourful roofs, mountains painted in strokes of white and grey and the River Beas. All throughout, the River flowed, its merry gurgle a welcome song for all the souls who paid her a visit.
The Himalayan Spa & Resort
You can't blame me for not wanting to leave my room at The Himalayan when I was treated to views like these:
In the wee hours of the morning
I saw a world subdued and sleepy
I saw the mountains yawning
Read to unfurl a snow-capped canopy.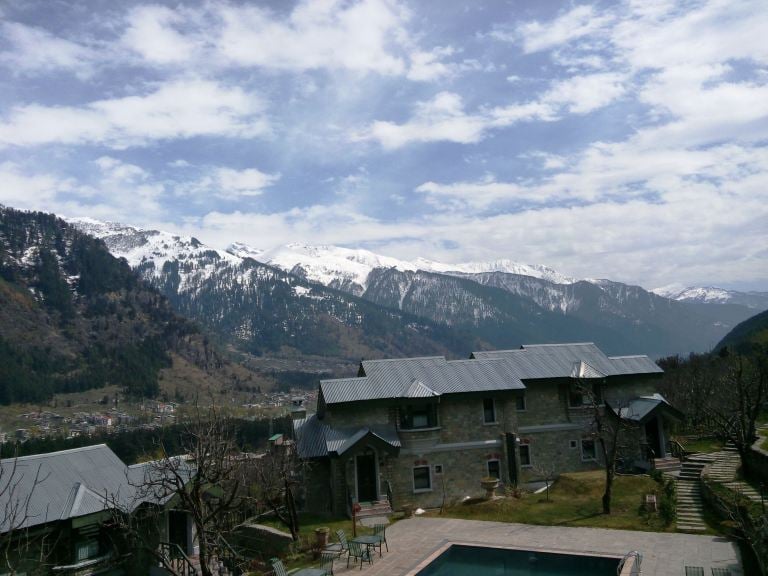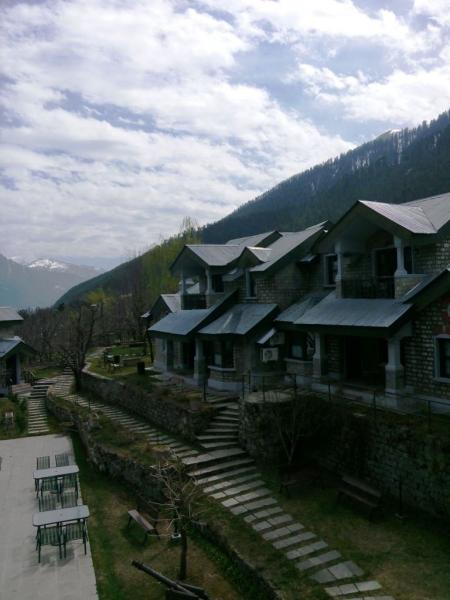 We got there after an unworldly walk through little twisting lanes inside a village strewn with roadside taverns and shops selling colourful woollens, not too far from the main market. However, our resort was located on top of a hill and involved quite a trying climb, which we eventually got used to.
Although I had an exhaustive list of places to cover in and around Manali, what we finally managed to explore in the span of a few days was this:
Hadimba Temple
Solang Valley
Vasishth Village
Buddhist temple at Manali market
Van Vihar
And there were many meandering walks around Manali and Solang village, explorations in unforeseen patches of snow and silent moments by different parts of the River Beas which were perhaps more memorable than ticking boxes on our travel itinerary. 
For practical information about planning a trip to Manali, please scroll to the bottom of this post.
 For a poetic sojourn through my own experiences, read on.
Glimpses of Manali
Everyone should come to Manali to realise how beautiful India can be.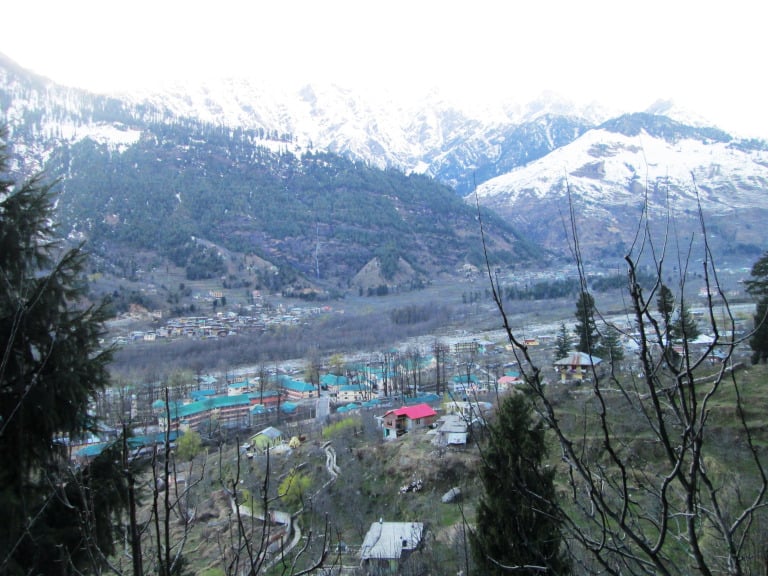 Especially, people who aren't sure if there is an India beyond the squalor of her capital cities.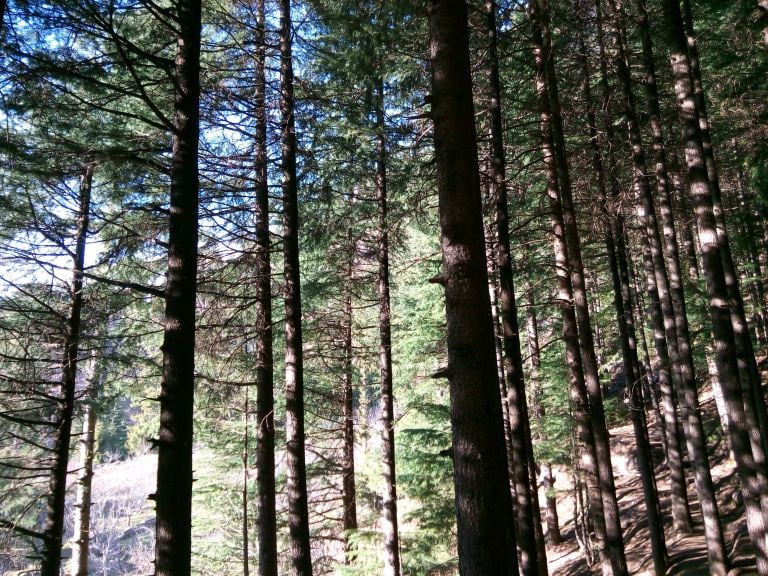 The River Beas gurgled softly
Swept our silence into its merry flow
And turned it into a mountain song
Whose arcane lyrics I might never know.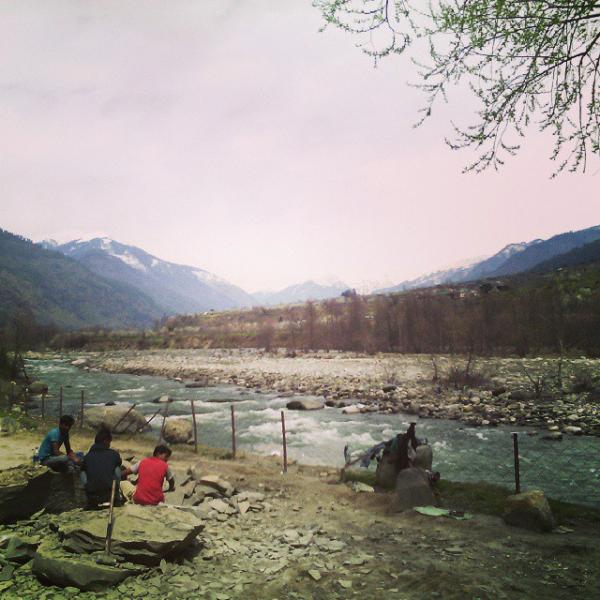 Solang Valley
These are glimpses from different parts of Manali but the experience I should really dedicate this post to is my day at Solang Valley. Friends had told me that I'd see remnants of snow even in the month of March but nothing prepared me for the stunning white valleys with lush grey mountains peeking from here and there. When the bus began ascending the hilly road, it was as if we'd begun an ascent into a different world.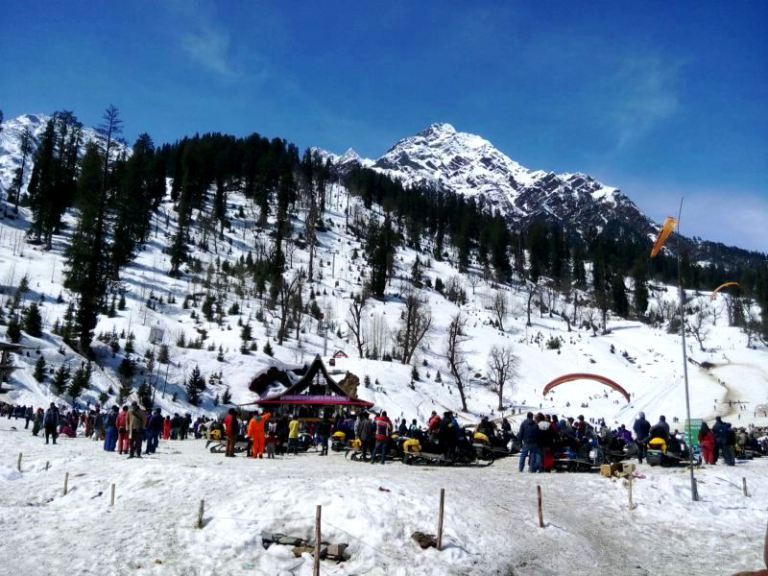 There was a wispy coolness in the air
And little fingers of slithering wetness
That traversed the edges of our boots
And sent us into unexpected shivers
Once this wetness was flaky white
Now in my toes, it was just watery light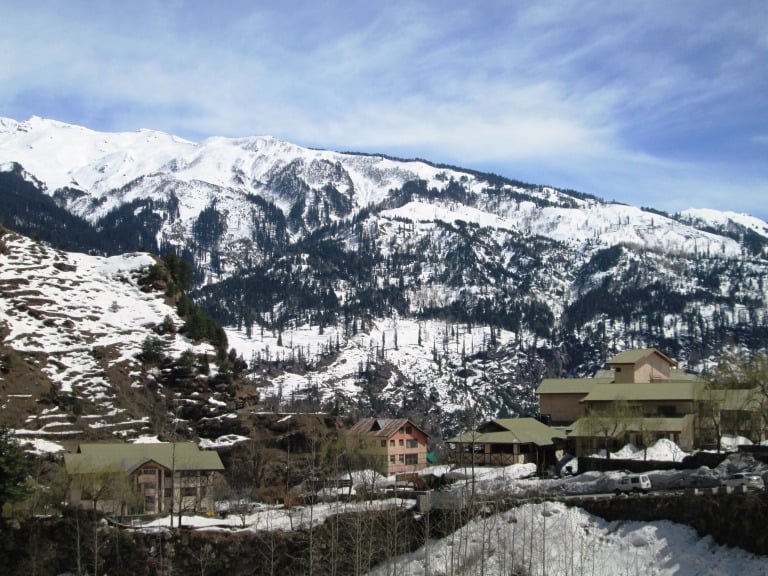 The snow, the sun and I
We played a merry game of slip and fall
Plod and stall
Laugh and jump
Marvel and stump.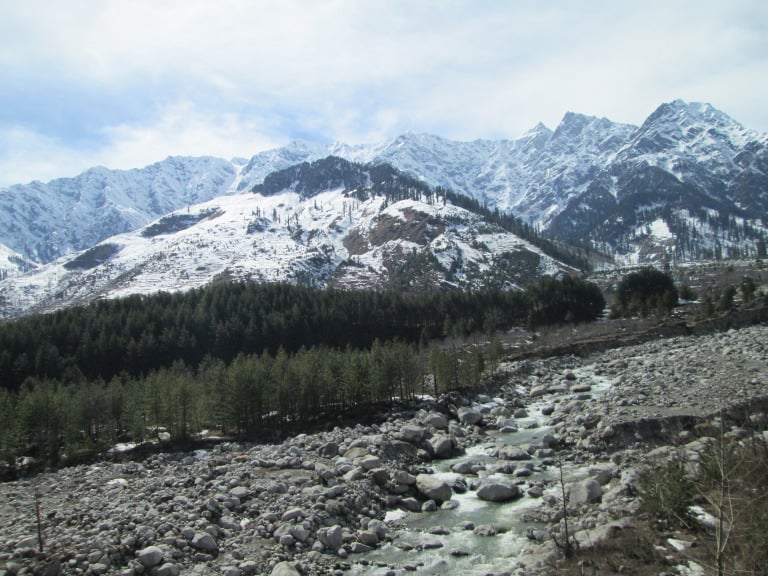 The snow, the sun and I
We bridged the gap between child and man
Joy the protagonist of our lively plan
To bring to life, years of
Reading
Watching
Wondering
About playing in white, wintry stardust.
At Solang Valley, you can try as many adventure sports as your wallet allows – tyre rides, paragliding, zorbing, skiing, snow bike riding and of course, making snow angels and snowmen and all that stuff that you only read about in Enid Blyton novels.
But be prepared to feel really exhausted at the end of all this snow sporting because climbing and plodding through snow-covered valleys is quite the same as trekking and I had a moment when I realised I simply couldn't take another step, what with the cold numbing my toes and the sun making me feel dizzy. That's when we paused to shake the snow out of our boots and spent some time spot-jogging to get the blood running in our veins again!
Hadimba Temple
But I'm getting ahead of myself, as I often do, when wanting to tell a good story. So on our first day in Manali, exhausted from the overnight bus ride, we soaked in the hospitality of The Himalayan Spa & Resort, where our room was welcoming and warm, done up in woodsy hues of brown and gold. Once we were fortified with some great coffee, we set out to explore the neighbouring lanes, the market and the nearby Hadimba Temple.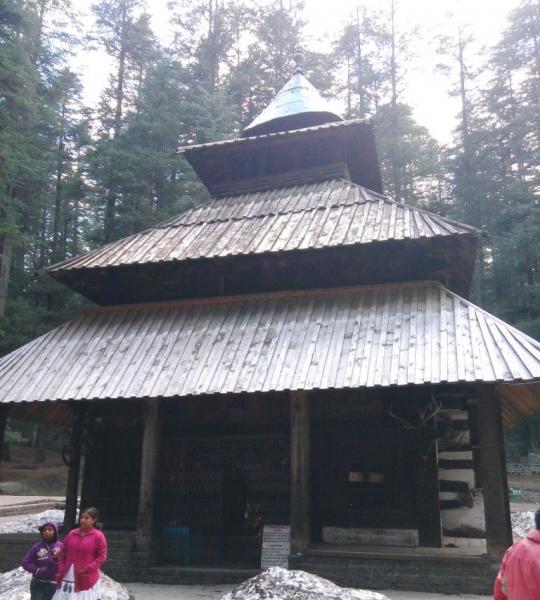 The temple wasn't much to speak of, although I knew from my childhood readings of the Mahabharata that Hidimba had quite the role to play. She married Bhima in Manali after he slayed her demonic brother and thus they had baby Ghatotkacha, literally meaning 'bald pot'.
However, the area around the temple was a delight – dark, quiet and woodsy and dotted with eerie women holding on to poor white rabbits and offering to let us hold them for a price.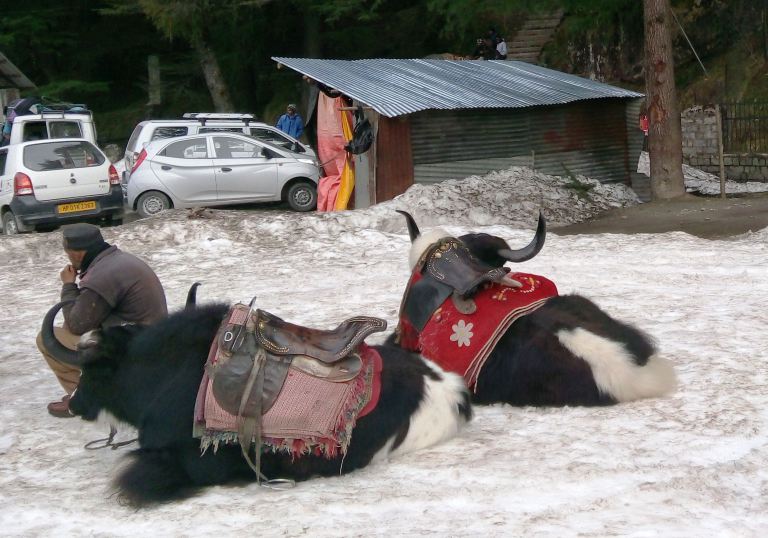 We walked around aimlessly and chanced upon a dirty patch of snow, on which lay two majestic yaks. I wasn't too inclined to ride on the poor animals and so, we settled for pictures with the mountain beauties.
We were absolutely unprepared for the sudden descent in temperature, as soon as sundown began. It was around 10 degrees during the day, so you can imagine how cold it was in the night. We had milky tea (it tasted more like tea-flavoured milk) at the first eatery we spotted for some much-needed warmth and then headed back to our resort.
On the second day, we awoke early to go to Solang Valley. While you can pay 400 – 800 Rs for a car, we opted to take the local bus – a mere 10 or 20 rs each. There weren't too many tourists in the bus but the Himachalis didn't take much notice of us. Wrapped in multiple layers of scarves and sweaters, they looked a lot warmer than we were.
Vasishth Village
After returning from a day of snowy revelry at Solang Valley, we decided to visit Vasishth, a village known for its temple, hot springs and remote waterfall. But more than these landmarks, it was the walk through quiet forests with not a soul in sight that stayed with me. The hot springs adjoined the temple and there were separate areas for men and women. Both however were filled with people in various states of undress and since community bathing wasn't really our cup of tea, we beat a hasty retreat!
Glimpses from the walk to Jogini Waterfalls: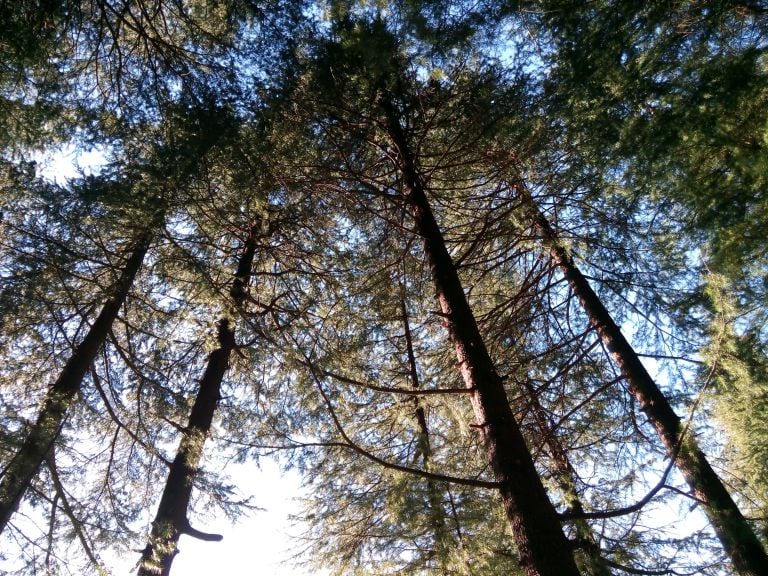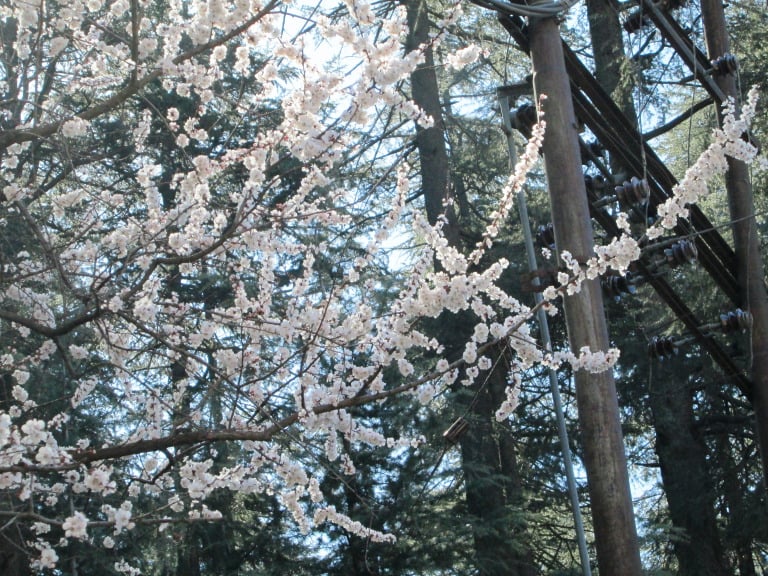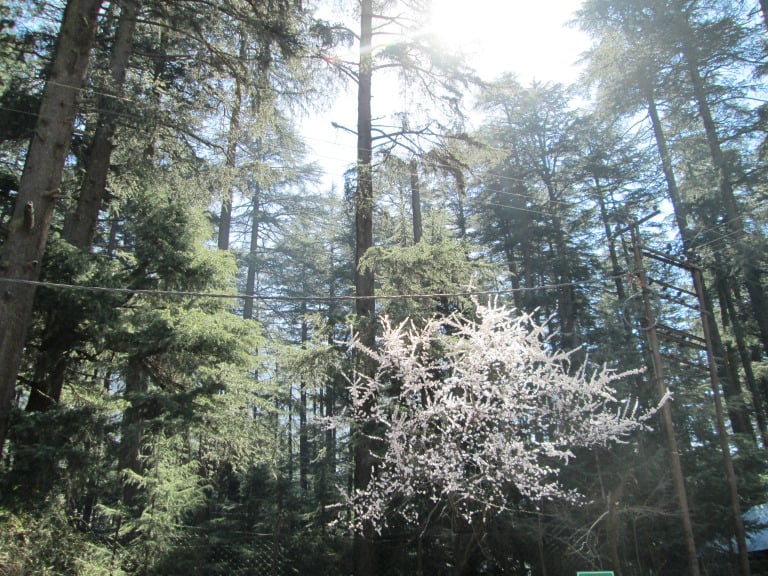 Alas, I don't have too many photographs of the waterfall but given that we went in March, they weren't particularly momentous. I believe that their true beauty would be visible post the monsoons.  However, I couldn't get enough of the white and rose blossoms that greeted us wherever we went in Manali.
We had not anticipated how long our walk would take and found our poor auto rickshaw driver quite irate when we returned. However, the folks of Manali are really quite amiable and after a few soothing words and the promise of some extra money for his trouble, he was back to his agreeable self.
The Buddhist Temple
On our third day in Manali, we explored some landmarks around the market. The area seemed dotted with lovely little temples that looked like works of art. I have a feeling the Gods there are quite pleased with their accommodations.
I have visited many palatial places of worship in my life but I have rarely felt the sanctity and serenity that permeated every inch of the modest Buddhist Temple at Manali market (tucked inside a bylane opposite Van Vihar). I remember thinking that if at all I had to subscribe to one single religion, I wouldn't mind choosing Buddhism for its penchant for introspection, solitude and a no-frills worship of the silence housed within ourselves.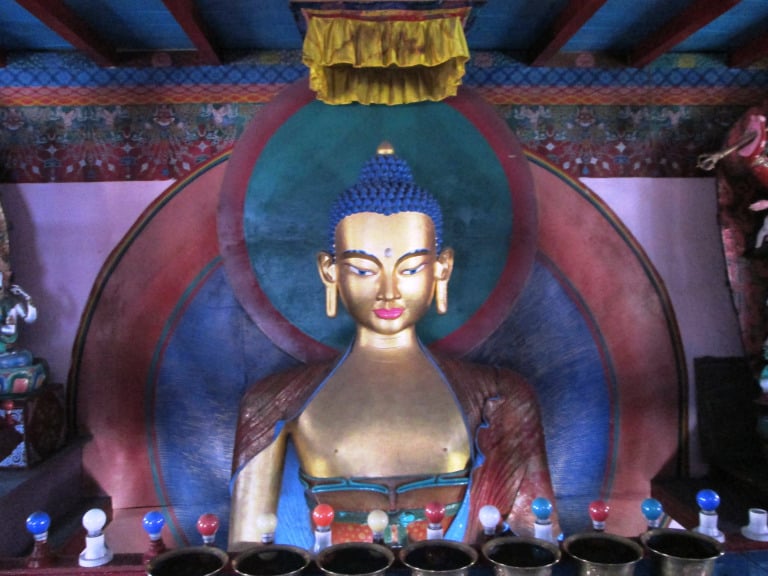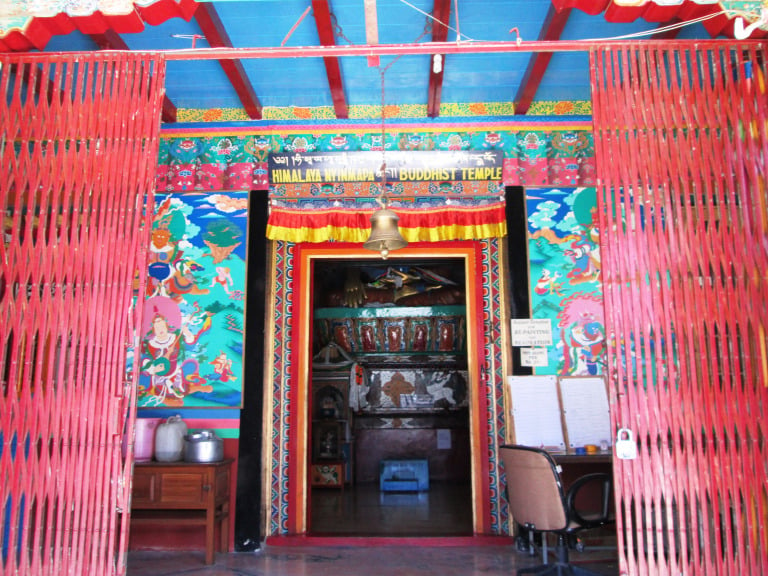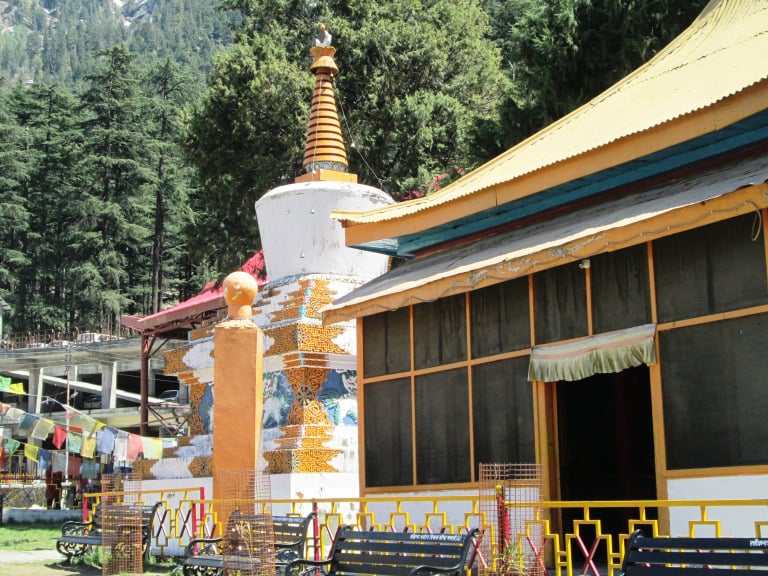 The courtyard had a main temple and an adjunct one which contained the rotating prayer wheel, inscribed with the mantra Om Mani Padme Hum. We pushed the wheel several times while chanting these words and felt the vibrations resonate from every fibre in our beings. An in-depth 
analysis of the mantra can be found here

.
Van Vihar
As the name suggests, Van Vihar is a forest recreational park close to Manali market. But it's not like the landscaped, humanised gardens we see in our cities. Here, the wilderness is lovingly allowed to take over, even while nudging it here and there to maintain the semblance of an arrangement. The best part was that the park offered direct access to the banks of the River Beas and we spent some beautiful moments sitting on the boulders and listening to the palliative sound of the flowing water. Hot though it was, we didn't mind the sun when it made the foam of the gushing river glisten like diamonds.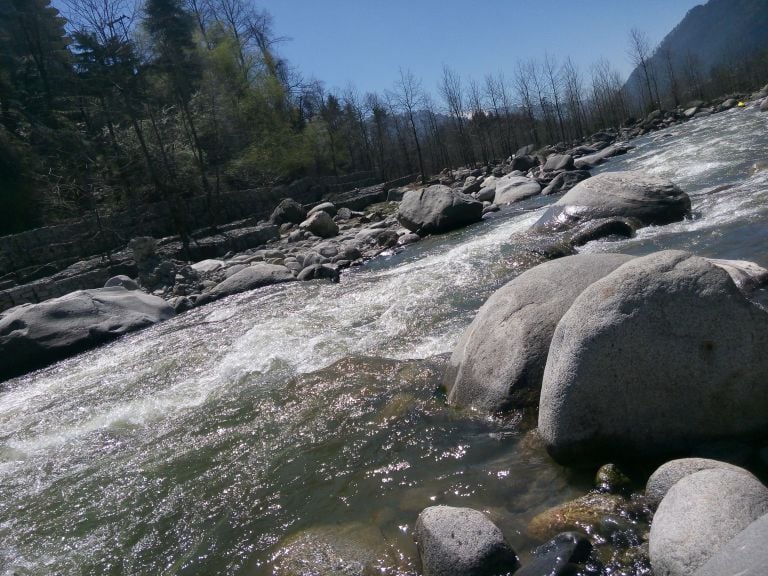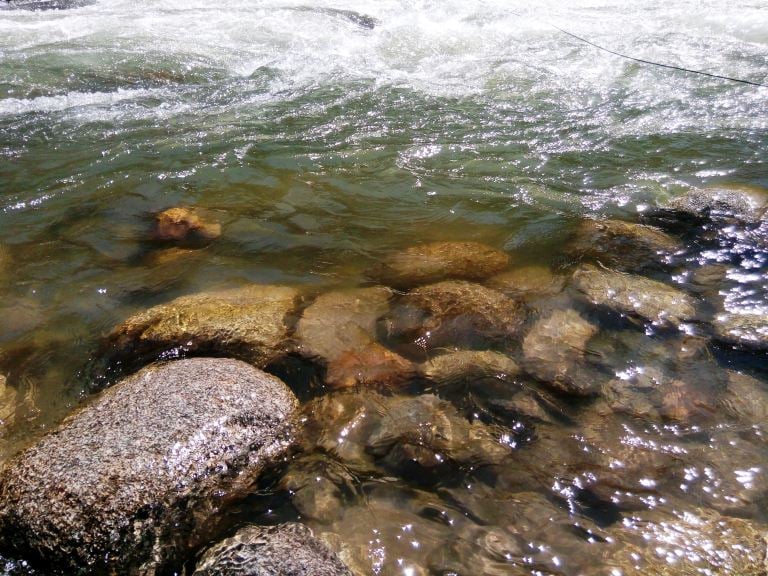 Kullu
On our last day in Himachal Pradesh, we had a stopover at Kullu but after the mountainous splendour of Manali, Kullu came a sad second. At a much lower altitude than Manali, this town is primarily known for its markets and the day we arrived, the market was shut. So instead, we made our way to the renowned Vaishno Temple, a lesson in how opulent Hindus can be. Spread over several storeys each housing a different deity clad in the choicest of fabrics and colours, the temple felt more like a museum than a place of worship. Nevertheless, it is admirable how well maintained the place was. The temple also serves free food to anyone who comes by and we partook of some wonderful sweet rice and lentils. It struck me that every religion has a personality and one must choose as per one's own traits and preferences. To have it thrust upon you by birth is so illogical! I might be a Hindu by birth but I definitely have a more Buddhist personality.
In Kullu, we also wandered into a beautiful garden as the sun was setting and an idyllic sight met our eyes.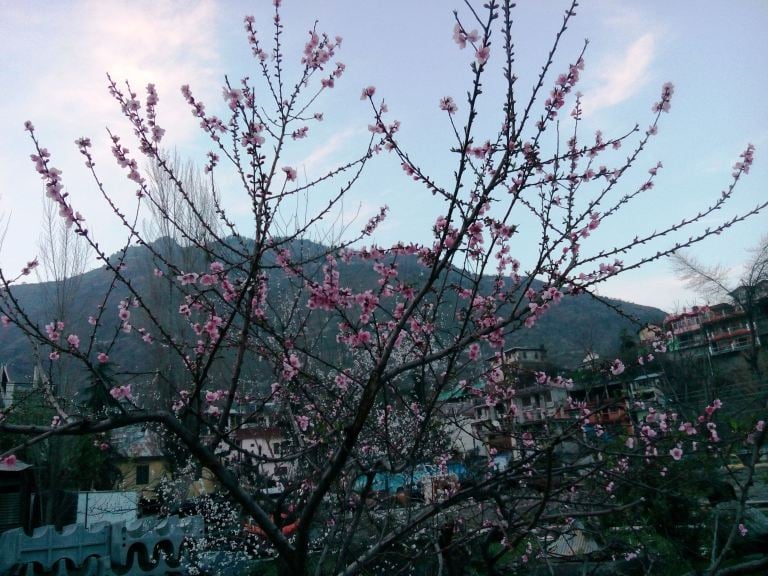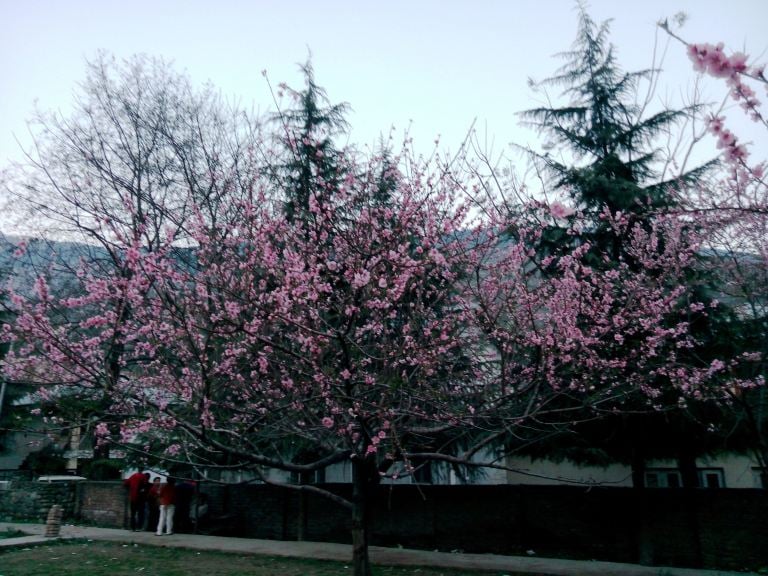 We returned to Mumbai via Delhi, where we visited the Qutub Minar and experienced the crowds of the Delhi Metro. Himachal Pradesh was a beauty. From what I saw from my bus window, so was Punjab. We passed by numerous gurudwaras and beautiful gardens in the early morning, full of vigorous walkers dressed in traditional Punjabi attire. I was so glad to see this clean, sparkling version of India. While we waited for our bus to Delhi from Kullu, I was thirsting for a cup of 'real' tea. Hoping that she wouldn't take offense, I asked the lady proprietor of a tea stall to add less milk and more sugar to my tea. And voila, she presented us with a cup that resembled Mumbaiyya chai pretty closely. So I left a mark on Kullu-Manali, after all.
A Guide to Manali:
How to reach
If you live in Delhi, take an overnight bus from ISBT Kashmere Gate. You can prebook the tickets or get them on the spot. Reliable government operators include HPTDC and HRTC (which is what we took). There are grades of buses – if you're on a budget, go for the special deluxe buses by all means. They are quite comfortable. If not, the volvo AC buses are the most comfortable for a good night's sleep. If you live elsewhere in India, take an overnight bus from Delhi or Chandigarh. From Delhi, Manali is around 14-15 hours away and from Chandigarh, it's a little closer. However, ticket prices tend to be the same, more or less.
Where to stay
We stayed at The Himalayan, a luxury resort and spa. If you can splurge a little, this place is highly recommended. If not, Manali is a very affordable place and you can find twin rooms starting from Rs 1000 per night. We did not notice too many homestays; resorts and cottages are more popular here.
Getting around
There are buses for nearby places – both government run and private. The private buses offer air conditioning at times and tickets are slightly more expensive. Either way, the buses are a lot cheaper than autos and cabs. However, autos are convenient if you manage to bargain a good rate. Several tourist operators offer cars if you're in a large group – make sure you visit a few as all of them quote different rates.
Food and drink
There's not much by way of local cuisine. The little street food that we sampled wasn't a good experience. Go for the restaurants and choose the cuisine that you like, although it tends to be a bit expensive. The trout in Manali is really famous.
Shopping
Be sure to pick up woollens such as sweaters, caps, mufflers, scarves and gloves at throwaway prices at the market if you travel often or live in a cold place. Head to Kullu for more shopping options. You can also pick up the local sweets such as the fruit halwas if you enjoy desserts.
Activities
There are a plethora of snow sports to choose from at Solang Valley if you're going between November and March. If it's not snow season, you can still go river rafting on the River Beas. But be warned, it comes at a hefty price. We didn't try it because we thought it would be a better idea at Rishikesh.
For a longer trip
If you have more than a few days at hand, do explore the nearby hill-stations Kasol and Manikaran. Around Manali, don't miss Naggar (there's a castle and waterfall) and Spiti Valley or Dharamshala if you have a lot of time to travel. In fact, all of Himachal is your oyster. The place is dotted with breathtaking villages and peaks.
If you have any other questions, please leave a comment and I'll try my best to answer. Thanks for reading.
This entry has been shortlisted for Holidify's Travelogue Writing Contest in association with Linger. The content and pictures may not be used without prior permission of the author.
Submitted by: Ankita Shreeram
The original post can be found here.