Where is Lakeside Pokhara?

How to reach Lakeside Pokhara
Since the city is just 200 kilometres away from Kathmandu, you can access by both road and air. Travelling by road is cheaper, of course, costing you about NPR 700. You can also access the city by air, as there is a domestic airport in Pokhara. Foreign visitors will have to alight at Kathmandu and catch a separate flight to Pokhara, which takes about half an hour and costs about NPR 13000. A bus journey takes 6-8 hours, but the views are definitely worth it! For an extra charge, you can also opt to indulge in a lunch buffet during your ride. We recommend hiring a taxi from the airport or the bus station to your hotel, instead of walking, as the terrain is quite hard to manoeuvre.

Places to visit in Lakeside Pokhara
1. World Peace Pagoda
Cost:
Bus: NPR 10
Boat: NPR 800

2. Varahi Mandir
Revered as the holiest Hindu shrine in Pokhara, this beautiful temple is located right in the middle of Phewa Lake, on a small island. You can access the temple by rowboat from Varahi Ghat and pay your respects to the fierce Varahi, who is known to grant all wishes.
Cost:
NPR 100 (two-way rowboat)

3. Gurkha Museum
This is the pride of Pokhara. The Gurkha Museum, located near Mahendra Pul, chronicles the valiant achievements of the Gurkha regiment and has an interactive display as well. The AV show details the nuances of the regiment, and the exhibits contain many medals, artefacts and weapons used. There is also a wall of fame, naming prominent Gurkha soldiers.
Timings:
8:30 AM - 4:30 PM
Cost:
Foreigner outside SAARC nations: NPR 200
Foreigner from SAARC nations: NPR 100
Camera: NPR 20

4. International Mountain Museum
The International Mountain Museum is an exclusive space devoted to the Himalayas and her explorers. Containing the mountain scaling equipment of yore, champion trekkers and other exciting details, the museum also holds exhibits of the unique flora and fauna of the Himalayas. Outside, you can try your luck at mountain climbing, by trying to scale a replica of Mt Manaslu!
Timings:
9:00 AM - 5:00 PM
Cost:
Foreigner outside SAARC nations: NPR 400
Foreigner from SAARC nations: NPR 200
Citizens: NPR 80
Garden tour: NPR 20

5. Devi's Falls
This waterfall is special because half of it is underground! On the surface, it is a small stream which swells during the monsoon, but the water leads into an underground tunnel, surfacing at the Gupteshwor Mahadev Cave near the World Peace Pagoda. Patale Chhango is the actual name of this waterfall, but it is locally known as Devi's Falls. Head over there and discover the local lore of how the waterfall got its name!

Things to do in Lakeside Pokhara
1. Paragliding
Pokhara is one of the most popular paragliding destinations in the world. Get ready to glide with the birds here! You can take off at Sarangkot, near Lakeside. You will find most paragliding companies by the lake itself, and it is best to negotiate costs there - prices are very competitive. You can take solo flights (if you are qualified), or tandem flights. You can paraglide all year long, provided that the weather is conducive. Peak season is from April to September. Frontiers Paragliding and Sunrise Paragliding are two companies you can look into. Remember that you will have to be insured for this activity. All companies offer paragliding equipment on rent as well.
Cost:
Solo flight (only if you're qualified): USD 65
Tandem flight: USD 85 - USD 150
Paragliding lessons: USD 390

2. Trekking

3. Whitewater rafting and kayaking
There are two rivers you can raft on near Lakeside, which are the Seti and Narayani. Many agencies near the rivers offer kayaking options, starting at USD 40 for a single trip. You can take a kayak from the Narayani River all the way to Chitwan National Park. Most agencies rent all the kayaking equipment you will need, for an extra price. You can check out Adrenaline Nepal or Himalayan Encounters, which offer kayaking and rafting packages in Pokhara. Kayaking and rafting lessons are also provided. Don't forget to visit the Seti River Gorge when you're there, for a jaw-dropping view!

4. Boating
You can hire a Doonga, which is a brightly painted boat, to take you around Phewa Lake, which is very picturesque. You can either row the boat yourself, or hire a boatman as well. The starting rate for one hour comes to around NPR 300.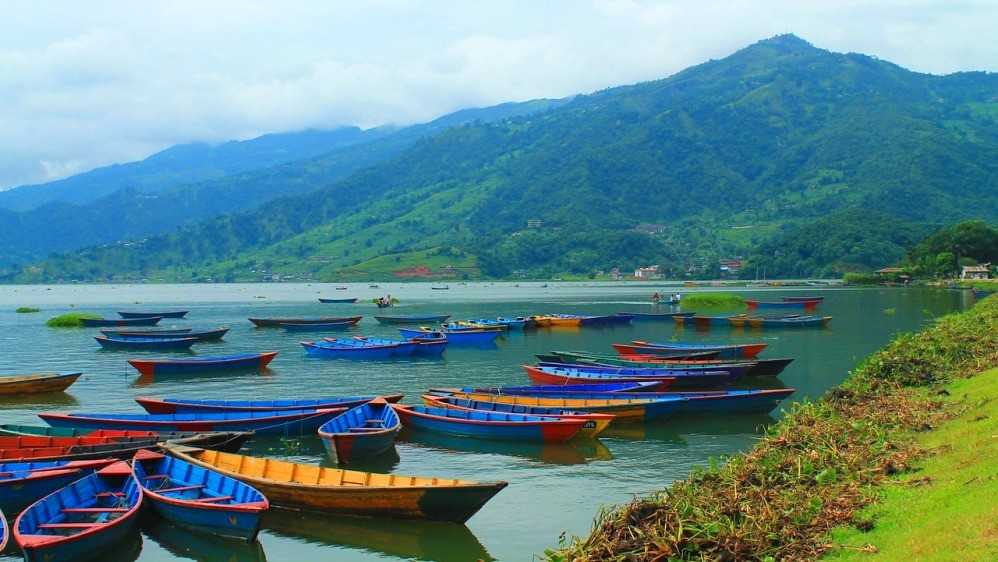 5. Lounging by the lakeside
The most laid-back activity on our list, enjoy your vacation and watch your stresses melting away as you lounge by the lake. You can take walks, bike rides, shop and even compose poetry with the lake as your muse. Try to capture the perfect reflection of the Annapurna range on the lake, on a camera. We assure you, it's really easy!

Transport in Lakeside Pokhara
There are no auto-rickshaws in Pokhara, so you can take the bus or hire a taxi. Most tourists opt to walk instead, or rent bikes. This is not only a healthier alternative, but it gives you ample time and leniency to halt wherever you want so that you can enjoy the view. You can hire a boat to explore the lake.

Food Options in Lakeside Pokhara
There are many options for connoisseurs of fine food in Lakeside Pokhara. There are many restaurants that offer continental, Italian, Indian, Thai, French, Burmese, Chinese, Japanese and Nepali options. Pokhara is also known for its distinct brew of coffee, so step into a roadside café and drink away! The city also has some cafés, pubs and bars that you can frequent. Lakeside Pokhara promises you food with a good view, as most restaurants and cafés are located overlooking Phewa Lake. We assure you that you will remember this experience for a lifetime! Bonus tip: This location is perfect for a romantic evening!

Pokhara is truly a spectacle of nature and a tourist's delight. There are so many places to be discovered, and this guide is sure to help you in that quest. Which place do you plan on visiting? What are your memorable experiences in Lakeside Pokhara? Tell us in the comments section!