If you wish to travel to Nepal in order to intoxicate yourself from the stress and workload that has been piled up in your brain, then make sure to visit Pokhara. Taking up adventurous activities will help you to rejuvenate yourself and you will get to embrace the beauty of Nepal. With the world's highest skydiving adventure- Everest Skydive, you can offer exclusive skydiving adventure in Pokhara.
Why Should You Visit Pokhara?
You should choose Pokhara as your skydiving destination due to the following reasons:
Skydiving in Pokhara will give you a chance to fly above the clouds, view captivating lakes and embrace the beauty of the might Annapurnas. You will also get a chance to jump at one of the most beautiful dropzones in the world. Pokhara is situated 124 miles west of the capital city.
It is truly a city of serenity and sensation. Surrounded by Himalayan peaks of Annapurna, Manaslu, Dhaulagiri, and Machhapuchhre, it provides the best set up for sky diving.
Apart from being a beautiful city, Pokhara is also an "adventure hub" of Nepal. This adventurous city is setting up benchmarks for other cities who are hoping to become a tourist hub. 
How Can You Reach Pokhara for Skydiving? 
You can reach the city of Pokhara via Kathmandu. There are multiple buses operating and providing transportation services in Kathmandu. Your operator will provide the transport to the drop zone on their vehicles if you opt for the service. Once at the drop zone, you will be guided to Pame Danda drop zone, west of Phewa lake. A helicopter will take you above the height of 12000 feet and you can enjoy the thrill of skydiving.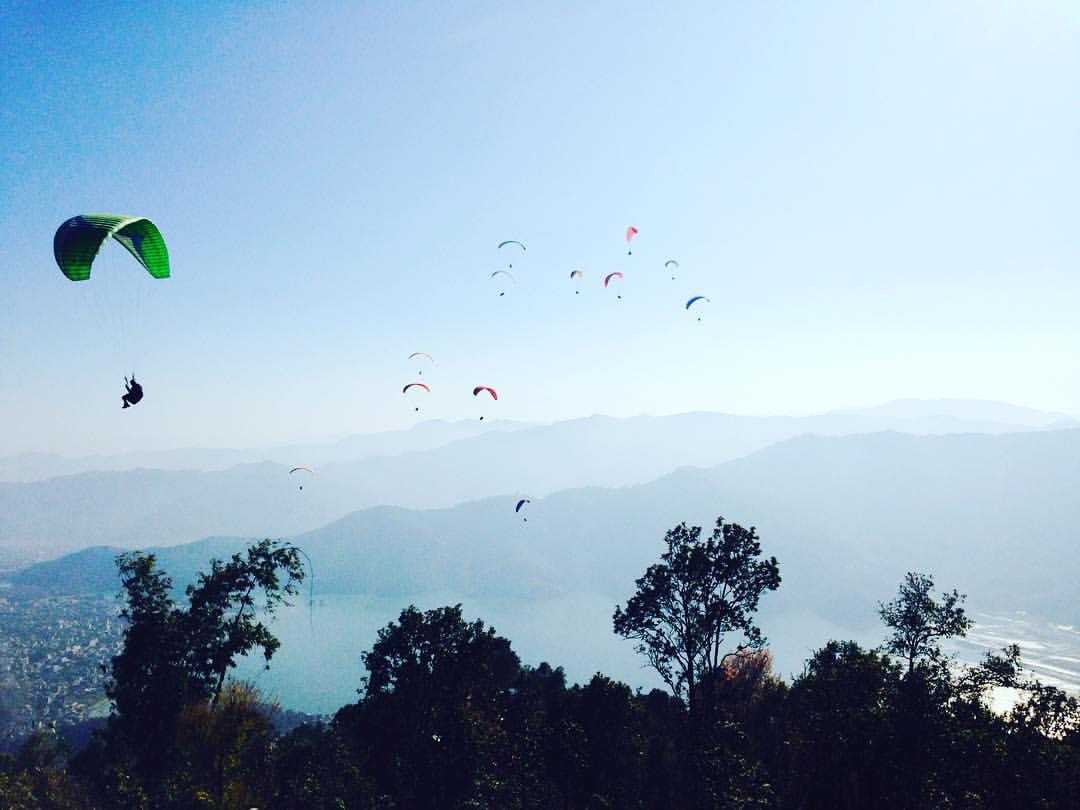 Various Skydiving Operators in Pokhara
There are many skydiving operators in Pokhara, you can book your package from any of the following operators:
Himalayan Excursion Point
Website: https://www.himalayanexcursionnepal.com/

The Nepal Skydive
The Nepal Skydive is another operator that offers skydiving packages starting from 90,000NPR for a single jump.
Website: https://www.nepalskydive.com/pokhara-skydive/

Lexlimbu 
Lexlimbu is an operator that offers skydiving packages for 35,000 NPR. 
Website: https://lexlimbu.com/blog/2013/11/06/skydiving-in-pokhara-for-nrs-35000/
What Is the Duration of the Pokhara Skydive Adventure?
According to most of the skydiving offering companies, you should stay for 9 days and 8 nights of experience the adventure of skydiving in Nepal. As most of the packages include skydiving, rafting, sightseeing, you can customize the program.
When Should You Skydive at Pokhara?
Most of the jumps are offered in the month of November. However, you can call your guide to specify the dates.
Skydiving is one of the adventurous sports that gives you an experience of a lifetime. With a platform like Pokhara, make sure to enjoy to the fullest and erase all the pressure from your normal life.