Pokhara is a peaceful countryside and an adventure zone in Nepal hosting a number of activities like boating, rafting, canoeing, trekking, bungee jumping and many more. Biking is the best way to explore the ways of Pokhara, to trail along the Himalayan region and the lakesides. Being a cost-effective and easy means of transport, cycles and bikes are widely used around the place and can be hired for rent. Here is a list of Bike Rentals in Pokhara from where bikes can be hired with maximum ease:
1. Chamling Cycle Adventure
Chamling Cycle Adventure is located in the heart of Pokhara, offering cycles and mountain bikes for rent, bike services and spare parts. The company also specializes in guided bike tours around the Annapoorna region. 
Address: Khahare, Lakeside, Pokhara, Nepal (+977-9846620845, 9817172160)
Timings: Open 24 hours
2. Pokhara Mountain Bike Adventure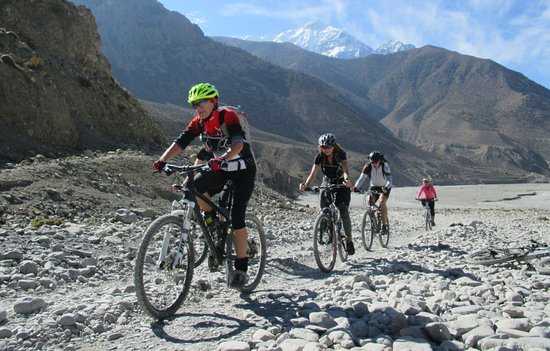 Located in the lap of the Annapoorna range, they operate MTB bike tours to the Annapoorna region, Upper Mustang, Lower Mustang, and Pokhara Valley. The staff are local riders who share the passion for riding, and also act as guides to the tourists. They rent a wide variety of bicycles and bikes for a reasonable rate. 
Address: Hallan Chowk, Baidam -6, Pokhara Lakeside (+977-9804134788)
Timings: 6:00 AM to 8:00 PM

3. Adventure Pokhara
Adventure Pokhara, located in the Lakeside, provides bikes and scooters for rent as well as arranges two-wheeler tours. They also have an organic Java Coffeehouse and are known for their best service and maintenance.
Address: 1st floor of Swissa's Mountain Way Trekking building, Lakeside Road 6, Pokhara (+977 985-6023123)
Timings: Open 24 hours
4. The Bike Shop Nepal
This Bike Rental in Pokhara specializes in day and overnight guided biking trips in the Himalayas, along the Pokhara valleys apart from trekking and rafting service. They have trails designed for all ages and ability levels and have their scouts to lead you off-road. They rent out the best brands suitable for offroading and mountain biking, such as the Giant, Scott and Cube, and also have a good mechanic team to take care of your bikes.
Address: Devisthan Margha, Lakeside, Pokhara (00977 9825167222/ 9856048592)
Timings: 7:00 AM to 9:00 PM
5. Hearts and Tears
If you are a fan of the Royal Enfield and prefer to ride with a group of fellow motorcyclists, Hearts and Tears Motorcycle club is the place you are looking for. Located inside Busy Bee- a popular restaurant/bar/club/music venue in Pokhara, Hearts and Tears provides full support for riders apart from renting Enfields and dirt bikes, like riding gear, food and accommodation. 
Address: Near to Koyla Restaurant, located on alley towards Fewa Lake, Lakeside, Pokhara, Baidam 6 (+977 61 464 846 / +977 9846 020 293)
Timings: 9:00 AM to 5:00 PM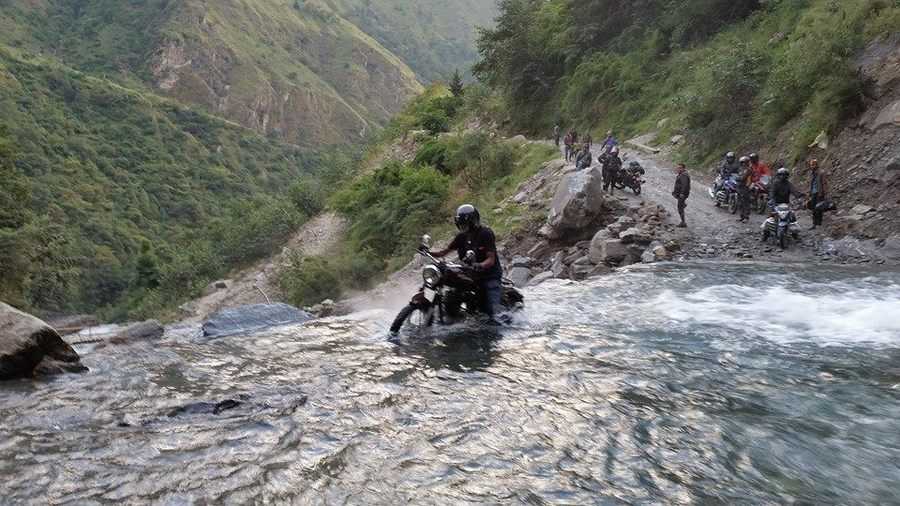 Things to Remember while Renting a Bike in Pokhara
You will need an international driving license.
Make sure you carry your passport with you, as most bike lenders take your passport as a deposit.
Take a test ride first and check the bike thoroughly for complaints like brakes, tyres, horn, etc.
Though most of the bike rentals rent out helmets and riding gear, it is advised to carry a riding kit of your own including ride wear, boots, gloves, buffs, helmet, base layers and thermal wear. 
Carry a hydration pack or water bottles, and an emergency medical kit.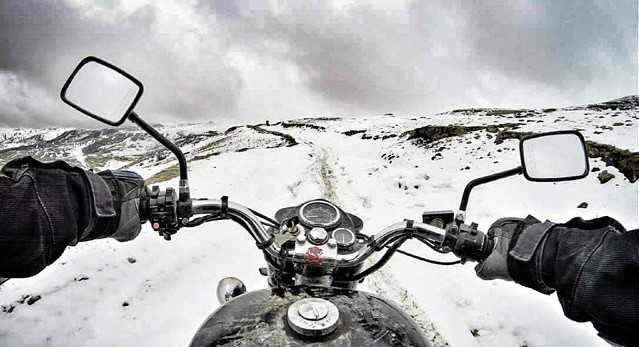 The rate of the bikes at the Bike Rentals in Pokhara can vary according to the type of bike and the season you are visiting Nepal. Regular cycles, scooters and bikes such as the Pulsar can be rented from
Rs. 600 onwards
while the mountain bikes would cost you a lot more. You will find a lot other bike rentals around the Lakeside area in Pokhara, where you can choose from a wide variety of bikes such as the light-weighted ones or high-performance ones, go on a group ride or a guided tour along the Himalayas or even take motorcycle lessons and mechanics classes from the pro-Nepali riders- to make your days in Pokhara worthwhile.