India's rich and colourful history makes it one of the most attractive tourist destinations. With the number of things to do and places to see, you could spend your entire life just exploring this magnificent country. The Golden Triangle of India Tour shows you some of the best cities in India, in a short time period. 
Delhi, Agra and Jaipur
, form the three points of this journey. These three places serve the purpose of showing just how much diversity India has. While being located only a few hours from each other, it feels like you are entering a completely different country! Start off by exploring the bazaars of Delhi, then moving on to the eternal symbol of love-
Taj Mahal
at Agra, and finally ending with the Havelis of Jaipur.
1. New Delhi - The Starting Point of Golden Triangle Tour
The capital of the country, full of old bazaars, historic monuments and lots of greenery, is generally the first stop during the tour. You can spend weeks exploring Delhi and never get tired of it. Every nook and corner has a different story to tell. Termed as a Foodie Paradise, there are unlimited options available for diners. From upscale restaurants like Bukhara, to the good old Paranthe Waali Gaali, do try and sample all the different varieties Dilli has to offer. A city of contrasts- you'll see mega malls right next to rows of slums, it takes a while to get used to.
If you are looking to soak in all the culture, I would suggest visiting major tourist sights like Red Fort, Humayun's tomb(Near which is the peaceful Nizamuddin Dargah), Chandini Chowk(For the unbeatable food you get there), India Gate (Located at the centre of Delhi, it's quite close to Parliament), and Hauz Khas Village for its rocking nightlife.
2. Agra, Uttar Pradesh
The most famous symbol of love, the Taj Mahal, is located in Agra. It took 20,000 workers, 20 years to build this magnificent building. Landscaped with beautiful gardens, Shah Jahan took symmetry to its absolute zenith in its construction. Many firsts were marked by the Taj Mahal-1st time white marble was used in such a lot of quantity, 1st use of  Pietra Dura on such a large scale etc. Agra Fort and Fatehpur Sikri are also major tourist attractions, which you should definitely pay a visit to.
Try and visit during the Taj Mahotsav, to see this city come completely alive with celebrations all around. If you have some time to visit, the Keoladeo Sanctuary is not very far. Some of the most exotic, migratory birds can be spotted here.
3. Jaipur
Known as the "Pink City", the whole city is dotted with ancient forts and little havelis. The City Palace Museum, the seat of the royal family, has now been converted into a museum. Indulge in some shopping, pick up some local handicrafts and souvenirs to take back home. The Bazaars of Jaipur are famous for the completely indigenous stuff you can find here, from jewellery and textiles to furniture and pottery. From here you can continue on to the more rugged landscape of Rajasthan with deserts stretching for miles and miles.

There is also the nearby fort of Amer, where you'll find the Shri Jagatshironmani Temple which has a very unique history attached to it. This is the only place, where you will see a depiction of Krishna with Mira Bai, rather than with his consort, Radha. The best part about Rajasthan is that every city is different- from the sand dunes of Jaisalmer to the Blue City of Udaipur, there is just so much to see! If you have the time, I'd suggest making short visits to these places as well.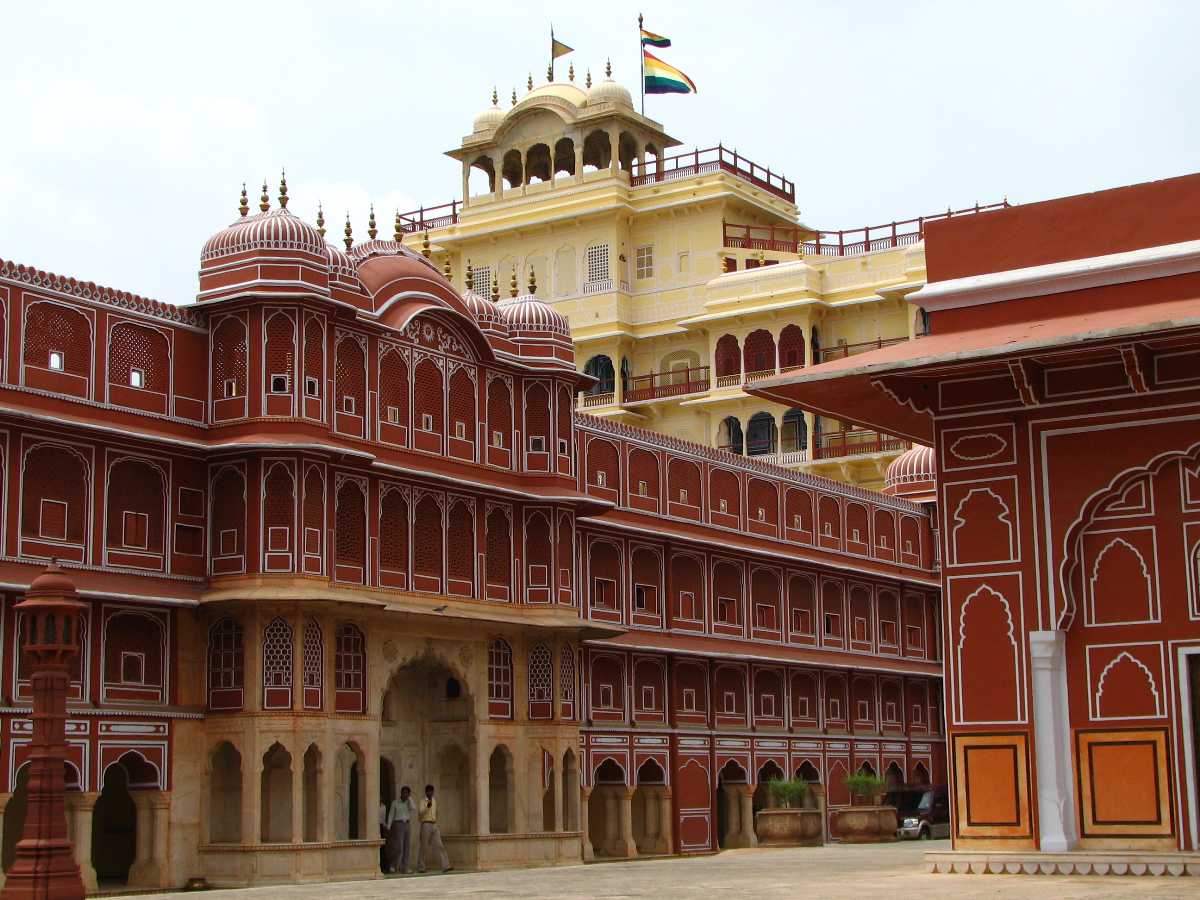 There are a variety of options for transport. The entire circuit covers about 1000kms, and each city is a couple of hours away from each other. So you can complete the entire triangle in 5-6 days. From Delhi to Agra, with the construction of the Yamuna Expressway, the entire journey can be covered in about 2 hours. After that, you can take NH-11 which will bring you to Jaipur in about 4 hours. To bring you right back where you started, use the NH8 Highway, and you will be in Delhi in about 5-6 hours. You can hire a car or book a cab. Apart from that buses and trains are also available at regular intervals. If you are looking for a more unconventional experience, you can take the Maharaja Express or one of the various bicycle tours which are available. I would recommend booking in advance, so as not to be left in the lurch later.   Though this seems like a lot of activity, it is definitely not enough! With the number of sights, there are to see, you can spend years just exploring these cities. But if you want to absorb as much as you can about India in a short period of time, the Golden Triangle is an excellent start. I can guarantee you'll be back for more very soon!
The Golden Triangle Tour Package
Being one of the most popular tours in India, The Golden Triangle is visited by Indians and Foreigners as well. Holidify offers customized packages for the Golden Triangle, which start from about 20,000 INR. Start your tour at Delhi, and spend a couple of days exploring the popular attractions of the city. Head over to Agra on day 3. Spend the day visiting the local attractions. Next day, begin your journey to the last stop in the Golden Triangle Tour i.e. Jaipur, where you'll stay for 2 days. Leave for Delhi the next day with amazing memories of your beautiful trip.
Here is a recommended itinerary which will help you in planning out your Golden Triangle Tour trip.
Day 1: Arrival at Delhi. After freshening up, head out and visit all the important monuments and places, such as the India Gate, the Red Fort, the Parliament House. the Jama Masjid, the Humayun's Tomb Complex, the Lotus Temple and the Qutub Minar Complex. Overnight stay at hotel.

Day 2: Travel to Agra via road. Upon reaching Agra, freshen up and go on a magical tour of this historical city. Visit the Taj Mahal, the famous Agra Fort and the tomb of Itmad-Ud-Daulah;s tomb. Overnight stay at hotel.

Day 3: Head over to Jaipur via road. Stop at Fatehpur Sikri and visit the Buland Darwaza, Jama Masjid, Jodha Bai Palace, Panch Mahal and Birbal Bhawan. Resume your journey to Jaipur. Overnight stay at hotel.

Day 4: Cover the entire length of the Pink City by visiting all the prominent places such as the City Palace, the Jantar Mantar, the Amber Fort and Nawab Sahib ki Haveli. Also, don't forget to go shopping in the local bazaars! After a fun day, head back to the hotel for the night.

Day 5: Return to Delhi from Jaipur via road. The trip ends with lovely, fun-filled memories.
Book Golden Triangle Tour Package