Being the largest city of
Vietnam
,
Ho Chi Minh City
has a lot to offer. The former name of the city is Saigon and it is still called by its original name by many locals. Saigon is a city full of love, life and chaos. With ubiquitous skyscrapers, Ho Chi Minh City is very urban and it is fun to explore the city by taking a walk, mixing with the city noise.
In here, you will find a blend of old and new cultures of Vietnam interspersed with French architecture and Soviet housing style. While a lot of places require money to enter but there are a bunch of things that you can do for free in this city!
So pack your bags, learn a few words in Vietnamese and get ready to explore!
Top Free Things to Do in Ho Chi Minh City:
1. Relax in Tao Dan Park
Ho Chi Minh City tends to get crowded with vehicles and people which makes the city a little chaotic. So if it gets a little overwhelming and you want to escape from the city's constant buzzing, there is no better way to find peace than being close to nature. Tao Dan Park is one such park in Ho Chi Minh City that will provide you with cool shades of the tree. The park has exotic species of trees with over a population of 1,000.
At the park, you will witness the lives of the locals doing exercise, jogging and practising Tai Chi. The morning time is probably the best time to go to this park and don't forget to join for a bird singing contest in the early mornings where the locals bring their pet birds to chat together and have a cup of coffee (you can even indulge in drinking the famous Oolong tea!)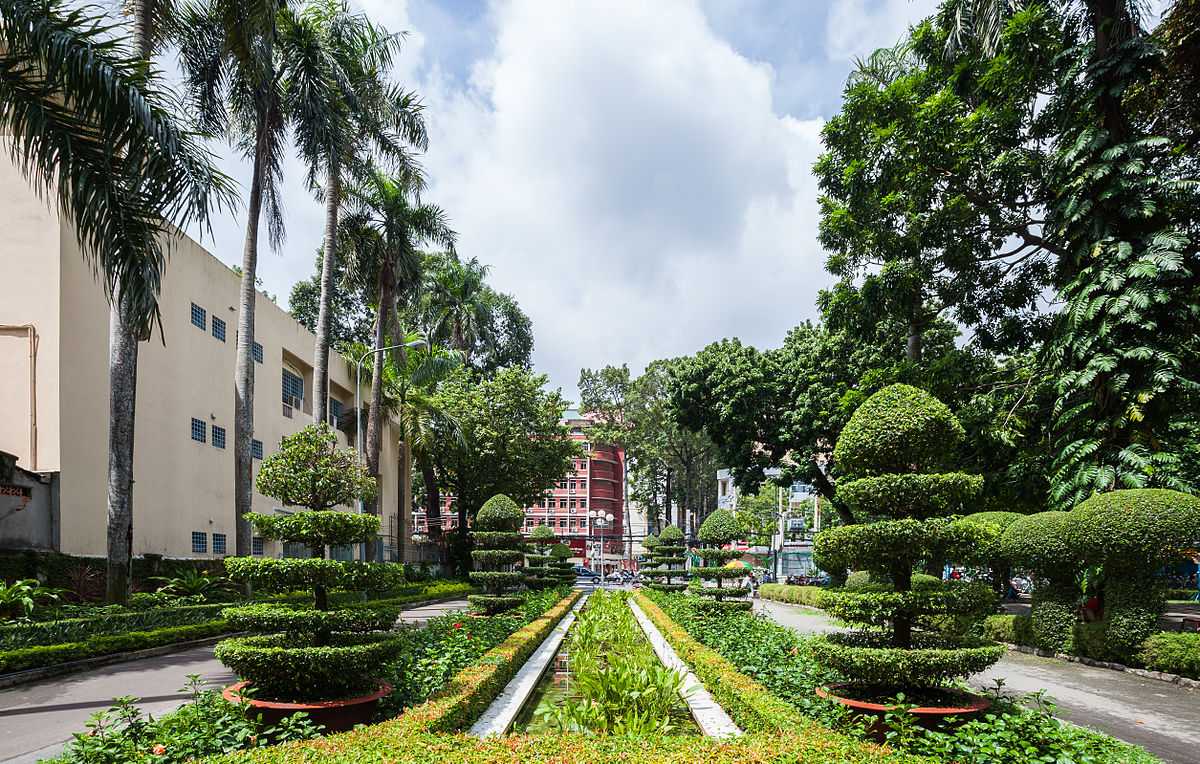 Location
: 55C Nguyen Thi Minh Khai, District 1, Ho Chi Minh City
Opening time
: 5:00 AM - 8:00 PM
2. Enjoy free concerts at Saigon Opera House
We all love a good concert show of our favourite artists. But do you know what's even better than that? A free concert show! Ho Chi Minh City has the best concert shows every Sunday at the Saigon Opera House absolutely for free. What's more exciting is that you can even take a glimpse of the exquisite French interiors of the Opera House also for free.
During the free concerts, you can enjoy some Vietnamese sounds as well as a nine-piece group Latin concert. The singers also do renditions of several popular classics like 'Hotel California'. So when you're visiting Saigon, don't forget to bless your ears on Sundays!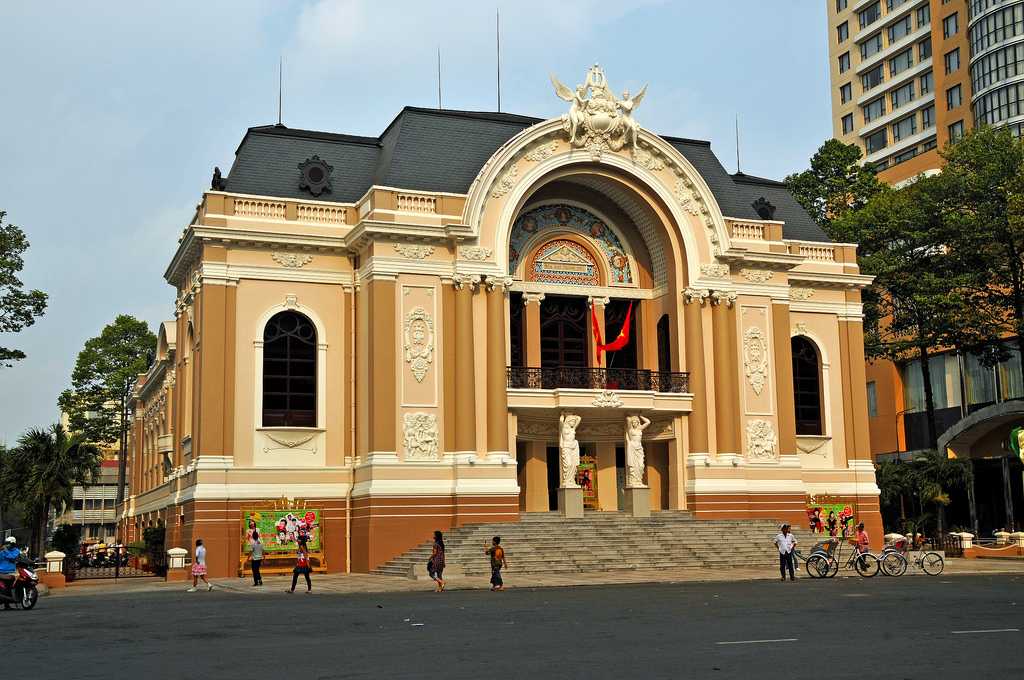 Location
: Ho Chi Minh Municipal Theatre, 7 Lam Son Square, Ben Nghe Ward, District 1, Ho Chi Minh City
Time
: 8:00 AM - 10:00 AM
3. Saigon Notre Dame Cathedral
Saigon Notre Dame Cathedral is an architectural delight with its French intricacies built between 1863 and 1880. Its twin towers lie between the bustling city traffic. The official name of the cathedral is 'Basilica of Our Lady of The Immaculate Conception' and it is just as beautiful from the inside as it is from outside. It is located conveniently at a prime location in District 1. If you are interested in attending mass prayers, you can go on Sundays and the preacher conducts prayers both in Vietnamese as well as English.
A useful tip: When you're planning to go to the cathedral, make sure you are not wearing shorts and/or half sleeved tops to respect the decorum of the cathedral.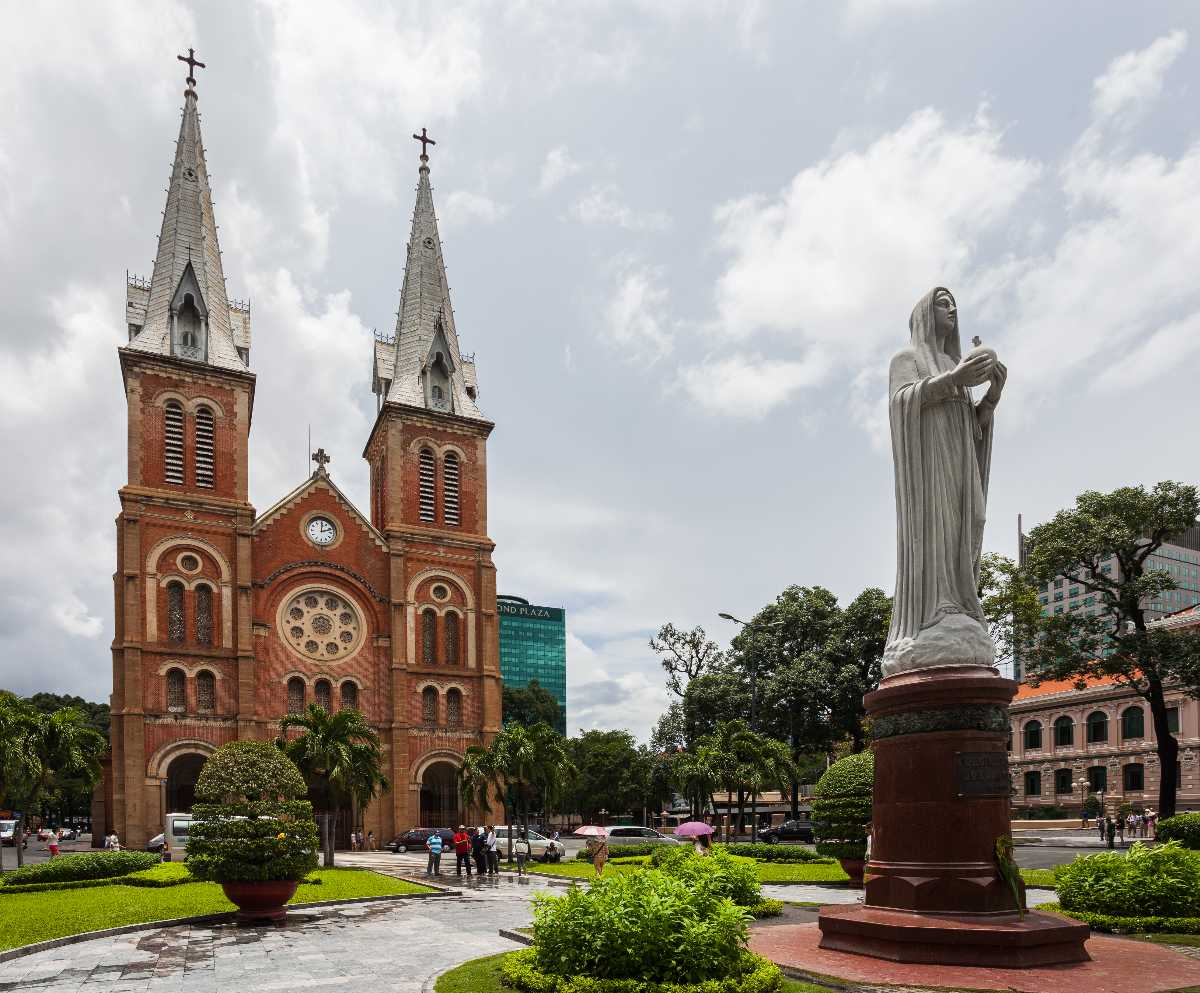 Location
: 01 Công xã
Paris
, Ben Nghé, Quan 1, Ho Chí Minh, Vietnam
Time
: Mass gatherings: 9:30 AM, every Sunday
4. Saigon Central Post Office
Located right next to Saigon Notre Dame Cathedral, Saigon Central Post Office is a unique post office as it is the largest one in Vietnam. You can admire the quirky yellow building that is reminiscent of French architecture. Inside the building, there are beautiful looping arches and intricate marble floors that are absolute visual feasts. At the far end, there also hangs a huge picture of the freedom fighter Ho Chi Minh.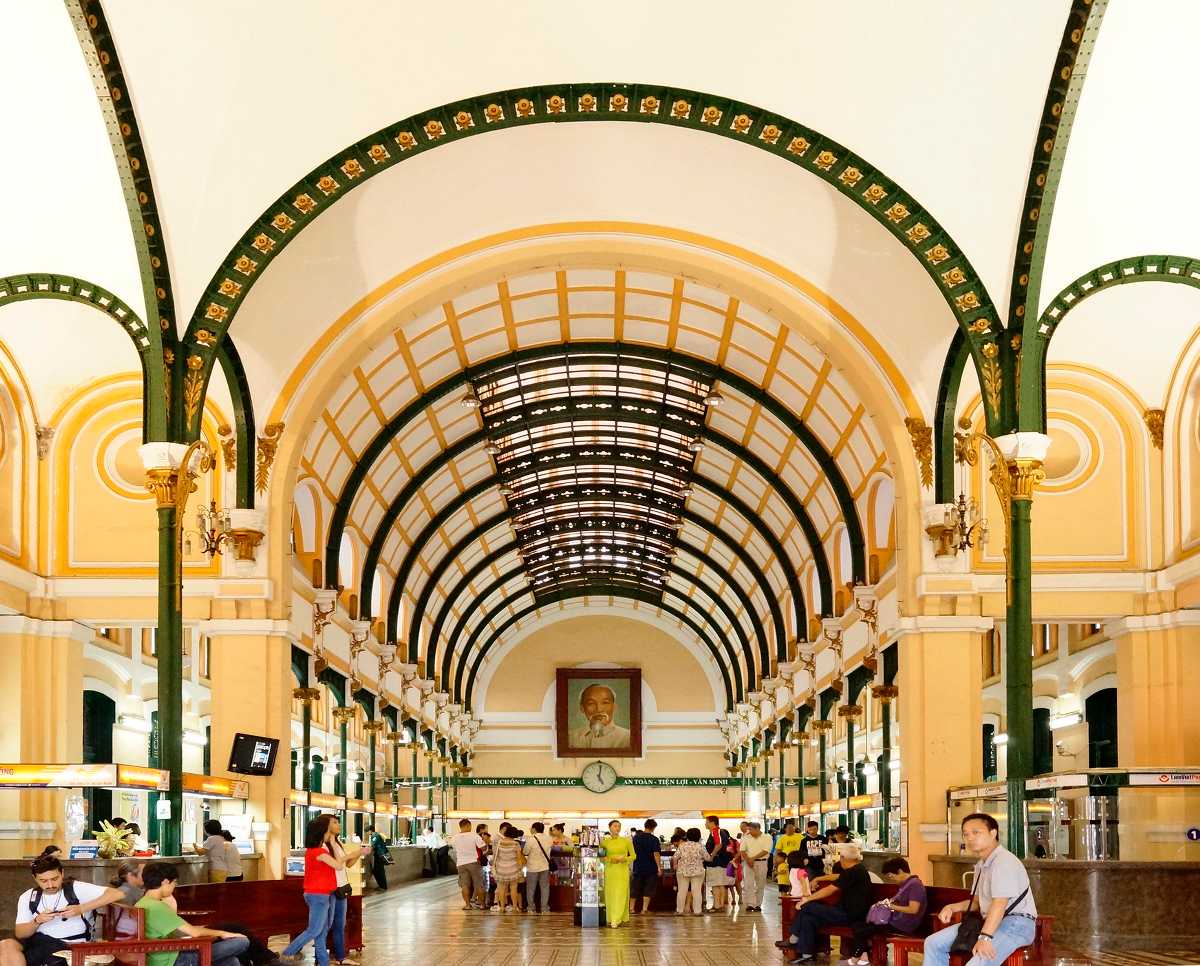 Location:
125 Cong xa Paris, Ben Nghe, Quan 1, Ho Chi Minh, Vietnam
Opening time:
7:00 AM - 7:00 PM
5. Free Walking Tours
A great way to know about a city is by interacting with the locals. There is a local network called Saigon Free Walking Tour where you can get firsthand experience of the city from the local tour guides. These tour guides are usually volunteers who are tour leaders or students. They will not only tell you about the culture of the city but also take you to cheap restaurants where you can have authentic Vietnamese dishes.
It is advisable to get a young tour guide to avoid communication barriers as the youth of the country are better versed in English than their older counterparts.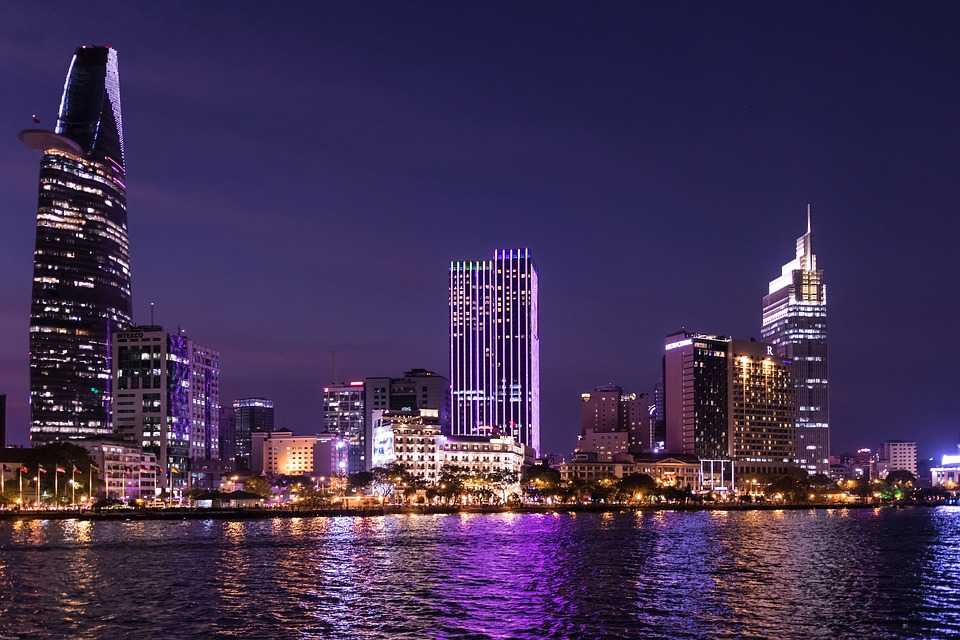 Location
: 373/20 Pham Ngu Lao, Pham Ngu Lao Ward, District 1, Ho Chi Minh, Ho Chí Minh 700000, Vietnam
Tour timings
: 8:00 AM - 12:00 PM
6. Enjoy the nightlife of Backpackers' Street:
The backpackers' street has to be one of the liveliest places in Ho Chi Minh City. The area between Pham Ngu Lao and Bui Vien streets are bustling with thousands of people the moment sun sets every evening. If you love to party, this is the place for you. You can even witness dance performances on the streets in front of the bars that attract a huge crowd. Simply by sitting on the sidewalks, you absorb the local lifestyle and have lots of fun listening to the music coming from the nearby bar!
A word of caution: keep your valuables extremely safe as it can get lost easily in the crowd.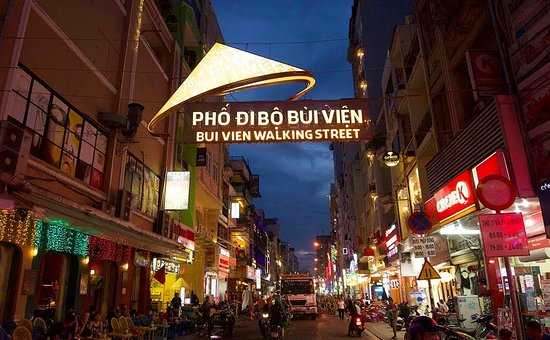 Location:
Pham Ngu Lão, Quan 1, Ho Chí Minh, Vietnam
7. Jade Emperor Pagoda
If you're tired with the noise and pollution of the city, just prepare an escape plan to Jade Emperor Pagoda, an enchanting Taoist temple honouring the Jade Emperor. Find your solace in the midst of the lingering smell of incense and gorgeous statues.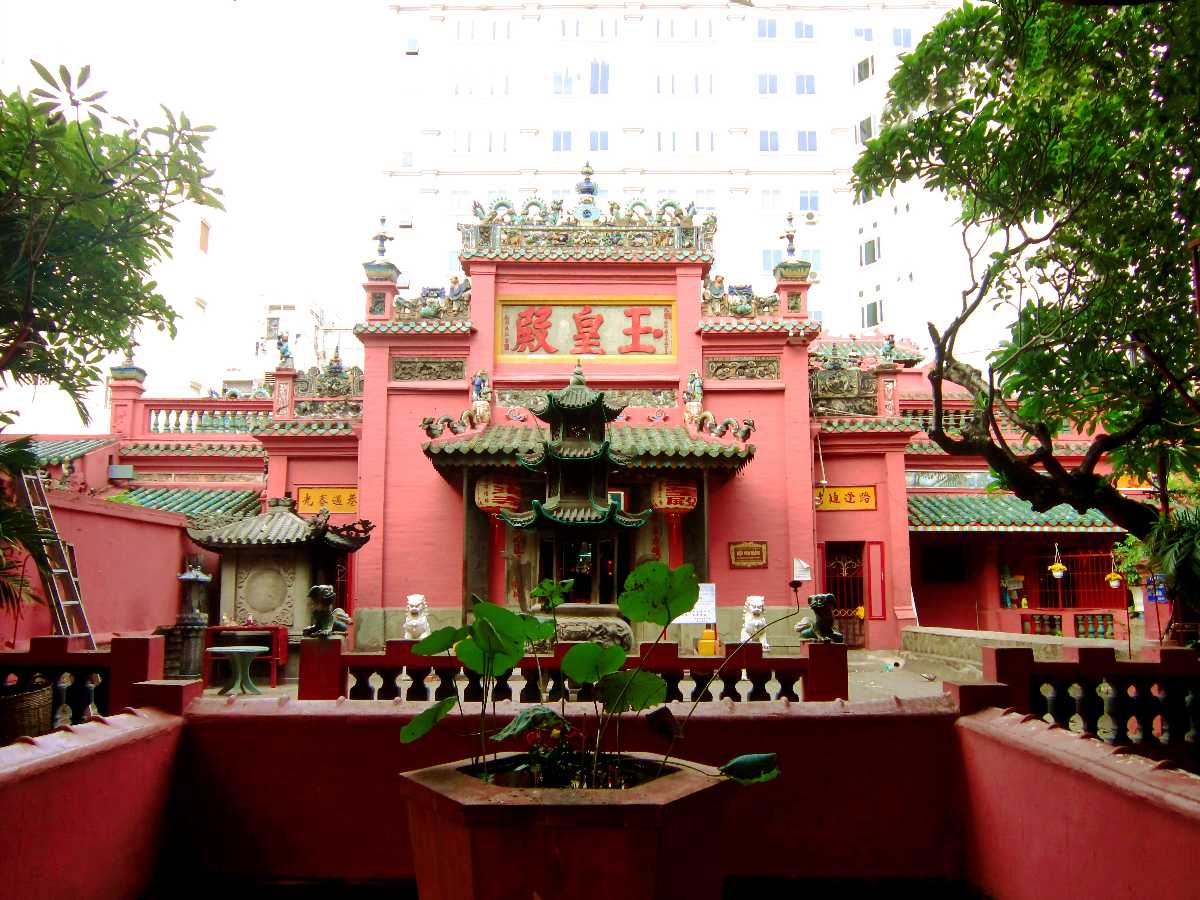 Location:
73 Duong Mai Thi Luu, Da Kao, Quan 1, Quan 1 Ho Chí Minh, Vietnam
Timings:
7:00 AM - 6:00 PM 
Ho Chi Minh City is a beautiful city to explore in Vietnam. Whether it is the bustling city roads and the lively nightlife or the peaceful harbour of the parks, Saigon has got it all. It is easy to explore the city just by walking because the places have good accessibility. It is only through your exploration that you will get to know the local lifestyle much better and that is the true essence of travelling, making for a memorable journey!