Telangana Cuisine is typically spicy and ingredients such as tamarind, sesame seeds, red chillies and asafoetida are widely used in a variety of vegetarian and non-vegetarian dishes. Roselle is a staple item used in making curries and pickles. Sources state that while in Telangana, millet bread/roti is a staple diet its neighbouring state of Andhra prefers rice. Hyderabad is the shared capital of
Andhra Pradesh
and Telangana and is obviously wildly popular for its biryanis and Karachi biscuits. But there is so much more to Telangana Food that many of us are completely unaware of.
So here is a list of some of the Telangana famous food:
Sarva Pindi
Malidalu
Sakinalu
Garijalu
Pachi Pulusu
Golichina Mamsam
Hyderabadi Biryani
Chegodilu
Polelu
Qubani ka Meetha
Thunti Koora
Potlakaya Pulusu
Rail Palaram
Bachali Kura
Puntikura Chana Dal
1. Sarva Pindi - Staple Food of Telangana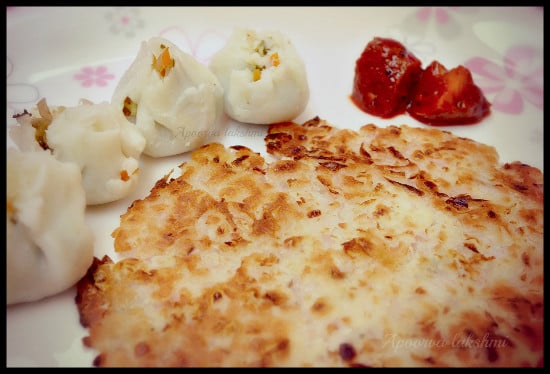 For a healthy breakfast/snack option, Sarva Pindi is an excellent choice as it is cooked with at least one component of each stage of the food pyramid. It is a savoury pancake made of rice flour, chana dal, peanuts and chilli. It is cooked in a deep, round shaped pan and to preserve the sanctity of the recipe, it is pertinent to make holes in the rolled out dough mixture before cooking it. It is also called Ginne Appa owing to its preparation.
2. Malidalu
What do you do with leftover chapathis? Reheat it the next day and have it with sabji? What if there is something useful that can be made with leftover chapathis that is not only tasty but also healthy and sweet? We Indians have a knack for making the most out of situations and this dish is one of the outcomes of that habit. Malidalu is made of chapathi pieces combined with a mix of jaggery, cashews, pista and ghee and shaped into a small balls. Fully packed with nutrients, it is the best solution for anyone craving for a sweet after a meal.
3. Sakinalu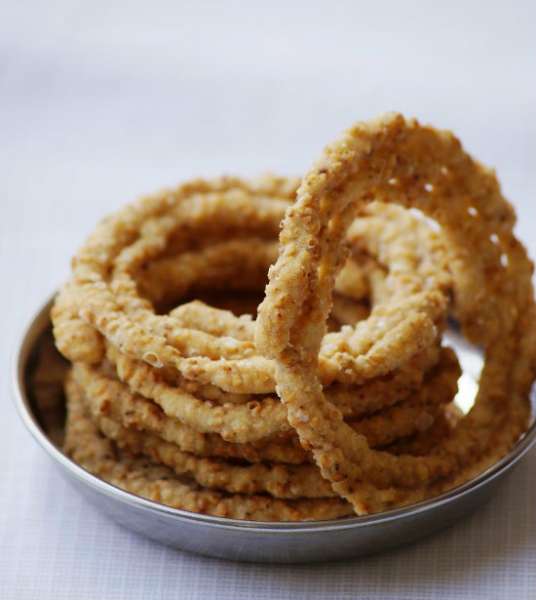 Who doesn't love some crispy, deep-fried snack every now and then? Sakinalu is one of those grubs that Indians have been perfecting over the years in various parts of India and giving it different names like murkku, chakli etc. But Sakinalu is not the same as the aforementioned items although they do share a slightly similar preparation. Its two chief ingredients are rice and sesame seeds and is devoid of spices, therefore making it a mild snack that is also easy to prepare. It is mainly made during the festival of Sankranti or is offered during marriage.
4. Garijalu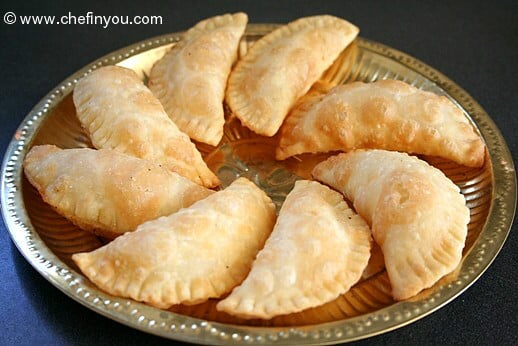 With a crispy exterior, Garijalu also called Kajjikaya has a sweet filling consisting of dry grated coconut, sugar and hints of cardamom. It is deep-fried and its shape as you can see, resembles Karanji; a sweet dish of Maharashtra. The crispy shell is made of maida and rolled out into circles, which is then folded after the filling is stuffed and the shape resembles a half moon. Although the origin of Garijalu is not known and has been shared between different states of India, the people of Telangana have been enjoying making these for generations over the years.
5. Pachi Pulusu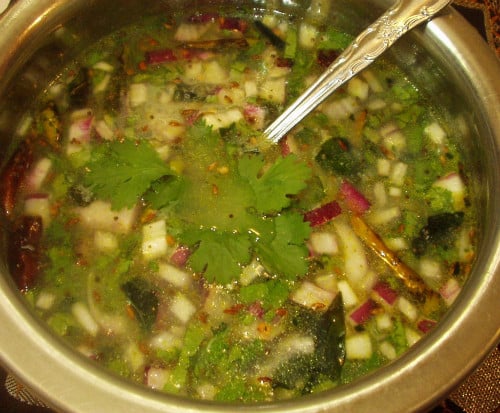 A quick fix for that morning where you're too sick to cook or you're craving for Rasam but you are lazy to carry out the entire process of making; Pachi Pulusu will come to your rescue. So the basic difference between Pachi Pulusu and Rasam is that the former has very little "cooking" involved and uses the gas only to temper the seasoning. The commonality is their ingredients. While tamarind requires to be boiled for rasam, it only needs to be soaked in lukewarm water for this dish. The simplicity of the dish sure helps our lazy selves to have wholesome food once in while!
6. Golichina Mamsam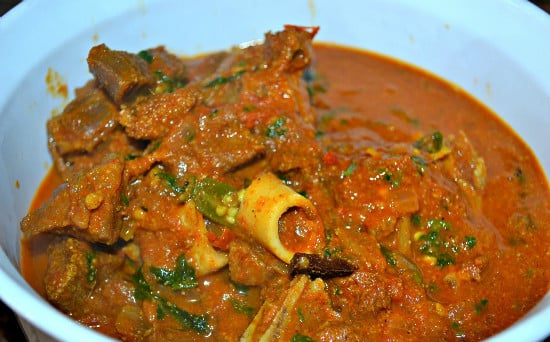 Finally a non-vegetarian dish for the meat-lovers! Golichina roughly translated means "fry" in Telugu. As Telangana cuisine is well-known for its spices, this dish incorporates succulent pieces of mutton into a thick gravy that is loaded with locally grown spices and cooked over low flame for hours so the meat can truly absorb the essence of the curry. It is usually eaten with chapathis, rice or dosa.
7. Hyderabadi Biryani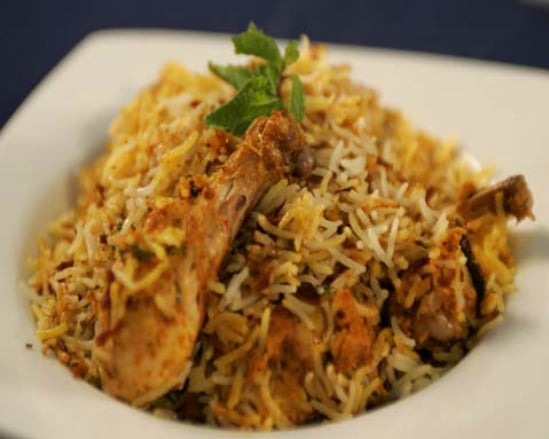 Thanks to the major influence of Nizams in the state, Hyderabadi Biryani has come to be known worldwide as one of India's jeweled food items. It is of two types; Kachchi gosht ki biryani and Pakki biryani. Marinated meat is cooked in layers of rice in a big handi which is covered with flat dough that eventually rises due to heat; indicating that the biryani is ready to be devoured.  With two different cooking methods producing mouthwatering results, the biryani has transformed over the years to satisfy everyone's taste buds and it even has a vegetarian version.
8. Chegodilu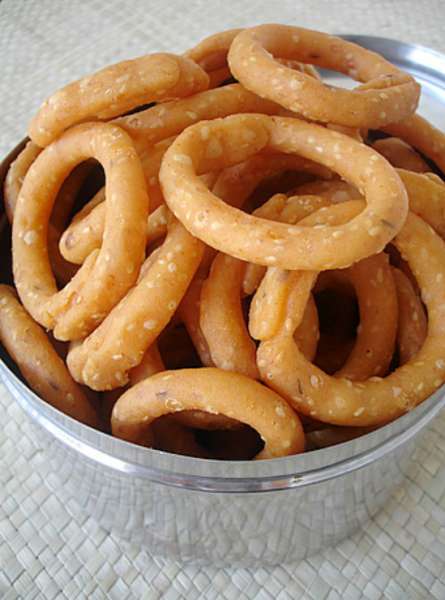 A tea-time accompaniment, Chegodilu is a crunchy snack item that is almost impossible to stop munching on after the first bite. Toasted sesame seeds are the special feature in this deep fried snack giving it a unique nutty flavor that goes well with the mild spiciness.
9. Polelu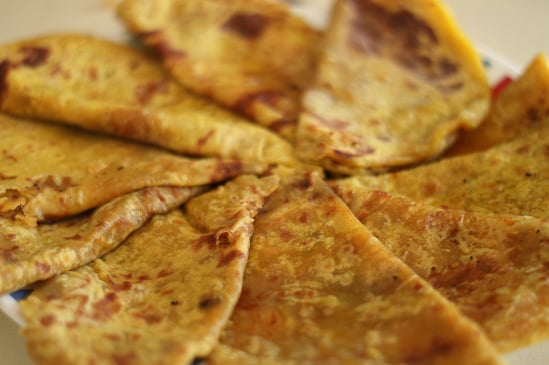 Ultra-thin flattened Indian bread with a stuffing made of jaggery, channa dal, cardamom powder and ghee, Polelu is a go to recipe for special festivals like Ganesh Chathurthi. It is commonly found in sweet shops in sealed plastic packets and can be easily made at home.
10. Qubani ka Meetha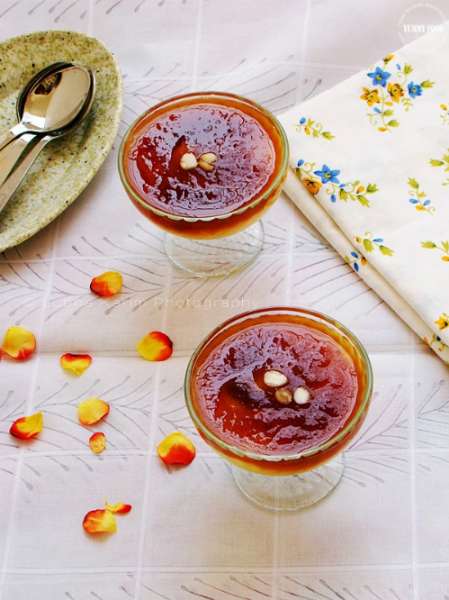 An enormously, popular sweet at Hyderabadi weddings Qubani ka meetha never fails to bring out the magnificence of the occasion. Made of dried apricots that are cooked over heat for a significant amount of time to become a compote, it is then combined with sugar, ghee, saffron threads and almonds to prepare a fragrant and delectable dessert. It is often served with a generous dollop of ice-cream, custard or simply malai.


11. Thunti Koora
Thunti Koora is a spicy vegetarian curry made of Red Sorrel leaves. Red sorrel is extremely healthy with a good amount of Vitamin A, Vitamin C and Protein. This curry is best eaten with Jower or Bajra chapatis (flatbread).


12. Potlakaya Pulusu
Another example of a traditional vegetarian, Telangana style preparation is Potlakaya Pulusu or snake gourd soup. This is another wholesome preparation, loaded with Vitamin C. Do you know that snake gourd is beneficial for diabetic patients?


13. Rail Palaram
Rail Palaram is a popular breakfast dish or a snack in Telangana. Rice flour dumplings are steamed in the idli steamer and then sauteed with curry leaves, urad dal, chana dal, mustard and cumin seeds, coconut and of course, lots of chillies.


14. Bachali Kura
Bachali kura is a leafy vegetable which is also known as Malabar Spinach or Ceylon Spinach. Bachali kura is rich in Vitamin A, Vitamin C, Iron, Calcium and antioxidants. 


15. Puntikura Chana Dal
Puntikura or Gongura is another leafy vegetable popular in Telangana cuisine. This leaf can be added to pickles or cooked with Chana Dal into a curry. 


While some of these items are readily available all over India, their authenticity is deep-rooted in the land of Telangana. So, once in a while, let's pass off that plate of biryani for something that takes us closer to the tradition of the people of Telangana.