Bangalore to Ooty
| | |
| --- | --- |
| Bangalore to Ooty Road Distance | 274 km |
| Bangalore to Ooty Aerial Distance | 199 km |
| Bangalore to Ooty Travel Time | 6 hours 15 mins |
How to reach Ooty from Bangalore
There are multiple transportation options available from Bangalore to Ooty. The best option depends upon your budget. It is suggested to travel by Car which is by far the best option considering all aspects like travel time, budget etc.
Bangalore to Ooty Travel Options
Bangalore to Ooty Route
Bangalore to Ooty by Car
Most individuals who own a private car or wish to take a cab or taxi prefer to make a road trip out of their travel to Ooty from Bangalore. This is because of the well-maintained roads and several facilities available on the way as well as the adventurous travel routes which make the journey as exciting as the destination.

There are two main routes one can take when travelling from Bangalore to Ooty, both of which take approximately 6 hours 40 minutes. The first route is the one via Mysore whereas the second route is via Chamarajanagar.

Route 1: Bangalore to Ooty (Via Mysore)
Bangalore- Mandya- Mysore- Gundlupet- Bandipur- Theppakadu- Ooty

This road taken when travelling through this route is also called the State Highway 17 (SH17) which is a four-lane drive with excellent road conditions. Due to this very reason many individuals prefer to go through this route. Food option when travelling through this route include Kamath at Channapatha, Mcdonalds, Café Coffee Day, and Indradhanush. One can also make a quick stop in Mysore for breakfast and sightseeing.

Route 2: Bangalore to Ooty (via Chamarajanagar)
Bangalore- Kanakapura- Chamarajanagar- Gundlupet- Bandipur- Theppakadu- Ooty

This is the lesser travelled route simply due to the fact that it is not as developed at the Mysore roads and not well maintained. However, this route also helps individuals escape the Mysore traffic making it slightly faster.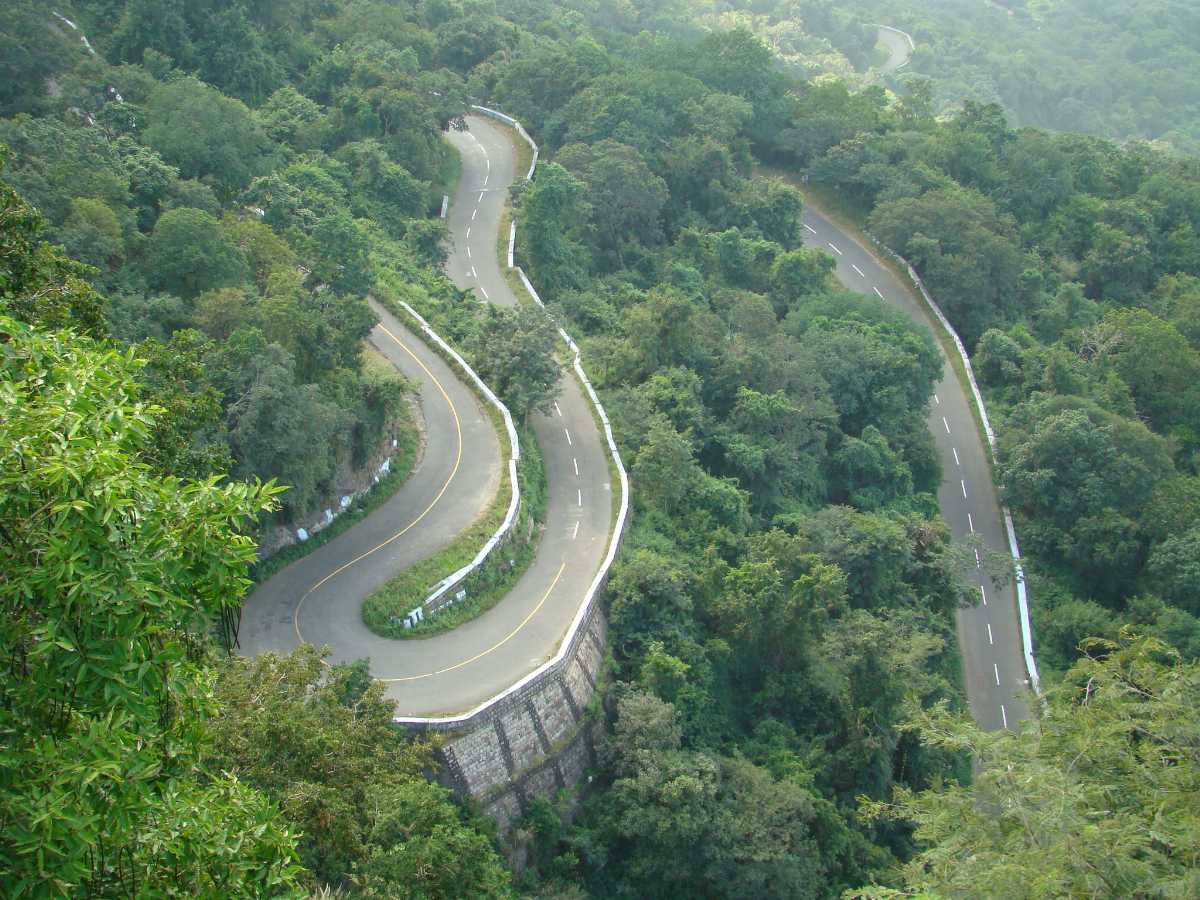 Both Route 1 and Route 2 converge at the border town of Gundlupet. From this place onwards you enter a forested region which, many times, is considered to be the highlight of the journey. The forested region is caved in and protected by the Bandipur National Park on the Karnataka side and the Mudumalai Wildlife Sanctuary on the Tamil Nadu side. You can expect to see herds of elephant, deer, monkeys and many other wildlife creatures when passing through this region. After passing the forest, you can expect to reach the Theppakadu Junction. From here, the road branches off to two more routes which converge six kilometres from Ooty town. These two routes are the ones via Masinagudi and via Gudalur.

Route 1: Theppakadu to Ooty (via Masinagudi)
The Masinagudi route is the shorter and less traffic laden route due to the absence of trucks and buses. However, the route is reserved for thrill seekers or experienced drivers as the uphill drive is extremely steep and has as much as 36 hair pin bends in the road. Due to this dangerously laden track the road is kept close during night time as well. One must take extreme caution and be sure of their abilities if choosing this route. That being said, the beauty and atmosphere on this journey mixed with the thrill makes for an unparalleled experience.

Route 2: Theppakadu to Ooty (via Gudalur)
The Gudalur route is the safer, longer and leisure driven route which is also generally the bus route when travelling to Ooty. This route is a pleasant, laid back ride that allows individuals to catch a breath before basking in the excellence that is Ooty Town.

There is a third route before the Gundlupet Border which is scarcely taken. This route passes via Salem to Coonoor and finally Ooty. However, the route adds around 140 kilometres to the journey which makes it less than feasible to travel.

Approximate Cost: All routes from Bangalore to Ooty have tolls. There are approximately five tolls adding which the cost amounts to INR 160 in total. Additionally, taxis and cabs such as Uber and Ola also provide outstation services ranging from INR 5000 to INR 8500 depending on the kind of cab you book (SUV, Sedan, etc).

Tips: When passing through the forested region after Gundlupet Border make sure to be attentive of the wild animals. Give wide berth to the elephants and do not honk, it would only make them panic.
Bangalore to Ooty by Bus
Several bus services, both private, and government, make the journey from Bangalore to Ooty on a daily basis. These buses range from luxury buses to A/C buses or non A/C and sleepers to seaters. The main operators for this route are the KSRTC but several other companies such as Volvo, Green Line Travels and Holidays, Mayura Bus and SRS Travels also operate on similar routes. Pickups are generally done at the bus stands at Anand Rao Circle, the Jayanagar area or the Jaalahalli Cross with the last stop being Hosur or Madiwala. The main bus stand in Ooty is the Udhagamandalam Central Bus Stand from which individuals can make use of cabs or auto rickshaws to reach their destination within the town.

KSRTC Volvo Bus Timings: 6:15 AM, 9:15 AM, 10:00 AM, 1:00 PM, 9:45 PM, 10:15 PM and 11:15 PM

Overnight Buses: Bus operators such as Sarathi Tours and Travels, Mayura Bus, Green Line Travels and Holidays and SRS Travels run overnight services for individuals travelling to Ooty. These services start at 10:00 PM - 10:30 PM at night and individuals can reach Ooty by 6:30 AM - 7:00 AM in the morning.

Duration of the journey: The approximate travel time in a bus from Bangalore to Ooty is eight hours.

Approximate Cost: A bus ticket may cost anywhere between INR 700 to INR 800.

Tips: Roads may seem bumpy when sitting at the back of the bus, so individuals prone to nausea should make sure to book a seat in the front. Also, make sure to bring light snacks for the journey, as even though all buses have a rest stop in between, the journey is long.
Bangalore to Ooty by Train
Although there are no direct trains leading from Bangalore to Ooty, it is definitely possible to travel by train. One of the easiest ways is a partial train journey. This includes taking one of the easily available trains from Bangalore to Mysore such as the Basava Express and then taking a cab or bus from Mysore to Ooty. The complete train journey on the other hand may prove to be a little roundabout but some individuals even prefer it due to the scenic views during the last leg of the destination. This includes travelling by one of the five express trains that run daily from Bangalore to Coimbatore (87 kilometres from Ooty) or the weekly long-distance train that has stops in both cities.

An alternative route to Coimbatore suggests the use of the train till Salem Junction from Bangalore. Thereafter, the train heading to Coimbatore leaves at 1:47 AM and reaches its destination at 4:50 AM, giving you enough time to board the next train in your journey.

After reaching Coimbatore individuals can board the 12671 Nilgiri Blue Mountain Express to the town of Mettupalayam which is 40 kilometres from Ooty. This train leaves Coimbatore at 5:15 AM and reaches Mettupalayam at 6:15 AM. Once you reach Mettupalayam, you are required to board just one more train which is also one of the most pleasant and astounding journeys. The 56136 Nilgiri Mountain Railway was named the UNESCO World Heritage site in July 2005. This journey begins at Mettupalayam at 7:10 AM and follows all the way till Udhagamandalam, passing Ooty on the way. You can expect to reach Ooty at around 12:00 PM, making this a five-hour journey.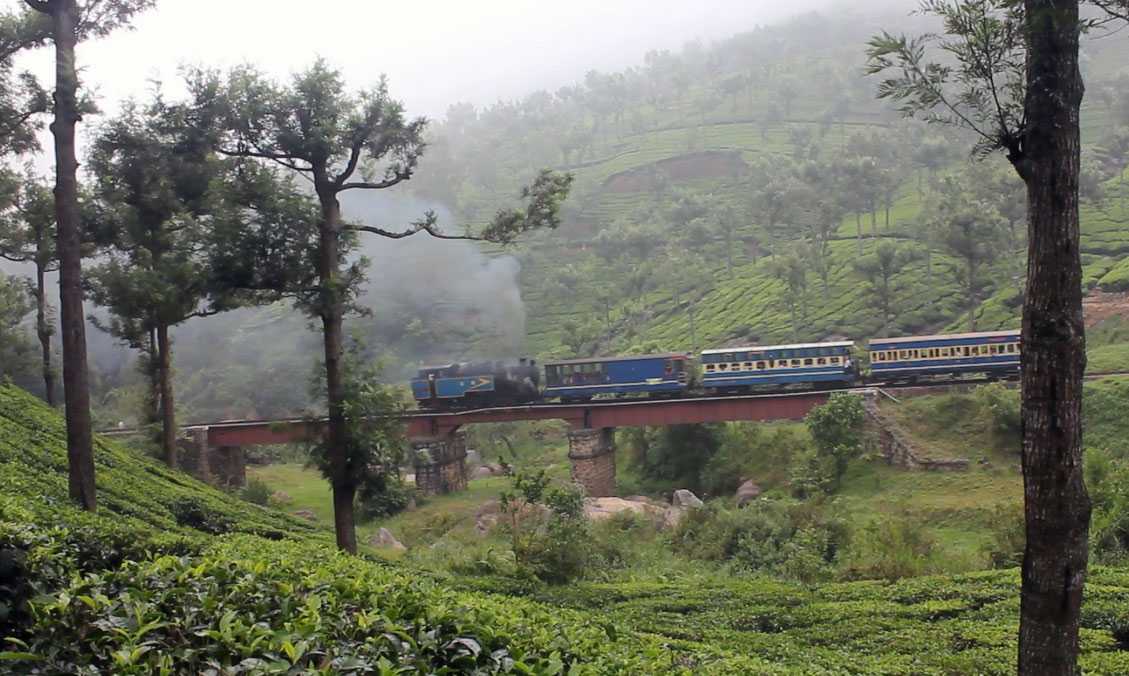 Approximate Cost: The average cost for the Mettupalayam to Ooty train ranges from INR 30 to INR 250 depending on the seat availability and whether you choose to travel in first class or second class.

Tips: Be sure to book the tickets two or three months in advance as the availability is scarce. This is especially true for the Nilgiri Mountain Toy Train as it is a famous tourist attraction due to its scenic hilly route. The same train also does not have a washroom and does not provide food or catering so make sure to make provisions for the same.
Bangalore to Ooty by Flight
Ooty in itself does not a have an airport of its own. The nearest airport to Ooty is the Coimbatore Domestic Airport which is at a distance of 87 kilometres. From here, individuals can take a train, cab or bus or hire a car to reach Ooty town.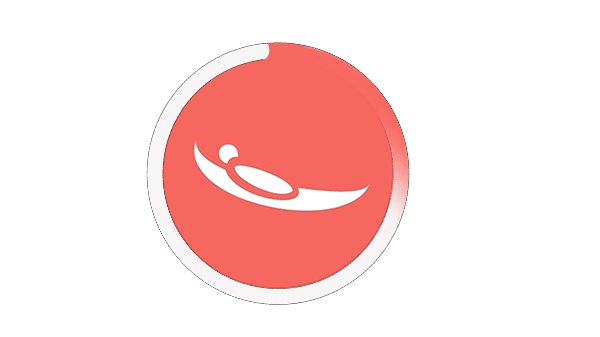 Loading, please wait...
Other Popular Routes from Bangalore
Most Popular Routes to Ooty