Sadar Bazaar is one of the very few markets in India which provides almost everything people can ask for and that too at an affordable price. This market is also very common for buying wedding costumes and jewellery. The vibrancy and authenticity of the market are what all shopaholics crave for.
House décor
Sadar Bazar is one of the best places to find authentic wooden works for decorating one's house. The natives being predominantly woodcutters earlier make sure that the items sold are exotic with the best quality wood. Starting from the beautiful wooden wall hangings to beds with different structures carved on its sides, this bazaar is perfect to satiate the aesthetic tastes of tourists.
Toys and items for domestic use
Be it for decoration or for children Jalandhar produces beautiful toys dressed in their traditional attires. The best part about the toys is that they are not made of plastic or any other harmful substance which would affect the children's health. The toys are solely made of clay and most of them are handmade which adds to the authenticity of the toys. Starting from dolls wearing Ghaghra to miniature versions of cooking utensils like stove, plates and glasses, one would get a variety of stuff in this section of the market.
Punjabi Attire
Jalandhar has a distinct clothing style which attracts most of the tourists. The vibrant colours of the attires and the beautiful designs make them perfect for a traditional party or gathering. The most common attire here is the Ghaghra choli for woman and Punjabis with turbans for the men. The Ghaghra and choli comprise of various geometrical designs, vegetable prints, a range of exotic stitches and even small mirrors. Such attire is perfectly matched by a pair of beautifully designed shoes made of cow hides, known as the "juttis".
The jewellery section of Sadar Bazaar is also huge which lies just beside the clothing shops. The availability of unisex studs, Kadhas and naths complete the typical Punjabi look and Sadar bazaar provides it to the tourists in one go.
Sadar Bazar is bustling with shops that sell ready-made designs of clothes to hand-stitched customised designs. Some of its renowned textile shops are:
· Sajni Boutique
Sajni Boutique is known for its readymade clothing stock. Their wholesales are not limited to clothing but extend to services like tailoring, presenting fabrics that can be customised as per the demand of the customer, especially ladies. Along with selling good quality material, their priority is customer satisfaction.
· Mamta Cloth Store
Indian traditional wear is mostly sold at Mamta Cloth Store. Dupattas to patiyalas, this store presents its customers with Punjabi salwar-kameez that steals glances.
· Kaaya Creations: A Designer Studio
At Kaaya are available various wedding clothing materials, from glittering gold to elegant yet classy. Their collection consists of suits, lehengas, patialas, chudidaars and other Indian ethnic wear.
· Dashmesh Turban Centre
At this centre, the Punjabi males will find cloth material for a symbol of their pride and culture – turbans. Varying in colours, sparkles and occasions, the turbans are an essential representation of a man's faith too.
· Gur Collection
At the Gur, Collection are available Rubia fabric material, wholesale material ad fancy dress material.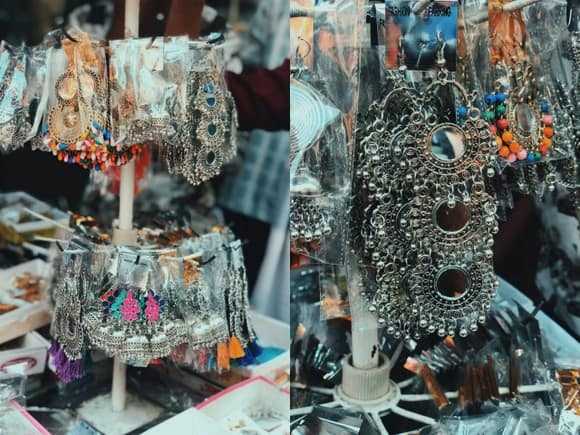 The venture isn't restricted to clothes. There are shops selling ornaments and jewellery from necklaces with a single round stone carved intricately to crystal clear demonstrations. Tiny stalls are selling fake Rayban sunglasses and Titan showrooms with their scintillating watches.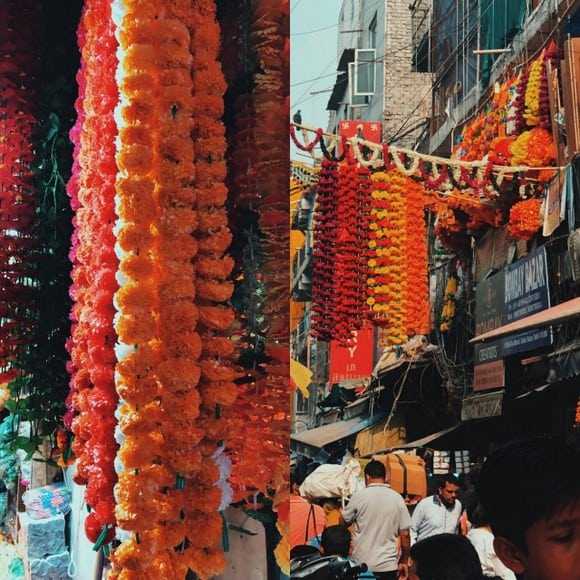 Adding onto the place is a haven of books. Classics, romance, drama, Jack Kerouac and Khushwant Singh have all been showcased in stands holding the smell of new books and containing that of old ones. They have second-hand book-stores where visitors are welcomed with stories into new worlds.
After a day this long, Sadar Bazar's remedy to the loss of energy is to gain double of it by savouring the ras-malai and Moti choor ladoos from its vagrant sweet shops, and Punjabi shops serving street food like chaat.