The temple complex had been earlier housed within a set of outer boundary walls. With the entry in the east, the temple vihara was the first magnificent structure greeting its beholders. The entire complex has obvious style influences from the Khmer, the obvious being the conical-shaped prang. Mandapas surround the prang on the northern and the southern ends. A square cloister surrounding the prang houses several Buddha images on embellished bases. A passageway, identified as porticos, lead to the gallery with seated Buddha figurines.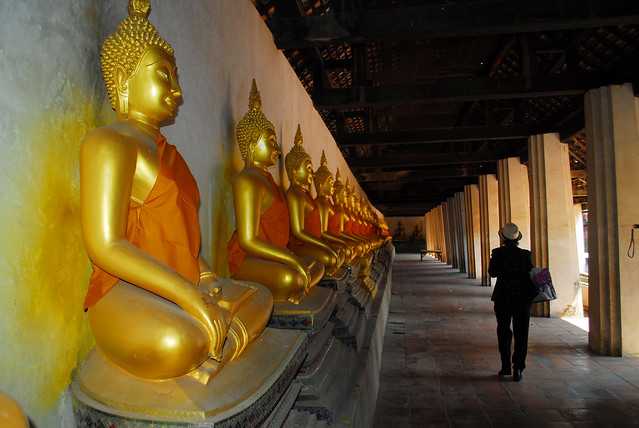 A dynamic and interesting feature, mentioned above, is the prang. This structure represented the mystical Mount Meru. Centrally located and built on an indented and raised pedestal, the pedestal has the typical early Ayutthayan wing-like formation. The smaller hall inside the prang is accessible via a porch, connected by staircases on the eastern and western ends. This hall continues to house a Buddha image. The hall and ceiling are decorated with painting, embellishment and decor from a fairly early period. This prang was restored during the Rattanakosin period by King Rama V.
Another important structure is the ubosot or ordination hall, restored in the late 1950s. This structure continues to be in use under the monastic order. There are smaller viharas around the complex, one of which houses the famous reclining Buddha image. Restored multiple times throughout the golden age of Ayutthaya, the chedis are a testament to these ongoing architectural endeavours.
Beyond the outer boundary walls, one can locate the quarters of the monks. Also, important is a two-storey residential building of a senior monk (with murals depicting deities, hermits, the ten Jatakas and the owner's pilgrimage to a Buddhist site in Ceylon ), which went on to inspire Jim Thompson's silk shop in Bangkok.