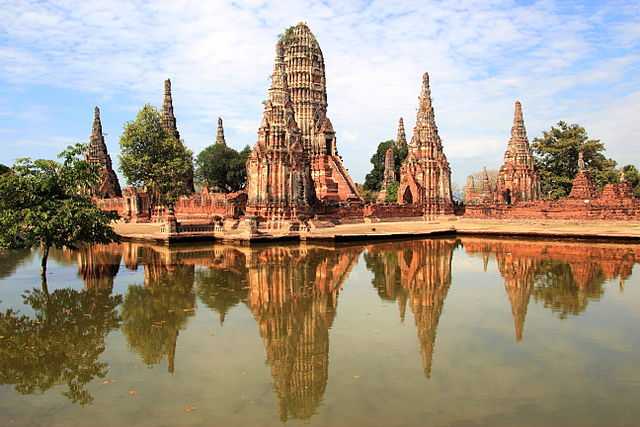 Wat Chaiwatthanaram was built in keeping with the principles of Khmer architecture that is found in the temples of Angkor. It represents the universe as per the Buddhist & Hindu philosophy. The tourists approaching the ruined complex find a 1 meter wide wall encircling it completely. It consists of several arched entrances. The principal gate facing the Chao Phraya River lies to the east of the building. The royal family along with the King had used a boat to visit the temple in ancient times.
A 35 meter high prang or tower happens to be the hallmark of the complex that has been raised by means of a flat rostrum. The area also contains four smaller towers situated at the four corners. There is a flight of stairway leading upwards to the central tower from each of the smaller ones. The eastern tower, however, also leads to a sanctum holding multiple ancient relics and other artefacts believed to be of significance. The main podium supporting the prang also consists of eight chedis that are interconnected to form a gallery.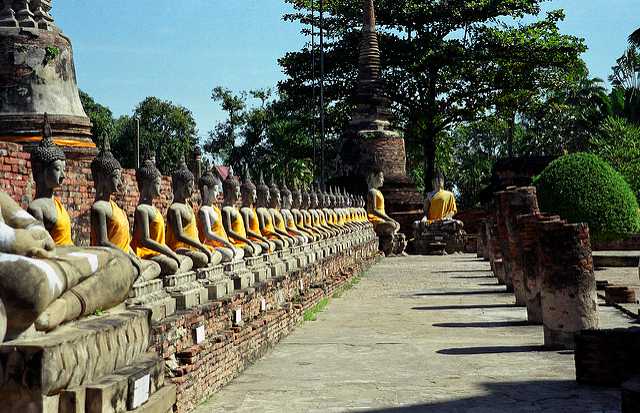 Each of the lean towers contains niches that hold images of Lord Buddha, sitting in a penance. The walls of the chedis are sculpted elaborately with depiction from the tales of Jataka from Buddhist folk lore. The galleries also contain lacquered images of Buddha in the Mara Mudra formation. The walls along with the windows exist to this day while the roof has been ravaged by time. The base of the Eastern alter with images of Buddha in a sitting posture have survived although the monks' quarters have been demolished completely.