1. Yellow Boats
The Yellow Boats offers visitors a chance to enjoy the sights of Abu Dhabi with its 60-minute long Corniche Tour and 90-minute long Mosque Tour. The Corniche Tour allows you to cruise along the 8 kms long Corniche and view the Abu Dhabi skyline and historic landmarks, such as the Emirates Palace, Fisherman's Village, Heritage Village and Lulu Island. It departs twice a day, at 10:00 AM and 02:00 PM. The Mosque Tour covers iconic sights like Emirates Palace, Presidential Palace, Al Hudayriat Island, Al Maqtaa Bridge, Al Maqtaa Fort and the Grand Mosque. This tour occurs once a day, departing at 04:00 PM. The rigid inflatable boats depart and return to the marina at the Emirates Palace.
Cost
: The Corniche Tour costs AED 210 per adult and AED 157.50 per child (5 to 12 years old). The Mosque Tour costs AED 294 per adult and AED 220.50 per child (5 to 12 years old). Booking in advance is recommended.
To find out more, call 800 892 or visit http://theyellowboats.com/home-abu-dhabi/.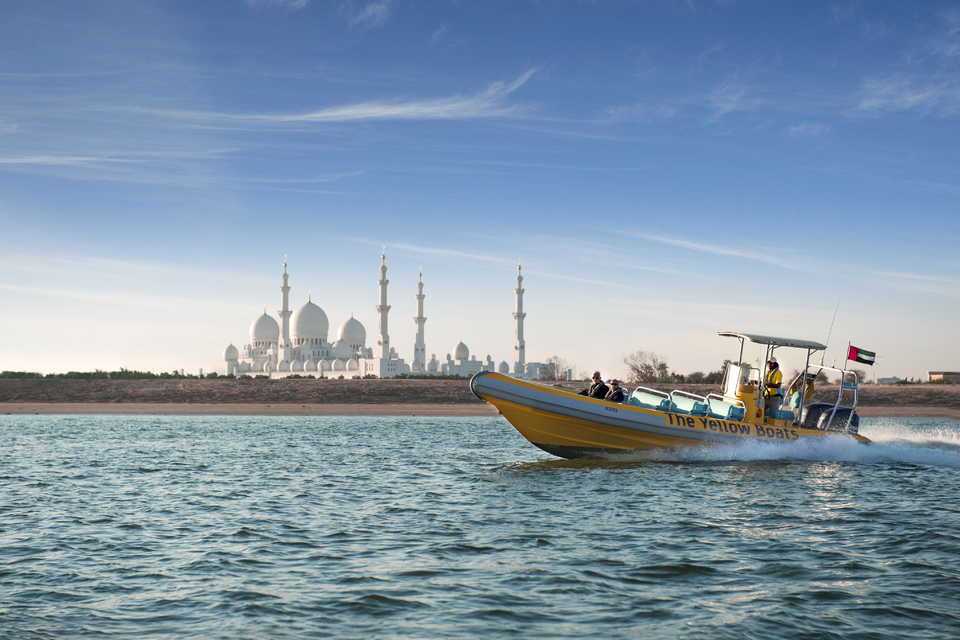 2. Jalboot
Jalboot offers a variety of cruising options, such as the Yas Island getaway experience, where one can enjoy the stunning views of Yas Island, or the cruise with views of the Sheikh Zayed Grand Mosque from the water. The Jalboot Corniche Sunset cruise is a one hour experience every Tuesday, Wednesday and Saturday departing at 06:30 PM, where you can enjoy watching the sunset as you pass by the Abu Dhabi Corniche waterfront, Abu Dhabi Theatre, the Presidential Palace, the Abu Dhabi Flag Pole and more. One can even host parties in one of Jalboot's private charter boats, with a private charter manager to ensure that everything is suited to their requirements. Jalboot offers a variety of packages and ticket prices, including an all day pass to explore Abu Dhabi which usually takes about 4 hours.
Cost
: The Jalboot Sunset cruise costs AED 95 per adult, and AED 45 per child. Children under the age of 4 years travel free of charge. The Jalboot all day pass costs AED 195 per adult and AED 95 per child. For a family of four, it costs AED 495.
To buy tickets or for more information, visit www.jalboot.ae or call 600 57 57 56.
3. Captain Tony's
Captain Tony's allows you to experience the best of the sea with their range of boats like the traditional dhows, stand-up paddle boats, kayaks and more! It is the first eco-conscious operator offering unique boating experiences including the Sunset cruise, the Island beach getaway, the Moonlight dhow cruise, the Romantic Cruise, Eco tours and more. One can even experience leisure line-fishing on the inshore waterways, which is safe, sustainable and suitable for those of all ages. It also offers a chance to organize corporate tours and team-building activities.
Captain Tony's has three routes : the red, yellow and blue routes. The red route runs daily from 04:00 PM to 10:30 PM, and does not require any advance bookings. The yellow route and blue route operate daily and require pre-bookings.
Cost
: The cost for a one-way ticket for a red route is AED 20, AED 50 for the yellow route and AED 100 for the blue route.
Call +971507819642 or visit www.captaintonys.ae for more information.
4. Seacruiser
It offers guests with a variety of packages, such as the Abu Dhabi Corniche Package, the Family Package and the Yas Island trip package. It allows people with transportation services, a chance to host private parties and explore any new destinations of their choice.
The tours must be booked in advance, and go on from 08:30 AM to 08:00 PM daily.
Visit www.seacruiser.ae or call +971 50 800 9495 for more information.
5. Lulu boats
View the city from a completely new perspective sightseeing in Abu Dhabi with one of Lulu Boat's cruising experiences, including the sunset cruise, the island tour, a fishing cruise, exciting water sports, a weekend getaway with your loved ones and even hosting a private or corporate event. All tours begin at Abu Dhabi International Marine Sports Club, located near Marina Mall. Their Abu Dhabi Island Tour even allows you to enjoy relaxing on an island, explore the nearby islands or even go on an overnight camping trip.
The cost varies depending on the size and capacity of the vessel.
Call +971 50 642 9777 or visit the website www.luluboats.com for further information.
6. Al Dhafra
With years of experience in the hospitality industry, Al Dhafra offers guests with an unforgettable evening in its traditional dhow cruise, complete with dining at the signature restaurant. Guests can enjoy the views of the Abu Dhabi corniche from the dhow, while being served a variety of local, Arabic and international cuisine. Al Dhafra boasts four boats, Al Khashti, Al Falah, Al Yafoor and Al Muraqab, each having a different size and capacity.
Call +971 2 444 9914 or visit the website www.aldhafrauae.ae to find out more.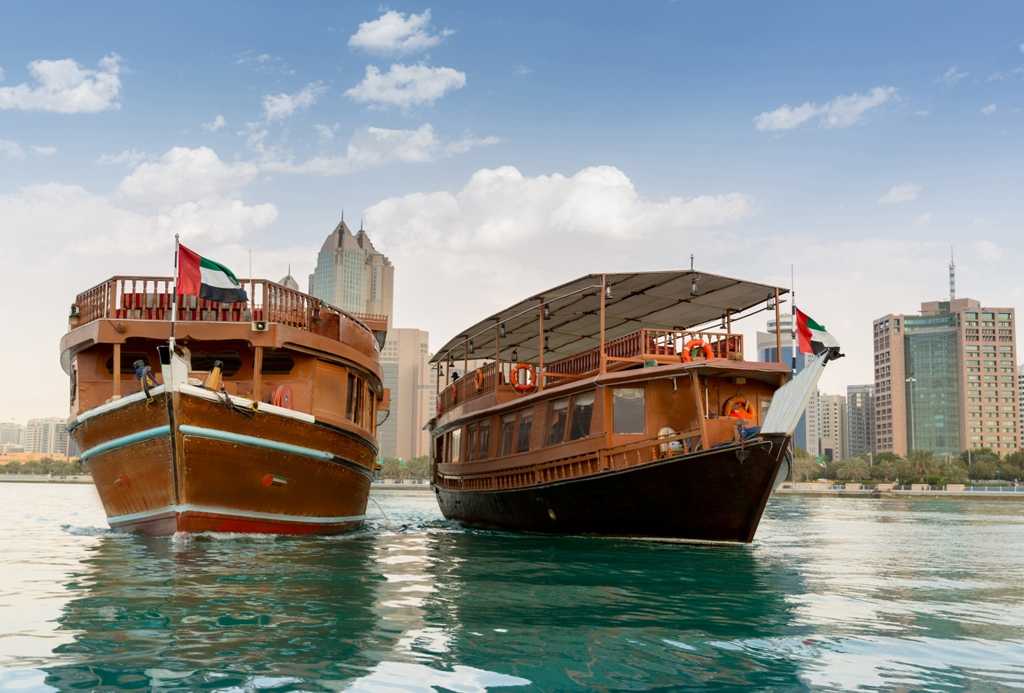 7. Butinah Cruising
The stylish yachts offered by Butinah are complete with the machinery needed for speed and safety, and include private marine yachts, catamaran yachts and super yachts. One can also take a private charter or join an organized tour. You can also take advantage of the opportunities for fishing all year long, with Butinah's half day or full day fishing trips. All fishing charters are inclusive of beverages, fishing gear and bait.
Call +97126815555 or visit the website www.butinahcruising.com for more information.
8. Belevari Marine
Belevari Marine offers guests a chance to get away from the hustle and bustle of the busy city with its luxurious yacht charter options in the calm waters of Abu Dhabi. One can choose from the yachts of various sizes and rates, including the Catamaran 74 ft., the Majesty 44 ft. and the Silver Craft 26 ft. The largest yacht has a capacity of 65 people and features four shaded lounges, beanbags as well as two trampolines. Fishing rods and catering can be arranged on some of the yachts. Belevari Marine can cater to all kinds of events such as wedding receptions, birthday parties, team-building activities and corporate functions.
Cost
: The rate for the Catamaran 74 ft. starts at AED 2,500 per hour. The Majesty 44 ft. costs AED 2,500 per hour and the Silver Craft 26 ft costs AED 500 per hour.
For more information, call +97126431494 or visit http://belevari.com/.
9. Phoenix tourism
Phoenix tourism gives you the chance to choose from a variety of marine experiences. Its dhow cruises combine the experience with fine dining, as you enjoy your meal alongside the brilliant waters of Abu Dhabi. One can try their hand at deep sea fishing while sailing in the style and comfort of the boats. Phoenix tourism offers yacht cruises which can even host parties, complete with an on-board DJ.
To find out more, visit www.phoenixtourism.ae or call +97125560041.
10. Abu Dhabi Pearl Journey
The Abu Dhabi Pearl Journey offers guests with a unique cultural and educational opportunity by sailing on the Jalboot or the traditional pearling dhow. It has a maximum capacity of 15 people. You can enjoy the traditional snacks onboard, and also view a demonstration of pearl diving and opening an oyster. Each tour takes approximately 60 to 90 minutes, and are conducted daily from 09:00 AM to 08:00 PM.
Cost
: The tickets must be booked in advance and cost AED 500 per adult and AED 400 for children under 12 years. Those below 3 years can enter free.
For groups of 10, one can avail a discount and tickets cost AED 450 per person.
For more information, visit the website www.adpearljourney.com or call on +971526419914.