Being among one of the largest cities in the country,
Salalah
is a sought-after destination to visit in
Oman
. It has a lot of tourist attractions around the city and is best experienced during the monsoon or Khareef, as the locals call it. The lush green landscape around Salalah during the Khareef is lovely to look at and the city has some fascinating beaches to its name. Before you explore the city, let's just run you through the gateway to this magnificent city, which is the Salalah Airport.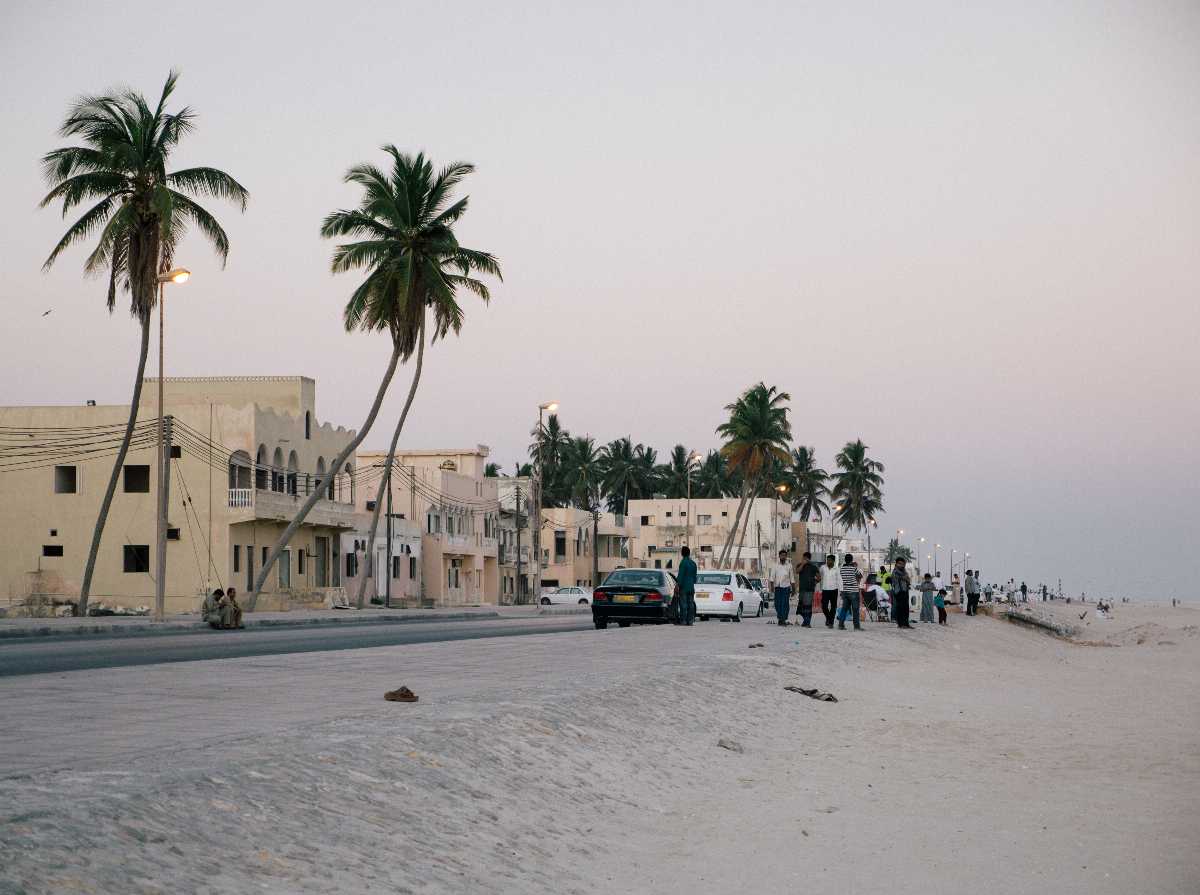 Operational since 1977, the Salalah airport was open to domestic traffic from
Muscat
and handled a few chartered planes. It was given the status of an International Airport in 2003 and since then, it has been playing second fiddle to the Muscat International Airport in Oman. In 2011, due to increased traffic, the need for a bigger and new airport at Salalah was very evident. The construction of the new airport began in the same year and was fully operational from November 2015, with a ton of facilities for the passengers. Located just 10 kilometres away from the city, it is very accessible to some of the tourist places in the city. If you are waiting at the Salalah Airport during a layover and are wondering how to kill time or if you are planning to visit the city, just grab some munchies and keep reading.
How to Reach Salalah City From the Airport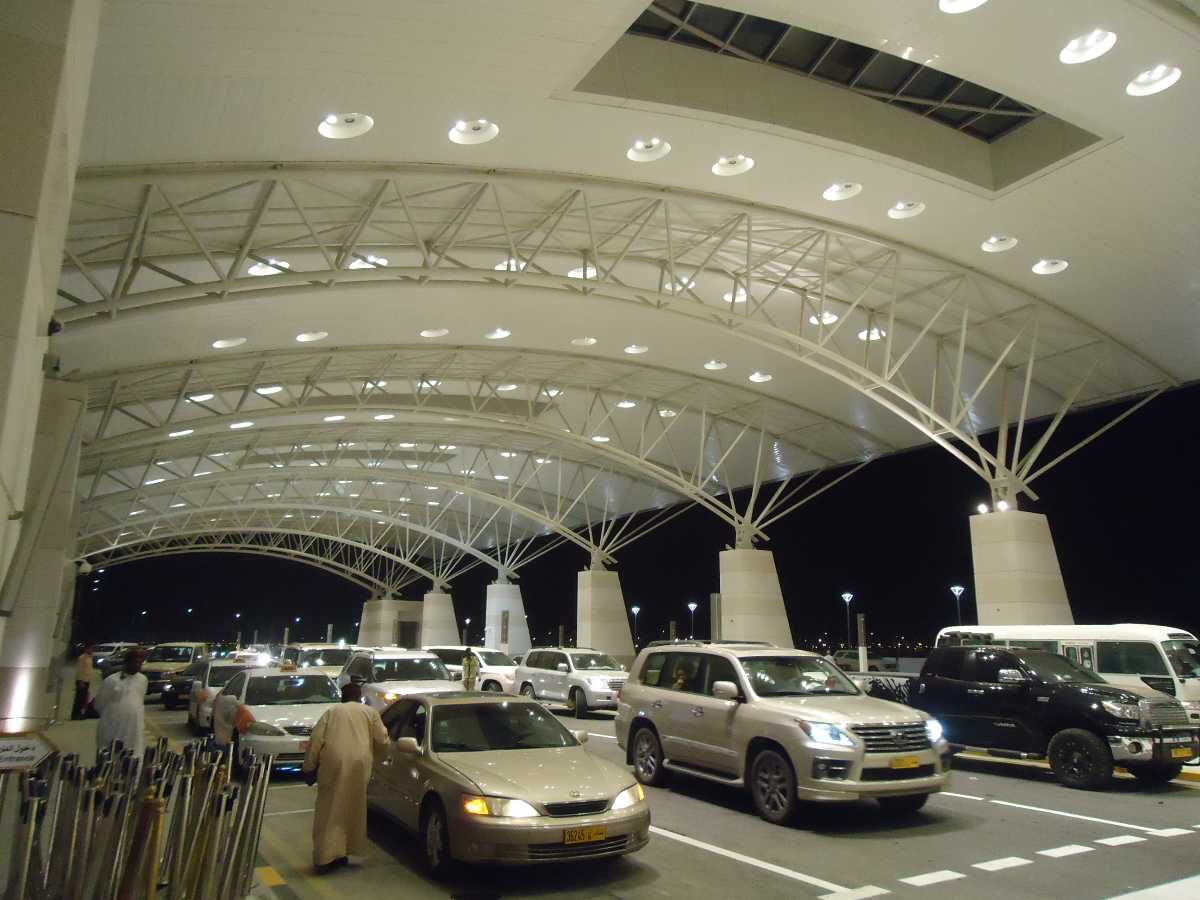 People just arriving at the airport can hire a taxi, rent a self-drive car or get a courtesy bus, which will be arranged by the hotel. The Courtesy buses are made available on-demand, so please check with your hotel before arrival to avoid confusion. As for the taxi service, the taxi management office is located on level 1 and you can just walk up there and provide the necessary details to get yourself a taxi. For Car rentals, you can hire one at the apron level and it advised to book a car before arrival to avoid any disappointment. Also, an International license is a must for renting a car. So, make sure you have all the necessary documents.
Car Parking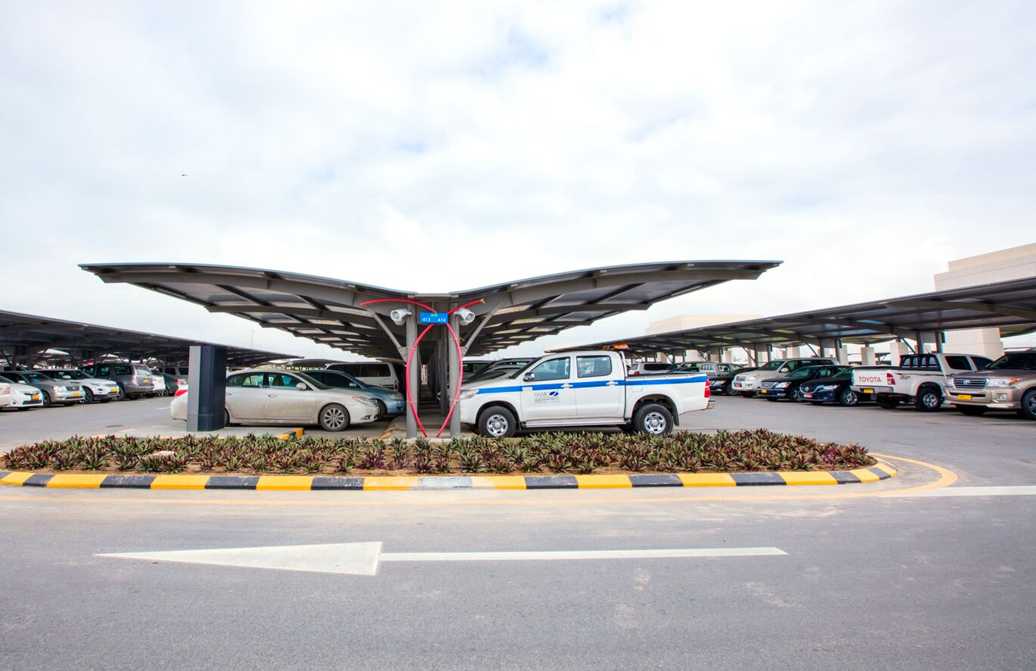 Ample parking spots are available at the Airport for all kinds of users at a very accessible distance. The car parking is located in front of the passenger terminal building at level 0 and boasts a capacity of 1,975 spaces. The parking area is shaded and locates itself very close to the terminal for quick access. The parking spaces can be used for short-term, mid-term and long-term parking. Automatic pay machines are installed to minimize waiting in queues and parking assistance is available round the clock.
| | |
| --- | --- |
| Time | Tariff |
| 30 | OMR 0.5 |
| 60 | OMR 1 |
| 90 | OMR 1 |
| 120 | OMR 2 |
| 1 day | OMR 2 |
| 2 | OMR 4 |
| 3 | OMR 6 |
| 4 | OMR 8 |
| 5 | OMR 10 |
| Following day | OMR 2 per day |
Pickup and Drop-off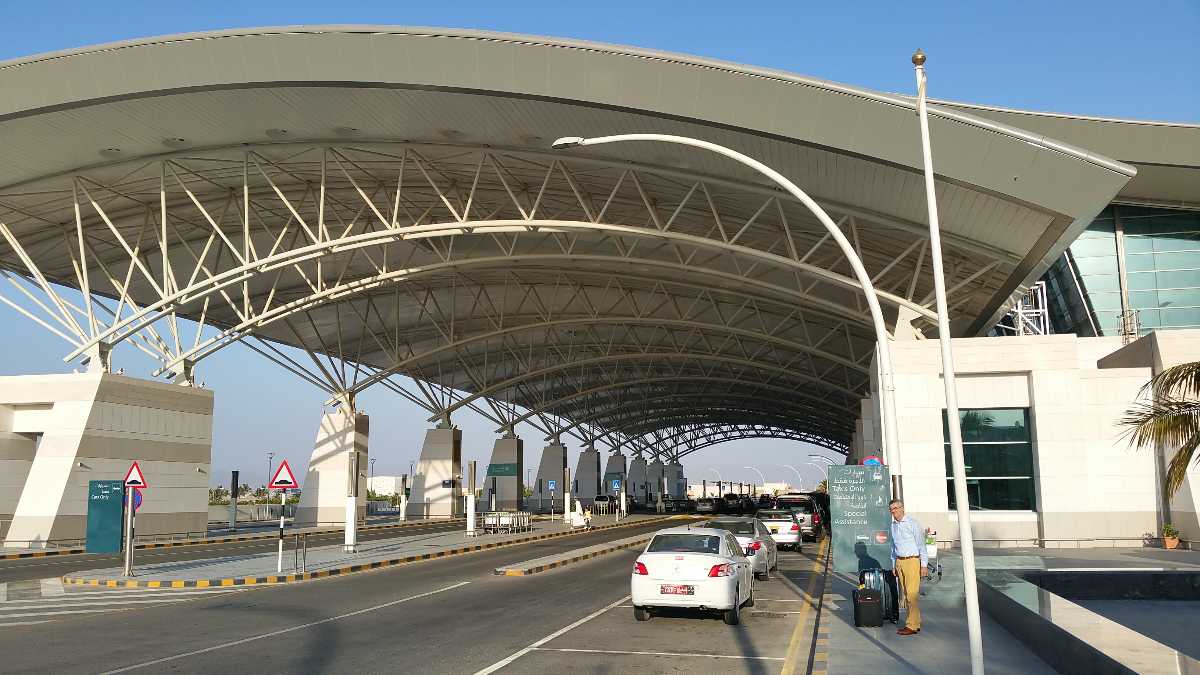 Salalah Airport has two dedicated zones for pickup and drop-off. The Arrival and Departure at level 1 is the upper forecourt and at the apron level, you have the lower forecourt. All airport users, passengers, meeters, and greeters are given a free parking space of 15 minutes, beyond which, there will be a tariff for overstaying. Unattended or parked vehicles at these zones will be towed-off if they are parked for more than three hours.
| | | | | |
| --- | --- | --- | --- | --- |
| Time | 0-15 minutes | 16-30 minutes | 31-60 minutes | 61-90 minutes |
| Fee | Free | OMR 1 | OMR 3 | OMR 6 |
For every additional hour, OMR 3 will be added to the previous charges.
Mobile Networks & Service Operators at Salalah Airport
Salalah Airport has stores of two mobile operators to reduce the hassle of tourists to get a local network. Omantel, Oman's oldest service provider has a store, which can cater to your telecommunication needs during your stay. The provider offers a '10-day Tourist pack' for only OMR 4.000, specially designed for visitors to the country and offers excellent coverage across the Sultanate. Apart from Omantel, Ooredoo also provides the option for visitors to buy a new SIM card during their stay. The tourist plan offers 2gb data, 40 local minutes and 40 SMS for up to 10 days. The Ooredoo kiosk is available inside the airport.
Food and Shopping
The Salalah Airport promises you a tummy full of tasty food and a lot of time to kill at its world-class shopping stores.
1. Duty-Free Shop
Location: Between the departure corridor and baggage reclaim belt number 3.
Dive into this store and fulfil your wish of owning some merch of the most recognized brands across the globe. Most of the products are available with exclusive and special offers. You can find jewellery, perfumes, fashion accessories and confectionery at the store.
2. WH Smith Shops
Location: Check-in Counter area, Departures (next to Duty-Free)
If you forgot to get a book to read while you wait or while on the flight, run to the WH Smith store and grab one. They are perfect for last-minute shopping and also have a variety of snacks and beverages at their disposal.
3. Subway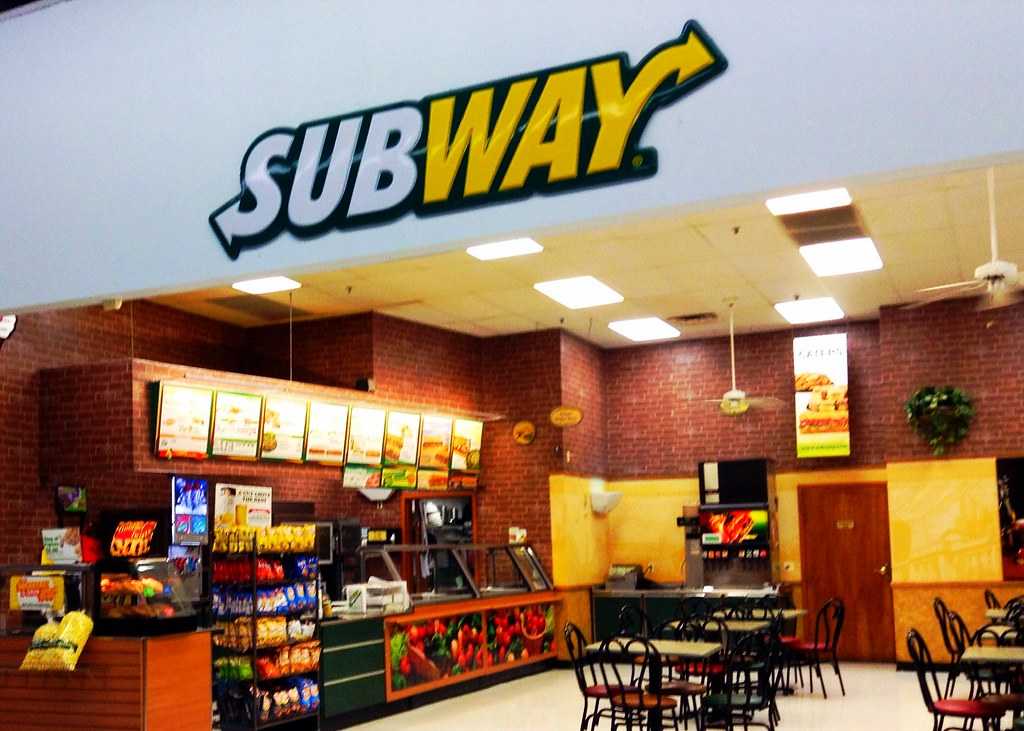 Location: Opposite to Duty Free - Dine in - Departures
Timings: 24/7
Cuisine: Vegetarian and Non-Vegetarian
Who doesn't love a customized sub to one's own taste? They've located right near the departures to make life easier without having to rush around with an empty stomach.
4. Costa Coffee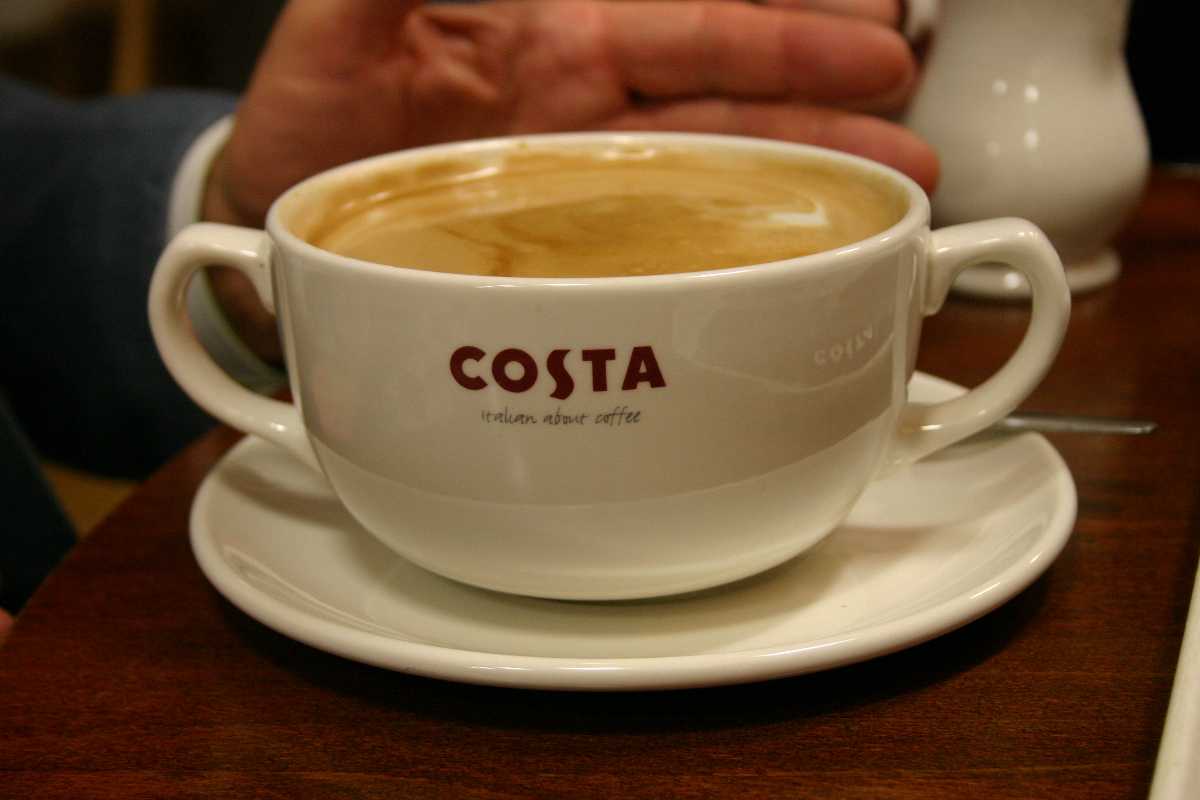 Location: Opposite Departure Gate 3B
Timings: 24/7
Cuisine: Coffee/Snacks
Just after you get off the flight or if you have a long period of waiting time, get your shot of caffeine from this international coffee giant for getting rid of that jetlag or to just keep yourself awake. They have a wide seating area as well, with a lot of snack options.
5. Olympic cafe
Location: Opposite Duty-Free - Dine - Departures
Timings: 24/7
Cuisine: International
The Olympic cafe gives a very fine dining experience at the airport. You can enjoy beverages, snacks, cakes and pastries at the seating area with the sight of the aeroplanes landing and taking-off the runway.
5. Dorra Cafe
Location: Next to the Ministry of Tourism - Dine-in - Arrivals
Timings: 24/7
Cuisine: International
The Dorra cafe is known to be one of the finest in serving the Omani cuisine along with a wide variety of snacks and food items to choose from. The cafe is open to access for all airport users and people waiting for their loved ones could go there and have a quick bite until they arrive. Food is served to the table on request.
Other Facilities
The airport is completely wi-fi enabled along with medical services, kids play area, multimedia corners and also special assistance such as wheelchairs to help the physically disabled. There are prayer rooms for men and women at the apron level and near the departures. Apart from these, the Airport two lounges are available at the Salalah Airport.
1. Oman Air - Al Khareef Lounge

Location: Opposite Departure Gate 3B
Timings: 24/7
This lounge is made available only to passengers of Oman Air, who are travelling in first or business class cabins. The Oman Air Sindbad program provides access to the lounge.
2. Premium Plaza Lounge
Location: Opposite Departure Gate 2B
Timings: 24/7
This is a paid lounge and is available to all passengers and is maintained by Zahara Airport Services LLC. It is well-equipped for passengers who will have a long layover period.
| | |
| --- | --- |
| Lounge Package | Tariff |
| 2 hours | OMR 11.000 |
| 5 hours | OMR 16.000 |
Salalah Airport is undoubtedly a passenger's paradise and can make you feel at home with its facilities and ease of navigation. The airport gives you a taste of the city's rich culture and assures you an experience to remember.