The restaurants in Siem Reap have transitioned from primarily serving traditional Khmer cuisine to offering exotic dishes born from the marriage of Khmer and other global cuisines such as European and Asian. Because of its massive tourist base, Siem Reap has undergone tremendous renovations in the last few years and became a world-class wining and dining centre in Cambodia both suitable for adventurers and foodies.
Expats in Siem reap run restaurants near Pub Street where you can find different kinds of pasta, sandwiches, burgers, sushi, papaya salad, and tempura. But, in the centre of town, you can find plenty of exclusive restaurants with Mediterranean fine dining along with insect-based Khmer dishes. Here you can enjoy local delights like Lok Lak stir-fried Beef, Fish Amok, Khor Pork, etc.
1. Bugs Cafe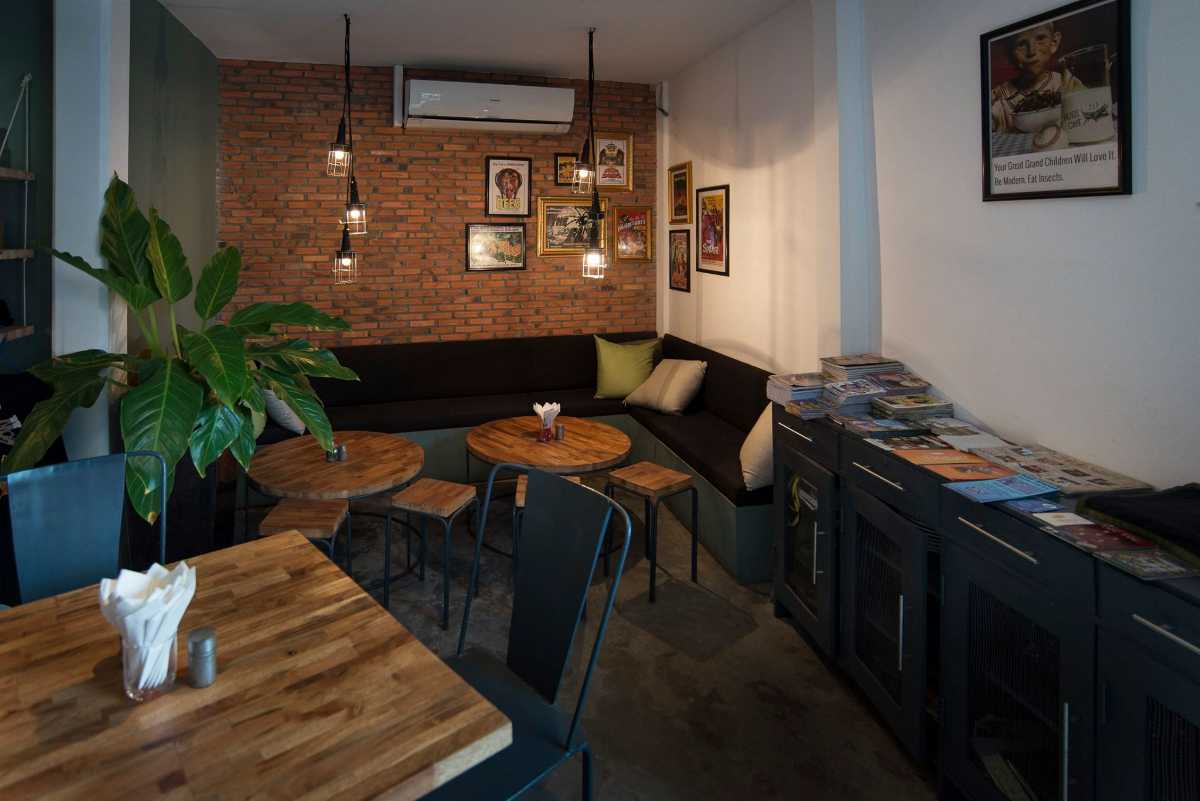 Let's start with the interesting one. Bugs Cafe is a must-try restaurant in the Angkor Night market street. As you probably might have guessed from the name, this restaurant serves dishes made with insects, crickets, scorpion, ants, bees, grasshopper, silkworm, and spiders.
Located only a three-minute walk away from the Angkor night market, Bugs cafe has an air-conditioned lounge with a homely wooden terrace on the second floor. The signature dishes are scorpion papaya salad, tarantula doughnuts, cricket & silkworm cupcakes. Also on Fridays, complimentary beers are served between 5.30 pm to 6.30 pm.
Address: 351 Angkor Night Market Street, Steung Thmei, Siem Reap 17259
Timings: 5 PM to 10:30 PM
Contact: +855 17 764 560
2. Mango Cuisine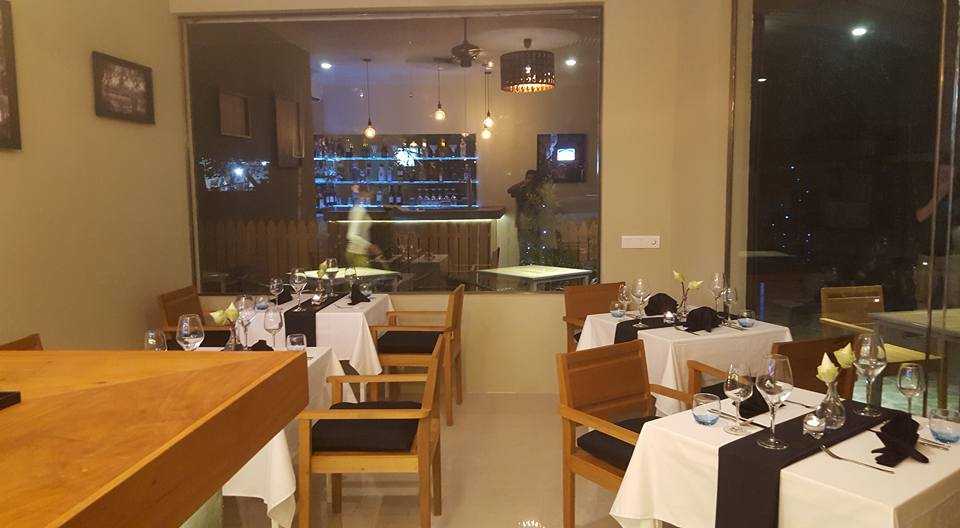 Established in 2015, Mango Cuisine is a relatively new restaurant created by Chef Guy Baldwin. With a mix of international and local ingredients, Guy Baldwin makes beautiful fusion dishes which you can not find anywhere else.
The Standout dishes here are Australian fillet smoked with hickory and Kampot Pepper- worlds best pepper. Apart from that. Tiger Prawn with Smoked Hickory Mash in rice tomato, Battambong Creamy Asparagus Soup, Chicken Curry/Vegetable Curry with secret sauce are some of the incredible menus here.
Address: Sok San Rd, Krong Siem Reap 17252
Timings: Daily from 6 PM to 11 PM
Contact: +855 70 556 699
3. Cuisine Wat Damnak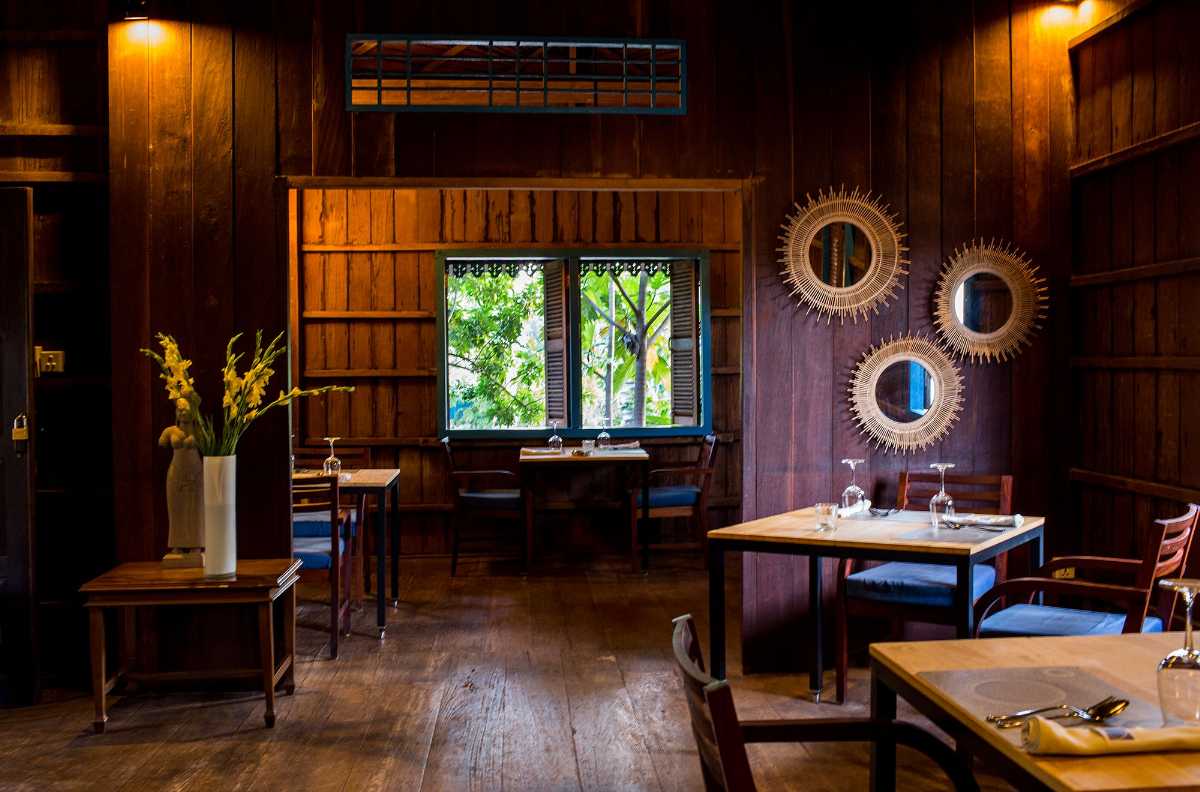 Cuisine Wat Damnak offers a perfect mix of traditional Cambodian food with non-traditional Cambodian dishes. The head chef Jhonnes Rivieres describes the menu as 'Cambodian food with a French sensitivity'.
Wat Damnak offers two sets of carefully curated tasting menus rotated each fortnight with edible flowers and local fruits. The restaurant is set in a beautiful traditional wooden Khmer home, with an air-conditioned dining hall and a tropical garden where you can enjoy the delicacies.
Address: Wat Damnak Market Street, Siem Reap
Timings: 6:30 AM to 9:30 AM (Tuesday to Saturday)
Contact: +85 577 347 762
4. Mahob Khmer Cuisine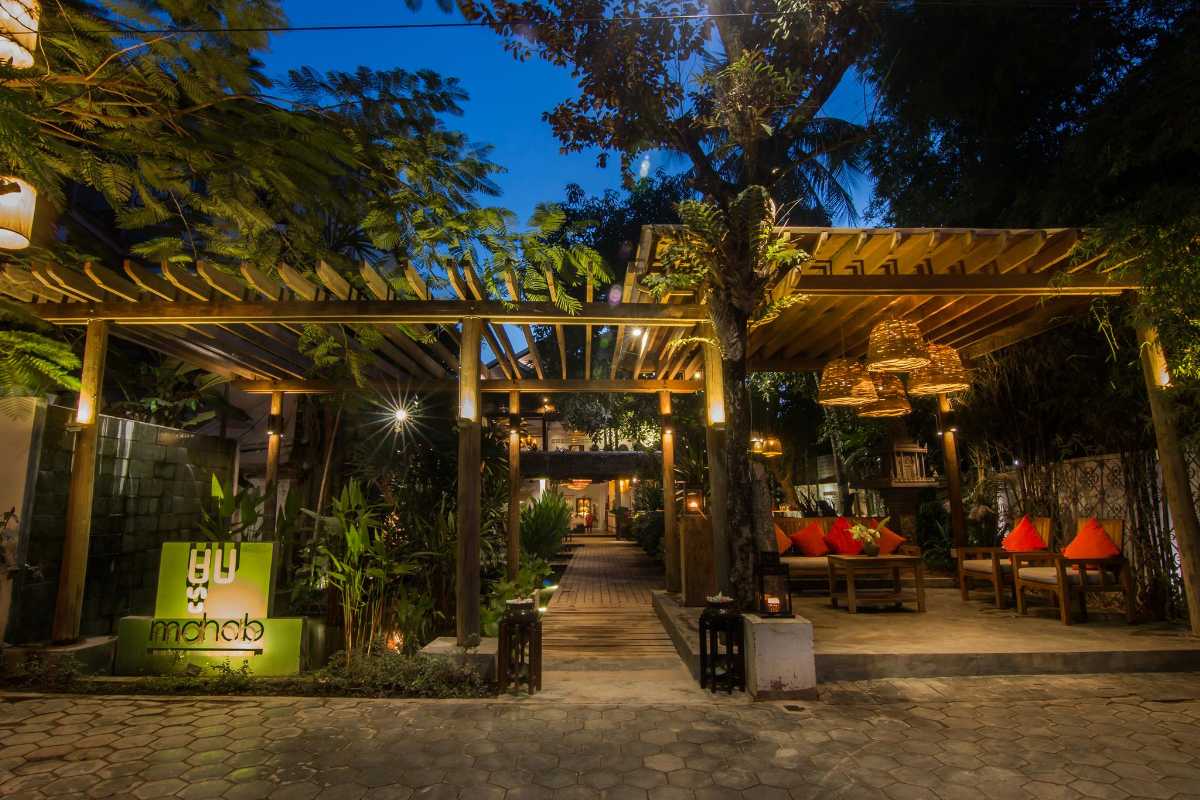 'Mahob' means 'ingredients' in Khmer, a perfect name for this stylish Cambodian restaurant in the bank of Siem Reap river. The restaurant was built by converting a traditional Khmer home that used to belong to a governor of Angkor Thom's Peak Sneng district.
Guests can choose to sit inside the air-conditioned dining hall, open terrace or the beautiful garden in front of the restaurant. The famous dishes here include a La carte menu where dishes are cooked on the 'hot stone' an ancient way to barbequing on volcano stone.
Mahob Khmer Cuisine also runs cooking classes for anyone trying to learn Khmer food.
Address: River Road, Siem Reap
Timings: 11:30 AM - 10:30 PM
Contact: +85570926562
5. Embassy Restaurant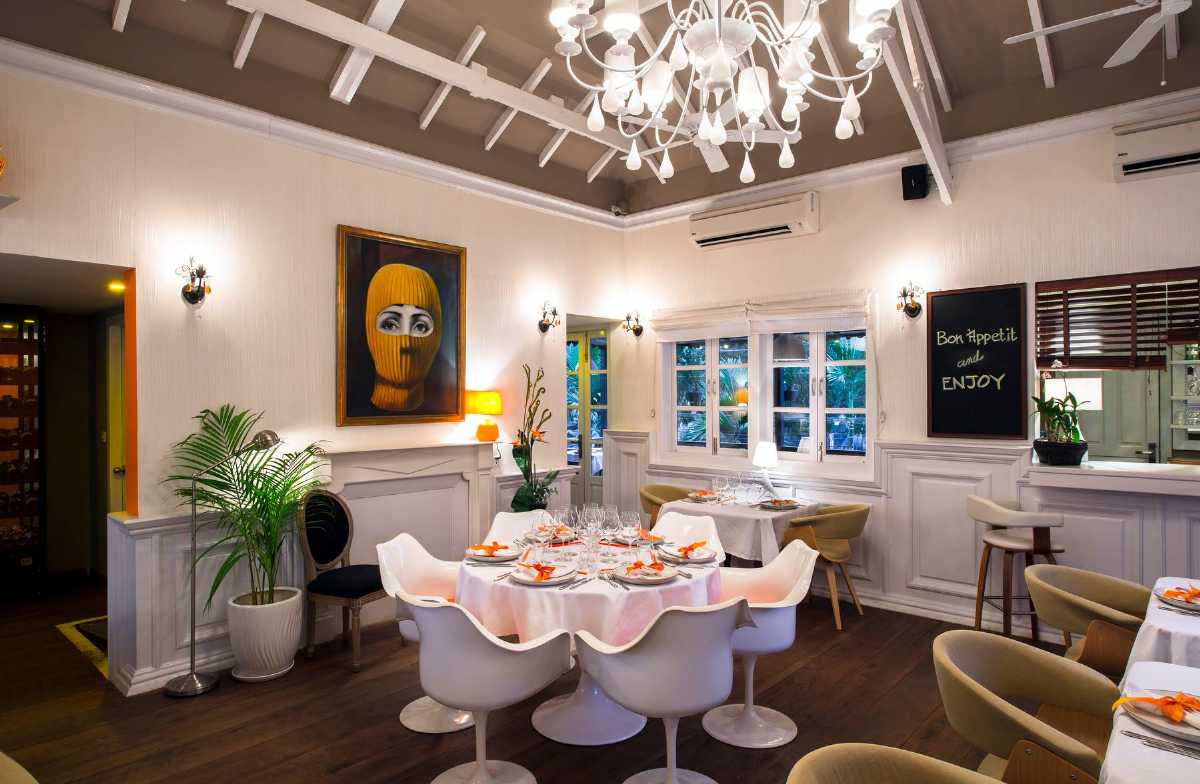 Run by the Kimsan twins, the Embassy Restaurant aims to provide a diner with an adventurous experience and a new perspective of Cambodian gastronomy. The kitchen here serves Traditional Khmer dishes with a twist.

All dishes are carefully selected from different localities and made with seasonal ingredients found in different locations in Cambodia.

The Kimsan brothers started this restaurant with only female staff showcasing female empowerment in Cambodia. The passion for food and new experiments with dishes made Embassy restaurant very famous across the continent. The place also offers a good choice of drinks.
Address: King's Road Village Street 27, Siem Reap
Timings: 6:00 PM to 11:00 PM
Contact: +85 589 282 911
6. Heritage Restaurant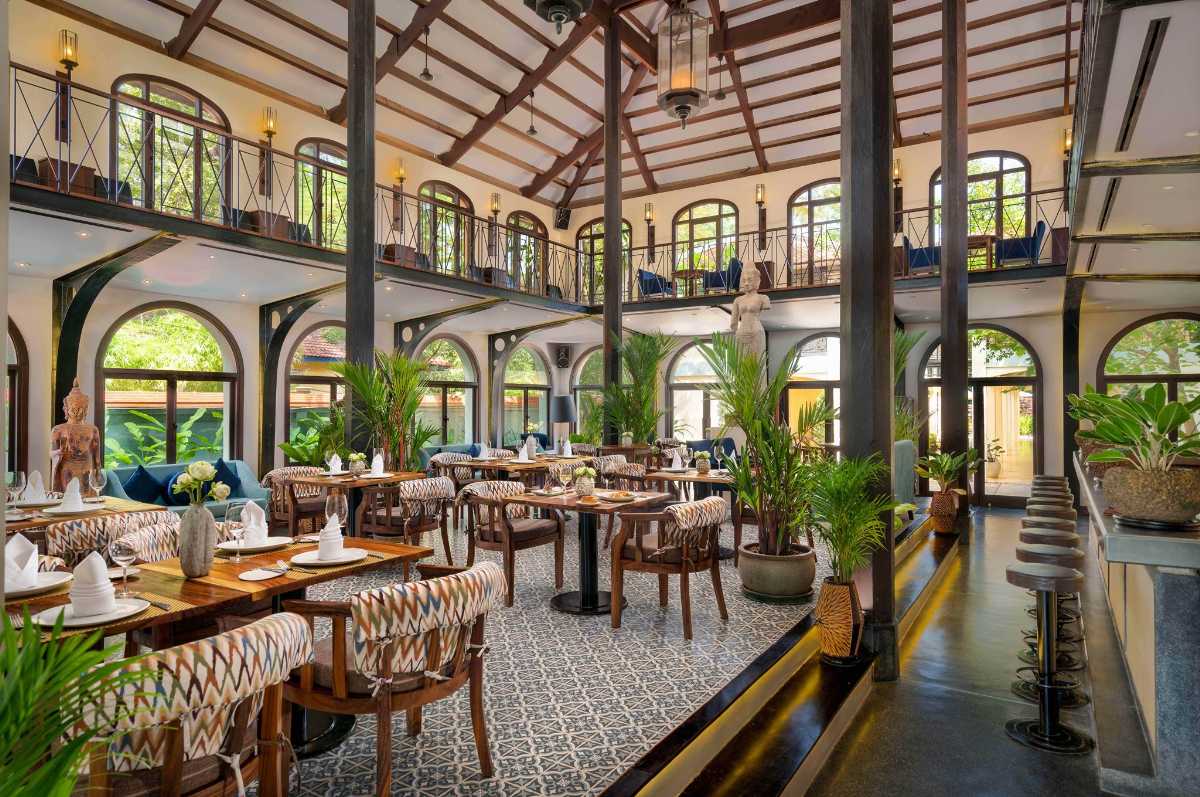 Located only 7 minutes by walk from Angkor National Museum, Heritage Restaurant is a sophisticated restaurant with a neoclassical style villa and tropical Gardens. Inspired by a variety of south-east Asian cuisines, this restaurant fuses exotic European classic foods with the unique local Cambodian dishes and creates a unique and exclusive dining experience for the customers.
Apart from Dining, Heritage Restaurant also hosts classes on cooking traditional Khmer Food. You will go to the market with the chef and buy ingredients of your choice, and later the chef will teach you to cook and will present you with a certificate.
Address: Wat Polanka, Heritage Rd, 93101
Reservations: Official Website
Contact: +855 (0) 63 969 100
7. Abacus Fine Cuisine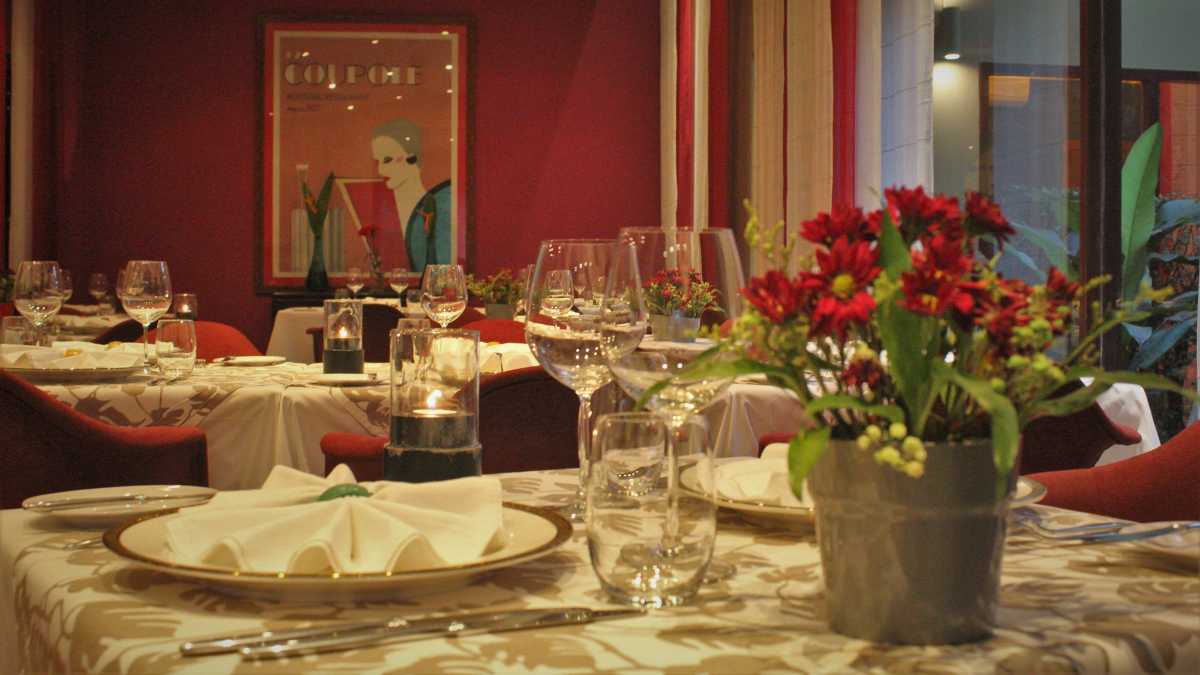 Started in 2004, Abacus Fine Cuisine is a stunning Restaurant designed by Award-winning French-Khmer designer duo, Ivan Tizianel and Lisa Ros. With a fine dining room with all modern features this restaurant also has a tropical garden where people can dine and enjoy the evening breeze. Apart from that, Abacus Fine Cuisine also has a private dining area to enjoy meals in private.
Abacus Fine Cuisine also has a great selection of international as well as local drinks. Wines beers and also a range of sprites, cocktails, fruit juices and soft drinks are available here.
Address: Abacus Ln, Krong Siem Reap, Cambodia
Reservation: Official Website
Contact: +855 12 644 286
8. Kroya Restaurant
Kroya Restaurant is a unique restaurant inspired by Shinta Mani's Heritage. The restaurant offers food with a blend of international and local ingredients with local herbs and spices to make for innovative flavours.
The signature dishes you can find here are sun fried fish with watermelon and mangoes, fermented pork with roasted eggplant and papaya slaw and many more.
And if you can not decide which item to choose from, you can opt for the 7 set Khmer tasting menu which will let you enjoy all a variety of dishes at once. Kroya Restaurant has an indoor air-conditioned lounge and an outdoor swing terrace and people can enjoy dining in both of them.
Address: Shinta Mani Angkor, Siem Reap, Cambodia
Reservation: Official Website
Contact: +855-63-964-123
9. Jomnan's Kitchen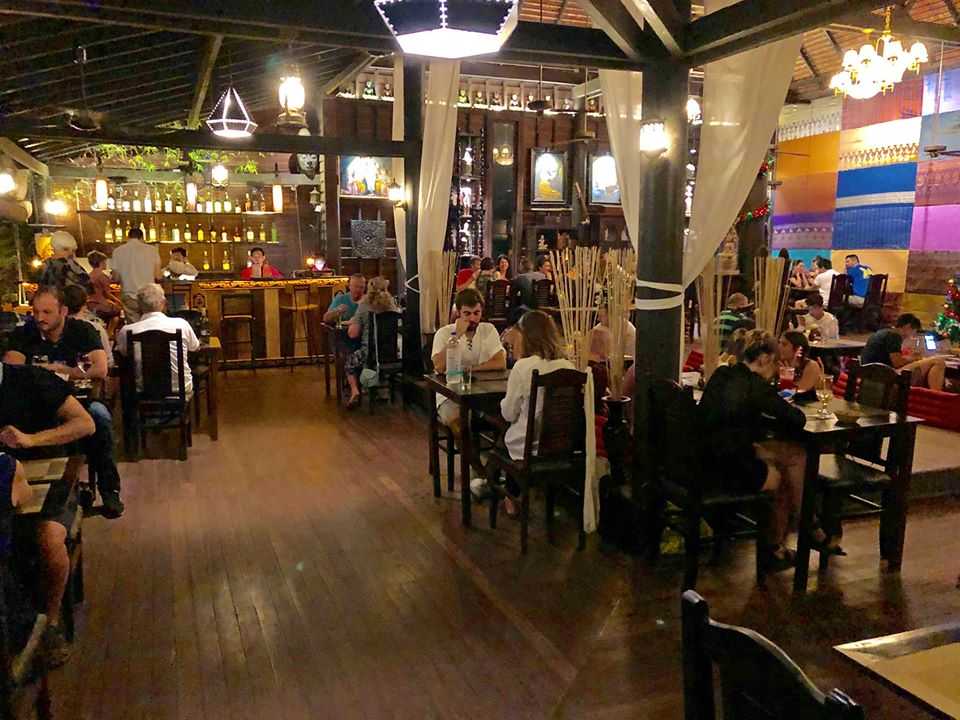 Jomnan's Kitchen is a laid back restaurant which is renowned for serving local cuisine. The restaurant runs a program to feed unprivileged children. Patrons here always commend the professional and friendly staff.
The downstairs is a formal traditional dining hall, and the upstairs boasts a relaxing area with drinks and snacks.
Address: Sangkat Svay Dangkum, Siem Reap, Cambodia
Timings: 11:00 am - 10:30 pm
Contact: +85 577 222 085
10. Golden Pumpkin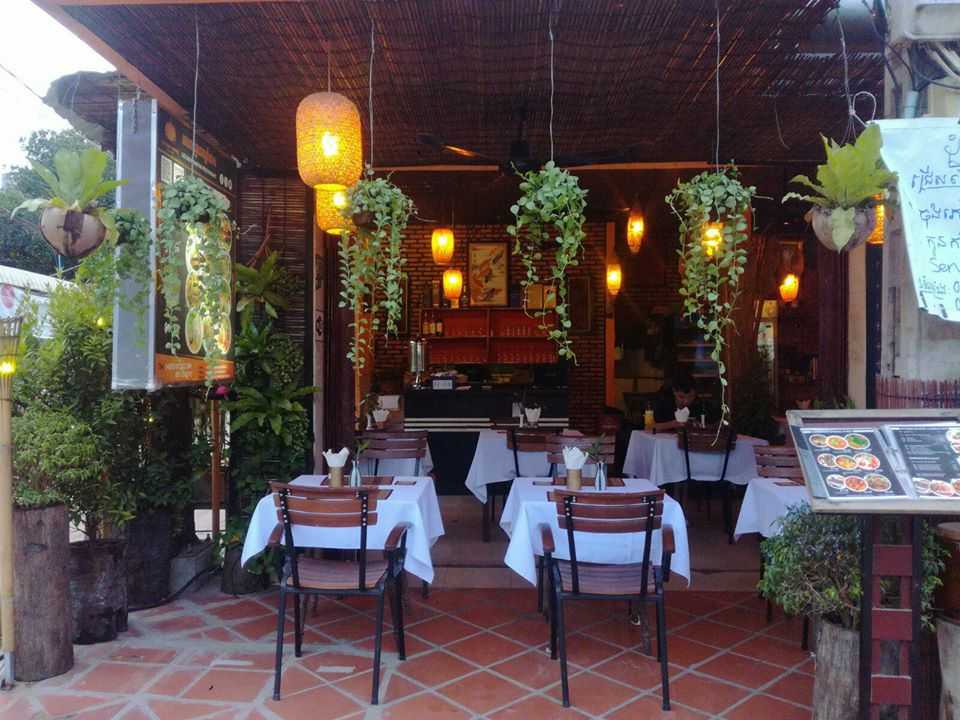 Located just 5 minutes away from PUB street near the old market, Golden Pumpkin is a small yet relaxing restaurant. You will find nice and simple Cambodian traditional food down here, cooked in a clean kitchen and with fresh ingredients. This restaurant gives tremendous attention to clean and chemical-free ingredients at affordable prices.
Address: Taphul street, Svay Dukom commune, Siem Reap
Reservations: Official Website
Contact: +855 (0)81 230 971
11. Damnak Lounge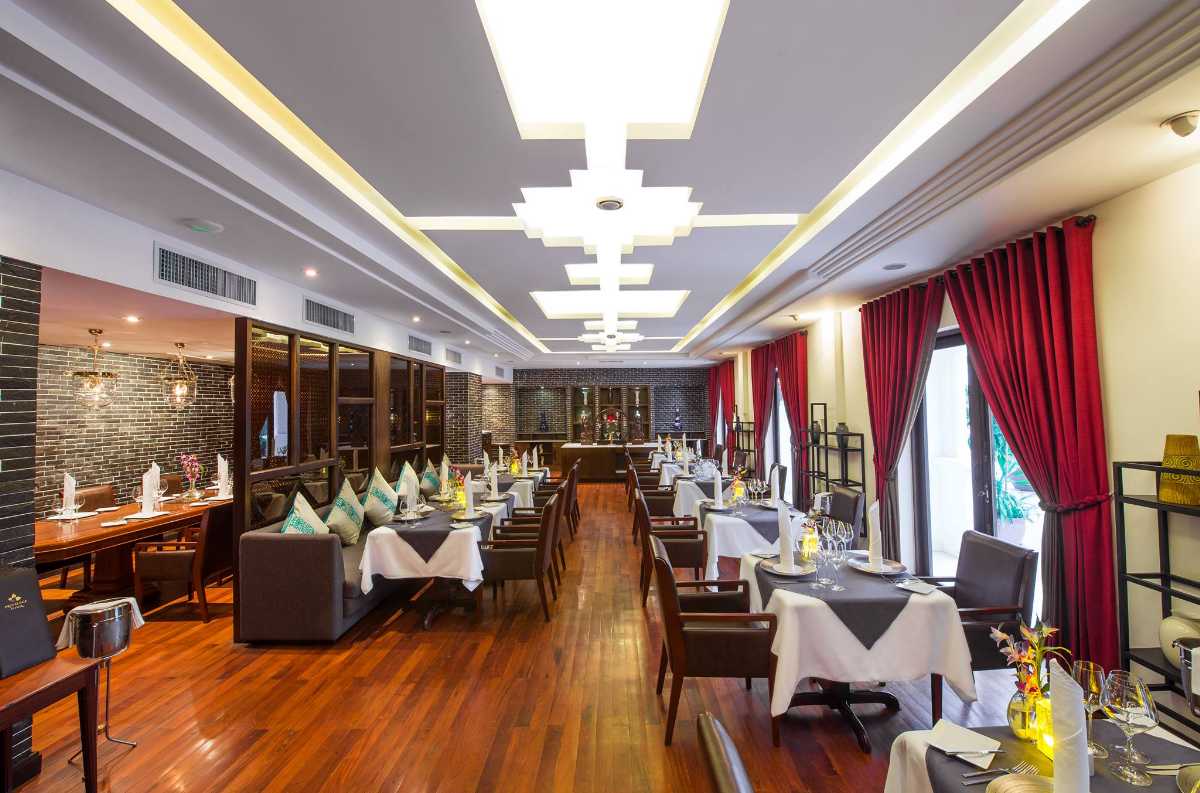 Located at the lotus blanc resort, Damnak Lounge is a mixture of the European and Cambodian cultural themes. It also offers the same combination of European and Cambodian dishes with a carefully curated list of drinks. It offers an air-conditioned dining room with floor to ceiling windows, elegant furniture, and an open-air terrace.
The special dishes here are lamb chops with asparagus, garlic, potato, and Kampot pepper, Darmak fish with bamboo shoot in the light curry and Bor Bor Poth as dessert.  To sum up, if you want to taste the true authentic delicacies of Siem Reap, you must visit Damnak Lounge.
Address: 1st Floor Lotus Blanc Resort, National Road 6, Kruos Village, Siem Reap
Timings: 6 PM to 11 PM
Contact: +855 15 483 222
12. Khmer Kitchen Restaurant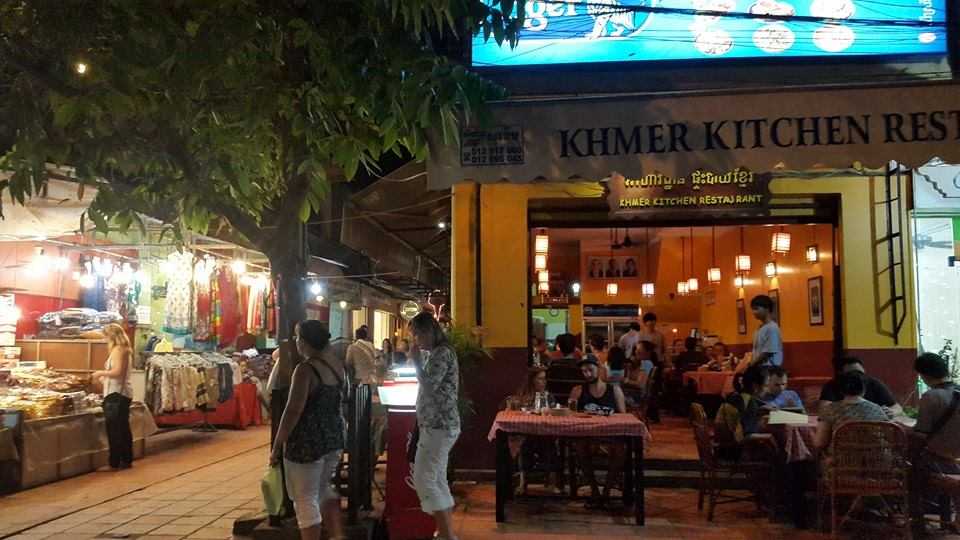 Khmer kitchen restaurant is a family run business in Siem Reap. And they have many branches within Siem Reap. They are famous for affordable Cambodian and Thai cuisines.
The main delights include Beef Amok, Banana Blossom and Pumpkin Salad, Korko Soup. And along with the hot steamy rice. Khmer Kitchen is also known for its selection of drinks, draft beers, imported wined and cocktails.
Address: Mondulkiri Village, Street 09, Krong Siem Reap 17252, Cambodia
Timings: 9 AM to 11 PM
Contact: +855 12 763 468
13. Genevieve's Restaurant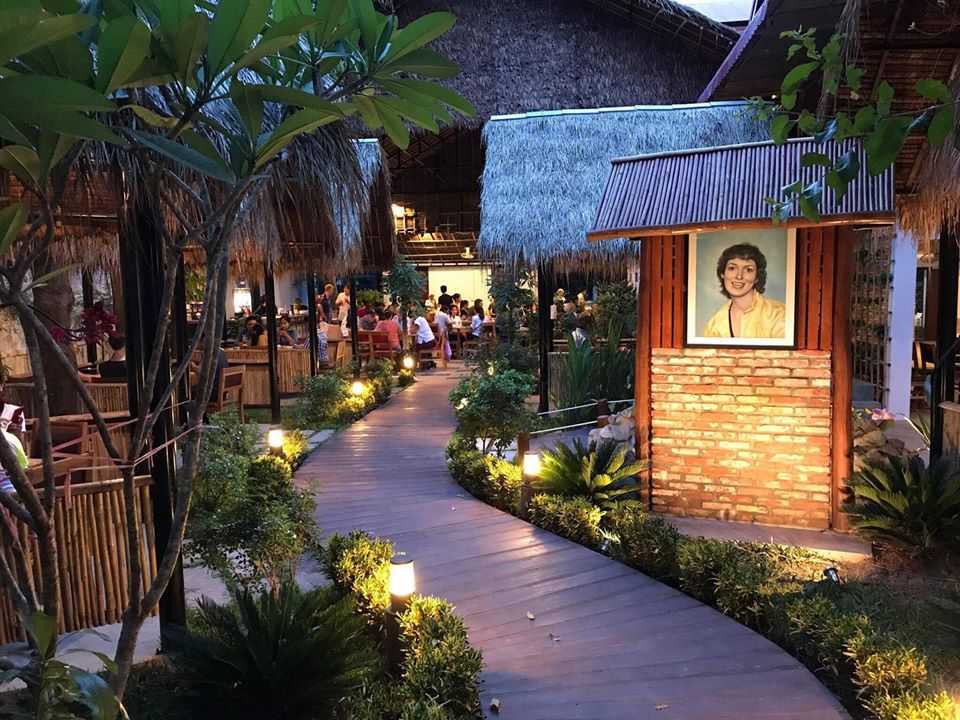 Located at Bamboo Street, Genevieve's Restaurant offers a pleasant atmosphere and a generous menu with authentic Khmer to Western Cuisine.
One of the best Khmer dishes you can try out at Genevieve's are Chicken Amok and Beef Lok Lok. Not just Non-Veg, Genevieve also has a number of affordable vegetarian Khmer dishes to delight you.
Genevieve is also giving back to the community by supporting local schools and the community financially.
Address: Bamboo Street, Salakamreuk, Siem Reap, 17252
Timings: 12 PM - 9:30 PM
Contact: +855 60 410 783
14. Khmer Grill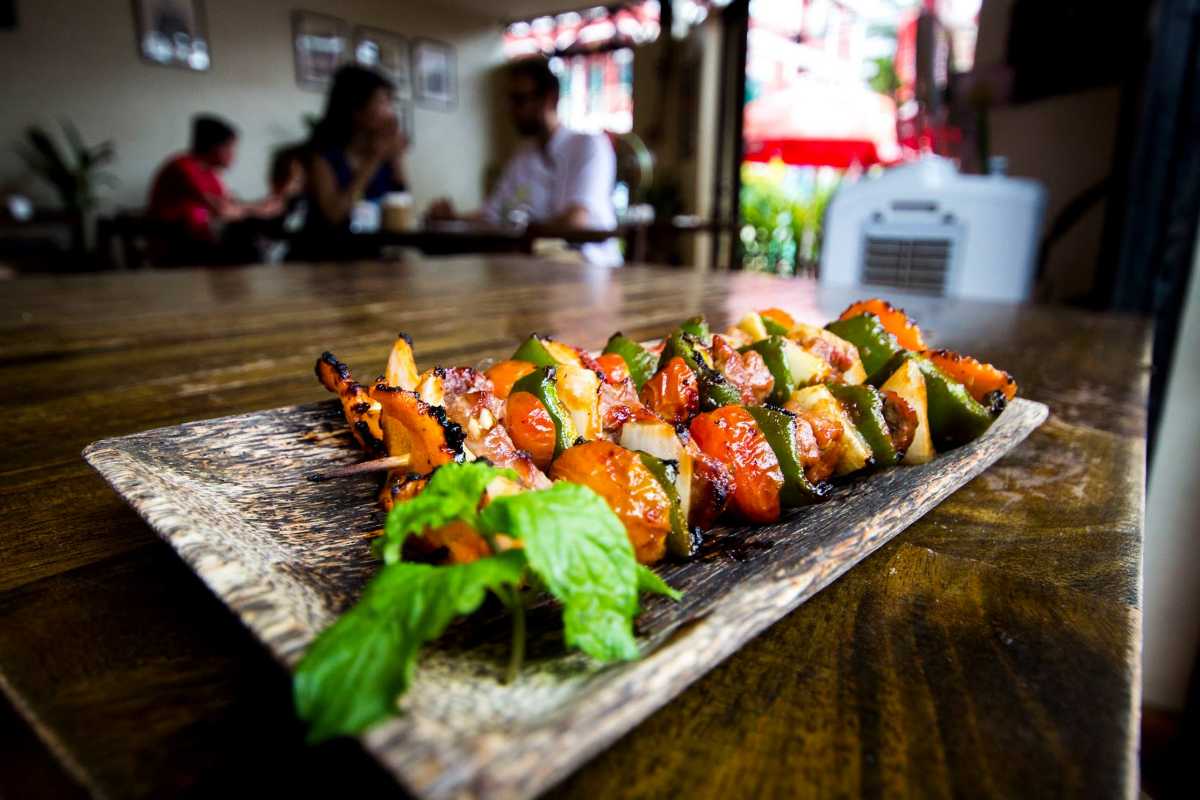 If your budget is short, but still you want to enjoy a nice meal in Sien Reap, Khmer Grill is a great choice for you. They are popular among tourists because of their great food and Cambodian hospitality. Here you can find a range of Khmer traditional dishes as well as original western dishes.
The owner, Chean Meankung and his wife make sure smiles and joy are delivered to each table. Not only amazing dishes, but Khmer Grill also offers local Angkor beer to international classic, long island tea to its guests.
Address: Wat Damnak Road, Siem Reap
Timings: 8:30 AM - 10:00 PM
Contact: +85 595 839 899
15. Sokkhak River Lounge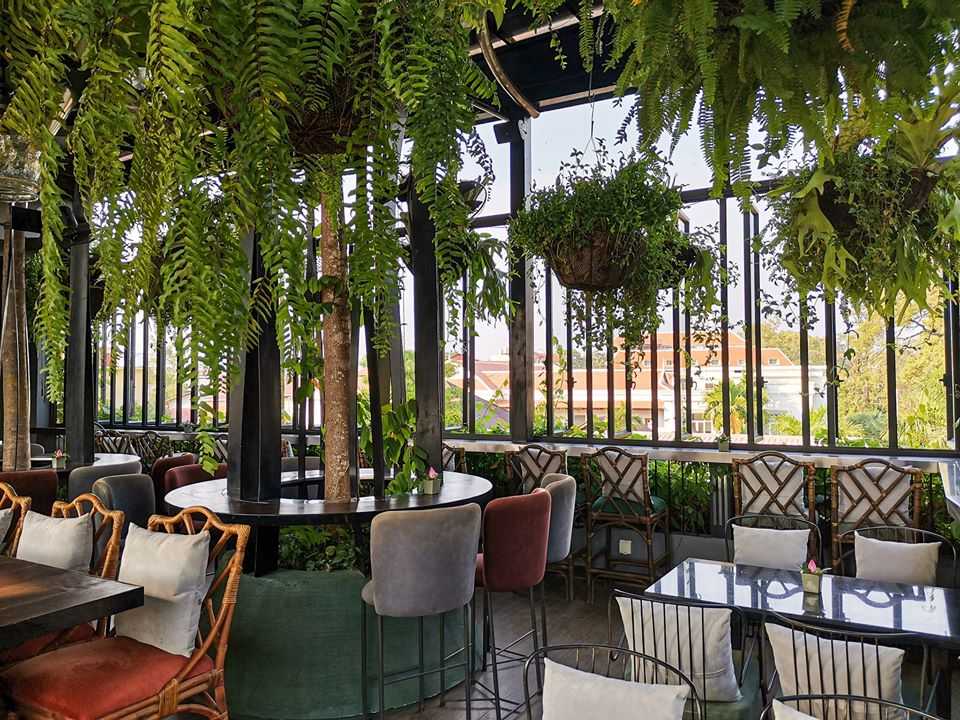 Sokkhan River Lounge is a combination of traditional and modern art decor in a stunning, three-storied building on the side of the Siem Reap river.
The ground floor is a cafe, the mid-section is for a fine wine bar, and the top, a glorious, stylish rooftop cocktail bar with a wide view of Siem Reap river, golden pagodas and Siem Reap town. People come here to sit and watch Cambodia's iconic sunset with a cool cocktail in hand.
The dishes served here are a mix of Cambodian and continental food with a hint of Khmer tradition. At night the restaurant turns into a pub where people can enjoy dancing, partying, drinks and complimentary Cambodian live bands.
Address: Mondul 1 Village, Pokambor Ave, 17252
Timings: 10:00 AM - Midnight
Contacts: +855 99 210 776

Be sure to visit as many of these restaurants in Siem Reap on your next visit to Cambodia. Did our list truly meet the expectations of your taste buds? Let us know down in the comment section below!