The nightlife in Siem Reap consists of a whole lot of affordable beers and cocktails and dancing under bright neon lights. Catering mostly to the budget backpackers which form a large part of Cambodia's foreign tourist army and ex-pats, Siem Reap's nightlife revolves mainly around Pub Street where bars serve drinks, house foosball stations and pool tables, and have some form of a dance floor or the other for those looking to shake a leg. Karaoke is also a popular form of entertainment at Bars known as KTVs where you can sing your heart out. And finally, for those who are looking to have a sober experience after the sun sets, head on over to the night bazaars or experience a lovely dinner whilst watching the amazing traditional Apsara Dance of Cambodia.
1. Angkor What? Bar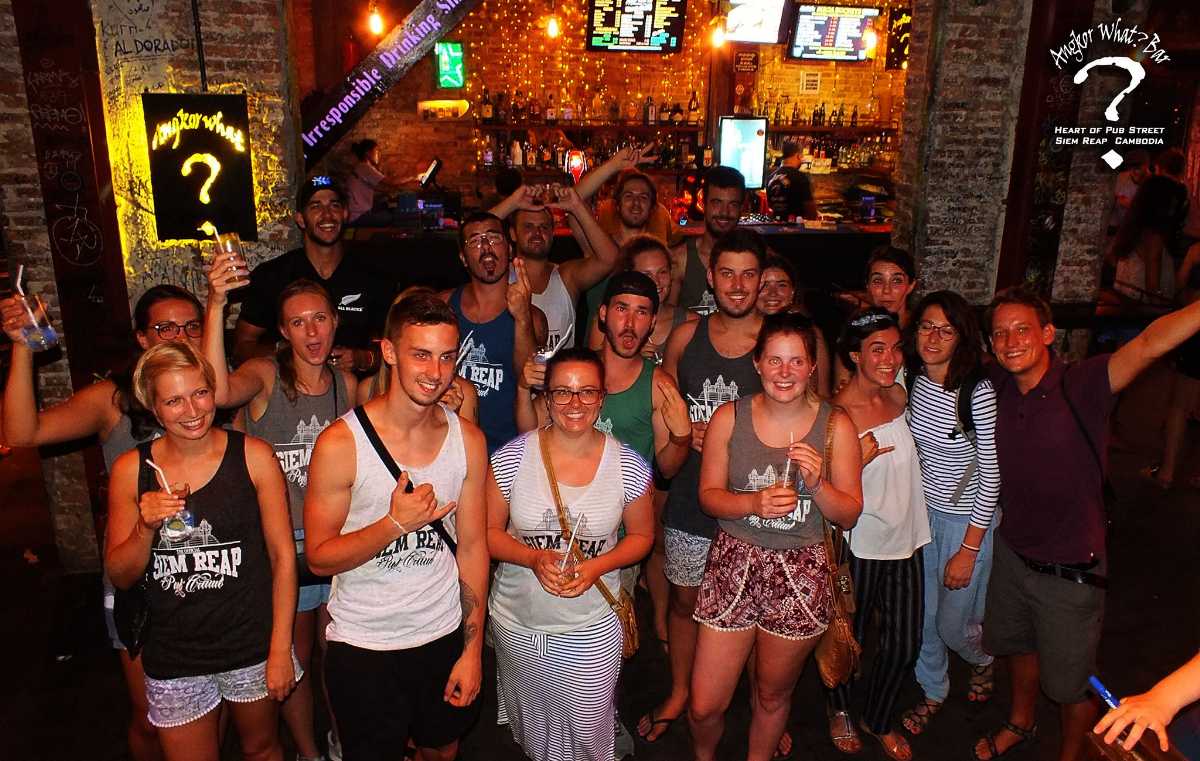 Angkor What? is the first-ever bar in Pub Street and is known for their signature tagline "promoting Irresponsible drinking since 1998"? Filled with neon colour Graffiti, this restaurant cum bar offers unrestricted drinking of beers, cocktails, and shots as well as pop hit songs which you can shake your legs to.
Address: Pub Street, Siem Reap
Opening Hours: 2 PM - 3 AM
Contact: +855 96 641 9002
2. Elephant Bar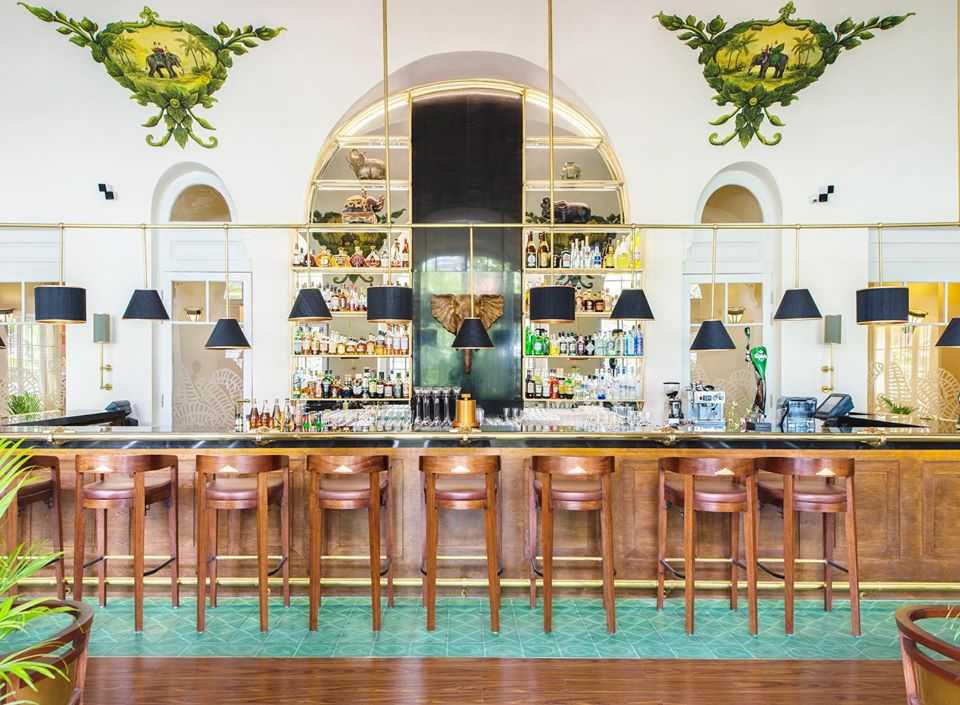 Elephant Bar at Raffles Grand Hotel d'Angkor is one of the most iconic nightlife venues in Siem Reap. Established in 1960 this bar features a historical colonial architecture, wooden decoration, leather sofas and quint elephant decorations in every corner.
The drinks here range from single malt whiskeys, bourbon, and cognacs to martini cocktails, beers and champagne. If you love cocktails, we recommend you to try the Airavata, a wonderful mix of rum, Malibu, Banana Cream, Lime Juice, Sugar Syrup, and coconut juice served in an elephant-shaped glass.
Address: Raffles Grand Hotel d'Angkor, Khum Svay Dang Kum, Siem Reap
Opening Hours: 4 PM - 12 AM
Contact: +855 63 963 888
3. Laundry Bar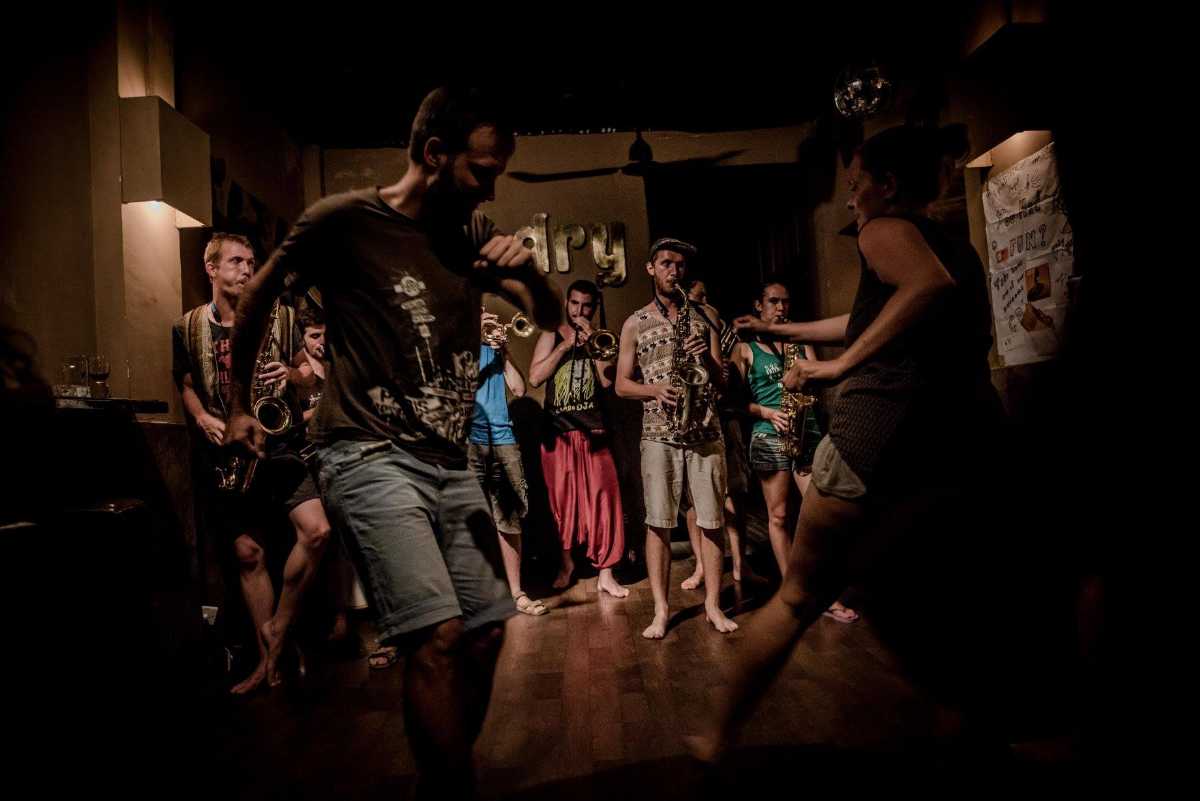 Laundry Bar is another topmost late-night bar located at the east of Siem Reap. The customers here are fewer tourists and mostly ex-pats. The relaxing atmosphere makes this place the best place to hang around and chat with people.
The main attraction here is their collection of 25000+ music albums. The place also has two pool tables if you fancy a game.
Address: Street 9, Krousar Thmey Mondol Village, Siem Reap 17252
Opening Hours: 4 PM - 3 AM
Contact: +855 95 707 233
4. Picasso Bar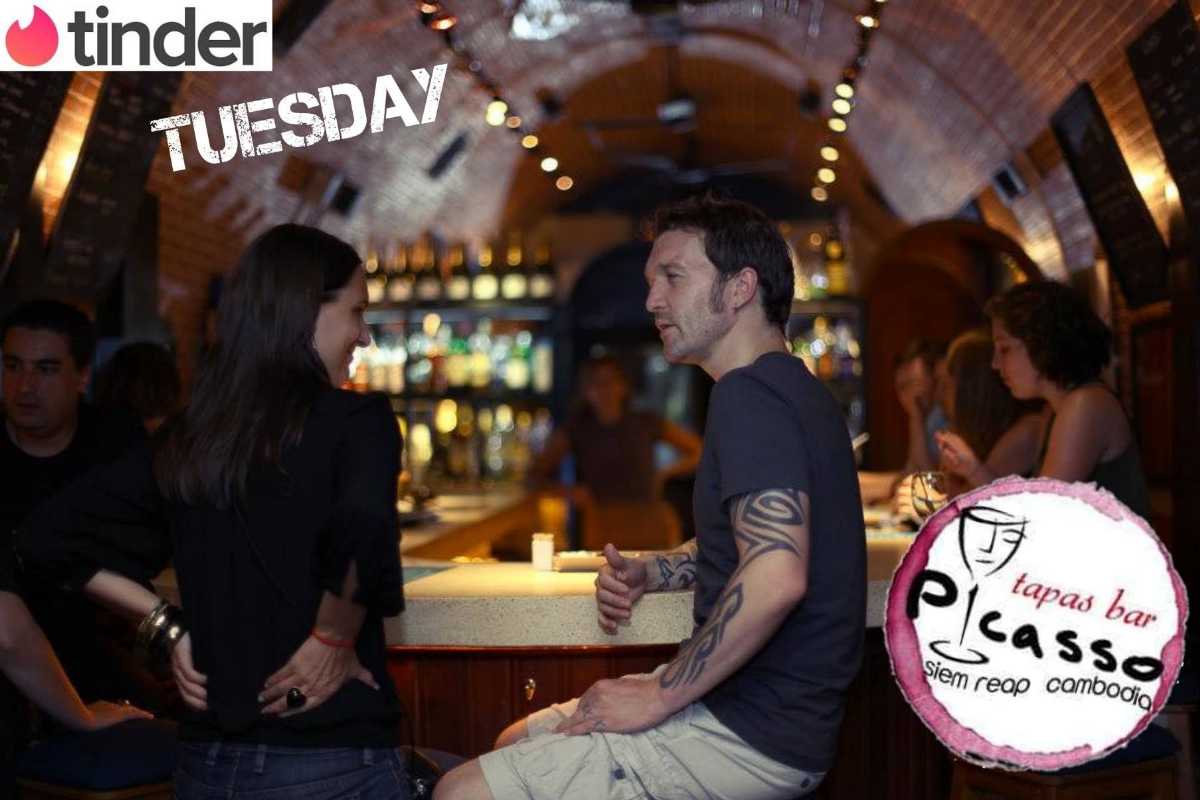 Located 2 minutes walk from Pub Street Picasso Bar is a cool place to mingle with friends and chat with ex-pats in Siem Reap. The place is compact, and a dozen barstools surround the barrel-vaulted bar sections
Happy hours are from 5 pm to 9 pm, and you can get a 2 for 1 promo for beers, cocktails martinis, and sangrias. The special drinks in Picasso Bars are Chocolate cakes (Vodka with sugar lime wedge), B53 (Kahlua, Bailey's and absinthe) and Thong Slap.
Address: Alley West, Pub Street, Siem Reap
Opening Hours: 9 AM to 1 AM (Sunday to Thursday), 9 AM to 2 AM (Friday and Saturday)
Contact: +855 86 776 528
5. Miss Wong Cocktail Bar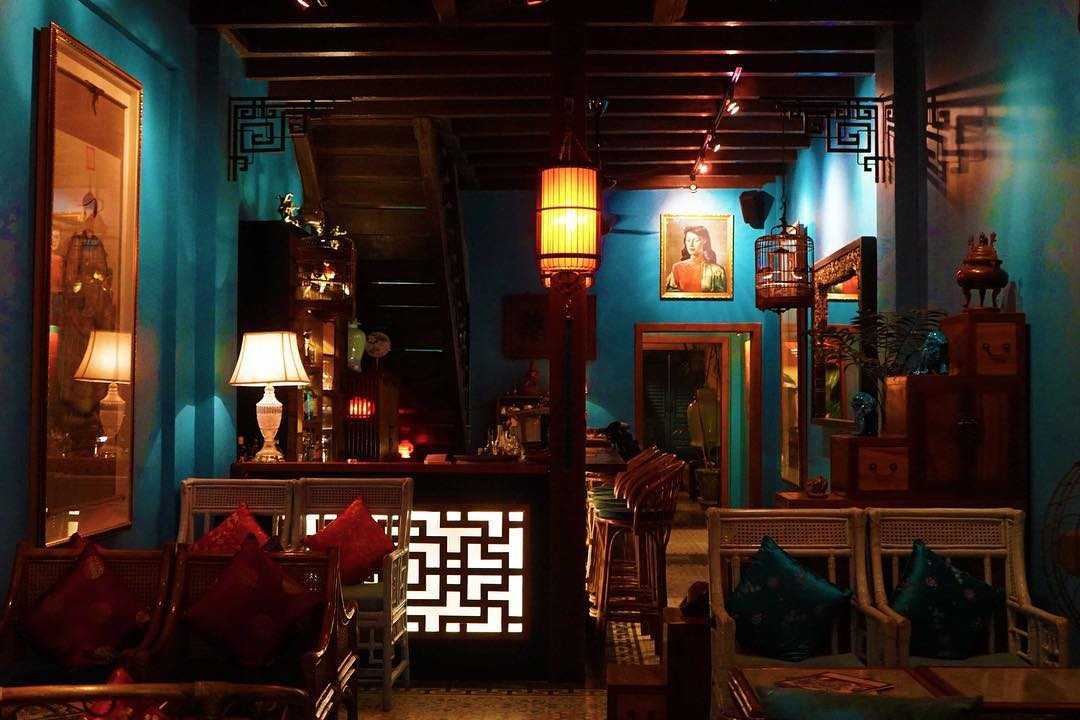 Located just outside the Pub Street Miss Wong Cocktail Bar is a classy restaurant serving a wide range of drinks and cocktails. The decoration fitted with paper lanterns, black liquor screens and cosy leather booths with soothing music in the background sets the mood.
Miss Wong Cocktail Bar's special drinks are China White( Jasmine Tea Syrup, Cinzano Bianco, Tanqueray gin with lychees ), Indochine Martini ( Vodka, Pineapple Juice and ginger cognac) and many more.
Address: Pub Street, Siem Reap
Opening Hours: 6 PM - 1 AM
Contact: +855 92 428 332
6. Soul Train Reggae Bar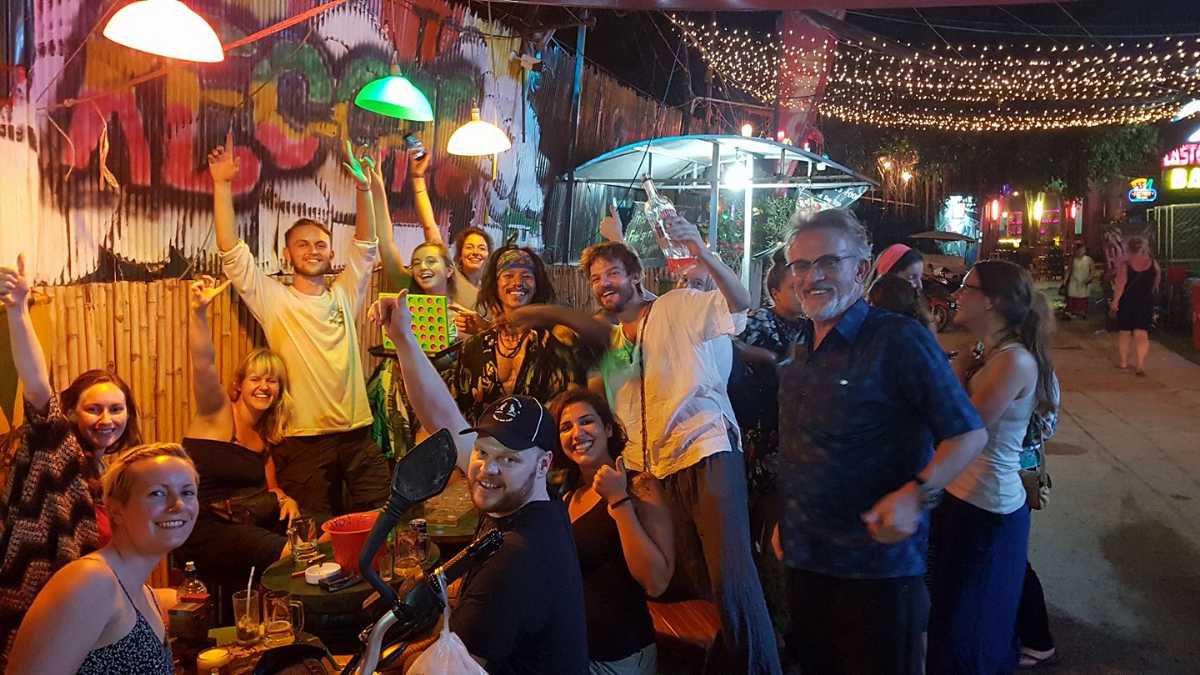 Located at the New Street A in Siem Reap, Soul Train Reggae Bar is quite popular in the area for its Caribbean settings and friendly atmosphere. Also, you can easily request a song to play in the background.
The happy hours start from 4 pm till 8 pm. At that time you can get the signature cocktails like Passion Margarita at a very low price.
Address: 35 New Street A, Siem Reap
Opening Hours: 5 PM - 3 AM
Contact: +855 86 430 740
7. Asana Bar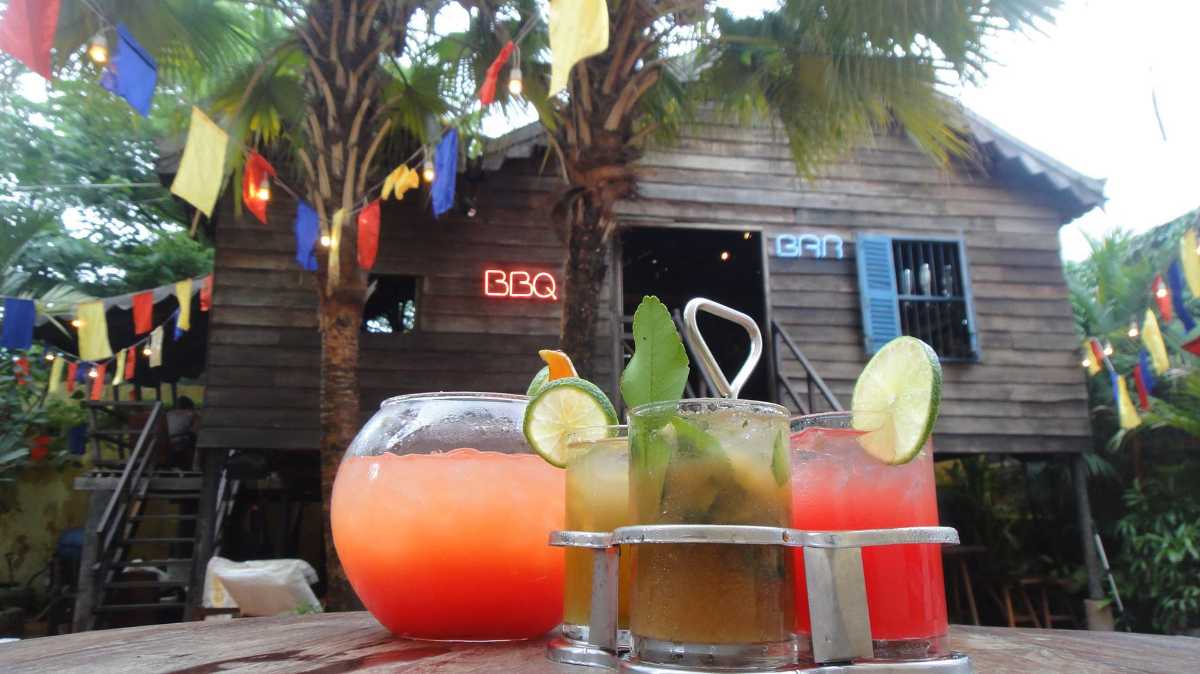 Located on Pub Street, Asana Bar is decorated with wooden decors and serves Khmer style cocktails and drinks until late night. It's the only traditional Khmer house remaining in Downtown Siem Reap. It features a lounge area that is fitted with hammocks, daybeds, and beanbags to relax and enjoy the evening weather and cosy garden.
BBQ nights are held on usually on the first Friday of each month. Asana Bar also organizes Khmer style cocktail-making classes, where you can learn to make traditional Khmer cocktails by yourself.
Address: Street 07, Mondul 1 Village, 17252
Opening Hours: 6 PM - 1 AM (Open Bar), 6 PM - 8 PM (Khmer Cocktail Class), Farmer Market (Only Sunday): 9 AM - 1 PM
Contact: +855 12 508 248
8. X - Bar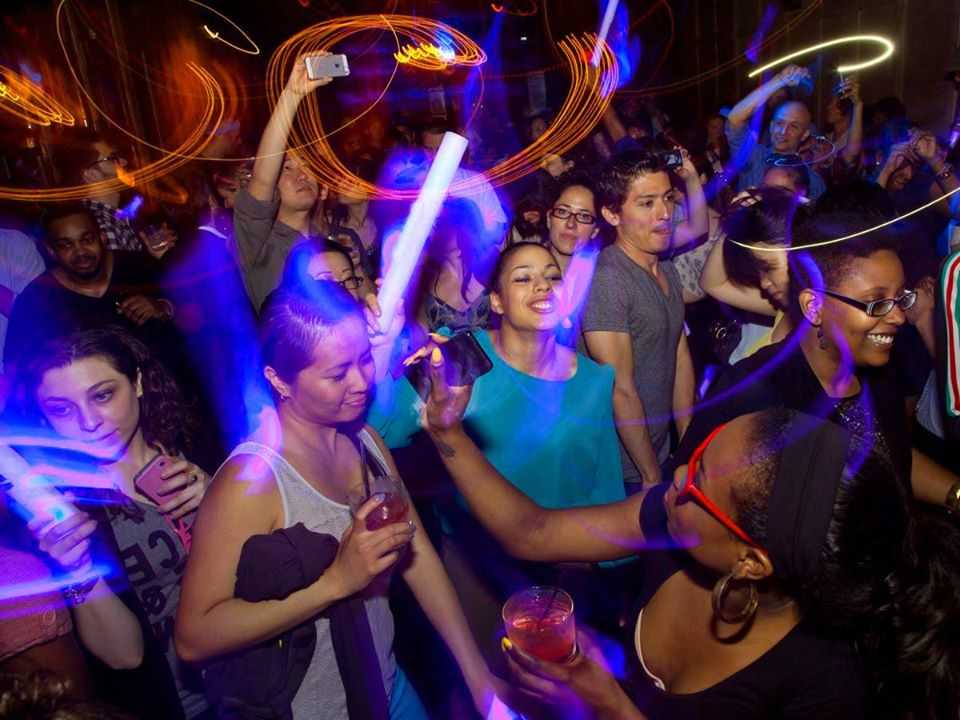 If you want to have the hippiest experience in Siem-Reap, go to X-Bar. The customers here are a mix of ex-pats and tourists. Hip-hop, rap, and rock music always play in the background. The drinks here are usual. Cocktails, sprites, wines draft beer, etc.
X-Bar also features a pool table and a drum set. So if you are feeling for a game, or want to beat the drum to get the party charged up, you can do that as well.
Address: 102 Sok San Road, Siem Reap
Opening Hours: 4 PM to 5 AM
Contact: +855 12 263 271
Karaoke Night at a KTV - The Wild Side of Nightlife in Siem Reap
If you are in Siem Reap, leaving without experiencing K-TV is a big No NO. If you love singing you can easily find Karaoke bars all over Siem Reap. They are called KTV. And it is such a fun activity to do with the family together. There are many bars which host these Karaokes. Especially High Zone Family Karaoke, located at the central market. Here you can sing your heart out, without being judged or complained.
Night Markets in Siem Reap
Angkor Night Market is probably the best night market in Siem Reap for tourists and locals. You can find every type of accessory in Angkor Night Market. From clothes to jewellery, from furniture to souvenirs, you can find everything here.
The best things to shop here are Khmer products, handmade items and souvenirs. But if you want to buy anything from this market, one skill you must master is your bargaining skills.
2. Noon Night Market
Located just a road away from Angkor Night market, Noon Night Market is another small yet colourful night market. Like Angkor night Market you can find 100s of stalls selling all kinds of things. There are also some tattoo parlours as well as Khmer food stalls to satisfy your hunger at night.
3. Siem Reap Art Center Market
Opened in 2011, Siem Reap Art centre market is one of the best shopping places to buy arts and crafts in Siem reap. Located near the old market, this market is always filled with people because of the number of bars, boutiques, art galleries, and souvenir shops.
Experience the Apsara Dance - A Traditional Side of the Nightlife in Siem Reap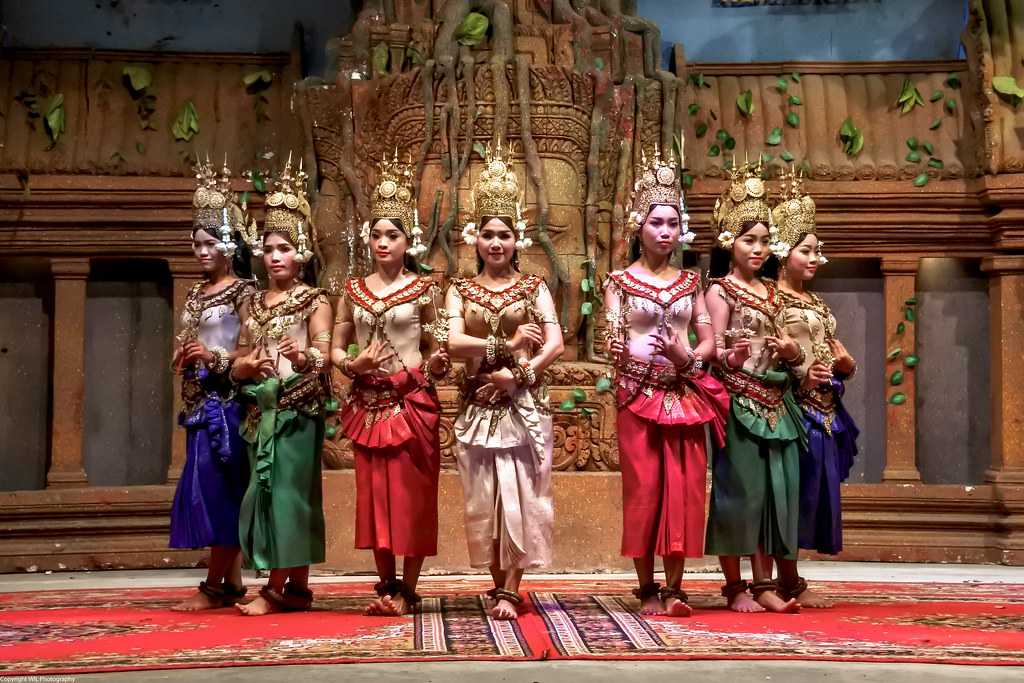 Siem Reap nightlife is not about just drinking and dining; they also have a traditional side which you can see yourself here. Apsara Performance Dinner organises a classic theatre and dance performance which you can enjoy along with the best Khmer Cuisine.
Many restaurants in Siem Reap organise these events. Somadevi Hotel and Amazone are two restaurants which are popular for hosting Apsara Dance dinners.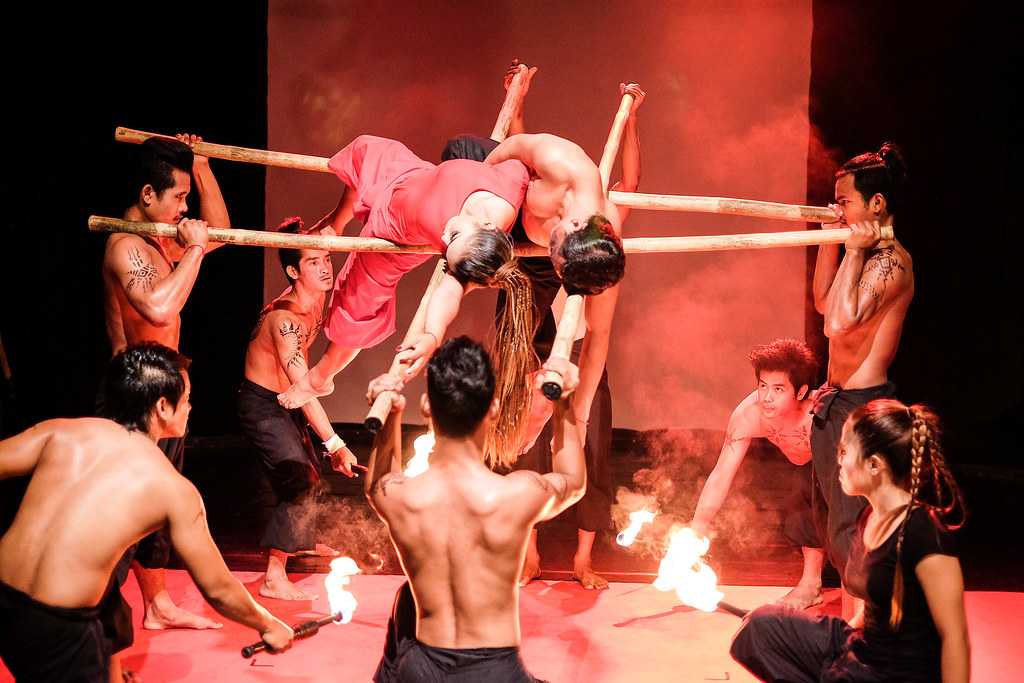 A spectacular display of humankind's artistry and physical prowess, Phare is Cambodia's best known circus and theatre group, regarded as a national treasure. Most of their acts provide a social message, performed by various generations of performers who come from hardships of their own. Phare, since 2013 have gained fame internationally and performed in world-renowned venues. You can choose to enjoy the live acts simply on their own or opt for their live show + dinner packages as well.
Address: Phare Circus Ring Road, south of the Intersection, Sok San Rd, Krong Siem Reap