Boracay is a tiny island in the Philippines known for its beaches and resorts. Located in the Western Visayas region, Boracay is considered one of the best destinations for relaxation in the world. With stunning beaches like White and Bulabog Beach, Boracay is famous for its water sporting activities. Unsurprisingly, because of its several beautiful beaches, one of the most thrilling water sports that attract tourists worldwide is parasailing. Parasailing in Boracay is safe and affordable and offers splendid views of the picturesque island surrounded by turquoise crystal waters.
Parasailing In Boracay – Why?
Why is parasailing so popular in Boracay? Well, several reasons make parasailing in Boracay a must-do adventure. Here is looking at why Boracay is one of the top places in the world to try parasailing.
Sunny Weather: Boracay has a tropical climate with temperatures averaging around 30 degrees Celsius throughout the year. Though it has a dry and wet season, the rains are not too heavy. With warm temperatures and favorable wind conditions, the weather of Boracay is perfect for parasailing. It is sunniest from March to May and the temperatures drop slightly from August to December. Also, the wet season lasts from May to November. However, despite the slight seasonal changes, Boracay is blessed with varying levels of sunshine throughout the year. And hence, one can parasail any time of the year in Boracay.
Easy And Affordable: Since parasailing is a popular adventure activity, several tour operators, resorts, and hotels also arrange for parasailing. One can easily find reliable operators providing correct and secure safety gear and other requirements for parasailing at affordable rates.
Approximate cost for a single parasailing experience per person: 2000 pesos
Safe And Quick: All tour operators ensure that proper safety equipment is used for parasailing in Boracay. Safety gear, life jackets, and other equipment are provided to all who attempt parasailing. Also, the boat, reliability, and strength of the rope, as well as the guides and instructors that are on board are efficient. Also, unlike other adventure sports, parasailing on the water takes only a few minutes. It can easily be squeezed into a busy schedule or seamlessly added to other adventure activities.
Approximate time for a single parasailing experience: 15 minutes
Where To Parasail In Boracay?

All across the island, different tour operators arrange for parasailing. However, water parasailing is, of course, done on the several beaches on the island, including White Beach and Bulabog Beach. Also, different operators have specific locations from where the parasailing boat sets sail. Here is a list of some of the tour operators for parasailing in Boracay:
Diamond Water Sports
Location: Boracay Highway Central, Malay, Aklan
Website: https://www.diamondwateredgeresortboracay.com/en/diamond-water-sport
Boracay Adventures Travel & Tours Inc
Location: Boracay Highway Central, Malay, Aklan
Website: https://boracayadventures.com/
My Boracay Guide
Location: Caticlan Jetty Port, Malay, 5608 Aklan
Website: https://www.myboracayguide.com/
Boracay G-Water Activities & Hopping Tour
Location: Manggayad, Boracay Island, Malay, 5608 Aklan
Scotty's Action Sports Network
Location: Barangay Yapak, Boracay Island, 5608 Aklan
Website: https://www.divescotty.com/
Boracay Sea Sports Activities
Website: https://boracay-paraw-owners-association.business.site/
It is best to speak to the operators in person or online and book your parasailing session. Ensure you can communicate with your instructor (you can ask your operator for an instructor who speaks a specific language). All operators conduct a briefing instruction session to educate about the safety gears and understand how the activity might proceed. For instance, hand signals are taught in case someone wants to get down the rope before their 15 minutes of parasailing are done.
Also, most operators will ask for an ID or document of identification before booking the session. Besides, different operators offer different services depending on their package. Some offer snacks and water after the parasailing adventure. Some may also offer vouchers and discounts.
Additionally, cancellation and refund policies differ depending on the tour operator. For most parasailing tours, a refund is issued up to 24 to 48 hours before the scheduled parasailing activity.
Who Can Parasail?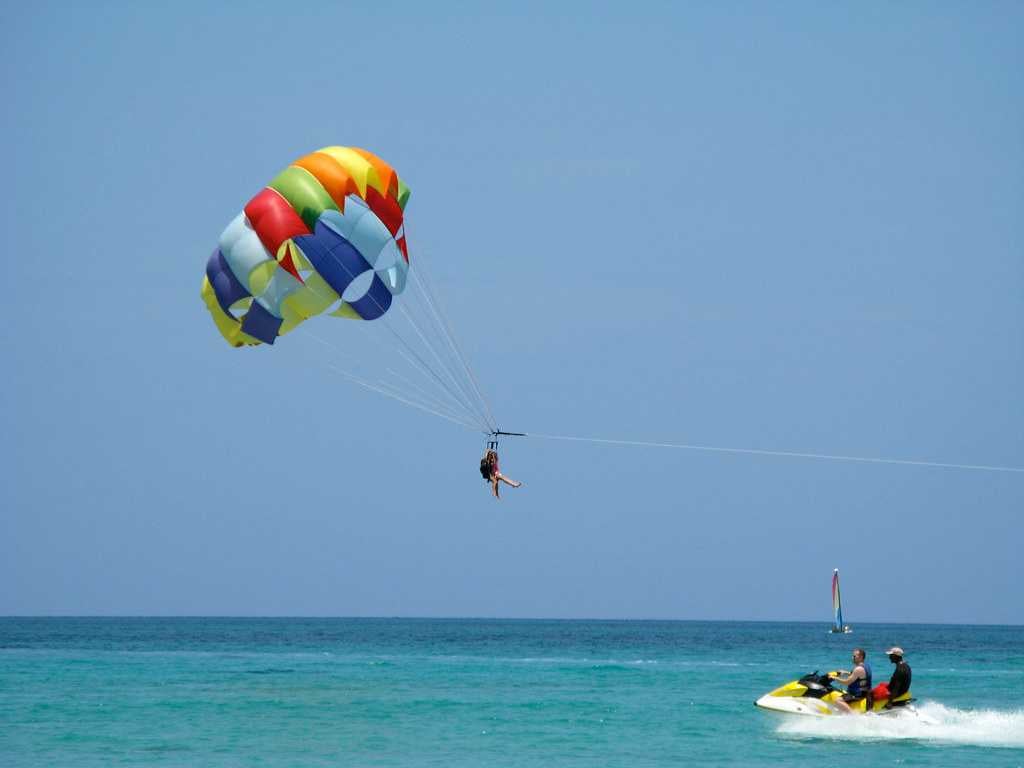 Anyone who feels physically fit and up to the challenge can try parasailing. Children above the age of 6 are allowed to parasail in Boracay. However, those who should avoid undertaking this activity include:
Pregnant women
Elderly people
People with a medical condition, such as high BP or epilepsy, etc.
What To Carry?
If you are venturing out for a parasailing adventure, you must carry a few things with you.
Extra set of clothes
Sunscreen
Towel
Waterproof bag
Camera
Swimwear
Tips

Book the parasailing session in advance to ensure that you do not miss out on this opportunity during your visit to the island.
Check the tour operator's reviews and experience to ensure that it is reliable and authentic.
Check the services offered by your chosen tour company. For example, most tour operators do not offer pick-and-drop services from the place of stay.
Listen to instructions carefully and follow them during the parasailing activity.
You can land on the boat or splash the water once the rope is pulled down. You can ask your operator for what you specifically want.
If you choose to jump in the water after you paraglide, make sure to wear swimwear.
Check the cancellation and refund policy of the operator in case you have a change of plans.
Tour operators also offer many other adventure activities, such as scuba diving, boat riding, island hopping, etc. Work out a schedule that can fit all your desired activities!
Do not forget to apply sunscreen for Boracay is sunny.
Parasailing in Boracay is a fun activity to undertake on your next visit to the island. It is safe, affordable, and highly recommended if you find relaxation in adventure.