Traditional Dresses of Gujarat
The traditional Gujarati dresses for men include 
kediyu or kurta
on the top and
dhoti or chorno
at the bottom. Women in Gujarat wear
sarees
or
chaniya choli
.
Recently, they have started wearing salwar kameez as well. Read in detail about traditional dresses of Gujarat: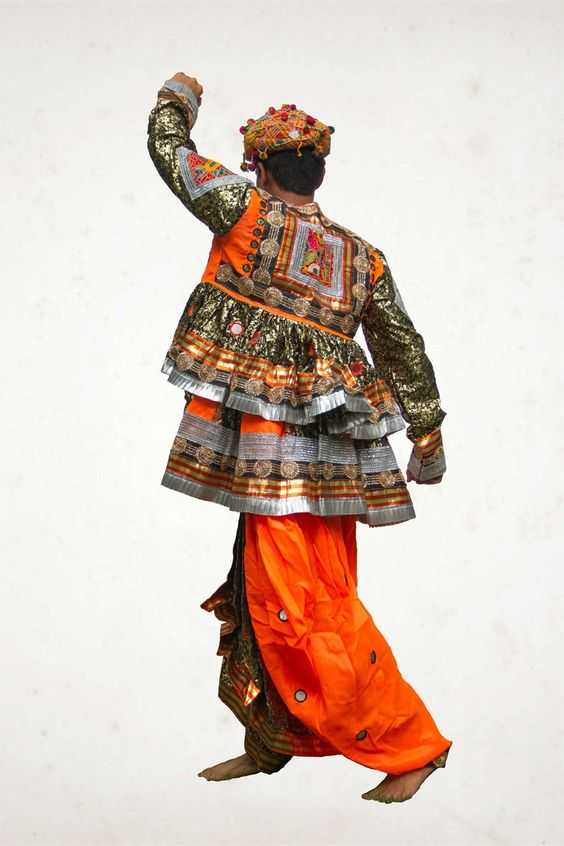 Traditional Dresses of Gujarati Men
1. Chorn
Chorno is a type of cotton pants that the Gujarati men wear. It looks like a stitched dhoti and is very loose and comfortable. Chorno either has a string to tie at the waist or have elastic.
2. Kediyu
Kediyu is a garment that is worn above the chorno to cover the top part of the body. A kediyu is frock type kurta with frills, worn by the men in Gujarat. Kediyu is also referred to as Angrakhu.
3. Dhoti
Dhotee or dhoti is a long piece of garment that is wrapped around the lower body of men. The garment is wrapped around the waist and tucked from between the legs. Gujarati men wore white or light coloured dhotis for normal wear.
4. Kurta
A kurta is the top worn to cover the torso of men. The Kurtas for everyday use are made up of cotton. Festive kurtas may have embroideries or some designs in them.
5. Phento


Phento is a headwear or a turban worn by Gujarati men, especially in rural area. It consists of a layered cloth wrapped around the head.
Jewellery
Young boys do not wear much jewellery. The men of Gujarat may wear a gold ring and a gold chain.
Traditional Dresses of Gujarati Women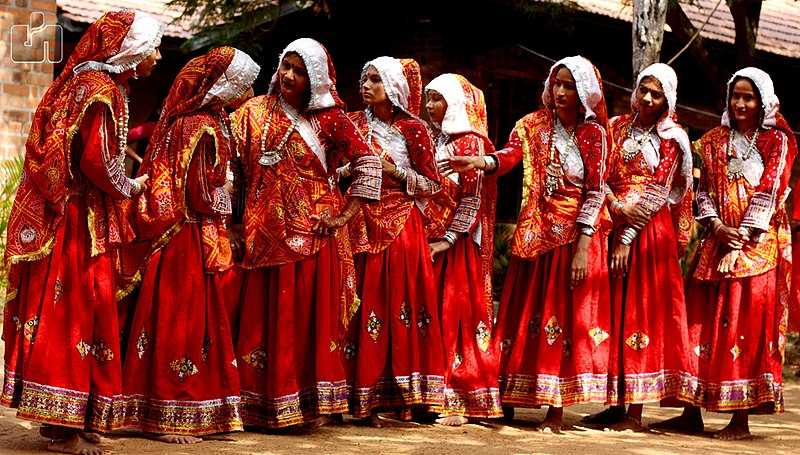 6. Ghagra Choli or Chaniya Choli - Traditional Dress of Gujarat
The traditional attire of Gujarati women is Chaniya Choli or Ghagra Choli; Women also wear an Odhni (dupatta or chunni) with it.
7. Chaniyo
The Chaniyo or lehengas is a coloured petticoat or skirt-like garment worn by the women. The Chaniyo is designed with mirrors and thread work
8. Choli
The women wear Polku or Choli on the top. It is an embroidered short blouse.
9. Chunni
Chunni, Odhni or dupatta is an elongated piece of cloth to complete the dress. The churn is worn diagonally and is used to cover their heads.
The women may also wear Kurtas instead of choli known as Zhabo and lehenga along with it. 
10. Saree
A saree is a long piece of garment that is wrapped around the woman's body, and the excess or the end is wrapped around the shoulder. However, the Gujarati women wear sarees with the end of the saree in the front
The Gujarati women carry house keys with them tucked into the saree that wraps around their waist with the help of the silver hook. This is because traditionally their role was to look after the house and house-related tasks.
Traditional Jewellery of Gujarati Women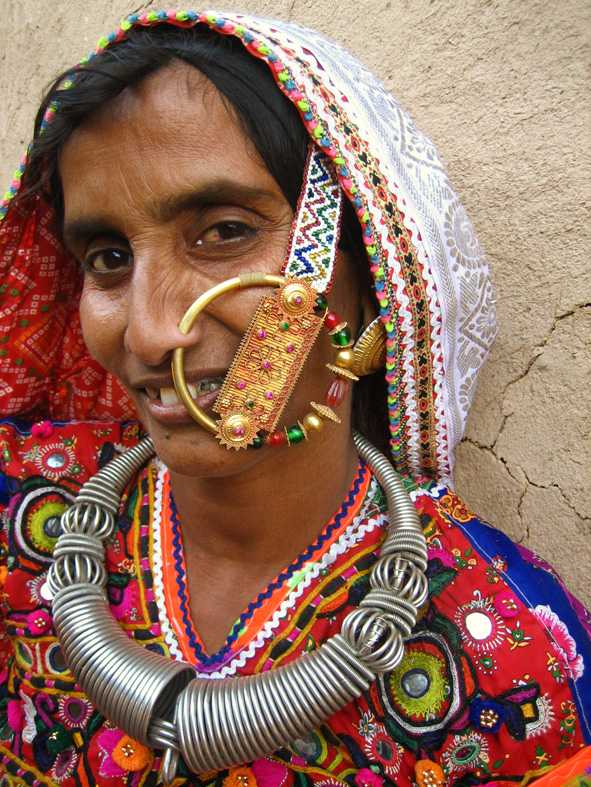 A married woman in Gujarat wears Mangal Sutra, bangles, necklaces, earrings and nose rings. Unmarried women wear small balis (loop earrings) and may even get their nose pierced and wear nath (studded nose jewellery). Married women also wear bindi and sindoor. Traditional Gujarati jewellery is heavy, ornate and intricately crafted. Women even wear ornate tassel key rings around their waist. 
Dresses For Special Ceremonies
Raas Garba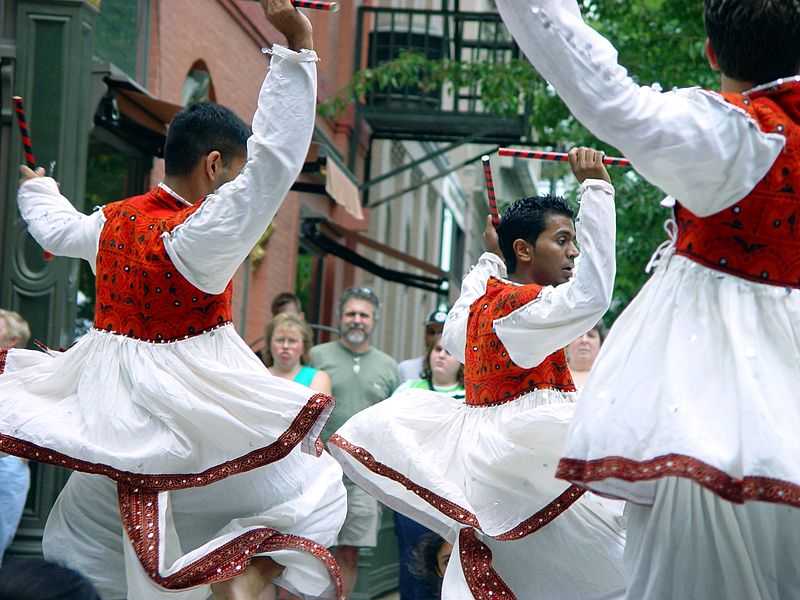 Raas is a form of folk dance done in pairs. It is a dance done to reenact the Raas Leela or the dance of Lord Krishna. The pair dances with sticks in their hands and hit each other's sticks while dancing. Garba is a folk dance done in a circle with a group of people by following simple steps. Raas Garba is done during Navratri, weddings and any other celebrations.
Women wear chaniya choli or ghagra choli with a kamarbandha. A kamarbandha is a coloured waistband. It may be made out of cloth or in a chain-like jewellery manner. The kamarbandha is worn over the chunni to keep the chunni from flying away.
Men wear keviya and churidars. Churidars are tight trousers. Keviya is tight long-sleeved coat plaited with frills. They are embroidered with mirror work to add to the festive feel. Marriage Bride: The bride wears saree for the wedding ceremony. The saree may a panetar saree or a 'gharchola'. Panetar is a white saree with red bandhini border. Gharchola is a  traditional red bandhini saree with woven squares pattern all over it.
Dress for Gujarati Groom
The groom wears a Kurta with some design like embroidery or zari work and a Dhoti to match. The groom may also wear a turban. However, nowadays, grooms have started wearing churidar under the Kurtas instead of Dhotis.
Traditional Dresses of Kutch
The women of Kutch wear a special type of choli called abha or kanjari. Abha is a long piece of blouse which is decorated with mirror work and golden/silver thread work.
The men wear loose pants with short frock-like coats that are tied together with a string attached to the coat instead of buttons. They wear under long sleeved under jackets beneath the coat. They usually wear white coloured clothes with red or white coloured phento on their heads.
Influence of Western Culture
The women of Gujarat have shifted from wearing sarees to salwar kameez. Women in cities are also working, and it is difficult for them to wear sarees every day. Western clothes add comfort and allow them to move about freely. The men have started wearing shirts and pants instead of traditional kurta and dhoti. The younger generations, especially in the cities are well acquainted with western culture and its fashion. Thus have found wearing western clothes very normal.
It is perhaps in certain rural areas especially in Kutch that you will see the folks dressed in the traditional attire. In cities, people wear traditional attires during marriage or Navratri. The dresses of Gujarat are very colourful and festive. The garments are heavy with a lot of detailed work on them. The clothes are famous for bandhani or bandhej design, embroidery with gold and zari threads and the jewellery that gives the costumes a complete look.