Dehradun
is one of the many hill stations in India which are known for cosy cafes. The cafes in Dehradun are quaint and welcoming and being located amidst the hills is always an advantage. Dehradun is also known for housing some of the best bakeries in India. But, that is for another time!
Here's a list of the most Amazing Cafes in Dehradun:
1. Café de Piccolo

Nestled in between the bungalows of Rajpur is a hut-shaped café that gives you a countryside feeling. This Italian-themed café is a hidden gem in Dehradun. With both indoor and outdoor seating, it has a very different ambiance from other cafés in town. It is recommended to visit the place after dusk because it gets enhanced with bright lights. The light music, the dollhouse-like decor, comfortable seats, and the cottage-like shape of the café make you feel like you are in Italy. The cafe is owned by a married couple: Sudhanshu and Aarti and maintained by a courteous staff. Made of all wood, it looks straight out of a fairytale. The white paint and French doors and windows make it all the more dreamy.
Must-have dishes: Fish and chips, Nutella and banana crepe, banoffee pie, white chocolate latte, black forest waffles and chicken pasta
Location: 180 Rajpur Road, Rajpur
Cost for two: INR 400
Timings: 11 AM - 10:30 PM
2. First Gear Café

First Gear Café is one of the best hilltop cafés in Dehradun with good views. Ideal for couples as well as friend groups, it provides a view of the Doon Valley and Shiv Mandir. The name of the cafe is due to the fact that you have to drive your vehicle up the slope. The cars have to go in the first gear, as the road leading is steep till 200 meters. The view becomes even better during the monsoon, after getting washed down by the showers. They offer a variety of food items and have been popularly termed as the 'maggi-point' and 'momo-point', owing to the popularity of the two dishes there.
Must-haves dishes: Maggi, Momos, Chocolate Shake, Honey Chilli Potatoes, Pasta, Hot Chocolate
Location: Khalsa Gaon, Near Shiv Mandir, Malsi
Cost for two: INR 700
Timings: 9 AM - 9 PM
3. Café Cibo

Cafe Cibo has garden seatings, amidst lush greenery, light music, and wooden furniture. They have a good variety of coffee and definitely have the potential to become the best barista corner in Dehradun. It is a wonder how the cafe has maintained such a calm atmosphere, even though it is situated in the busiest road of Dehradun. They are also known for their preparation of lasagna, so that is an absolute must-try from the menu. You can enjoy their flavourful collection of shakes and pair them up with their really hearty sandwiches.
Must have dishes: Barbeque mushroom skewer, lasagna, Chicken salam-e-ishq, Veggie carnival pizza, Waffles, Coffee
Location: 44-B, East Canal Road, Near Dwarka Stores, Race Course
Cost for two: INR 800
Timing: 11 AM - 10 PM
4. Y Cafe

Located in the heart of Dehradun, Y Cafe is a complete package of good ambiance, food, and music. The cafe is vintage-themed, with a hint of modern shade. It is spacious with indoor seating and a seating arrangement in the lawn outside. They also have live music, board games, and a bookstand. If you are strolling across Karanpur, you can stop by this wonderful outlet and try out their Mexican, Indian and English food and also their fusion shakes and smoothies. They give off complimentary cupcakes on Saturday and have similar attractive discounts on special days. Being one of the oldest cafes in Dehradun, it is a classic choice if you are looking for peace and serenity.
Must-haves dishes: Hand-beaten coffee, Pizzas, Burgers, Lasagne, Chicken wings, Salad
Location: Hotel White House, St Joseph's Academy, Subhash Road, Karanpur
Cost for two: INR 500
Timings: 12 PM - 10 PM
5. Eddie's Patisserie

Eddie's Patisserie in Dehradun is famous for cakes, brownies, pastries, and other baked items. This cozy cafe is located in the interiors of the Yamuna colony. There are both indoor and outdoor seating options. There are board games and a bookshelf with a good collection of books. Apart from the mouthwatering desserts, the cafe is popular for burgers.
Must-haves dishes: Cajun spiced chicken burger, waffles, watermelon soda pop, red velvet pastry, blueberry cheesecake, mud cake, caramel cold coffee
Location: 102 Yamuna Colony, Above Punjab National Bank, Khurbura Dehradun
Cost for two: INR 350
Timings: 10:30 AM - 8:30 PM (Tuesday closed)
6. Best Buddy's Resto Café

Best Buddy's Resto Café in Dehradun specialize in Indian, Continental, Italian, Chinese and Asian cuisine. Interestingly, they have street food items on their menu too. The decor is smartly done, with nice quotes and unique names for each table. They have a book corner for readers and live sport screening arrangements. Along with the big menu of food items, they have unique dessert items too. This is also a student-friendly cafe, with economical prices.
Must-haves dishes: Lebanese platter, Choco Blast waffle, Burritos, Italian Smooch, Chicken Sizzler, Chicken olive skewers, Shakes
Location: 2nd floor, Shashi Arcade, Near SK Memorial Hospital, 18 E C Road, Karanpur, Dehradun
Cost for two: INR 1200
Timings: 11 AM - 11 PM
7. Razzmatazz

Razzmatazz is a sailor-themed cafe in Dehradun with blue-white color contrast. It is housed in a bungalow with a beautifully curated ambiance. Excellent ventilation and dim lightings make Razzmatazz one of the most beautiful date places in Dehradun. The eatery also features an outdoor seating area under the breezy shade of a huge tree.
Must-Try Dishes: Veg. Sandwich, White Sauce Pasta, Fried Cheese, Hot Chocolate, Lemon Tarts, Lung Fung Soup
Timings: 11:30 A.M. to 10:00 P.M.
Location: 5, Pritam Road, Dehradun, Uttarakhand 248001
Approximate Cost For Two: INR 400
8. Eltham Bakery

A perfect spot for Breakfast and Brunch, Eltham Bakery is a must-visit cafe in Dehradun if you are a sweet tooth. The interiors of this place are old-school and European and is filled with the fragrance of biscuits, coffee, and freshly baked items. Situated in the Pacific Hills Complex in Malsi, this bakery and coffee house boasts a classy and exquisite collection of cookies, coffee, and bread. If you are driving from Dehradun to Mussoorie, you must absolutely stop by and visit this cafe.
Must have dishes: Coconut cookies, Banana walnut cookies, Mushroom puff, Chicken tikka sandwich, Hazelnut Latte, Blueberry shake and Banoffee cheesecake
Location: Shop 11, Pacific Hills, Mussoorie Diversion, Rajpur Road, Malsi, Dehradun
Cost for two: INR 500
Timings: 9 AM - 11 PM
9. The Tea Room at Alaya

This cozy tea room is located at the foothills of Mussoorie and offers mesmerizing views. Great for breakfasts, quick bites, and evening teas. If you're looking forward to spending some peaceful time in the lap of nature, a drive to this cafe will definitely be worthwhile.
Must have dishes: Indian spiced tea, cakes, pancakes, sandwich, Cappuccino
Location: 94, Rajpur Road, Kairwaan Gaon, Dehradun
Cost for two: INR 500
Timing: 9 AM - 8 PM
10. Kalsang AMA Café

With the rustic ambiance, Kalsang AMA is Tibetan themed café in Dehradun. It boasts of courteous staff, gorgeous interior, and drool-worthy food cooked in Tibetan fashion. The café serves as a perfect hangout spot, where you can also binge on innovative delicacies and drinks with your friends and family.
Must-Try Dishes: Blueberry Cheesecake, Pizza, Chocolate Shake, Momos, Fruit Beer, Sandwiches and of course, Coffee! In case you love spicy food, do try the Dragon Momo.
Timings: 10 A.M. to 10:30 P.M.
Location: 88, Opposite Osho, Chander Lok Colony, Rajpur Road, Rajpur, Dehradun
Approximate Cost For Two: INR 600
11. Waffles & Crepes

Waffles & Crepes is known for its delicious ice-creams, pizzas, and waffles, which make it one of the best cafes in Dehradun. Lose your senses with the most elegant combination of soothing vanilla and tasty cocoa over a soft and delicious base of waffles. If you are a waffle lover, do not miss out on this waffle-mania!
Must-Try Dishes: Prince Pancake, Pizza Crepe, customised Waffles with different bases and toppings. You should try mixing vanilla and chocolate toppings as they blend very well with the waffles.
Timings: 11 A.M. to 11 P.M.
Location: 1 Mohini, Main EC Road, Dehradun
Approximate Cost For Two: INR 400
12. Rising Dough

Offering delectable food options is what makes Rising Dough one of the most popular Dehradun cafes. Their cakes look so beautiful that they turn out to be both a treat for your eyes and a treat for your taste buds! Relish your soul as you dive into their drool-worthy menu that offers a great variety of cocktails, desserts, and cheesecakes. The lighting at this cafe shines beautifully across the long hallways. These hallways are set with long tables across the walls to create an American-styled bar design.
Must-Try Dishes: Pasta, Chicken Sandwich, Cheesecakes and Apple Pie
Timings: 10:00 A.M. to 10:00 P.M.
Location: 67/10, Opposite Meedo Plaza, Rajpur Road, Chukkuwala, Dehradun
Approximate Cost For Two: INR 300 (exclusive of taxes and other additional bills)
13. Krazy For Coffee

One thing that will keep pulling you back to Krazy for Coffee is their super-soft bun! This Dehradun café is well-designed with rightly placed lightings and excellent infrastructure. Be it a date or a casual get-together with friends; this place will undoubtedly serve you at its best. If you are crazy for coffee and burgers, Krazy for Coffee is right in town for you.
Must-Try Dishes: White Sauce Pasta, Burgers, Hot Chocolate, French Fries, Strawberry Shake, and Cranberry Soda.
Timings: 10:00 A.M. to 10:30 P.M.
Location: Near Asian School, Vasant Vihar, Balliwala, Dehradun
Approximate Cost For Two: INR 450, though bear in mind that Krazy for Coffee accepts cash only.
14. Salt & Cravings

Salt & Cravings offers an ambiance worth living your date moments in! The delicacies are beautifully presented and packed with a great blend of tastes. The interior décor is charming and serene, with its old-world charm. The lightings are dim and whimsical, while the walls feature beautifully lined up pebbles and the long tables can fit in your entire family. Indulge in some soul-satisfying food as you unwind and relax at Salt & Cravings.
Must-Try Dishes: Banoffee Pie, Garlic Bread, Red Velvet Cake, Lemon Cheesecake, Burrito, Hot Chocolate Fudge
Timings: 11 A.M. to 3 P.M. & 7 P.M. to 11 P.M
Location: Hotel President, 6, Astley Hall, Rajpur Road, Karanpur, Dehradun
Approximate Cost For Two: INR 500 (exclusive of additional GST)
15. Lemon Grass Garden

Lemon Grass Garden is one of the most beautiful cafes in Dehradun. Let nature set a gorgeous backdrop for you here as you try their local delicacies. Looking to spend your Sunday in a place that cuts you off the city hassle? Get your date to Lemon Grass Garden and spend some quality time in the greens, off the screens of the city.
Must-Try Dishes: Green Apple Mojito, Combo Offerings that offer great food combinations at cut-down prices, Pav Bhaji, Hazelnut Café
Timings: 9:00 A.M. to 10:00 P.M. The place is perfect for an all-day visit, however, a night-time visit would make your experience much better.
Location: 76, Rajpur Road, Hathibarkala Salwala, Dehradun
Approximate Cost For Two: INR 200-300
16. Café Doonga Central

Serene, cosy and beautiful, Café Doonga Central radiates a vibe that will pull you back to this place over and over again. Take some sun-kissed selfies as you get comfy in their beautiful outdoor seating. You can also choose to stay inside and read some of the books they offer while you relish the delicacies offered here. All of the perks and facilities make Café Doonga Central one of the most elegant cafes in Dehradun.
Must-Try Dishes: Chicken Sausage Crepe, Fruit Chocolate Waffles, Club Sandwiches, customizable Pasta, Choco Chip Pancake, Coffee
Timings: 12 P.M. to 10 P.M. The café is perfect for your date nights as the outdoor seating looks extremely pretty at night.
Location: 13, New Survey Road, Dehradun
Approximate Cost For Two: INR 400
17. Farm To Fork Café

A café that offers an ancient English theme easily qualifies to be one of the best cafes in Dehradun. The very entrance of this cafe features a logo, radiating a welcoming vibe into the beautiful fortress. The décor is stunning, mostly covered out of bamboo stem and glass. Take some book with you as you lose yourself in the vibrancy offered by Farm To Fork Café; a place you will never regret visiting.
Must-Try Dishes: Thin Crust Pizza, Lime Chicken Breast, Waffles, Pancakes, Moroccan Salad, Coffee, Pesto Pasta
Timings: 6 A.M. to 3 A.M.
Location: Shop no.8, Pacific Hills, Mussoorie diversion Malsi, Dehradun
Approximate Cost For Two: INR 1000 (exclusive of additional costs)
18. Jalapenos

Jalapeños is a Mexican eatery, located in the Pacific Hills where you can stop by for some Mexican gourmet and breakfast. Even though it is a tiny cafe, it makes up for the space in the amazing fusion of dishes and the interesting twist they add to each one of them. The Mac n Cheese and pancakes prepared by them are unparalleled and famous in the city.
Must have dishes: Mushroom Pinwheel, Mac n Cheese, Pancakes, Quesadillas, Cheese bombs, tea and shakes
Location: Mussoorie Division, Pacific Hills, Malsi Road, Malsi, Dehradun
Cost for two: INR 500
Timings: 11 AM - 11 PM
19. Just Café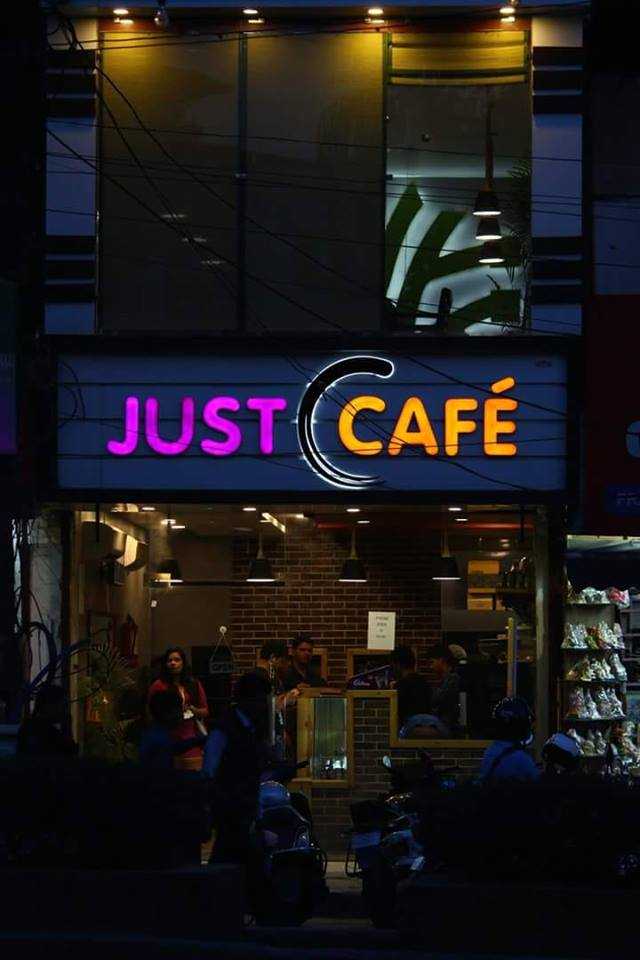 Just Café is another beautiful hangout spot, offering city views. The cafe remains open till 12 AM, which adds a bit of nightlife to Dehradun. Their menu is pocket-friendly and extremely comprehensive. This is also a cosy place for couples. The cafe is an eye candy to automobile fanatics, with frames on the walls and photographs of vintage cars and bikes. If you are hungry and have a time crunch, this is a great place to visit, because their service is quick and cordial.
Location: 32, New Market, Near Clock Tower, Race Course
Cost for two: INR 500
Timings: 10 AM - 11 PM
20. Valley Retreat

Apt for romantic lunches or poolside group parties, Café Valley Retreat houses a pool, surrounded by mountains on four sides. The pool can be used with nominal charges. The place is actually a retreat, located in the valley. Hence, the name. The place has a good ambience to it, with wooden furniture apt to the hut-theme, a garden and the decoration of fairy lights. They have both indoor and outdoor seating. It is well-known for its sip-worthy beverages.
Must have dishes: Momo, Hakka noodles, Shakes, Coffee
Location: 1, Near Tapobhumi Ashram, Old Rajpur
Cost for two: INR 750
Timings: 8 AM - 10 PM
These are some of the most beautiful cafes in Dehradun that you must visit with your friends and family! They offer the best-in-class ambience which blends perfectly into the exotic treats they serve. Make the most of your leisure time as you tickle your senses with exciting flavours offered in the gorgeous city of Dehradun.