Vidisha, a quaint town in Madhya Pradesh is one of the few, less heard of, unconventional places of historic importance. Located near the state capital, Bhopal, it has a rich cultural heritage a number of magnificent monuments, temples and ruins. This place is a huge tourist spot in MP and if you're a history enthusiast or intrigued by archaeology, this is one place you cannot miss out on! The town is located at the confluence (sangam) of Betwa and Beas rivers, 9 km from Sanchi and to the east of the Betwa river. About 3 km's to its west lies Besnagar, which was once a significant medieval trade centre and is now known for its remains like the Udayagiri Caves and Heliodorus Pillar. Vidisha is a place straight out of our history textbooks and can be pretty enjoyable for someone who wants to imbibe the beauty, relax and click beautiful pictures. Vidisha has evolved historically being occupied by the Maurya Dynasty, then the Guptas, followed by the Khilji dynasty, Mughals, Greeks and even the Britishers! This is quite evident from its resplendent diversity of architecture and culture.
Places to see and Things to do in Vidisha
1. Lohangi Pir
Lohangi Pir is a grand and mysterious rock that towers over the town of Vidisha. The rock is named after a sagacious saint who was revered by the people named Shaykh Jalal Chisti. He was lovingly called Lohangi Pir by the people. The rock reaches up to a height of 7 meters and is spread over a diameter of 10 meters. A small tomb dedicated to the famous saint is built on the rock and it houses a number of ancient inscription written in Persian languages. Some date back to the 1460 during the rule of Sultan of Malwa, Mahmud and some are from the 16th century during the reign of Akbar. An ancient Temple dedicated to goddess Annapurna can also be seen on this rock. This temple is beautifully built by sadly only some of the remains are left to see. Make sure to visit this place and be awed by its beauty.
2. Udayagiri Caves
Udyagiri Caves are an amalgamation of 20 wrote Rock cut caves which date back to the 5th century. These caves are believed to be built during the Gupta period and are one of the most important archaeological sites in India. A large number of ancient Hindu temples and iconography can be seen hidden in these caves. The cave houses iconography of Lord Vishnu, Lord Shiva and Goddess Durga. Many mesmerizing inscriptions from the Gupta dynasty can be seen here which comprises details about the rule of Chadragupta II and Kamaragupta I. Interestingly, one of the cave is dedicated to Jainism and it houses oldest Jain inscriptions which are believed to date back to 425 CE. These caves hold a lot of history within them and must be visited.

3. Heliodorus Pillar
Locally known as Khamba Baba, Heliodorus Pillar is believed to be erected in 113 BCE by Heliodorus who was a Greek ambassador of the Indo-Greek King Antialcidas. The pillar was erected to honour God Vasudeva and stands tall in front of the temple of Vasudeva. This pillar is also embellished with intricate inscription which are one of the most ancient inscriptions talking about Vaishnavism in India.

Museums
1. The Vidisha District Museum
The town of Vidisha has a wonderful museum which is located in the heart of the city. The Museum houses large number of beautifully sculpted sculptures, terracotta and coins which date back to the 9th and 10th century. Harappan art is also showcased in the museum which is absolutely splendid. The highlight of the museum is a famous statue of Yaksha which dates back to the Mauryan empire or the Sunga Empire. A small park replete with lush green trees surrounds the museum and is ideal to spend some peaceful time and relax.
Timings: Tuesday to Sunday, 10:00 AM - 5:00 PM
2. District Archaeological Museum
District Archaeological Museum is another famous museum located in Vidisha. Large number of ancient artefacts and sculptures are showcased in this museum that hold a lot of historical significance. Terracotta, coins, earthen seals are some items to definitely see in the museum. The museum has a collection of images of Yaksha and Yashi which date back to the 1st century put on display. This museum is a must visit to learn and explore about the history of this town.
Timings: Tuesday to Sunday, 10:00 AM - 5:00 PM
Cost: INR 5 for Indians and INR 50 for Foreigners
Land of Temples
1. Maladevi Temple
A pristine temple dedicated to Lord Rama, Goddess Sita, Lakshmana and Hanuman is situated in the small town of Gyaraspur located close to Vidisha. This temple even though dilapidated is replete with intricate carvings and splendid architecture. Being situated on a hill and surrounded by verdant trees, this temple provides mesmerizing and picturesque views of the whole place. The piousness of this temple along with its beauty will surely purge your soul from negativity.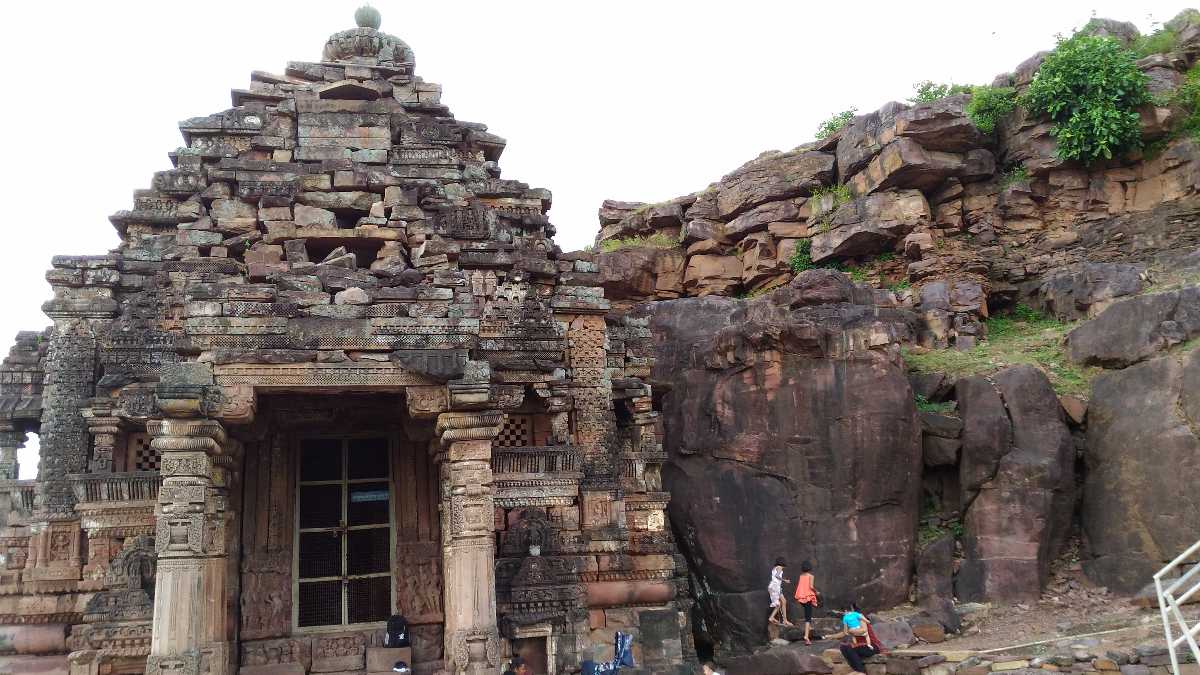 2. Hindola Torana
Hindola Torana is a beautiful carves structure which is situated amidst ruins of ancient temples. The words Hindola and Torana translates to swing and portal respectively. The use pillars of this structure resembles a swing and hence it got its name. This mesmerizing structure was an entry gate to an ancient temple which is now dilapidated. The pillars have intricate carvings and designs of different Gods, Goddesses and creatures. A Buddhist sun window motif is also engraved on it making it an important place for Buddhist and Hindu alike.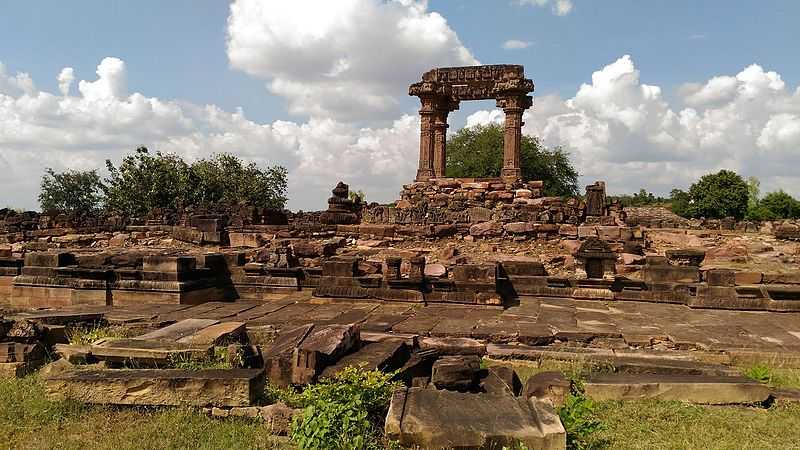 3. Bajramath Temple
Located opposite of Mala Devi Temple, Bajramath Temple is a grand and majestic temple which houses an amalgamation of Jain and Hindu deity sculptures. The intricate carvings of this temple will leave you awestruck. This is a very ancient temple and is visited by a large number of people every year who come to pray and seek blessings. Many Travellers pay a visit to the temple to witness it's grandeur.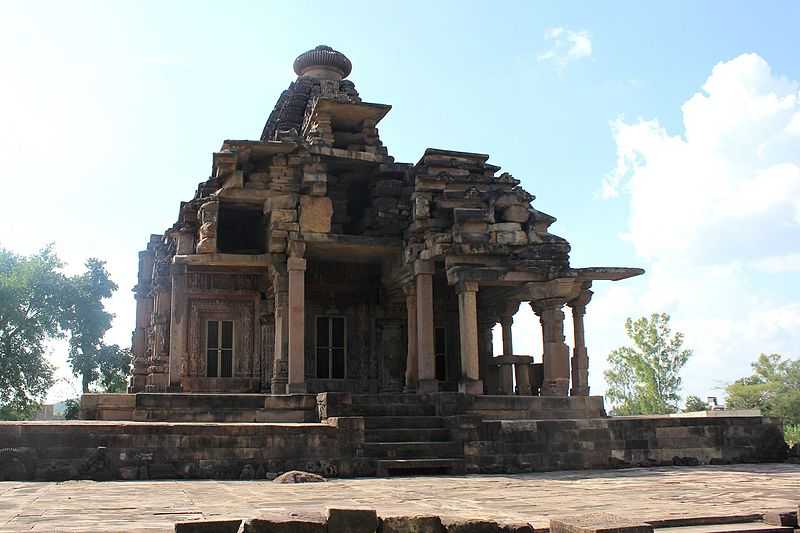 4. Dashavtar Temple
Dashavatara temple is a pristine shrine that is dedicated to the ten incarnations of Lord Vishnu. This temple is believed to date back to the 6th century and and built during the Gupta period. The temple is beautifully sculpted using stone and masonry bricks and have mesmerizing carvings of amorous couples. This temple is locally also known as 'Sagar marh' which translates to "the temple on the tank". It is called so because of the fact that the temple is situated near a look lake. This temple is a must visit not only for its beautiful sculptures but also for its piousness.
5. Girdhari Temple
Situated in a small Sironj village of Vidisha District, Girdhari Temple is dedicated to Lord Girdhari. This temple has a serene and tranquil atmosphere which makes this temple even more pious. The structure of this temple is replete with beautiful carvings and is looks simply splendid. This temple is a favourite among the locals and hence is always bustling with people who come to pray and seek blessings.
6. Bijamandal
Also popularly known as Vijayamandira Temple, Bijamandal was built in 11th century and later demolished in 1682. Later the famous Mughal Emperor, Aurangzeb, constructed a mosque using the material of the earlier destroyed temple and named it Alamgiri Mosque. This temple where is an inscription that is believed to be dedicated to Goddess Charchika. Bijamandal also houses a 7th century steep well and two pillars which bear intricate carvings of Krishna. This place is a must visit because of the twisted history that backs it. This place will give you a glimpse into different centuries making it special and always replete with travellers.
7. Sola- Kambi Temple
This pious temple is believed to be constructed during the Gupta dynasty. This ancient Temple has beautiful carvings and is a must visit because of the historical significance it holds. This temple being in a secluded place is not visited by many people but you should definitely pay a visit to this temple and be marvelled by its grand architecture.
8. Udayeshwara Temple
Udayeshwara Temple is situated in a small village of Basoda Tehsil which is located at a distance of 50 km from Vidisha. This temple is dedicated to Lord Shiva and is an important pilgrim place for a lot of people. Being a prominent Hindu shrine, this temple is visited by a large number of people who come here to seek solace. This temple is adorned with intricate and mesmerizing carvings which makes it a must visit.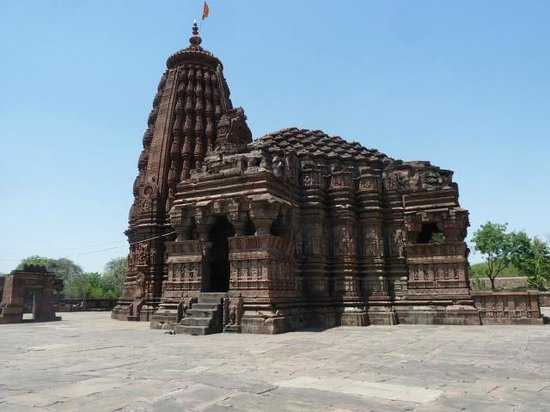 Culture in Vidisha
Native functions and festivals are enjoyed with folk music and dance like Mridang music and matki gangaur dance.While attire differs with changing religions and cultures, majority of men wear the traditional dhoti with a turban and mirzai(jacket) and women wear lehenga and choli with chunni covering their heads.Traditional handicrafts include bamboo and cane works, folk paintings and metal and ornament crafts.Tattooing is also a source of livelihood apart from agriculture.
Vidisha in all its glory and grandeur is a wonderful place for vacations if one simply wants to relax and get a glimpse of the medieval era. Being directly connected by roads and railways and about 1.5 hours away from Bhopal airport, it is easily accessible. Having a tropical climate, Vidisha can be visited at any time depending upon one's comfort. It is especially known for its religious and ancient architectures.