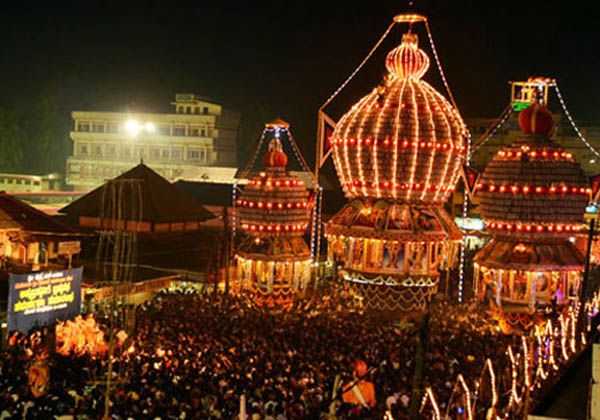 The list of festivals that are celebrated at the temple is quite long. Some of the main festivals are listed below-
1. Yugaadi (Ugadi)
According to the lunar calendar, the first day of Chaitra maas is considered to be the New Year's Day. Similarly, the first day of the month of meesa calls for a beginning of the next year as stated by the solar calendar. This festival is celebrated with high pompous and joy. A tray full of coconuts, jewels, fruits, and a mirror is placed in front of the murti of Lord Krishna on the last night before the first day of meesa. As soon as the sun rises, these auspicious objects are firstly looked at. It is the ritual of Kani Darshana. The swami then takes an oil bath while the priest reads the almanack. Special dishes are prepared and offered to the deities. A grand feast takes place at cauki.
2. Ramanavami
On this special occasion, the idol of Lord Krishna is decorated with bow and arrow instead of the regular rope and churning rod. The noon welcomes devotees for prasadam and the nights call for car festival. Special services are arranged. Moreover, as the idol in Sri Palimar Mutt is of Lord Rama, the festival is celebrated with great joyousness and enthusiasm at this mutt.
3. Akshaya Tritiya
The third day in the bright fortnight of Vaisakha is the day when Lord Vishnu incarnates into Parashurama. The idol during this festival is seen holding an axe in hand resorting to its heroic pose. It coincides with the death anniversary of Sri Vijayadhvajacharya who was the sixth pontiff in the lineage of Sri Pejawar Mutt. Special festivities are observed in the Krishna Mutt.
4. Vasantootsava
The festival of spring takes place between the Akshaya Tritiya and the full moon day in Vaisakha. The mandapa pooja which usually takes place in the sanctum sanctorum now happens to be in the vasanta mahal.
5. Ganesh Chaturthi
The fourth day in the bright fortnight of Bhadrapada is celebrated as Ganesh Chaturthi. Special pujas are performed in the name of the elephant-faced Lord. Professional artists make Lord Ganesha's mud idol which is bought at the auspicious hour. The area near it is artistically decorated. The next four days of celebrations are indeed a treat to one's eyes. An idol of Lord Ganesha is also placed at the entrance of the shrine. The priests perform Gana Homa sacrifices. The Lord is worshipped in the form of Vivambhara, and later prasad is distributed among the devotees. At the end of these four days, the idol is taken out in a procession and then immersed in Sarovar.