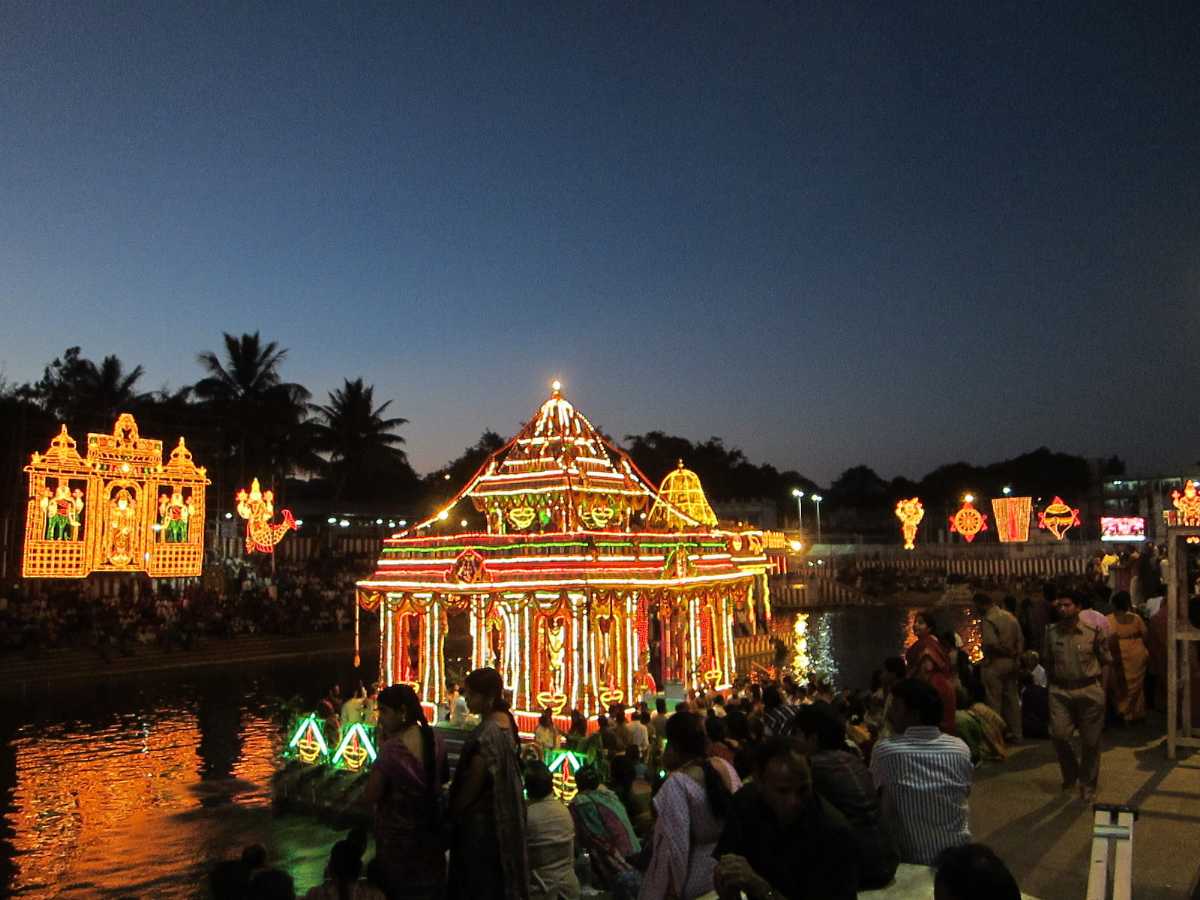 On each day leading up to the grand finale, different floats are led to the Srivari Pushkarini, the divine tank. The idols of the deities are called Utsav Murtis, as they are specially designed to be brought outside the sanctum. The idols are carried around the temple complex through the mada streets, which lie just outside the main building. After circumambulating the tank, the Murtis are mounted on colourfully decorated floats and carried out to the middle of the tank to the Vasantha Mandapam. This Mandapam is a four-pillared structure built in the Pushkarini, where special prayers are held.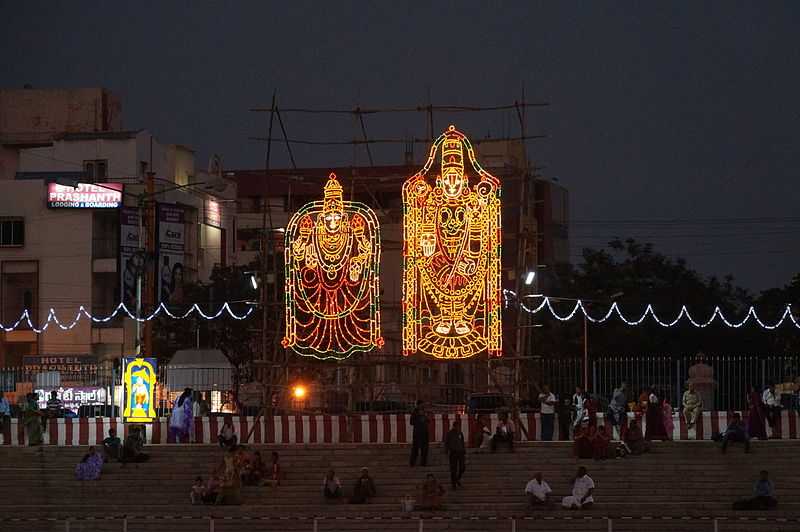 On Ekadasi, the first day, a decorated float bearing Lord Rama, his divine consort Lady Sita and Lord Lakshmana and Lord Hanuman are taken out to the tank. As the procession completes three rounds around the mada streets, onlookers are treated to soothing chants of the Holy Scriptures and majestic music from local musicians.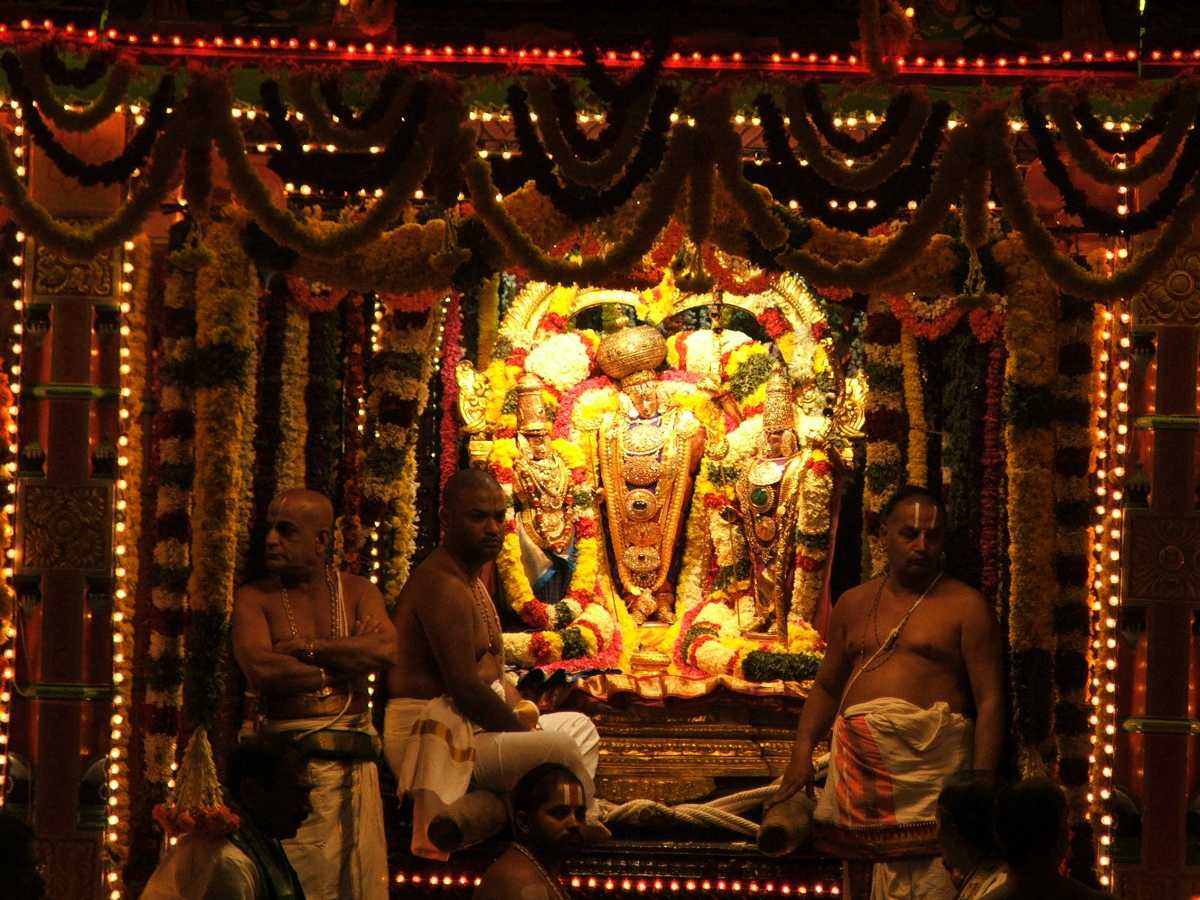 On the second day – Dvadasi, another incarnation of Lord Vishnu – Lord Krishna and his consort Lady Rukmini, are taken out on a heavenly ride to the tank. As the invocations call on the Lords to bestow mercy and prosperity on the devotees, the sight is truly mesmerising to watch. After three rounds of the procession, the deities are taken to the pond.
On Trayodashi, Chaturdashi and Pournami – the third, fourth and final day -, finely decked floats carrying the presiding deity of Tirumala – Sri Malayappa Swami and his consorts Lady Sridevi and Lady Bhudevi are brought to the Srivari Pushkarini amidst much fanfare. Three, five and seven rounds are taken out respectively on the third, fourth and fifth days of the Teppotsavam.


As the days progress, the deities are taken out on more rounds around the temple complex. On the final day, Pournami, the floats are taken out seven times, much to the joy of the devotees. As the full moon shines divinely on the spectators, special prayers and rituals are observed in the tank. Spectacularly decorated with lights, colours, fragrant flowers and streamers, the structures are indeed a sight to behold. Nadaswaram, a traditional wind instrument, lends divine music as priests recite holy mantras and pray for the wellbeing of humanity. You are bound to be enthralled by the fabulous display!