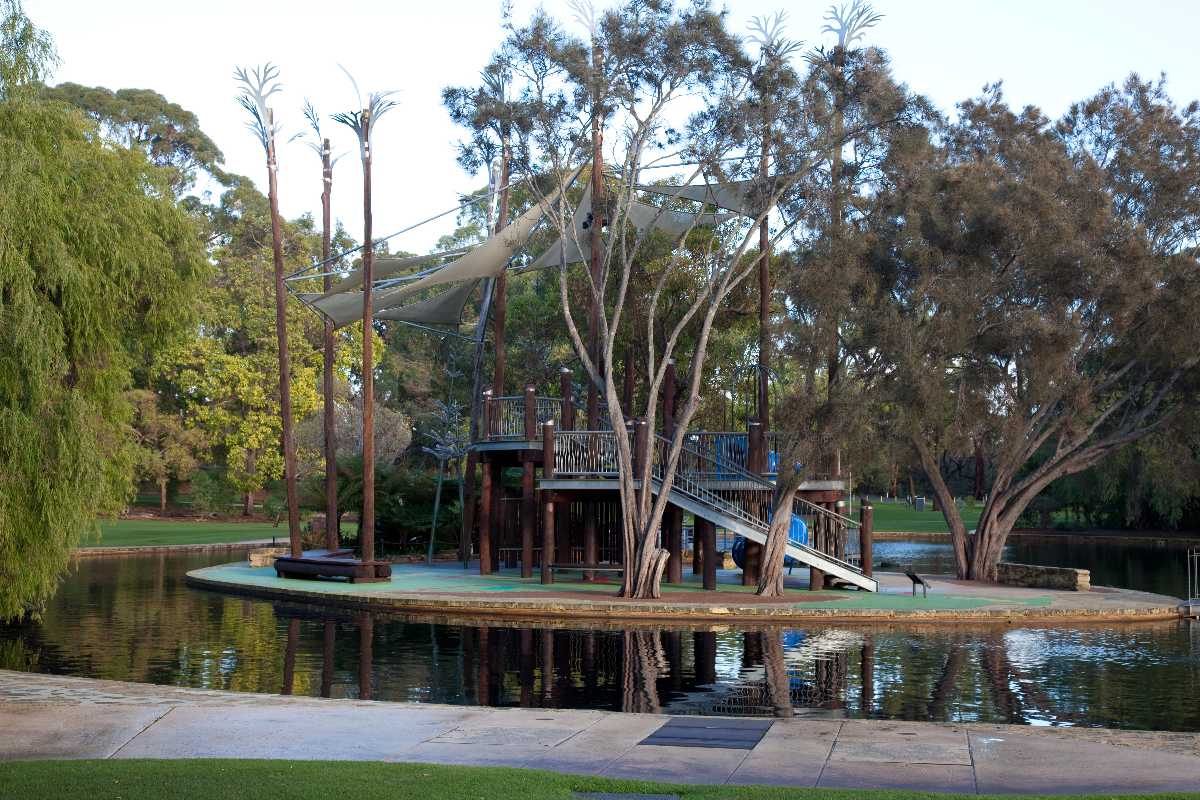 Given its massive size and worldwide allure, it's only natural for Kings Park to have a well-equipped, exciting and fascinating playground. In fact, it has 2, the major one being the May Drive Parkland and the other being the Ivey Watson Playground.
1. May Drive ParklandTimings:
All Day,
Cost:
No Entry Fee
Formerly called the Synergy Parkland, the May Drive Parkland in Kings Park is a large recreational area found in towards the western side of the park. It comprises of a lake with an island fort, large, life-sized replicas of dinosaurs that once walked the grounds of Australia, 2 playgrounds with swings, slides, poles, and a water mist forest for kids to lose themselves in all day. While the kids are busy letting loose in this wonderland within the park, the adults can enjoy a refreshing beverage and munch on some delicious food at the Zamia Cafe. You can also free electric barbecues here for those looking to turn a fun afternoon into a much more fun picnic. Don't forget to pay your respects to the Vietnam War Memorial situated in this section of the park.
2. Ivey Watson PlaygroundTimings:
All Day,
Cost:
No Entry Fee
While the May Drive Parkland is designed to keep kids of all ages occupied, the Ivey Watson Playground is aimed at entertaining the younger toddlers, suited for kids under the age of 6. WIth a ship replica and tons of tunnels and slides, your kids are sure to love their visit to Kings Park and Ivey Watson Playground. The Sticky Beaks Cafe within the area is sure to provide you with some refreshments and a chill place to sit as you watch your young one have the time of his/her life.