The Judge's Court:
One of the grandest structures in Pragpur, the Judge's Court is a 300-year-old ancestral home converted into a posh resort, set amidst an expansive property replete with litchi and mango orchards. It is a two-storey brick-red mansion with six spacious rooms furnished with colonial-era murals and furniture.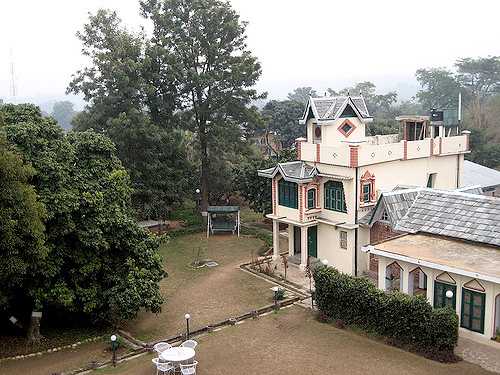 Taal:
A cobbled lane that originates just outside the gates of the Judge's Court leads to the ornamental water tank - Taal. It was built before 1868, and it forms the core of the village. The tank is surrounded by several old community structures like the Naun, Nehar Bhawan and Dhunichand Bhardial Serai. The village brotherhood identified as Nehar Committee initiated the creation of the lake and the body still holds the responsibility for this ancient water system.
House of Brij Bihari Lal Butel:
This ancient structure that was built over a hundred years ago attracts a majority of the tourists. The compound has six identical buildings, which were made to accommodate the six sons of Lal Butel, and they are connected to a common sunken central courtyard. This courtyard was filled with water during the summer season to serve the purpose of a natural cooling system for the entire haveli.
Lala Rerumal Haveli:
Another beautiful heritage building, this has a Mughal-style garden, a large water reservoir and a pleasant terrace. It was constructed in 1931 and houses an ancient Shakti Mandir with walls encrypted with Tankry script, old courtyards, Butail Mandir and Chaujjar Mansion.
Shri Kalinath Kaleshwar Shiva Temple:
It is one of the oldest and most famous temples of Pragpur that is flocked by pilgrims and tourists during the occasion of Maha Shivratri every year. It is commonly referred to as Kaleshwar Mahadev or Kalesar by the locals, and it is situated 16 kilometres from the village on the banks of River Beas. This temple is renowned for its Shivalingam and holy pond, its rich ancient folklore and the display of exquisite stonework. According to mythology, it is believed that Pandavas has visited and stayed at this very place during their exile.
Dada Siba Temple:
Built about 200 years ago, this Radha-Krishna temple stands on top of a hill surrounded by lush greenery. The walls and ceilings are adorned with miniature paintings and detailed mythological scenes from Ramayana. The fascinating murals have retained their vibrant colours through two centuries.