Set in a traditional Javanese house in a backstreet, complete with open courtyards and large windows, Museum Layang Layang has a homely environment. On entering, you are first taken to a little room (called the White Pavilion) where you get to watch a short, 10-minute film on the history of kites and kite festivals. Ancient sources describe their early use for measuring distances, sending messages, and testing the direction of the wind.

The museum is home to kites from Indonesia's different districts as well as different countries of the world like China, Korea, Italy, Malaysia, the Netherlands, and India. It is home to more than 600 types of kites, not including the creator's personal collection in the back.
Museum Layang Layang is home to award-winning kites like a 150-metre dragon kite which is from Indonesia's Record Museum. Other designs include the 'Megaray', a 9x26m kite which is the largest in the country, a 3D horse kite, dragon-shaped kite, and traditional kites made from leaves and bamboo. In fact, the smallest kite here is just 2 centimetres long.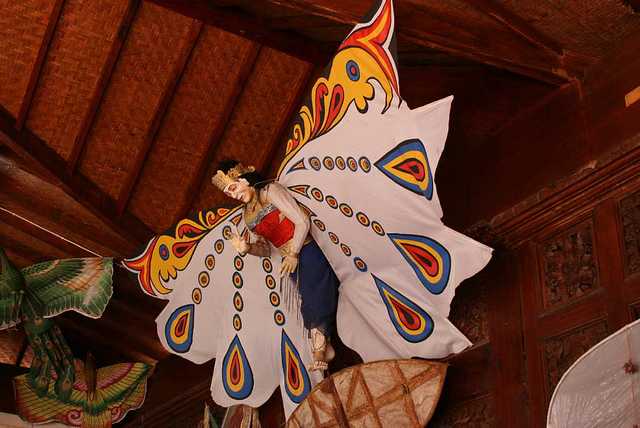 Noteworthy kites to definitely see at Museum Layang Layang include the tapean kite from East Java which is flown specially during the harvest season; small kites from Mutun Island that are used to catch fish called "layur" or "todak"; the Bride Kite (called "Layangan Pengantin") that is flown during weddings; and the "boogy" which is a cycle-like object used for transportation.
Aside from the main building of the museum, there is an elongated office building which contains a prayer room and a canteen.