The architecture of the regal temple is often regarded as a perfect example of Hoysala style of architecture and is acclaimed as the "Supreme climax of Indian architecture". Quite like the Belur temple, this magnificent temple is also built upon a star-shaped platform with small shrines toward temple doors. Each of the shrines is adorned with stone friezes depicting lions, elephants and horses. There are a small lake and a park having beautifully manicured palm trees and open grassy field.
The Hoysaleswara temple itself is made up of Chloritic Schist (Soapstone) and stands on a raised platform. This raised platform to provide the architect with enough space, both horizontally and vertically, to depict small and large sculptures.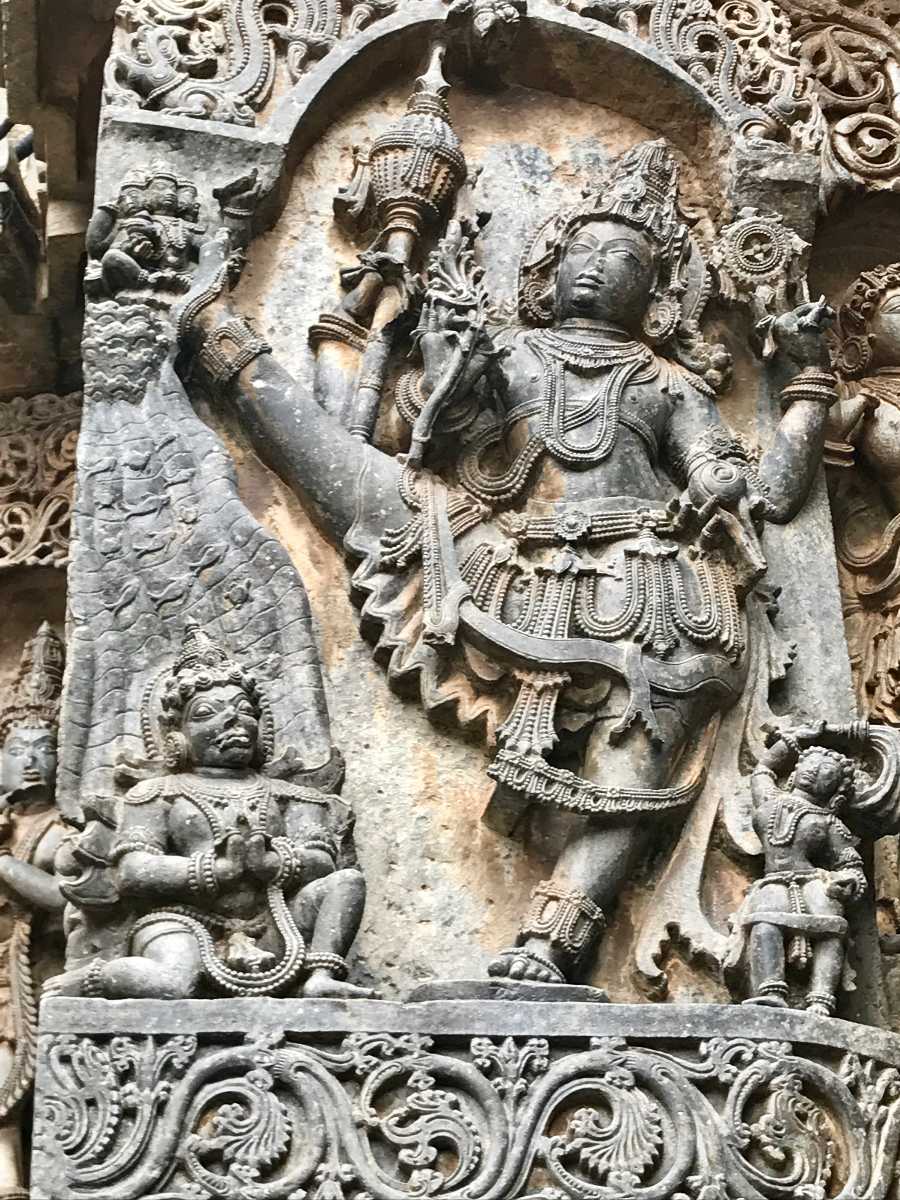 The outer walls of the temple are engraved with hundreds of carving telling tales of Mahabharat and Ramayan. The architect must have been made to fill the entire outer wall with beautiful sculptures without leaving any space. But, the main speciality is that no two sculptures here are the same. Various sculptures depicts different designs such as, Lord Krishna lifting mount Govardhan, Bhishma Pitamh dying on the bed of arrows, Lord Ram killing the golden deer, Ram and Sita with monkeys, Krishna with his gopi etc. The sculptures look so beautiful that it would take a really devout pilgrim to focus on the God.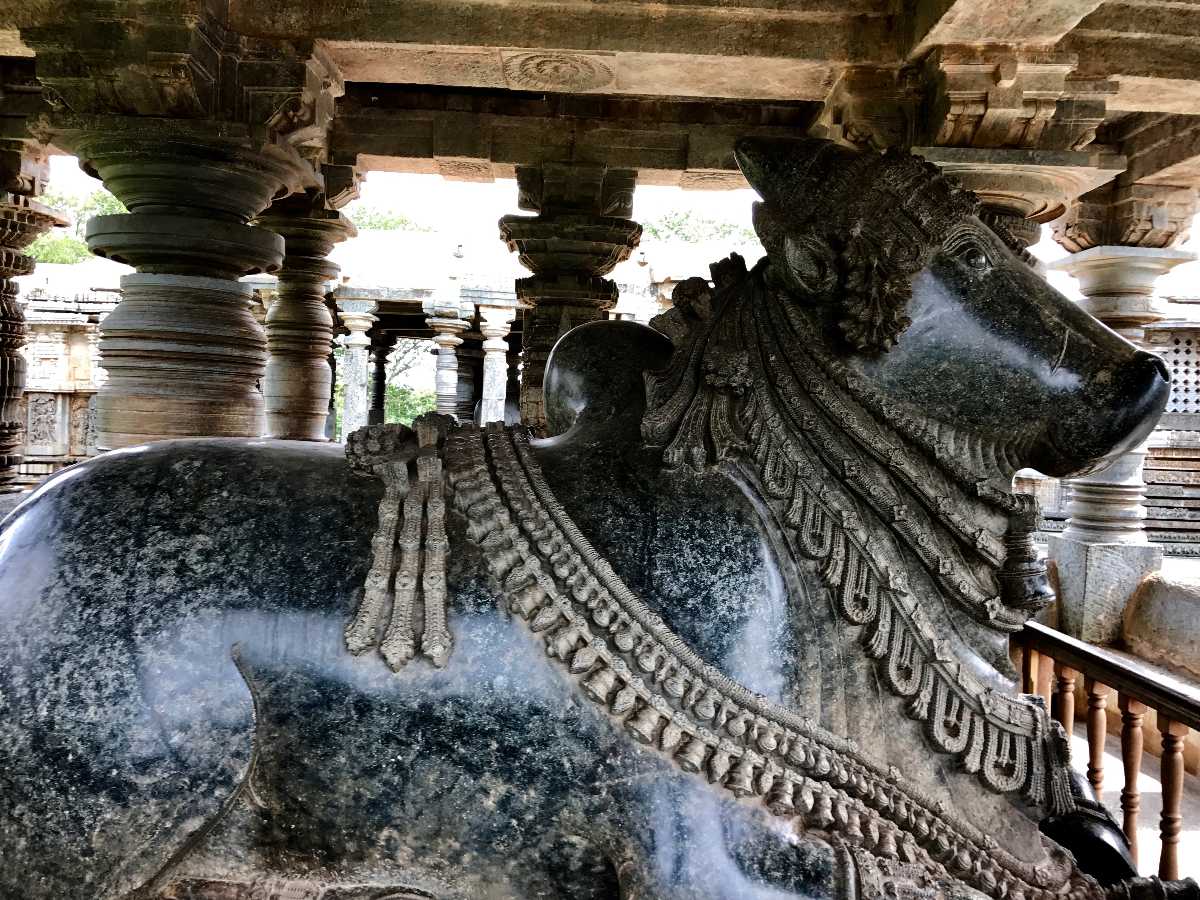 The most complex of all these sculptures are the two beams present over the southern and the eastern entryway. Another incredible feat is the beautifully sculpted statue of Shiva's attended Nandi. The statue is acclaimed to be one of the largest monolithic status of the character In India. A magnificent statue sits at one end of the lake. The park and the lake provides a terrific spot for photography, prayer and picnic.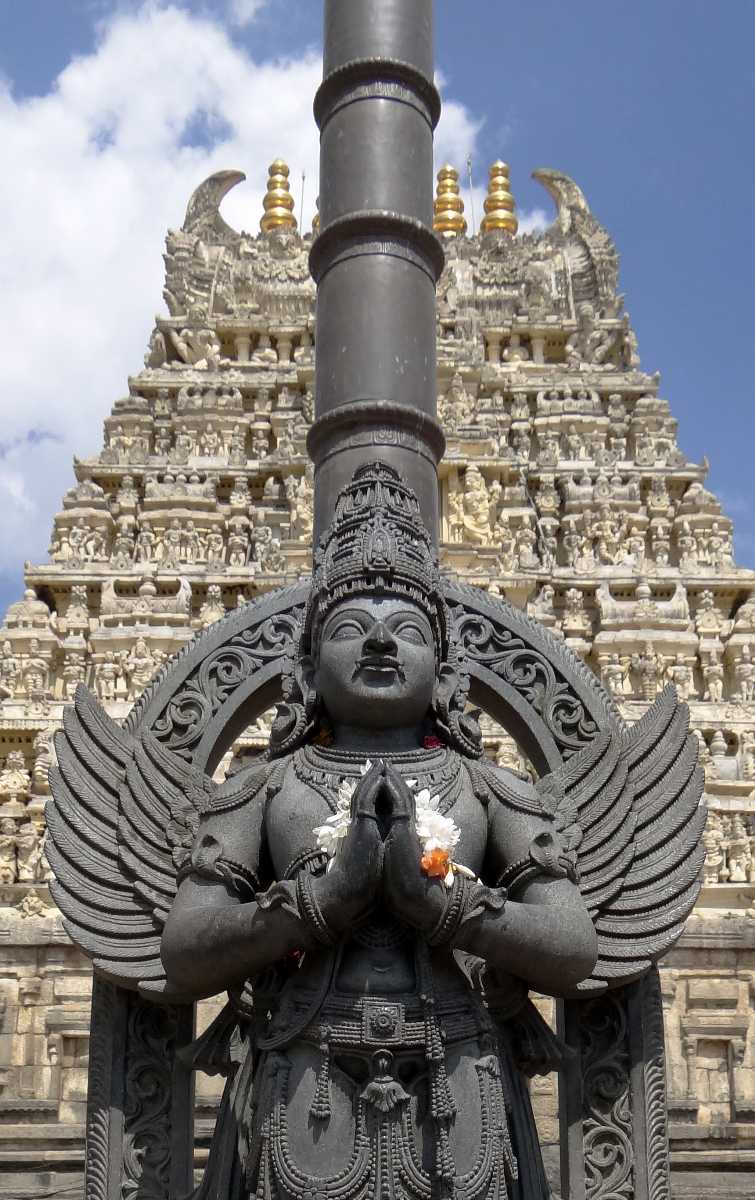 Inside, the mighty temple is laid out in a dual plan combining the two shrines of the Hoysaleswara and Santaleshwara. Both the shrines are placed next to each other and is in the shape of the Shiva Linga (the universal shape of Lord Shiva). Compared to the complex exterior the interior is quite simple. There are four different porches serving as four entryways (however only the north one is open for the visitors). The most capturing element in here is the Garuda Stambha, a rare pillar depicting the story of king's bodyguards.