Kankaria Zoo
Spread over an area of 31 acres, the Kankaria Zoo is also known as Kamla Nehru Zoological Garden. It houses around 450 mammals, 2000 birds and 140 reptiles.
Timings: 9:00 AM to 6:00 PM.
Balloon Ride

The super thrilling tethered balloon ride is available at Kankaria Lakefront. It elevates to a height of around 350 feet, affording a mesmerizing panoramic view of Ahmedabad city. The balloon ride premise also has some restaurants.

Toy Train

The Atal Express, imported from London and named after Atal Bihari Vajpayee, takes a round of Kankaria Lake on a 2.3 km track. It can carry up to 150 passengers and is a fun-filled ride.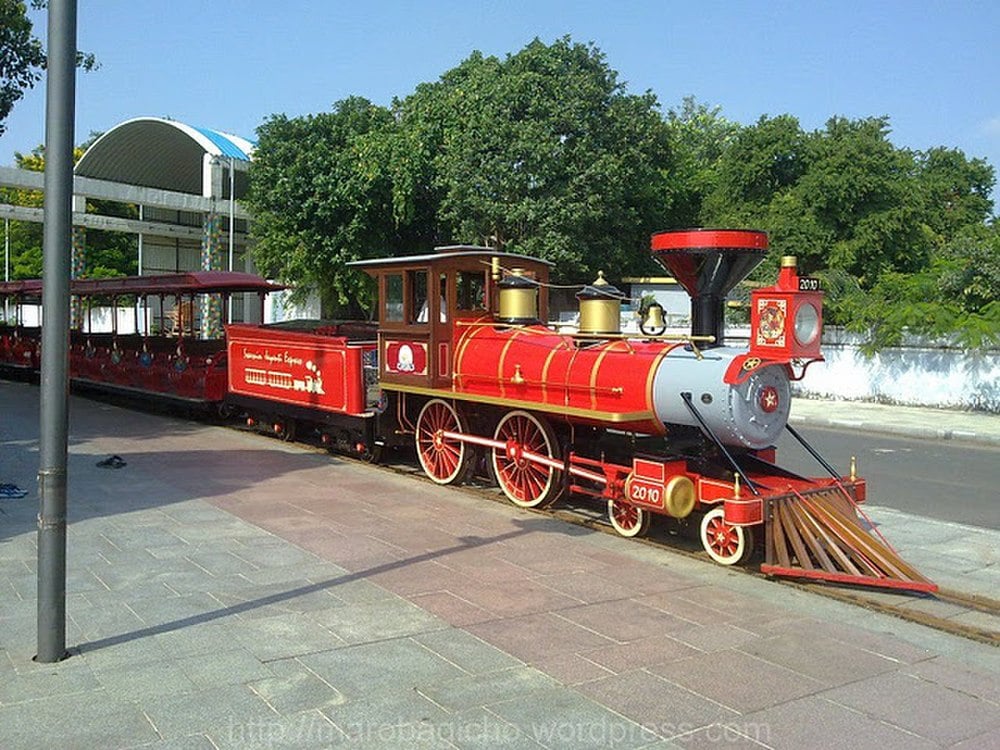 Balvatika
Named after the first Prime Minister of the country, Chacha Nehru Balvatika children's park is a haven of delight for parents and children alike. This beautiful park is meticulously maintained with state-of-the-art play areas, slides, swings, and a Natural History Museum with exhibits on Indian birds and animals. The Nabhi Darshan Planetarium is also a major attraction here, with a sky-viewing and screening hall. Keep in mind that you need to bring along a child to be allowed into the park.
Price: Adult (over 12 years of age): INR 3, Child (between 3 and 12 years of age): INR 2, Child (below 3 years of age): Free
Timings: 9:00 AM – 10:15 PM everyday
Amusement Park
The Kankaria Lakefront Amusement Park hosts a number of thrilling rides and attractions for children. With recent security and safety measures in place, the rides are bound to be exciting and fun – the five rides namely Boomerang Roller Coaster, Flipping Arm, Torching Tower, Dis-o-Pendulum and merry-go-round are crowd-pullers.

Joyride
In addition to the amusement park, there are many attractions at the lake including Segways and skating areas for easy mobility. A mini-golf zone and paintball area are frequented by children and adults alike, while the water sports and vertical swing attractions are popular among adventure lovers.

Dutch and Armenian Tombs
To the left of Kankaria Lake is an ancient cemetery with a few Dutch and Armenian tombs. Dating back to the early seventeenth century, these tombs are embellished with stylized domes and pillars, indicating a noble heritage. The inscriptions are in Dutch and Latin. The most notable tomb here is that of a nobleman who set up the Dutch East India Company's factory at Ahmedabad in 1615. Located at One Tree Hill Garden, these tombs can be reached after a quick hike; the site offers panoramic views of the lake.

Stone Mural Park
On the sidewalls of Kankaria Lake, different fascinating murals depicting the history of Ahmedabad in pink sandstone is worth admiring.

Nagina Wadi
It means a beautiful garden in Urdu. It is located in the centre of the lake and looks extremely pleasing in the evening with musical fountain and laser lights.