The state of
West Bengal
is synonymous with a rich cultural heritage that reflects in its literature, cuisine, music, painting and much more. Bengal's sartorial legacy derives from the royal patronage and the nobility that valued the richness of traditional techniques of weaving, embroidery and stitching. This legacy is the common heritage of both present-day West Bengal and Bangladesh where these traditional methods of curating beautiful weaves exist in curious harmony with the modern-day synonymity of the 'fashionable' with the western-wear. Presenting below are some of the traditional dresses of West Bengal that would top the list of every collector and fashion enthusiasts:
1. Saree
No image of Bengali women is complete without the six-yards of elegance that defines Bengali saree. A host of traditional techniques practised on pure cotton and silk, authentic motifs and drapes of the Bengali saris spell unique charm, sensuousness and allure at the same time. Below are some of the choicest types of Bengali sarees that one just cannot give a miss:
Dhakai Jamdani
Believed to have originated from Dhaka, the uniqueness of Jamdani sarees lie in their "Panna hazar" (thousand emeralds) patterns of delicate flowers weaved through gold and silver threads. Spelling class and timelessness, Jamdani technique is laborious and time-consuming and worth every penny!

Korial and Garad
Garad, meaning white, is the traditional Bengali saree with a bright red border and stripes in the pallu offset against the un-dyed white silk. Imbued with religious significance, garad sarees (and their cousin- Korial with intricate buti or flower patterns in the body) are hugely popular during the Durga puja, weddings and other religious ceremonies. Paired with the typically Bengali ivory/conch shell and red lacquer bangles, garad sarees are an epitome of grace and authentic Bengali beauty.

Baluchari Sarees
Balachuri sarees originated in a small place of the same name near
Murshidabad
district and are made of fine silk. Considered to be heirloom pieces, Baluchari sarees are opulent with gold embroidery of historical and religious scenes from the Indian mythology. They are also called as 'swarnachari' sarees owing to their bright gold hue of the embroidery. The elaborate pallu of these sarees is best left unpleated which reveals the full resplendence of the design.

Tant Sarees
Deriving their name from the loom on which they are woven, Tant sarees are extremely popular in Bengal. Capable of being draped effortlessly and extremely lightweight, Tant sarees are ideal for the hot and humid climate of Bengal. They are traditionally woven with motifs of paisleys and flowers and carry a thick coloured border. They are an epitome of Bengali handloom culture and perfect for daily wear.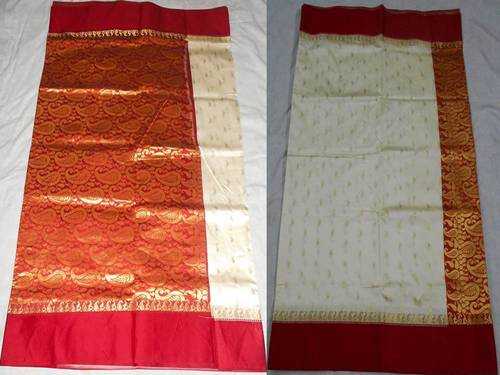 Tussar Silk Sarees
Malda district of West Bengal is considered to be the hub of tussar silk production. Tussar silk is more textured than the conventional silk and is also used as a base for weaving elaborate Jamdanis or Balachuris. Apart from this, pure tussar silk sarees are usually characterised by solid colours that are enhanced by a golden sheen of the silk, adorned with both traditional and contemporary motifs on the pallu.

Muslin Cotton
Known for their sheer simplicity, the highlight of these sarees is the fine quality of muslin that is super-soft to touch. Usually made in soft paste colour, they are adorned with delicate patterns, and if properly starched, they look incredibly classy and elegant. They come in both affordable and expensive range, the latter being quite luxurious depending upon the quality of the muslin used.

Kantha Silks and Cottons
Kantha is a type of embroidery that is popular in the Shantiniketan region of Bengal. Characterized by 'running stitch' in bright hues, Kantha embroidery is used for making a range of linen items such as bedcovers, cushions and quilts. Woven thoroughly by hand, Kantha sarees can be light or heavy and carry both delicate and elaborate designs on cotton and silk. Kantha Silk sarees are popular Bengali Dresses.

Murshidabad Silk Saree
Murshidabad is known for its thriving industry of silk-production. Finest quality of the silk is used to make beautiful sarees in bright colours with traditional block printing patterns and 'batik' designs (made of wax and then dyeing them in bright hues) ideal for both casual and formal wear.

2. Dupattas
While the traditional attire for Bengali women is the saree, contemporary sartorial choices also include kurtas and salwars that are paired with exquisite dupattas (drapes) and stoles that come in traditional weaves, motifs and colors. So, if you are the one that prefers the desi chic, just pair a beautiful lush silk or cotton dupatta in Jamdani or Kantha with your favorite kurta and add some authentic Bengali elegance to your persona!

3. Panjabi and Dhoti
The traditional attire for men in Bengal is a 'Panjabi', which is the equivalent of north-Indian kurta, paired with a dhoti- a plain loincloth in cotton or silk. Panjabis can be either short or long ending up to knees. What distinguishes Panjabis from the usual kurta is the authentic Bengali fabric that can range from tussar silk, cotton-silk or muga-silk embroidered with kantha around neckline or buttonholes. Garad silk kurtas in the shades of beige, cream and honey are the traditional wedding attire for Bengali men. These days, Panjabi is also paired with jeans or trousers in a unique fusion to blend traditional with the comfortable modern.

Traditional Dresses of West Bengal are all about exploring the possibilities of traditional handloom weaves and spins. Carrying the legacy of age-old techniques, traditional West Bengal dress has managed to hold their own against the boom and popularity of western wear such as jeans and tops. Bengali handlooms are a collector's delight, both in the traditional and fusion form. So go ahead and splurge on some exotic saris for yourself and the women in the family to treasure in some prized heirloom pieces. Or, if you are one more open to experimentation, why not invest in a gorgeous Jamdani dupatta or a kantha skirt to add just the right amount of desi Bengali kitsch to your attire? The 'City of Joy' surely has options to let you splurge when it comes to fabrics, colours, embroidery and drapes that provide a sensory experience that immerses you in the cultural heritage of Shonar Bangla!
Read more about the West Bengal-
Culture of West Bengal
Bengali Sweets
Bengali Food