There's no better way to beat the summer heat than by getting soaked at the water parks in Raipur. From thrilling water slides to well-equipped indoor pools for kids and adults, visiting water parks on a Raipur trip is on every traveller's itinerary. So grab your favourite flip flops and swimsuit and dive into these three watery playgrounds.
1. Wonderland Park

Wonderland Park lives up to its name and offers visitors a much-needed respite from the Indian heat. The park has a humongous slide for adults from which you are dropped at a speed of 30 miles/h. If you're in the mood for something a little less adventurous, then you can indulge in rain dance or laze around on the comfy lounge chairs. Put your feet up and sit back while sipping on a mocktail, just like the movies. Wonderland Park also has a state-of-the-art indoor pool for kids which is crowded with brilliantly coloured water guns. Your children will have the time of their lives here.
Address: ES2, Indraprastha Colony, Raipur, Opposite Honda Showroom, Chhattisgarh 492013
Dress code: There isn't any specific dress code. You can wear casual attire.
How to get there? The distance between Indraprastha Colony and Raipur main city is 119 km. Wonderland Park is a 3-hour drive from the main city. The nearest railway station is Bilaspur Junction railway station, at a distance of 7 km from the park. Take an auto after deboarding from the train. It will drop you at your destination in roughly 20 minutes.
Park timings: Monday to Sunday: 10:00 AM - 6:00 PM
Ticket/entry fees: Weekdays: INR 300; Weekends: INR 400
Contact details: +91 7000960472
Suggested duration: 3 hours
2. MM Fun City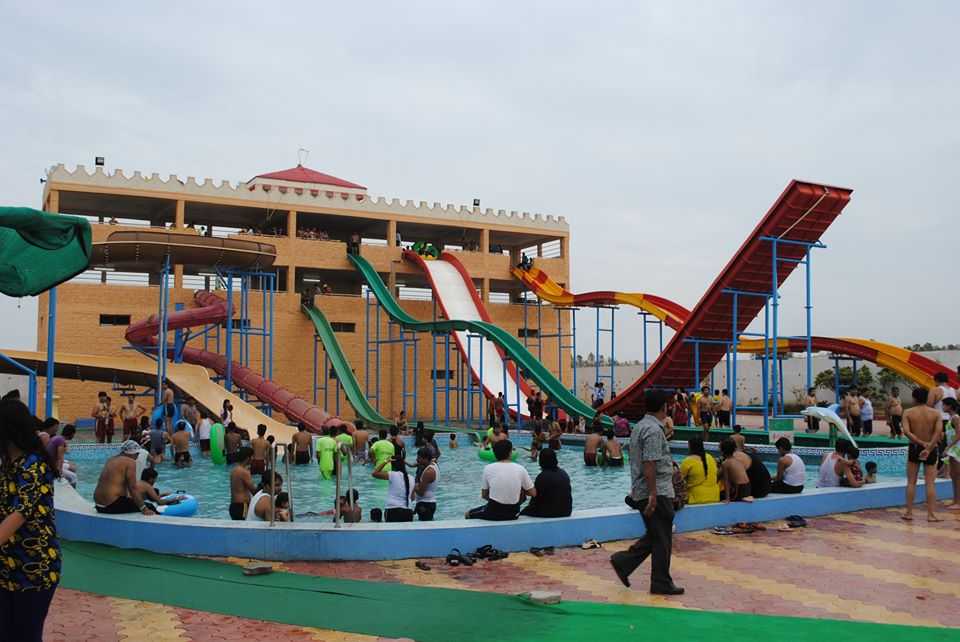 If you want to relive cool and pleasant weather in the hot Indian summer, drag yourself out of your air-conditioned rooms and head to MM Fun City. This water park features a plethora of wave pools and tube rides for adults that will surely make your jaw drop. There are many high drop and fall rides, so only board them if you're confident instead of backtracking in the last minute and embarrassing yourself. For those who enjoy lazy rides, you can float in the well-maintained pool. Your kids can wear floaters and dive in the pool as well since the common pool is only 4 feet deep. You can visit MM Fun City in the early winters too since the pool is centrally heated.
Address: Mandir Hasaud, Raipur
Dress code: Salwar kameez and sari aren't allowed. You are advised to carry appropriate swimwear. Swimsuits can be rented inside at a nominal cost.
How to get there? MM Fun City is situated on Aarang Highway. It is around 20 km away from Raipur main city. Take a cab and stay on the Mahasamund Road route to reach MM Fun City.
Park timings: 10:30 AM - 6:30 PM
Ticket/Entry Fee: Weekdays: INR 400; Weekends: INR 450; Family Entry Fees: INR 380 per person; Locker Fees: INR 100 for the big one and INR 50 for the small one
Contact details: +91 92000 92888
Suggested duration: 2.5 hours
3. Water World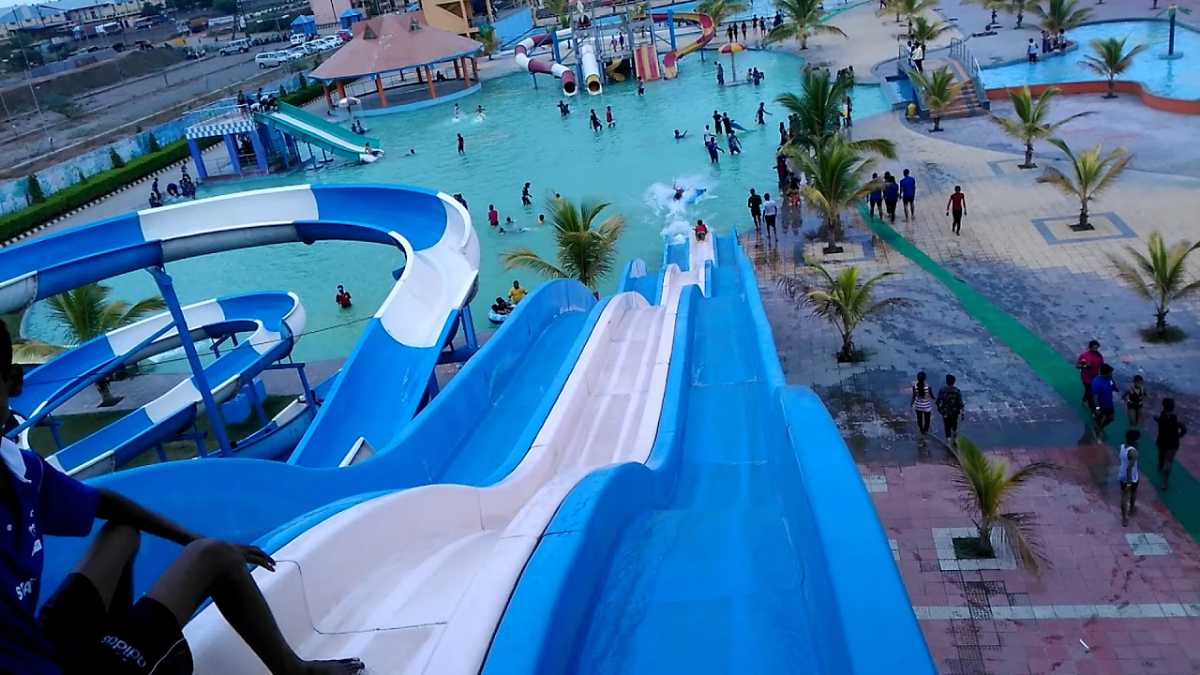 Water World promises an entertaining day out with your kids. It is well-known for being the cleanest and most beautiful water parks in Raipur. Rest assured, your child's health is in safe hands. It includes both a dry zone and the water zone. Currently, multi-level slide, cyclone, pendulum, rain dance, go-karting, octopus and river cave are available in the Park. It is a fantastic place not only to spend quality time with your children but also to release your work-related stress.
Address: Ring Road No. 1, Raipur HO, Near Mahadev Ghat Road, Bhatgaon, Chhattisgarh 492001,
Dress code: There isn't any specific dress code. You can wear casual attire.
How to get there? The distance between Raipur railway station and Mahadev Ghat Road is 43 km. You can hail a cab and drive straight until Ring Road to reach Water World.
Park timings: Monday to Sunday: 11:00 AM - 7:00 PM
Ticket/entry fees: Weekdays and weekends - INR 400
Contact details: +91 9826142421
Suggested duration: 2.5 hours
Additional Tips
Carry your swimwear in case you do not want to rent it.
Get there as early as possible, preferably in the daytime, to avoid queues and get a better parking spot.
Ask for a lifejacket if you're not confident about your swimming skills.
Bring a waterproof case for your phone and money.
Renting a locker is advisable because then you can store your extra clothes in it.
Bring a pair of sunglasses and a bowler hat to shield your face from the sun while walking around the park.
Avoid swimsuits with rivets, zippers or buckles, as these aren't allowed.
Bring an extra towel, so that you can use one for keeping yourself dry and the other one for relaxing on the lounge chair.
Don't visit the park during a thunderstorm; you won't be able to enjoy any of the slides.
Pack plenty of waterproof sunblock for you and your family.
Just a disclaimer, going out without sunscreen will wreak havoc on your skin. Raipur reels under intense heat in the summer, with day temperatures shooting up to 40℃. So make sure to reapply sunscreen (preferably with SPF 30) after every few hours. Now that you're all set go on and take a dip at these three shortlisted water parks in Raipur.