Koh Tao
is famous for its diving community and is home to a large number of professional divers and diving instructors. Divers sure love to party, and Koh Tao nightlife scene is sure to keep you dancing till the sunrise. While you're at it, be sure to indulge on a Sangsom Bucket: a cocktail native to Koh Tao made with Sangsom Rum, Mekong Whisky, Coca-Cola, and Thailand's highly caffeinated energy drink, M-150.
With the wings your bucket just gave you, fly to any one of these spots to have the night of your life:
1. Maya Beach Club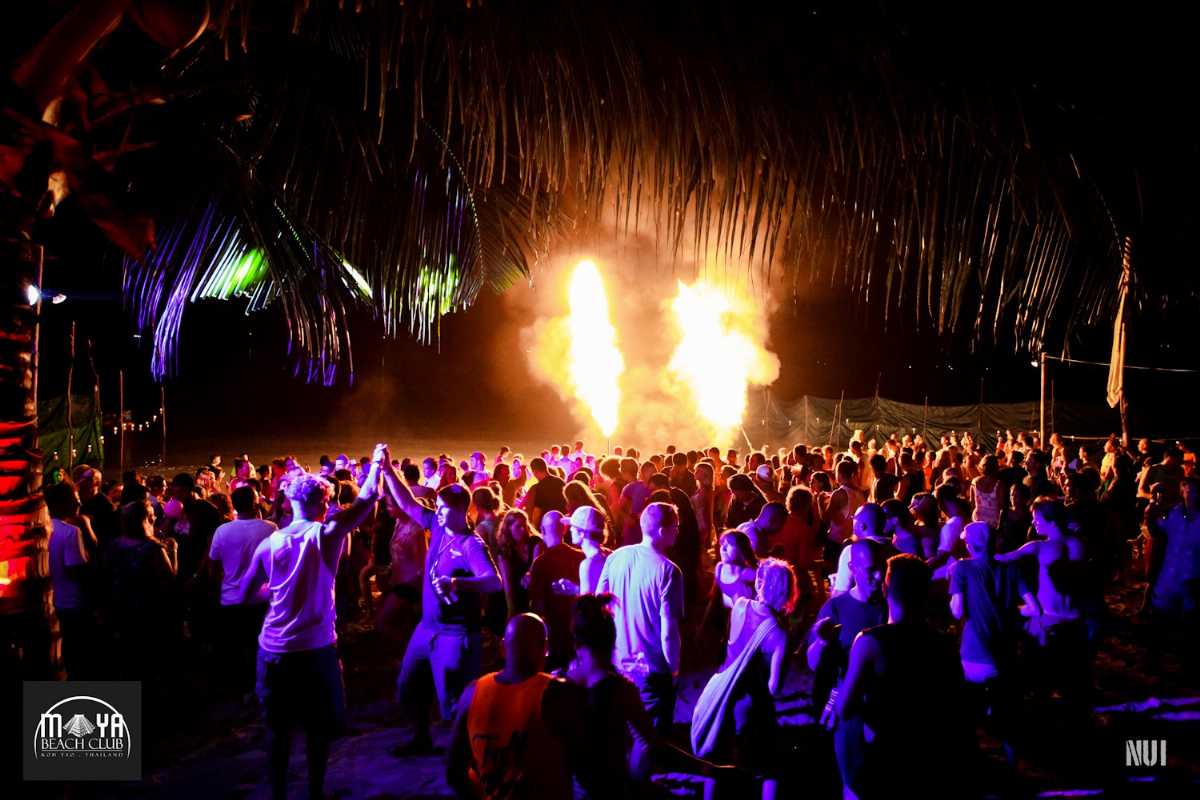 Maya Beach Club, as the name suggests, is located right on Sairee Beach. Their main attraction is the massive stage that they have set up over the ocean water where Resident DJ Jaguar Skills spins all sorts of tracks from Deep House to R&B. If you don't feel like dancing, you can laze away on the floating chairs as the waiters bring you an assortment of delicious Sushis and Tapas. Maya is one of the best clubs to get a true thrill of the Koh Tao nightlife.

Price: Approximately THB 500 per head.
2. Coco Bar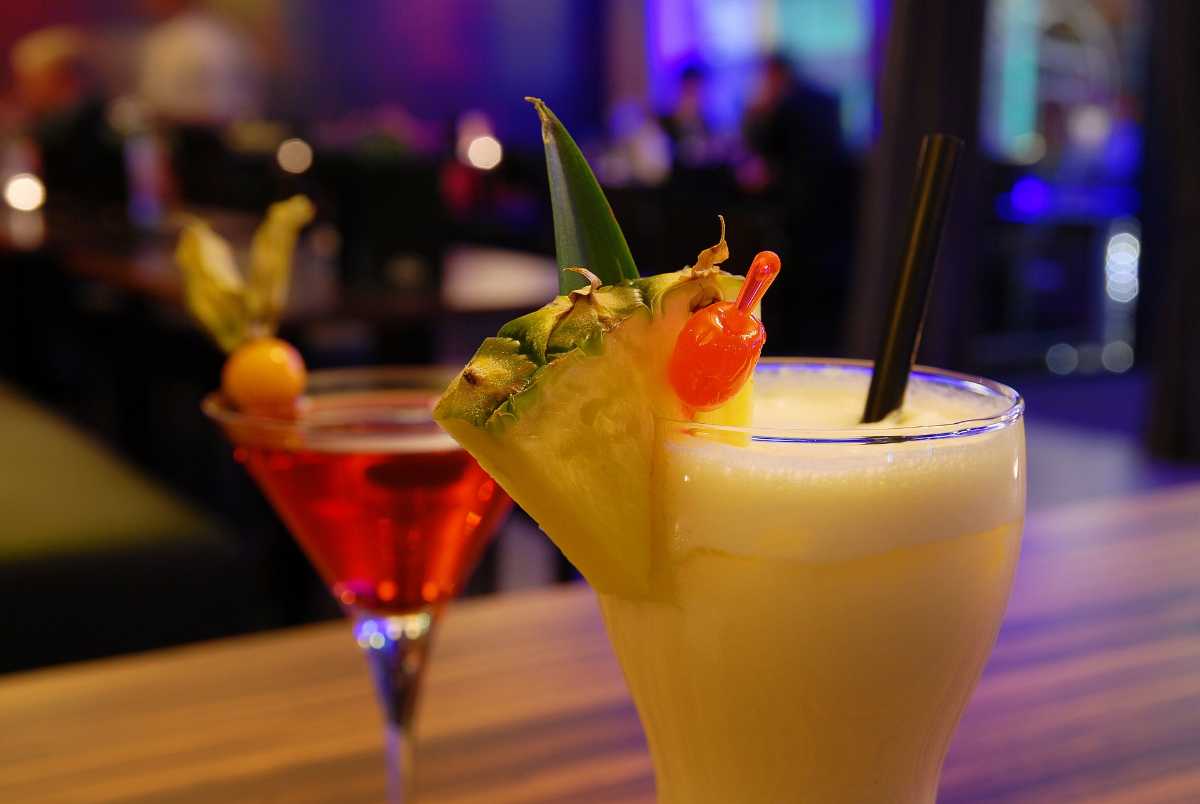 Coco Bar is a great place to hang out, chill and enjoy the famed Koh Tao nightlife. Famed for its exceptional service, most people who visit once become regulars. Unlike most other bars nearby, you can have a conversation with the person sitting next to you without having to scream like a maniac. They even accept song requests. Enjoy yourself with some of Koh Tao's best cocktails in the plush, neon ambience at Coco.

Price: approximately THB 500 per head.
3. The Beer Masons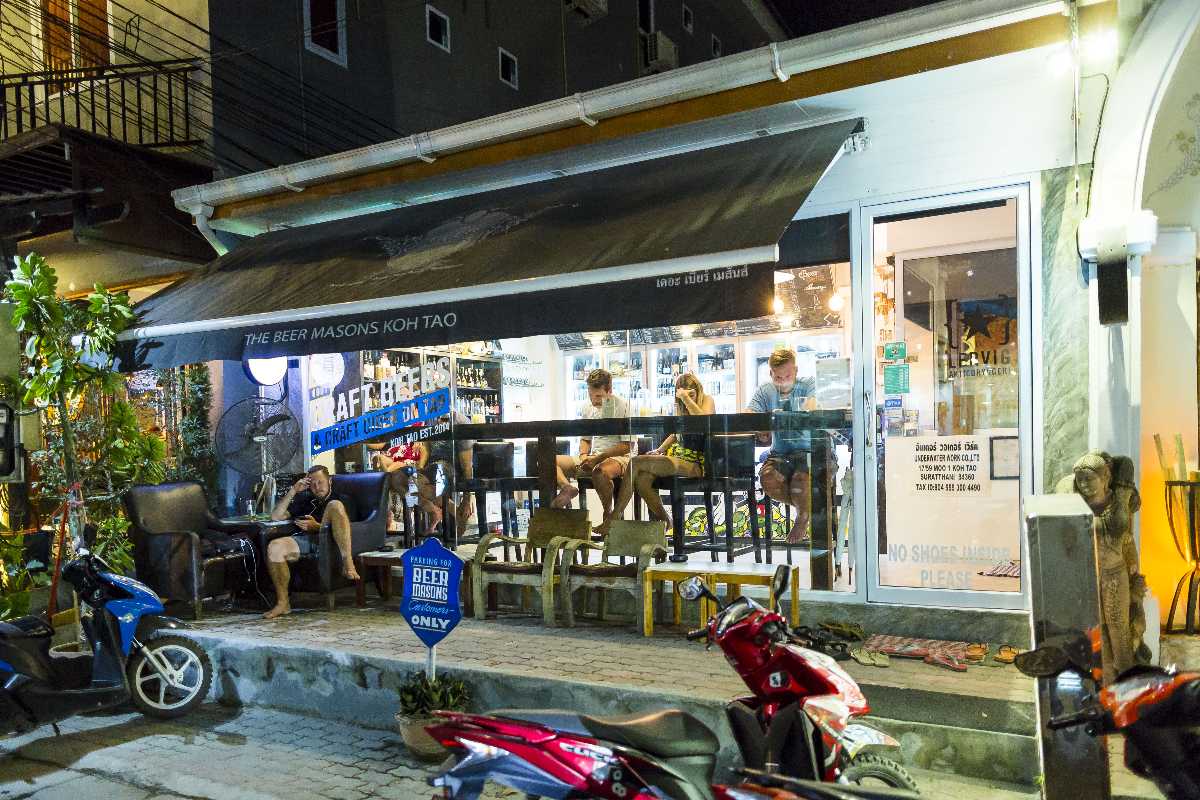 If you're somebody who loves beer more than water, The Beer Masons is the place to be. This intimate bar stocks beer from all over the globe. Their on-tap beers range from high alcohol content IIPAs to fun fruity flavours that even the worst beer-hater in your group will enjoy. If you're looking for something fancier, you'll find craft beers so rare, that an entire Vice Magazine article has been written about the establishment.

Price: approximately THB 650 per head.
4. Lotus Bar
Lotus Bar is another lively beach bar, located in the Ko Pha-ngan District of Koh Tao. Loud, deep house music is played through the night. You can choose to shake a leg with your friends or chill on one of the beach chairs and watch the fire-dancers perform their spectacular feats under. The UV paint everywhere makes the whole place glow at night once the black lights are switched on, giving you one of the most memorable nightlife in Koh Tao.

Price: approximately THB 300 per head.
5. Pirate Bar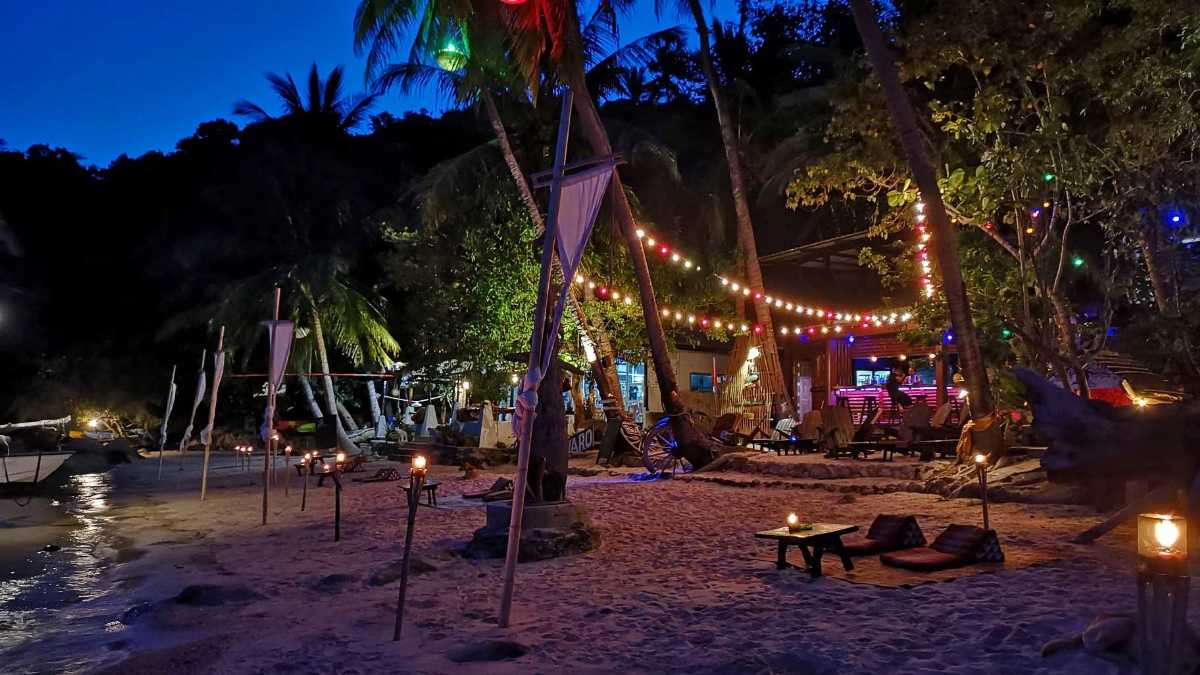 Pirates Bar is one of Koh Tao's hidden gems. To get there, keep walking as far West as you can go down Chalok Beach until you reach the concrete walkway. Once you cross the walkway, you'll enter a restaurant and just past that (you have to walk through the restaurant), is Pirates Bar. Offering fantastic drinks at reasonable rates, a lovely ambience, excellent service and great views, Pirates Bar is perfect if you want to go somewhere a little less mainstream for the feel of Koh Tao Nightlife.

Price: approximately THB 300 per head.
6. North Mountain View Bar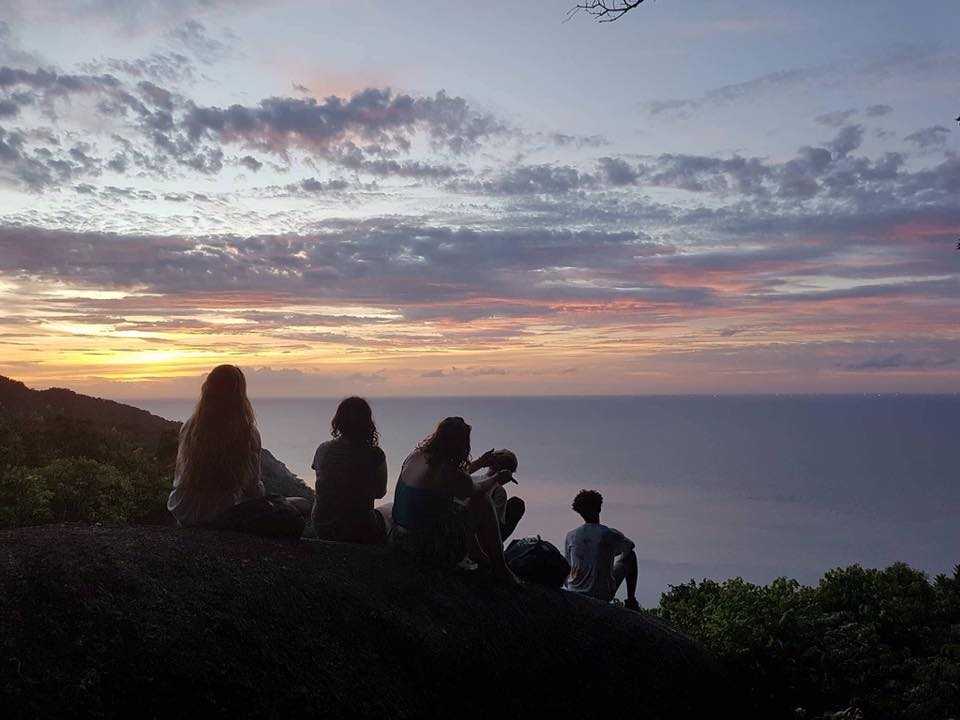 Unlike most other bars on this list that are by the beach, North Mountain View, as you've probably guessed by now, is perched atop a mountain. Well, "mountain" is a bit of an overstatement; it's more of a hill, but the views are spectacular nevertheless. Cosy up in a sofa - your favourite cocktail in hand - and admire the beautiful sunset over the lush green forestry and deep blue ocean waters below.

Price: approximately THB 350 per head.
7. Good Vibe Bar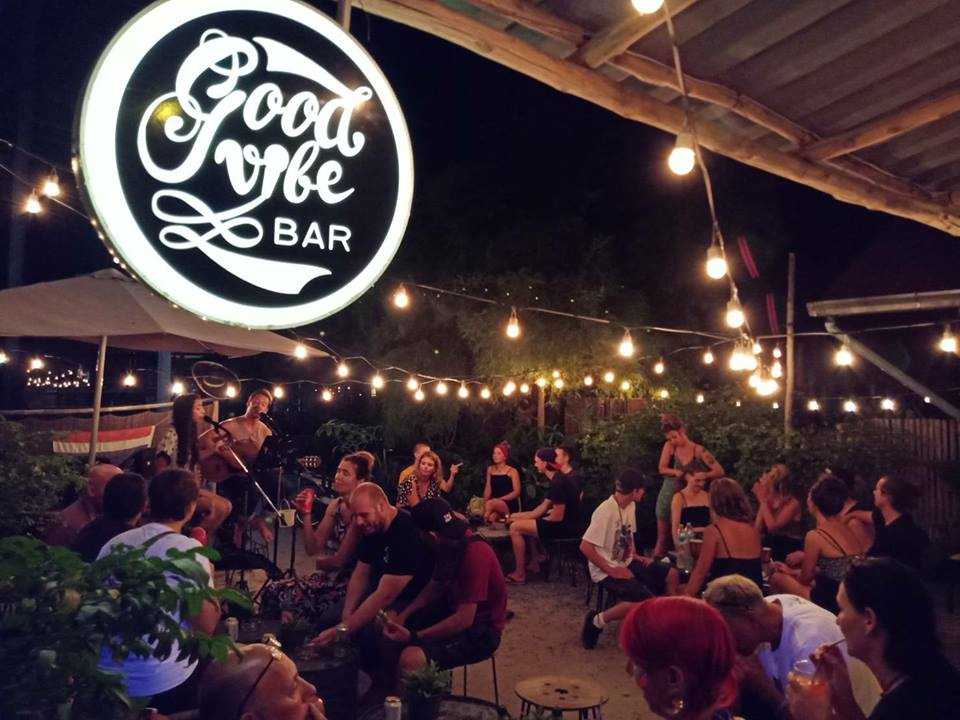 The Good Vibe Bar lives true to its name. You can feel all the good vibes the moment you enter through the front door. The ambience here is beautiful, daisy-chained lightbulbs are strung overhead the open-air seating area, and the walls are decorated with posters of famous musicians. The Bar is renowned for its fantastic live music and open mic sessions. Join everyone else in a sing-a-long and embrace those good vibes.

Price: approximately THB 450 per head.
8. Queen's Cabaret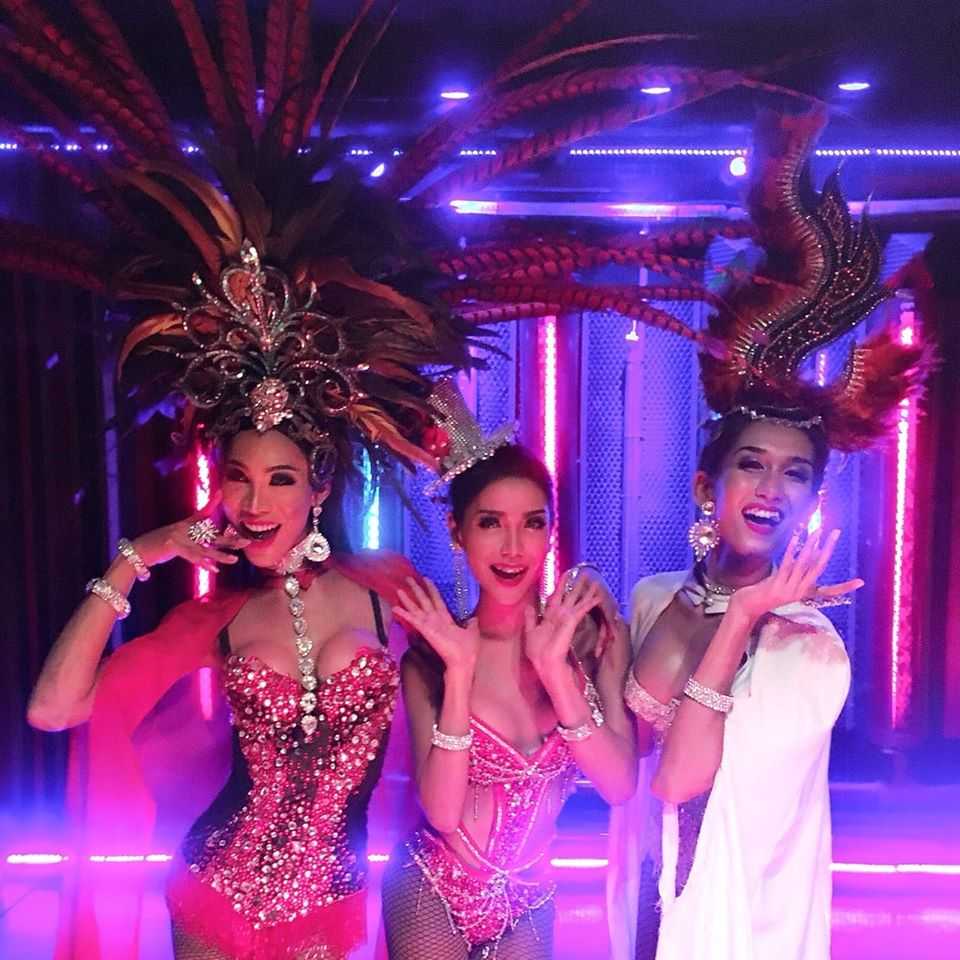 If you're looking for something different to do during your time in Koh Toh, head to the Queen's Cabaret. They host an entire two-hour long drag show every night, and it's fabulous. There's great music, great lighting, and the performers are on top of their game. The best part of all, entry is free, although you do have to buy a drink (does not need to be alcoholic). Thanks to its ideal location, Queen's Cabaret is the perfect place to begin your night long bar hop.

Price: approximately THB 600 per head.
9. Fishbowl Beach Bar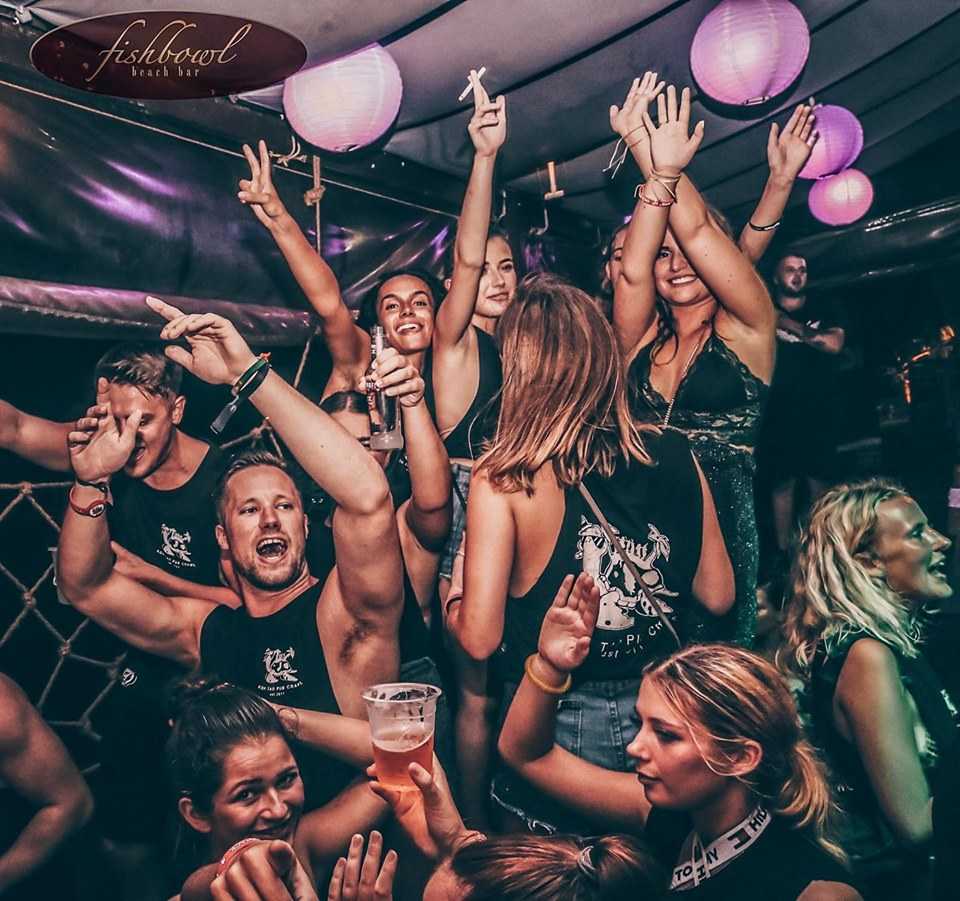 Another beach bar on the list of Koh Tao nightlife spots, Fishbowl stands out for having a lot of fun games to challenge your friends too. There's a host of entertaining activities including beer pong, table tennis, even a limbo championship every night. Also if you don't participate, you'll enjoy picking a side and cheering on with the rest of the crowd as the DJ spins out hit track after hit track late into the night.

Price: approximately THB 400 per head.
The Best Spots For Couples
10. The Ocean Lounge at The Aminijirah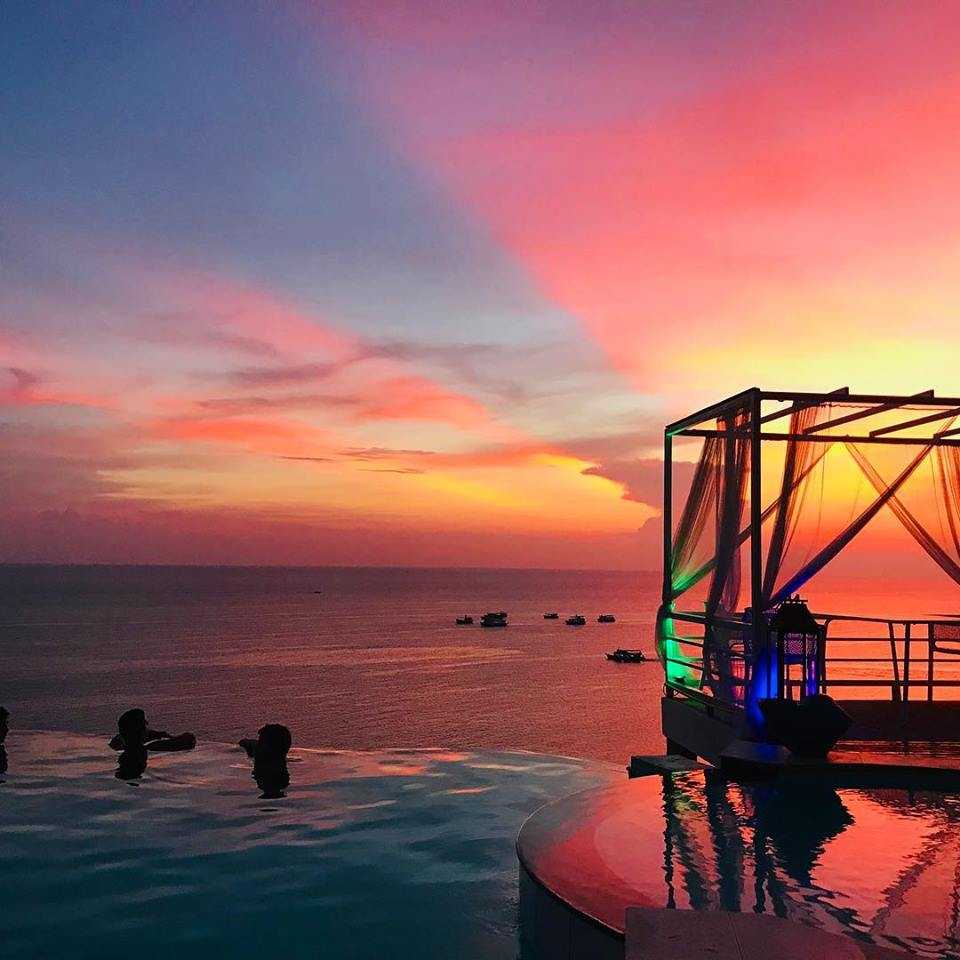 The Aminijirahm is a luxury 5-star resort at the very edge of Koh Tao that provides beautiful views of the pristine blue ocean making it one of best spots to enjoy nightlife in Koh Tao for couples. Their Ocean Lounge is the perfect place to spend time with your significant other, as you sip on classic cocktails and watch the sunset over the horizon. If you're feeling a bit too warm, take a dip in the lovely infinity pool and chill off into the night. Once you're done, enjoy the delicious food at one of their romantic candlelit tables.    

Price: approximately THB 1000 per head.
11. Serenity Bar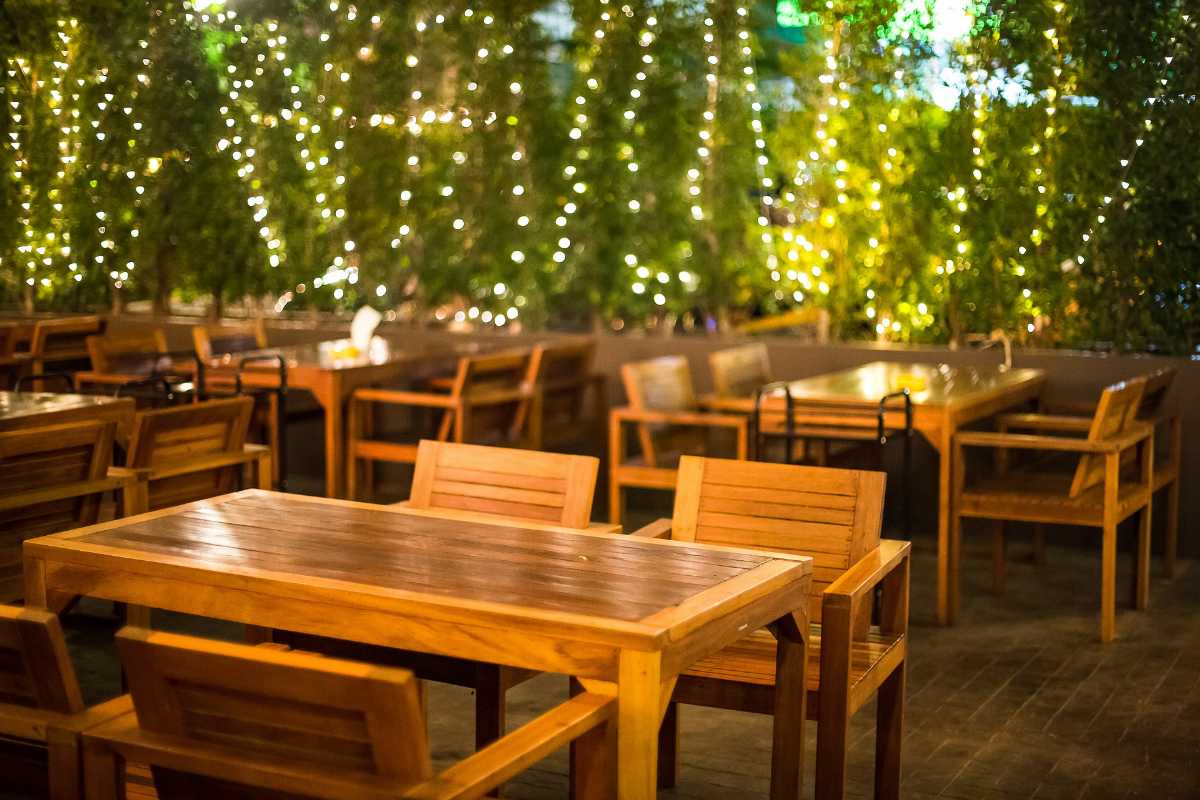 Located on a hill, Serenity Bar is one of the best places in Koh Tao to enjoy the sunset over the island. Cuddle up to your lover and relax, or dance away to the DJs tune; Serenity Bar will cater to whatever you choose. If you're feeling particularly adventurous, you can even get matching traditional bamboo tattoos. The extremely courteous staff will have you both feeling like royalty during the entirety of your visit.

Price: Approximately THB 600 per head
12. Reef Sports Bar and Restaurant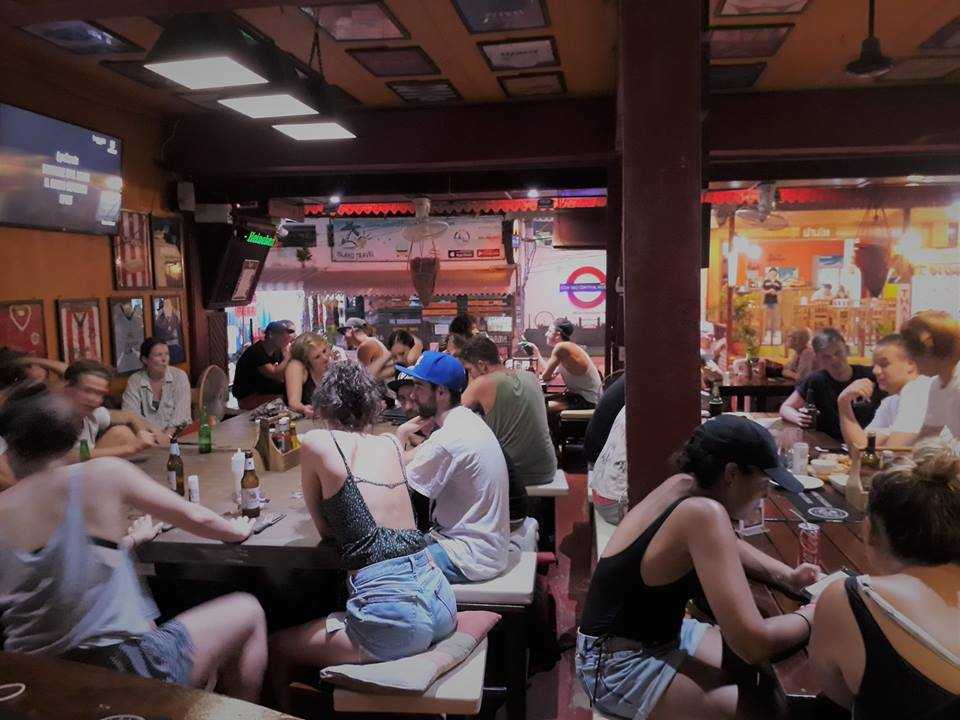 Massive TV screens, assorted menu of food and drinks, a giant pool table and a travel library, nothing screams vacation better than the Reef Sports Bar in Koh Tao. It has the perfect combination of sports fanatics and music lovers. Whether you're looking for a cosy ambience with great coffee, a lively bar with great music or screening of the latest NFL match, Reef is the perfect spot. It opens at 9 AM and stays open till midnight, but if there's a match on, they can extend the closing hours. Located at 5/15 Koh Phangan, it's easy to navigate.
Price:
THB 200 per head
13. AC Bar Beach Club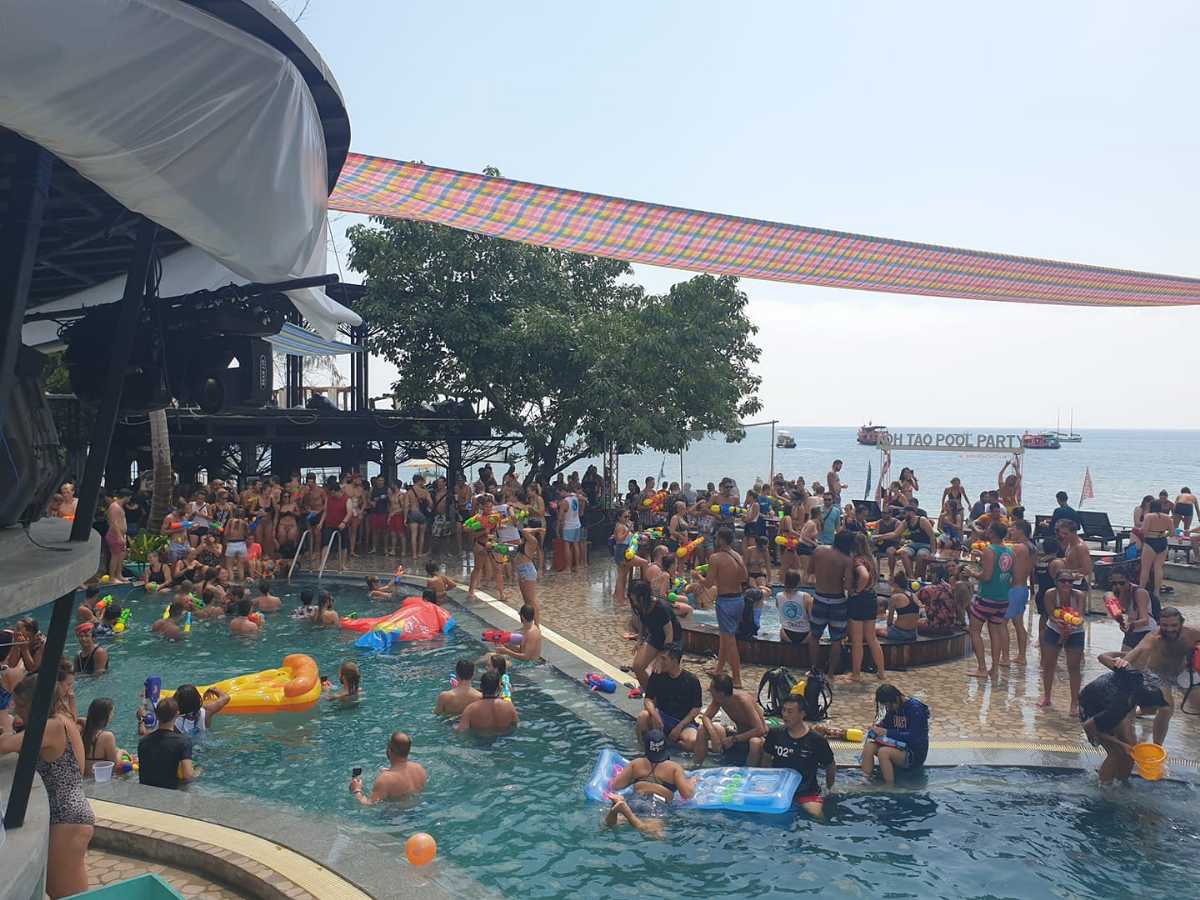 Situated right on the coast of Sairee beach, AC Bar & Beach Club is the perfect concoction of amazing views, delicious Thai cuisine and music. You can soak up the sun while sipping cocktails on your sunbed, catch live bands performing while chilling in the jacuzzi or enjoy the sunset while swimming in the pool with the beach right in front of you. You can even spot Koh Nangyuan from the club. It's proximity to the famous diving sites on Sairee beach is one of the reasons behind its popularity. It opens at 12 PM and closes around midnight.

Price: THB 250 per head
14. Jungle Bar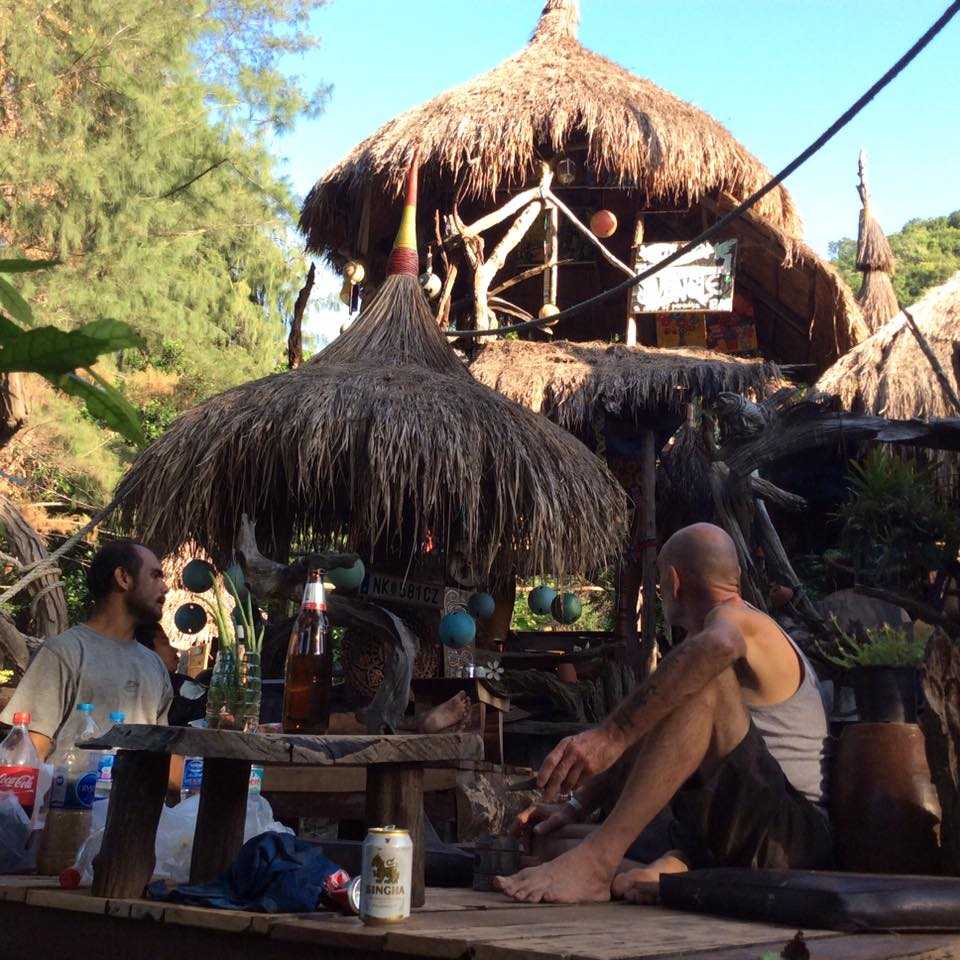 Jungle bar is known for its quirky ambience that looks like it's straight out of a fantasy book. They have built the entire bar using environment friendly materials, gathered from the sea and forest. It's a nature lover's delight with delicious drinks and fun hangout spots. You can sleep in one of the huts or hang around with their pets at the bar. If you're looking to break the monotony and experience nature at its best, Jungle bar is the place to be.

Price: Approximately THB 150 per head
15. BND Beach Bar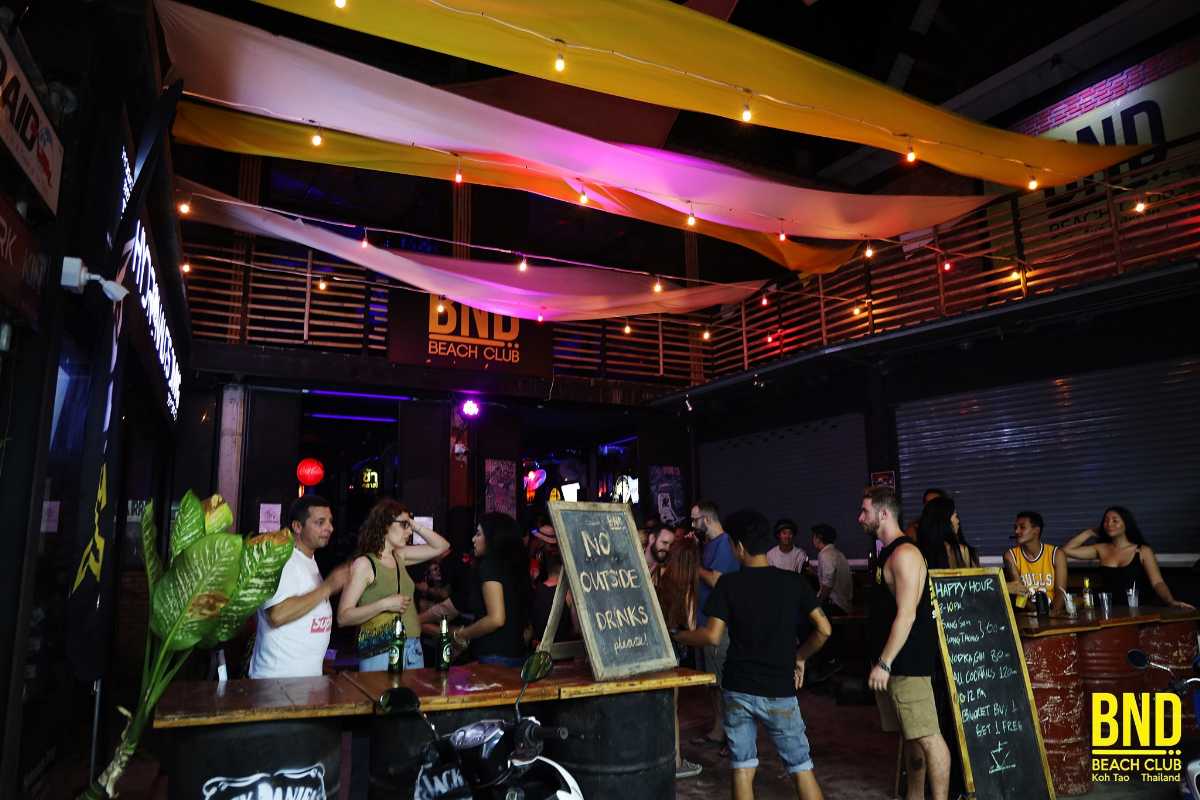 If you prefer quality music over cheap drinks, BND beach bar is the perfect spot. This multi-floor extravaganza is the ultimate package with fire shows, eccentric music, live streaming of sports, pool tables, delicious drinks and sunsets. Located on Sairee beach, it is the most popular partying destination. There are three levels in the bar and each caters to a different audience. The first floor is for dancing and hanging around on the beach. You can watch a fire show or lay back with a beer while watching the sunset from the beach. The second floor is for sports enthusiasts. Play pool or catch your favourite team score a goal. The third floor is the best spot for watching the sun go down as it may get a little crowded on the first floor.  

Price:  Approximately THB 300 per head
What to Wear
You can get in almost everywhere in completely casual attire. You can even enter most bars in your swimwear, provided you're not still soaking wet.
Other things to keep in mind
Taxis can get quite expensive. It is much more cost effective and fun to hire a scooter instead.
Tips in restaurants are not expected, but 10% is appreciated.
Sairee Beach is the Island's central tourist spot. Hence, it can get a bit crowded.
Koh Tao is truly one of Thailand's gems. Great food, great drinks, crazy parties, fabulous views and an unending list of fun things to do; make it a must visit if you're in Thailand.