Popular for its colorful beaches and rich marine life,
Koh Tao
is an amazing tropical island located on the western shore of the Gulf of
Thailand
. 'Koh Tao' literally means 'Turtle Island' and this 21Km2 island truly lives up to its name. Spectacular beaches, ocean green water and colourful coral reefs, this place have all the treasures of nature that one can think of.
Koh Tao is situated 55 Kms north to
Koh Samui
and recently has been developed as a hub of many luxurious hotels and vibrant nightlife. It is famous as the major diving destination in Asia and is home to many popular diving sites, stretching along with the dramatic coral landscapes.
There are a gamete of diving institutions and shops in Koh Tao providing certified scuba diving courses and one-day diving packages with suitable conditions for beginners and children as well. Tourists can choose suitable course according to their needs and wishes. 
Here is a complete guide to an adventurous and thrilling diving experience in Koh Tao.
Diving training systems- PADI or SSI?
There are around 50 diving training systems around the world but in Koh Tao, there are only two major diving systems, abbreviated as PADI and SASI. Both the organizations work in a similar way with the same equipment and the same marine life. No matter with which diving system you go, you can always interchange your organization whenever you want. For example, you can choose to have Open Water diving course from PADI and can go from advanced courses from SSI. Their certifications are recognized worldwide. However, there are a few minute differences between the two which you can consider before choosing one of them.
PADI (Professional Association of Diving Instructors)-
With more than 6,000 diving institutes and shops all over the world, PADI is one of the oldest and most sought after organization by the backpacker masses. They provide quality professional training and thus if you are looking for a bright career in the field of diving, PADI is your destination. They provide better employment opportunities for instructors and dive masters. Their graduates can work independently also, which is not the case with SSI. Their courses are comparatively costlier than SSI.
SSI (Scuba Schools International)-
It is the most rapidly growing diving agency throughout the world when it comes to passionate divers. With over 2,500 authorized dealers around the world, they offer comparatively cheaper courses with free online theoretical materials. If you are in search of a diving system that could satisfy your diving passion through budget-friendly courses, then SSI is all that you need.
Best Diving Schools in Koh Tao
If Koh Tao has given a title of heaven of divers then it boasts many reasons for it. There are 50+ diving schools on this small island, almost spoiling their visitors with a range of choices. Some of the best diving schools in terms of the quality of service that they provide are listed below.
1) Crystal Dive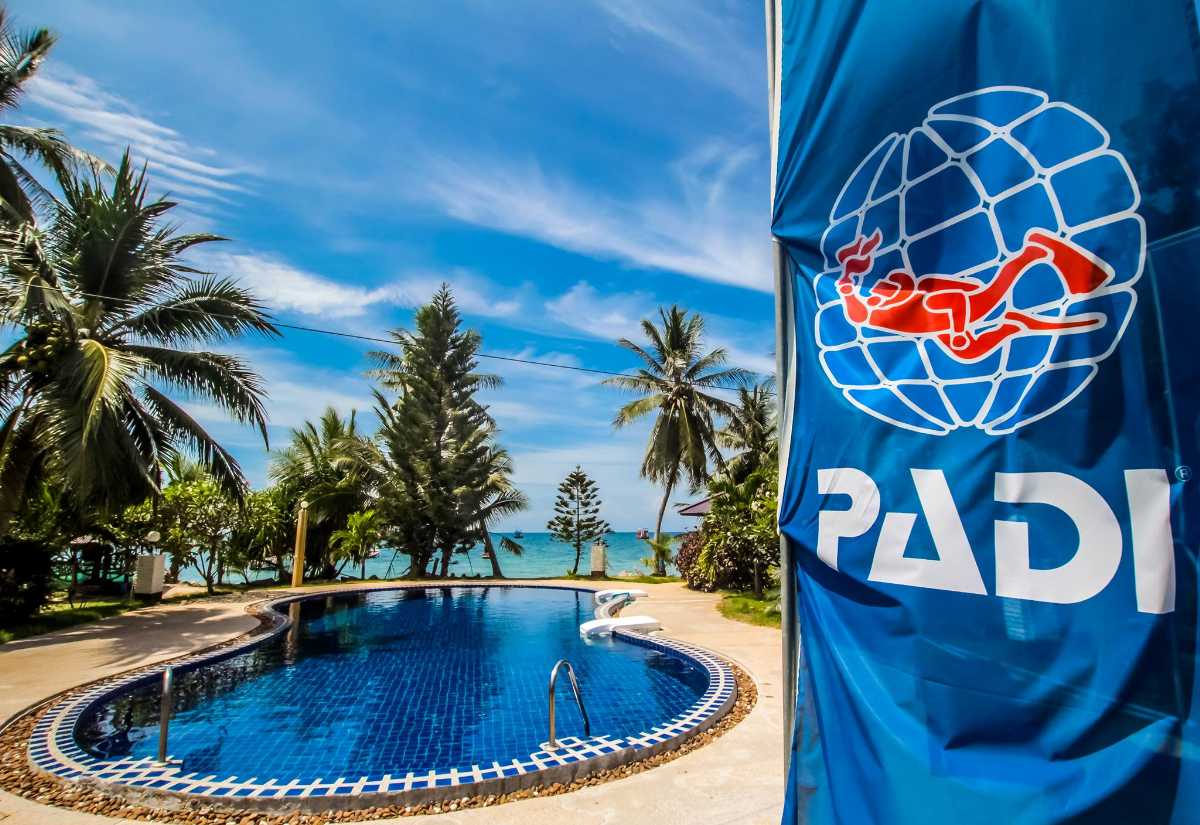 Crystal Dive offers a full range of PADI scuba diving courses for all level diers and is one of the longest established institutes of Koh Tao. It offers professional instructors for almost every language visitors want. They have a wide range of diving course to choose from and maintain a perfect balance of theory and practice in their teaching methods. However, they generally host large batches of students in one go and so if are comfortable enough underwater and do not need extra attention on basics then this institute is best for you.
Note: Their courses don't include accommodation.
Cost: 800 THB- 39,900 THB
Contact details: +66 77 456 106
2) Roctopus Dive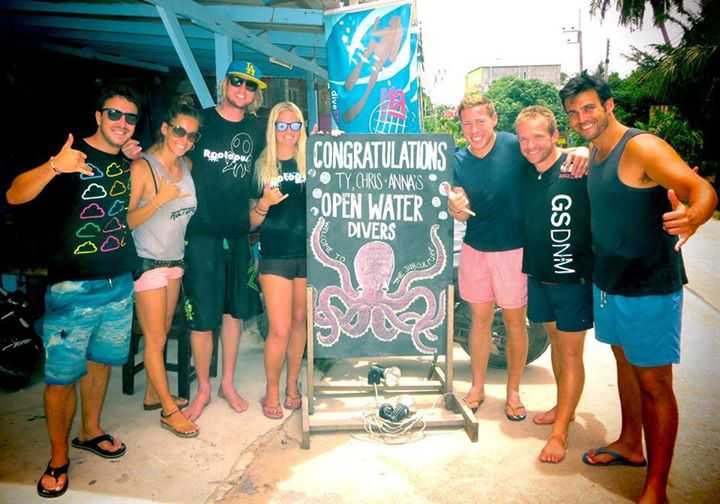 This medium sized school offers a wide variety of SSI diving courses, especially for beginners. They are well known for more personalized training with special attention to each and every student by their friendly staff. Their special courses include advanced wreck penetration and intro-to-technical diving courses while they also excel fully operational professional arm for aspiring divemasters and instructors.
Cost- 2,900 THB- 54,000 THB
Contact details- +66 90 863 1836 
3) Big Blue Diving Resort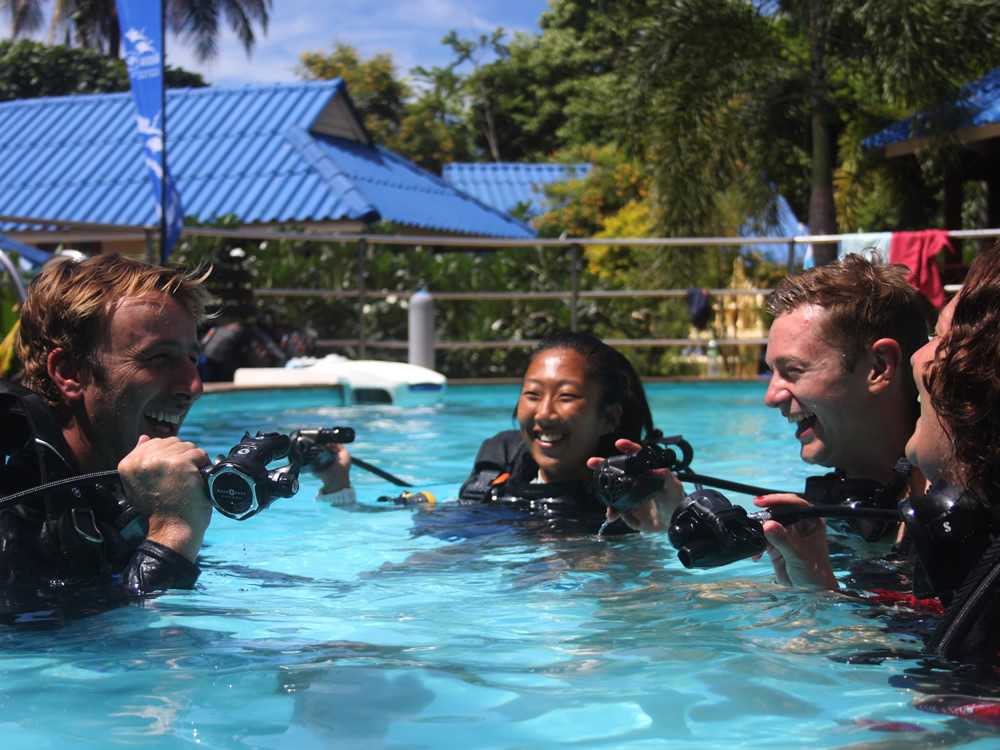 Big Blue diving resorts are mainly known for their high quality and reputed programs. They offer both PADI and SSI courses for all level divers and have a well-trained staff to introduce you with the adventurous experience of diving. Their divemaster trainee program is one of the best offered on the island and thus making it an ideal place for long term courses. Apart from conventional courses, they also have other innovative options such as active conservation activities for visitors to learn more about marine biology and the centre's eco-efforts. If you are looking for a diving experience along with opportunities for interaction with like-minded people from all over the world then this place is all you were searching for.
Cost- 11,100 THB - 20,000 THB
Contact details- +66 77 456 050
4) Scuba Junction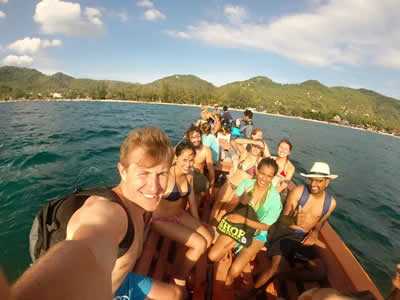 Scuba Junction is well known for personalized training with extra attention to safety. They have well-trained staff and generally train divers in small groups. PADI certification courses are provided by this shop along with several other fun diving packages. Well equipped with latest technology apparatus, they provide excellent diving experience to all level divers.  They provide diving insurance facility also.
Cost- 800 THB- 30,000 THB
Contact details- +66(0)77-456-164
5) Sairee Cottage Diving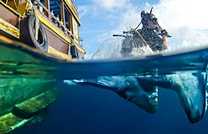 It is yet another well-established diving school in Koh Tao, mainly famous because of its beautiful and breathtaking location. They offer a spectrum of PADI courses with special 'try dive' courses for beginners in the swimming pool before going to deep oceans. A well-trained staff and a friendly atmosphere make this place unique and ideal. They exhibit accommodation facilities as well including pools, bars and well-equipped training classrooms. One of the outstanding features of this place is their underwater photography training staff that teaches you to capture the underwater world with superb skills.
Cost- 4,000 THB - 32,000 THB
Contact details- +66 77 456 374
Tips before choosing diving school and courses in Koh Tao
1) Ensure that the instructor assigned by the school speaks your language and is enough qualified.
2) A thorough knowledge about the course you are selecting is very important as in- will your include visit to top diving sites or not?
3) Ask yourself about the level of attention and training you need. For example, if you are a beginner then you will require more personalized training and thus it will be advisable to go for schools hosting small diving groups.
4) Check if the instruments provided by the school are up to date and comfortable fit you.
5) One must choose a suitable course keeping in mind the duration of the visit and financial budget.
6) If you have any previous experience in diving then always carry your certifications with you while visiting Koh Tao.
Best Time to Visit Koh Tao For Diving
Koh Tao experiences moderate climate throughout the year due to its tropical location. Similarly, dive site around Koh Tao also hosts visitors throughout the whole year. The average temperature of the island lies between 25.6?C-28.9?C. However, the best time to visit Koh Tao is between March to September, July and August being the busiest months. Climate during these months is sunny and warm, providing the best conditions for diving, especially in terms of underwater visibility.
Best Diving sites in Koh Tao
1. Hing Wong Pinnacle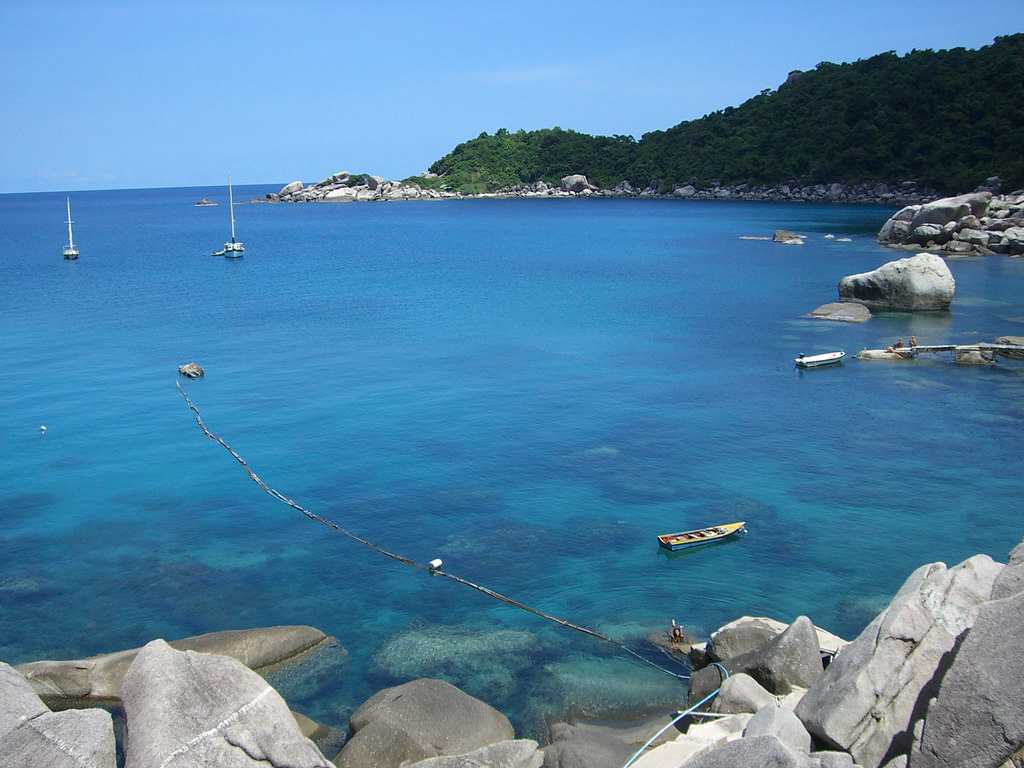 Depth- 10m-28 m
Located on the northeast side of the island, Hing Wong Pinnacle is one of the most visited and most challenging diving sites in Koh Tao. Its specialty lies in the fact that this site exhibits largest number of fan corals, comb corals and sea whips, spreading out around the deeper depths. It comprises of table rock and boulders providing a life time experience amidst the world of marine life and scenic beauty. Species found here mainly include turtles, sea snakes, goatfish, porcupine puffer fish, angel fish and groupers. This site is mainly explored by experienced scuba divers due to occasional currents and it advisable to visit here only under the guidance of professional divers.
2. Shark Island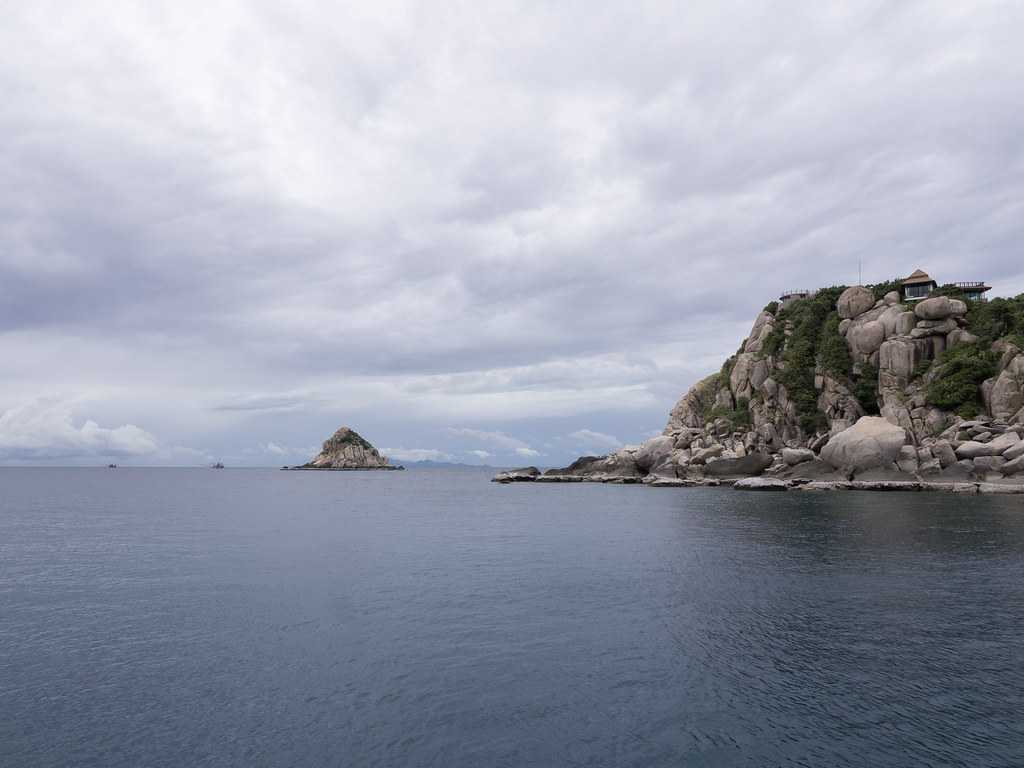 Depth- 0 m -22 m
Shark Island is yet another 'must-visit' diving site sin Koh Tao, located just off the southeast coast of Koh Tao. Unlike its name, no sharks are found at this site. It has derived its name from the shark like shape of the site as it emerges from the ocean. There is a diversity of the marine life residing amongst the granite rocks and boulders that extend up to depths of 20 m. They are mainly nourished by the balanced mild to strong currents generating in water bodies. One can witness hard and soft corals that support a plethora of butterfly fish, yellowtail barracuda, turtles and sea snakes while diving. This site is suitable for all level divers and is often visited by locals and tourists who want to one day experience in diving, rather than a full diving course.
3. Aow Leuk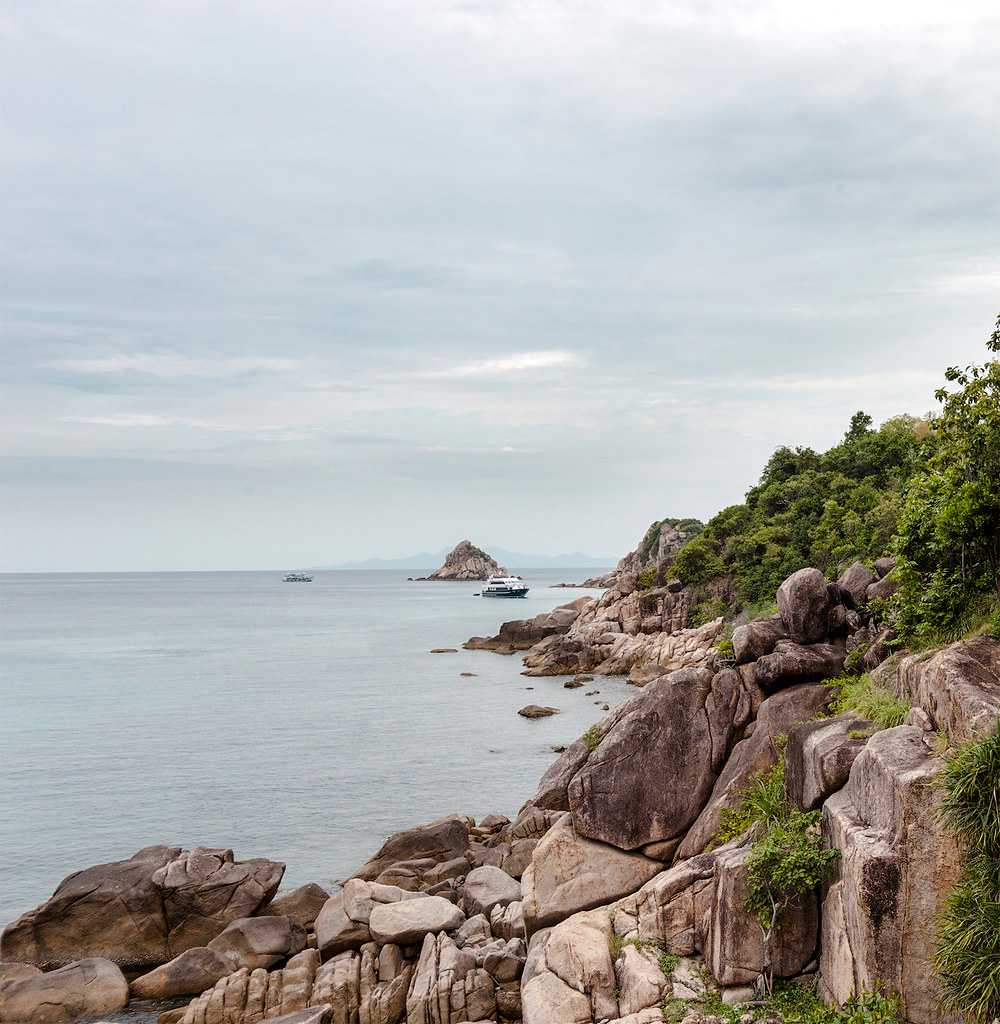 Depth- 0m-12m
This diving site with gorgeous views and deep concave shape is located at the south-eastern part of Koh Tao. It is comparatively shallow diving site making it perfect for beginners and children. Aow Leuk is popular for its sandy depths with several rock boulders and coral reefs inhabiting a rich marine life. Prominent among them being beautiful parrot fish, snappers, juvenile groupers and turtles. Apart from this, one can also encounter some rare species such as pipefish and seahorses. This site provides a relaxing experience to all the visitors with its glittery white beaches and water reflecting spectrum of blue shades.
4. Chumphon Pinnacle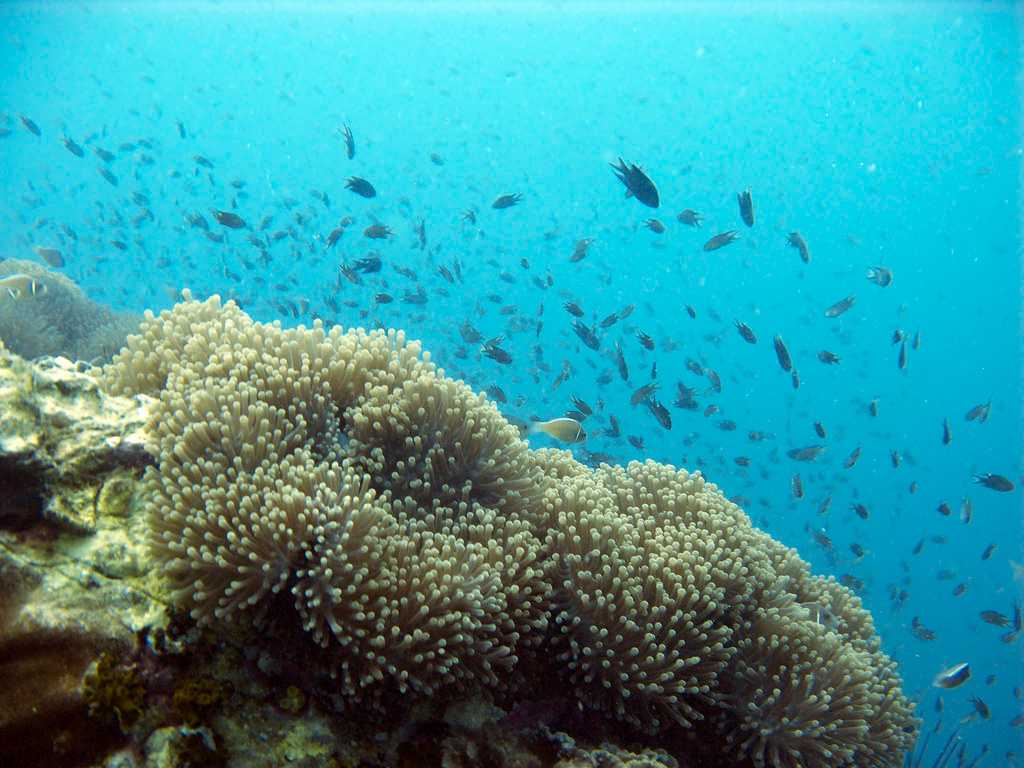 Depth- 12m-36m
Chumphon Pinnacle is located 11 km North West of Koh Tao and is visited mainly by experienced divers because of its depth. This spot inhabits several pinnacles and underwater boulders with amazing marine life including batfishes, barracudas, potato groupers, Leopard Sharks and all the usual reef fishes of the gulf of Thailand. Juvenile Bull Sharks are one of the main attractions of the marine of this spot and if you are lucky enough you can also encounter whale shark.
5. Nang Yuan Pinnacle
Depth- maximum of 19 m
Popularly referred to as 'Red Rock", Nang Yuan Pinnacle is located on the northwest side of Koh Nang Yuan and Koh Tao Island. It mainly consists of a big rock boulder, several swims through arches and a small cave to explore, adorned with rare wart slugs and Jenkins ray, a kind of a banded sea snake. This site is narrow at many points especially near the cave arch and thus generally experienced divers or tourists with professional guidance visit this site. Although, the site provides a stunning underwater view with beams of sunlight giving the glittery appearance to water and glassfish floating near the reef.
6. Southwest Pinnacle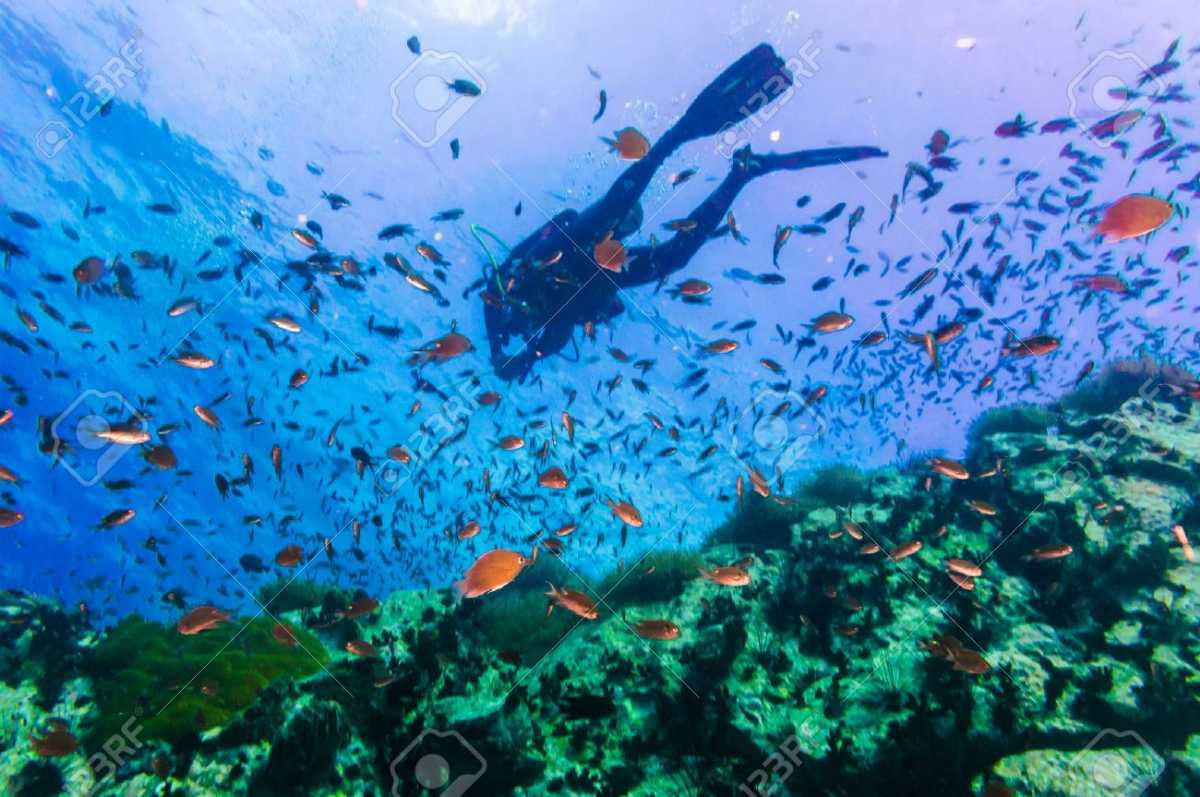 Depth- 5m-30m
Southwest Pinnacle is yet another must visit diving site in Koh Tao. This site offers the magnificent series of pinnacles making it a perfect place for wall dives and an abundant marine life. Southwest Pinnacles can easily be easily explored by even beginners as they gently swim off the mountain range like boulders. One can witness cobias, Razorfish, and several Giant grouper hanging out in the darker depths of the pinnacle. A very close look between the coral reefs will let you witness more amazing marine creatures such as Blue Spotted Ribbontail Rays, White Eyed Moray Eels, beautiful glass cleaner shrimps in the hundreds anemones and boxer shrimps, silhouetted against the dark cracks between rock boulders. If you are lucky enough you might spot the dream marine creature of every diver- a Whale Shark. Southwest Pinnacle also houses variety of Barracudas, King Mackerel, Tuna and Trevlley.
7. White Rock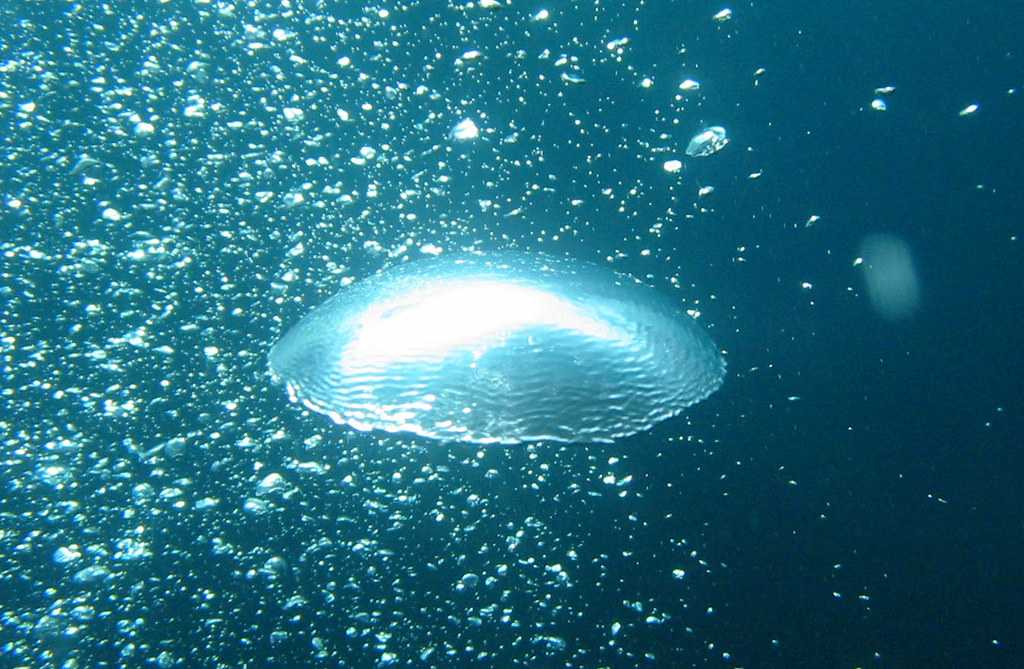 Depth- 2m-26m
Seated at the western side of Koh Tao, White Rock is one of the most popular dive sites for both day and night diving sessions. The site is made up of two big rock boulders and enticing coral gardens. The depth range and the structure of the rock boulders make this site suitable for all level divers. White Rock is named after the largest white rock boulder rising up to 2 meters under the water and this site is known as 'Hin Kaow' among local Thai people.  A plethora of marine life has inhabited this site such as Koh Tao's infamous Titan Triggerfish, Blue Ringed, Six banded Angelfish, Banner fish, Butterflyfish and beaked Coral fish. Turtles are the most common species here that feed on the soft corals of this site. The beautiful scenery that this site provides during the sunset attracts many night divers also.
8. Laem Tian
Depth- 5m-35m
Widely known for its peaceful diving experience and great boating opportunity, Laem Tian is located off the lesser-explored eastern side of Koh Tao. This site comprises of two sections Laem Tian Bay and Laem Tian Caves. The Bay offers comparatively easier dives and unique marine life views as one gives up his way up, down around the rock formations while the caves are generally explored around by more experienced divers. Major marine attractions of the site include unique orange spine unicorn fish, Weibels butterflyfish, white-eyed moray eels, Titan Triggerfish, Yellowtail Barracuda, wide varieties of nudibranchs and sea slugs. Laem Tian is also popular among underwater photographers for its unique scenic beauty and majestic marine life.
9. Twins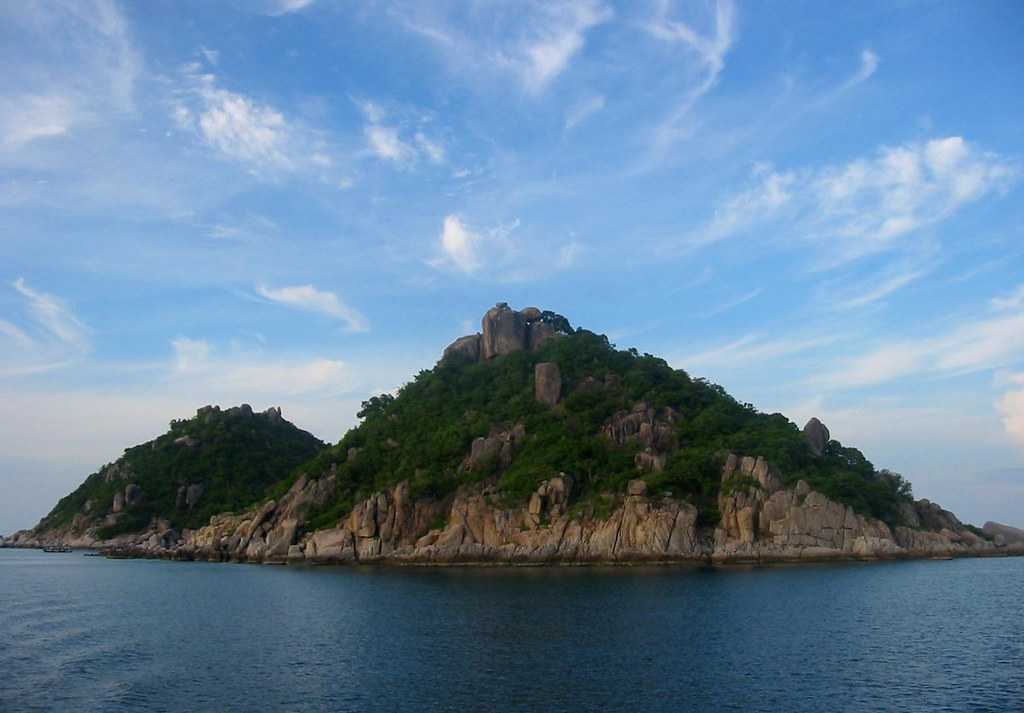 Depth- 5m-20m
Located on the western side of Koh Nang Yuan, this diving site is also popularly known as 'Twin Peaks'. The site is mainly scattered around the three rock pinnacles, boasting calm clear weather conditions and is visited by all level divers throughout the year.  It is a group of large rock boulders having tropical coral reefs which is the house to marine species like Blue spotted Stingrays, white-eyed Moray eels, family of saddleback anemonefish and banded sea snakes. Off the deeper segments of the site, one can witness Chevron Barracudas and hundreds of Yellowtail Barracudas. Like many other diving sites, Twins also hosts a wide variety of turtles in its inhabitants. 
10. Sail Rock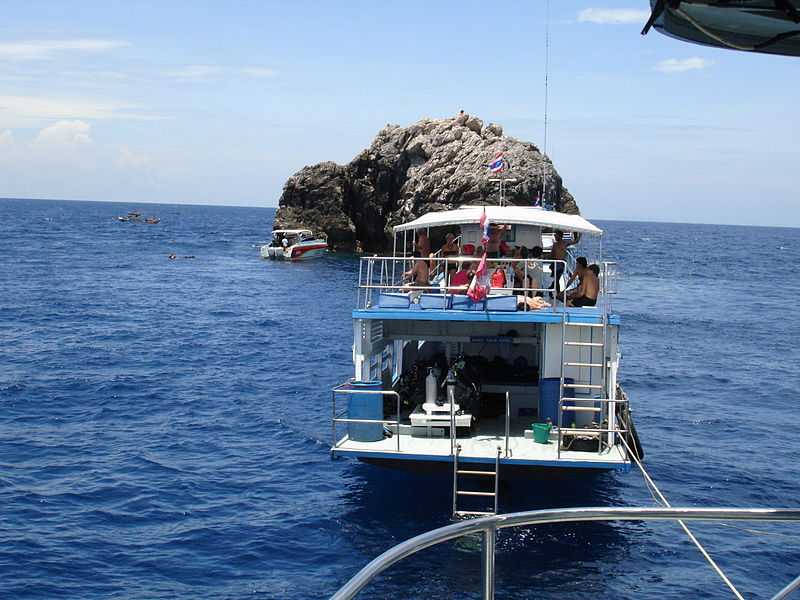 Depth- Maximum 40m
Famous as 'Hin Bai' among local Thai population, Sail Rock is the most famous and visited side of Koh Tao. It is located between Koh Tao and Koh Phangan and is regarded as the heaven for marine life. The main rock boulder of the site rises up to 8m outside the surface of water while other small boulders remain scattered under the water. This site offers a colorful treat to the eyes as divers descend inside the blue waters and witness a diaspora of Chevron Barracuda, smooth tailed Trevally, Queen Fish, Longfin Batfish, Giant Grouper and blue spotted trout. Whale sharks also visit Sail Rock during season.
11. Green Rock
Depth- 4m-30m
Green Rock diving site is located on the northwestern side of Koh Nang Yuan. It is a popular cave diving site among tourists, consisting of large rock formations giving way to many swim-throughs and a cave-like structure. Due to occasional strong currents and relatively deeper cave make this site one of the most challenging among all other diving spots of Koh Tao. Hawksbill and Green Turtles are the regular marine visitors of this site and a number of Big Jenkins whiprays and chevron barracuda can be found hanging around at the deeper depths. Magnificent Durban Shrimp and lovely nudibranchs can also be spotted around the rock formations. One of the major attractions of the place is 'trigger pits'. They are moon-like scenery formed by Titan and Yellow Triggerfish in the middle of the sandy area and it is house to many female triggerfish during their reproductive season. Providing ample and exciting opportunities for marine life photographers, Green Rock is a must-visit the diving site in Koh Tao.
12. Mango Bay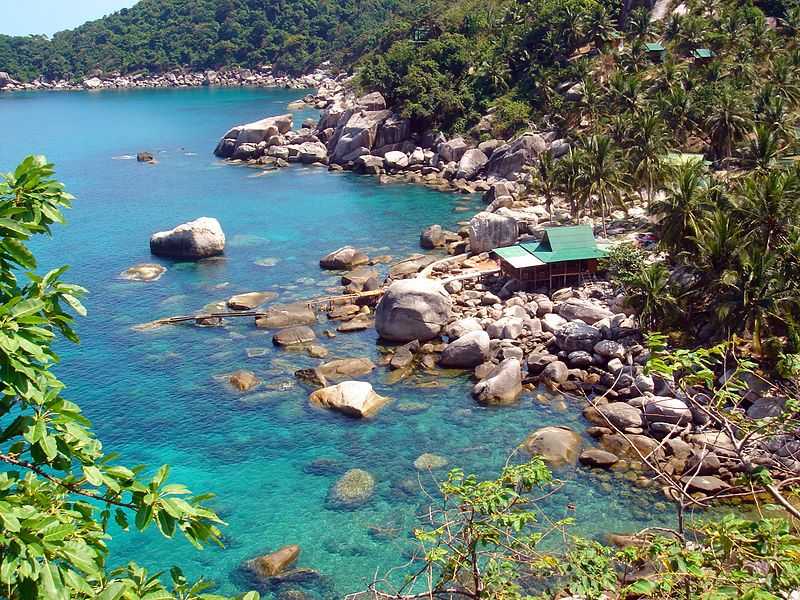 Depth- 5m-16m
'Aow Meong' or Mango Bay is probably one of those places that deserve to be in your must-visit bucket list while visiting Koh Tao, primarily because of the stunning underwater views and lavish marine diversity waiting to be explored. It is located off the northern coastline of the island and is home to many reef fused boulders inhabiting varieties of Wrasse, Parrotfish and smaller species of grouper. Rich marine vegetation also includes mushrooms, Staghorn, table corals as well as giant barrel sponges, giant clams and small colourful nudibranch. This is popular among open water divers and shallow water scuba diving training schools for its ideal white sand and reasonable depth.
13. Japanese Gardens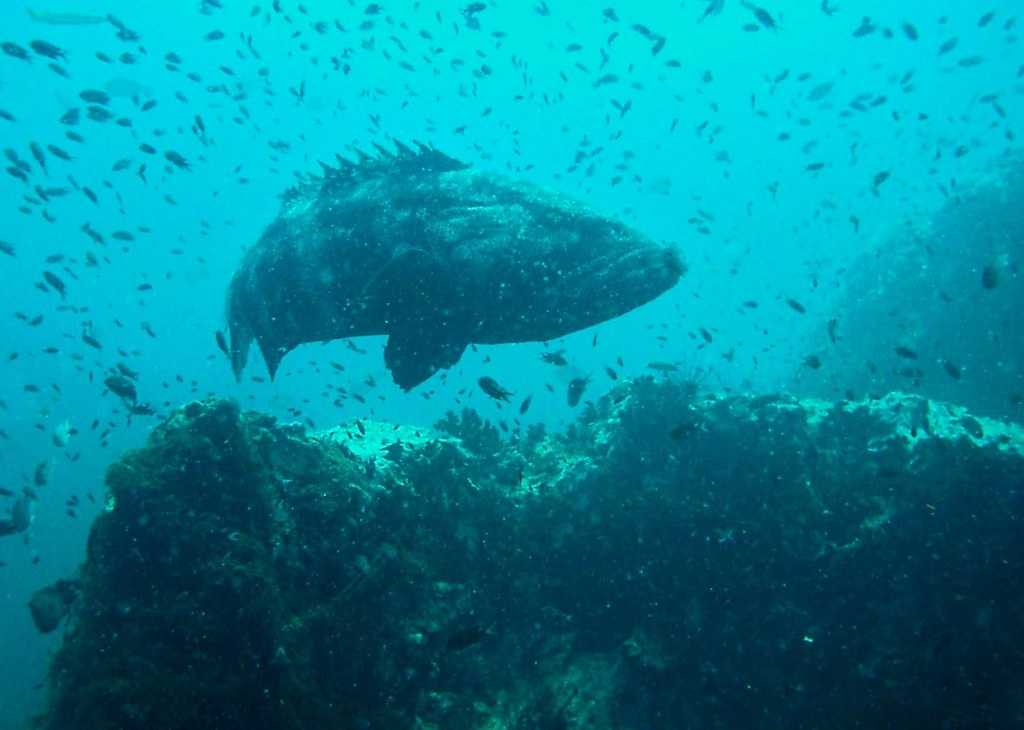 Depth- 6m-16m
Located on the eastern side of Koh Nang Yuan, this is a relatively shallow diving site, suitable for beginners and children. Japanese Gardens are situated directly opposite to Twins, another diving site in Koh Tao.  Characterized by minimum sea currents throughout the year, this place houses many hard and soft coral reefs. Prominent marine life includes Fusiliers, Rabbit Fish, Catfish and Giant Pufferfish. It is also home to much juvenile fish including blue-ringed angelfish, moon wrasse, damsels and chromis fish with multiple porcupine pufferfish hiding within the rock cracks.
Additional Tips While Diving In Koh Tao
1) Since Koh Tao has always been known for diving so it will be wise to explore as many dive shops as you can. This will help in catching a better deal.
2) There is no car rental facility in Koh Tao and thus motorbikes and water taxis are the best way for getting around the island.
3) It will be advisable to carry a bottle of sunscreen with you.
4) Always take your health into consideration before going for diving. For example, Asthma is one such problem that should not be overlooked. In any such case, it will be better to have recommendations from a doctor first.