Scuba diving
is an experience like no other. Once you are underwater, you will feel like you are on a whole different planet, teeming with life. From the sizable schools of fish to the colourful carpets of corals, the ocean hides more beauty than you could imagine.
Here are the best spots to go diving at
Koh Tao
: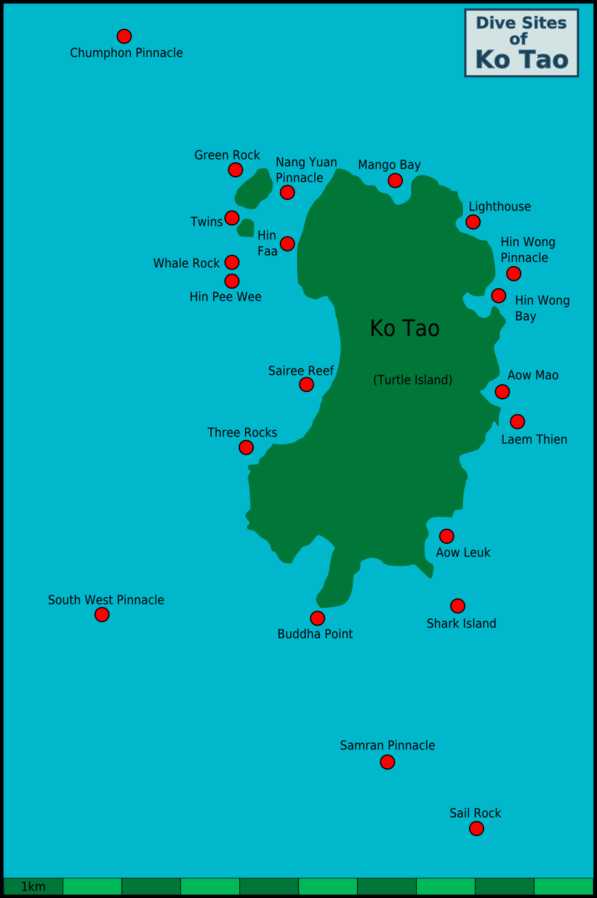 1. Sail Rock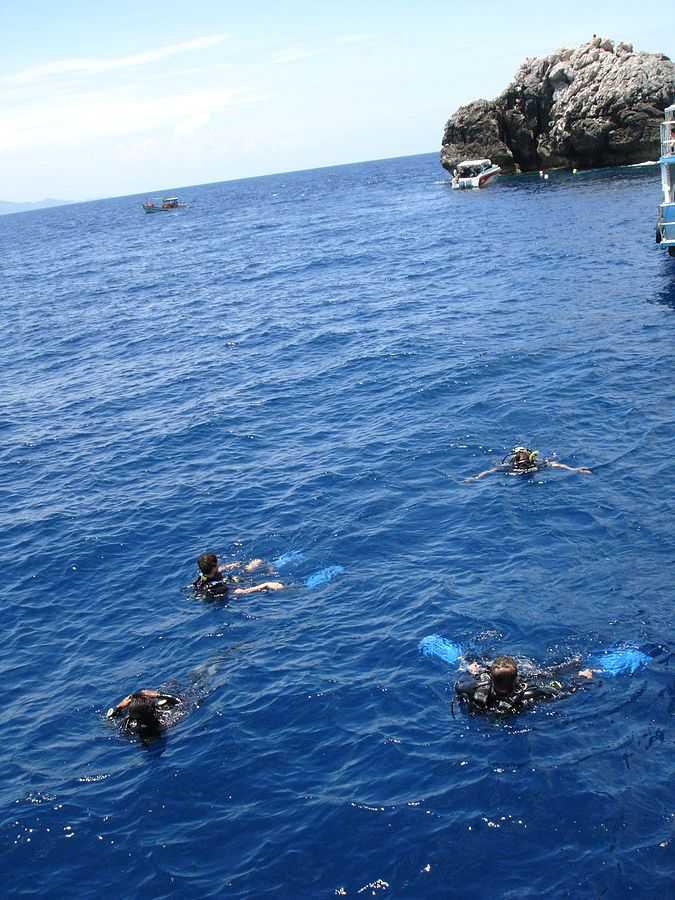 Sail Rock (also known as Hin Bai) is often considered the best diving site in the entire Gulf of Thailand. Sail Rock is quite possibly one of the best diving spots in the world, attracting divers of all skill levels from far and wide. Located between the islands of Koh Phangan and Koh Tao, it is a 2-hour boat ride from the latter. The site consists of a huge rock that rises as high as eight metres out of the sea and drops down to twenty-two metres under sea level. There's also a second rock that goes down thirty metres and doesn't penetrate the surface level. Being considerably far from the islands, Sail Rock is a haven for marine life. You can get to see large schools of queenfish, chevron barracuda, Schooling longfin batfish and much more. If you're lucky, you can even get to see a whale shark.

Cost: THB 2500 - 3500
2. Chumphon Pinnacle
Chumphon Pinnacle is the most popular dive site nearby and is located just forty minutes off the coast of Koh Tao. It goes down to almost thirty metres and boasts of fantastic visibility (over twenty-five metres) nearly all year round. The site is made of a single, enormous granite pinnacle surrounded by some smaller ones. The top of the main pinnacle is covered in lovely pink anemones where you can get to see crabs, shrimps, pink anemonefish and scorpion fish. You will also come across a school of batfish as you descend further down. If you swim a bit towards the south, you will come across Barracuda Rock, where you will find large schools of barracuda and giant grouper fish.

Cost: THB 1500 - 3000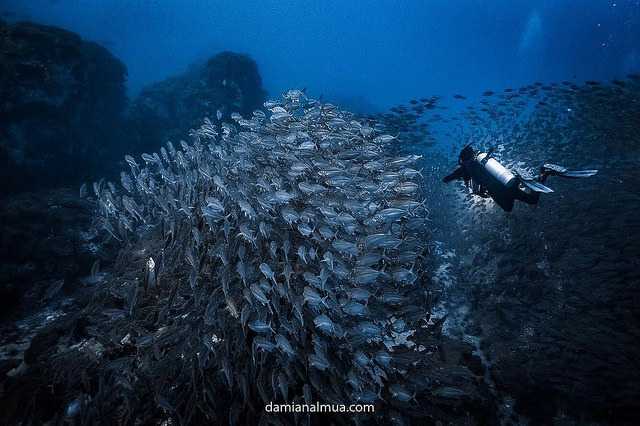 3. Southwest Pinnacle
Located around half an hour to the south of Koh Tao, Southwest Pinnacle is another premier diving site in the area. It is often forgotten under the hype for Chumphon Pinnacle, but it is easily as beautiful. It is the perfect location for your first in-depth training dive as its 26 - 28-metre depth is not that hard to reach. You will be able to see lots of cobias and Razorfish. Quite a few giant groupers can be found in the shadows at the deeper depths. You can also find blue spotted ribbontail rays and white-eyed moray eels, apart from the hundred of lovely glass cleaner shrimps and boxer shrimps. For more experienced divers, there exists a secret pinnacle just a five-minute swim away from the main ones, but do not attempt this if you are not a hundred per cent sure that you know what you're doing.

Cost: THB 1500 - 2500
4. Green Rock
Green Rock is a very interesting dive. It is located off the North West coast, close to Koh Nang Yuan. The site is made up of an abundance of large boulders and rock formations. These have created some swim-throughs and caves for divers to have a fun time exploring. Occasionally the site does experience strong currents that may be a bit difficult for beginners to navigate but poses a fun challenge for the more experienced. The visibility is usually around fifteen metres, but it changes according to the seasons. You can see lots of green turtles at Green Rock, hence the name. You'll also find hawksbill, big Jenkins whiprays and chevron barracuda. Yellowtail barracuda are very common towards the top of the rock and the sun shimmering off their bodies is a real sight to behold.

Cost: THB 1000 - 2000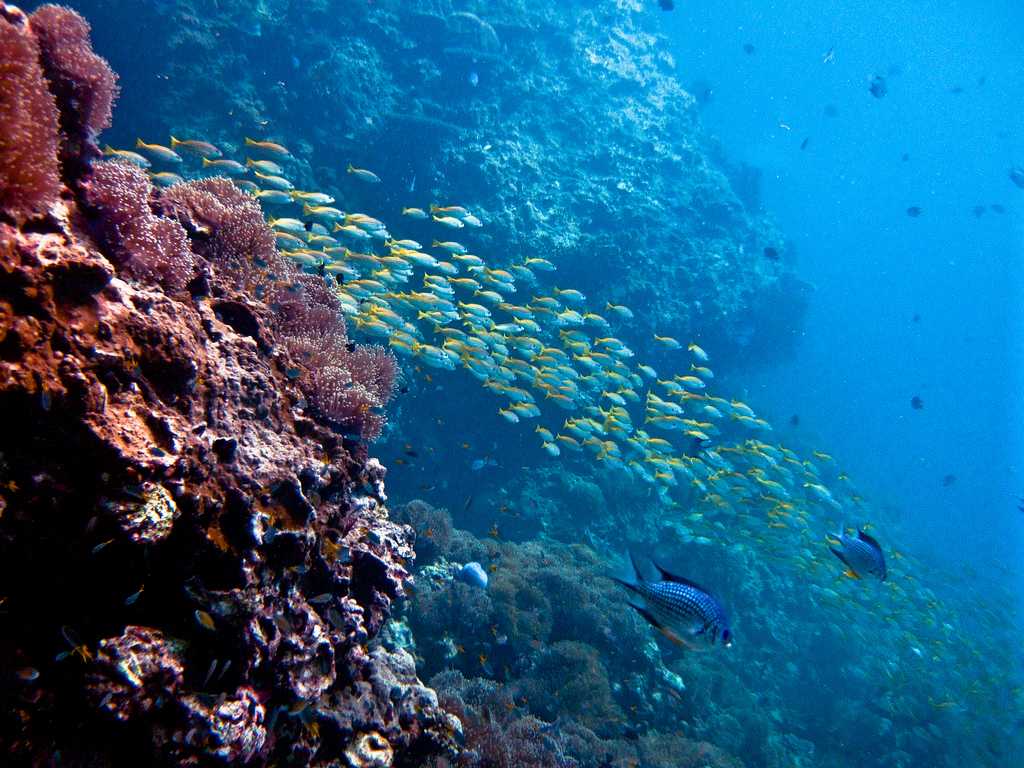 5. Shark Island
Depending on who you are, it may come as a disappointment, or a relief, that there are no sharks on Shark Island. The name actually originated from the fact that the portion of the pinnacle that is above sea level closely resembles a shark fin. The site is located three hundred metres off the south coast of Koh Tao. Although currents can be strong here, they are easily avoidable as the pinnacle is basically a small island. The visibility is quite good here as well, usually about twenty to twenty-five metres. Shark Island is, in fact, Koh Tao's most varied diving destination. The site has an abundance of stunning corrals and diverse, colourful aquatic life. You can find brain corals, anemones and giant barrel sponges. Blue-spotted ribbon tail, weibels butterfly fish and scribble filefish are all very common. Turtles are also regulars here, using the current to jot around.

Cost: THB 1500 - 3000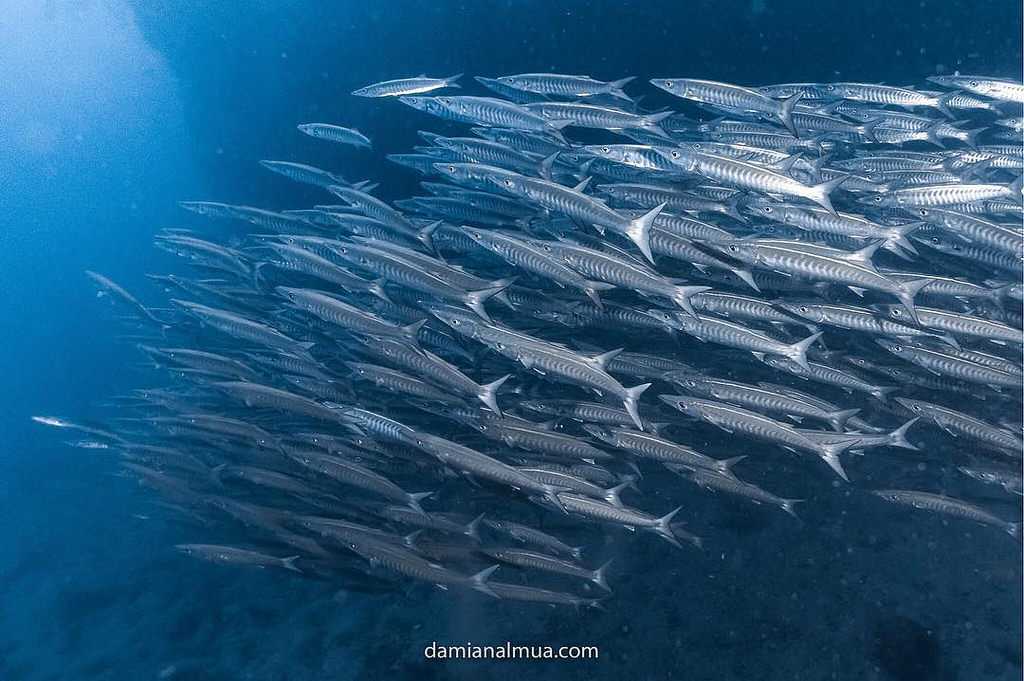 6. White Rock
White Rock, also known as Hin Kaow, is probably the most popular dive site in Koh Tao, thanks to its proximity to the island's main beach, Sairee. It only takes ten minutes by boat to get there. It is also one of the largest dive sites in Thailand and is quite famous for night dives and PADI certification dives. The site is home to gorgeous coral gardens and two large rock formations. There are more or less no currents, and the visibility is almost always above fifteen metres. You'll get to see turtles, bannerfish, butterfly fish, angelfish and so much more. The site is most well known for the abundance of Koh Tao's famous Titan Triggerfish. One of them, named Trevor, has engraved himself in an epic Koh Tao legend that you will only get to hear once you visit.

Cost: THB 500 - 2000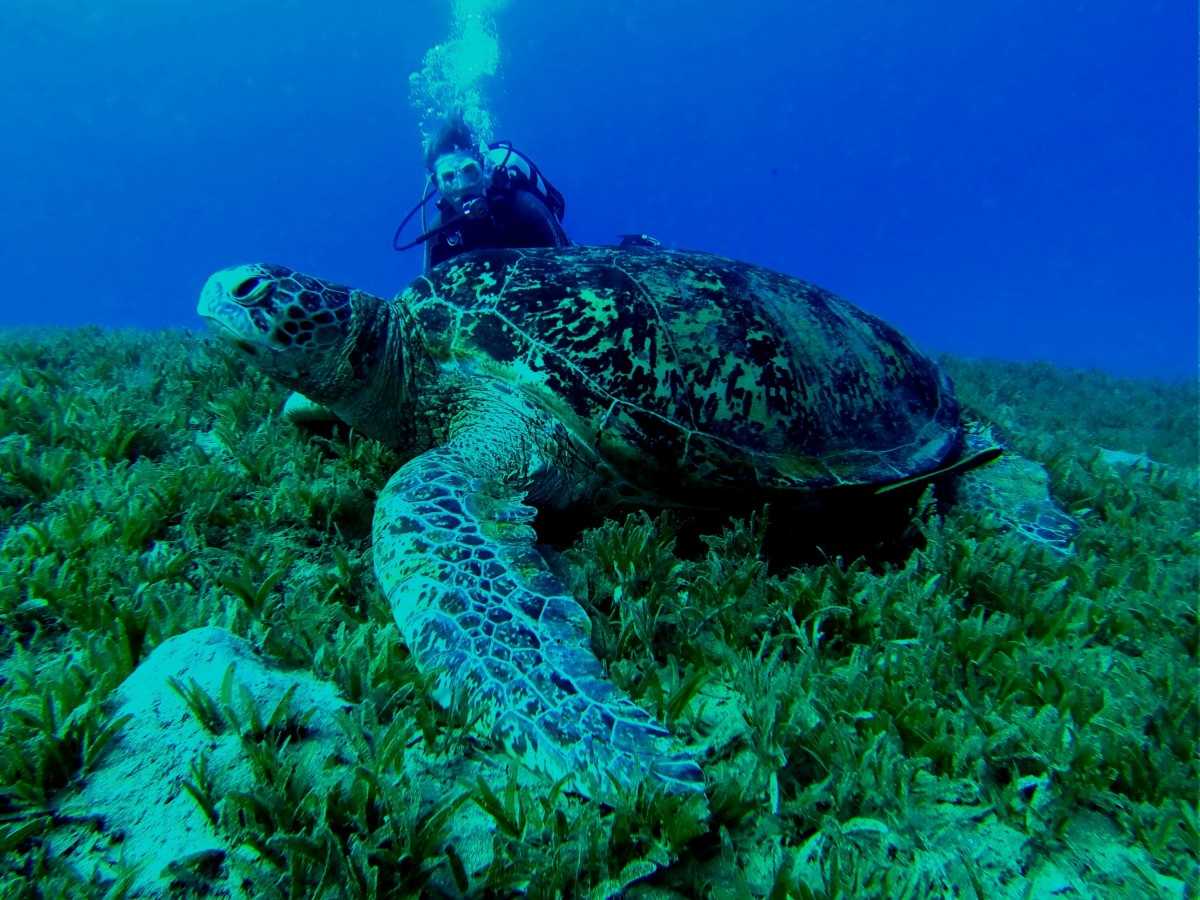 7. Japanese Garden
Japanese Garden, located towards the north west of Koh Tao, Â is a great spot for first timers and snorkelers as it is quite shallow, reaching a maximum depth of only fifteen metres. Moreover, for most of the year, there is no current or tiny current at the most. Owing to the favourable conditions, the Japanese Garden is another common spot for PADI certification courses. The site has loads of hard and soft coral formations, making it look like an underwater replica of a traditional Zen garden; hence the name. You can find plenty of parrotfish, bannerfish, rabbitfish, catfish, and giant pufferfish. If you're lucky enough, you might even spot a turtle. The highlight of the Japanese Garden is the wreckage of an old diving ship. At only fifteen metres deep, the ship is great fun to explore, even for inexperienced divers.

Cost: THB 1500 - 2500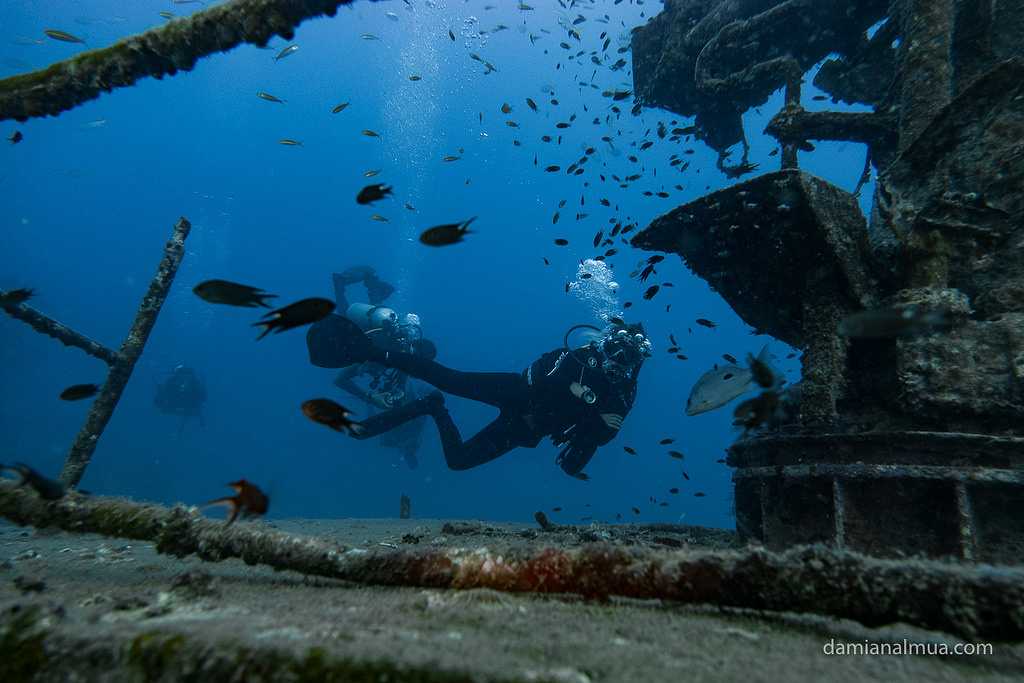 When to visit
People are diving in Koh Tao the entire year round, but that being said, there are a few main diving seasons:

July - August:
this is the busiest season. The underwater conditions are good, and the weather is colder than in the summer.

November - December:
this is the monsoon season. More experienced divers usually take to the waters in this season in search of a bit of a challenge. The lower visibility and significant temperature drop will give your dive a much more adventurous feel.

February - May:
this is the hottest season. The underwater conditions are at their best and visibility can quickly reach up to thirty metres. This is also the season for spotting the famous Whale Shark, which are at their highest numbers in April and May.
Precautions
Make sure your divemaster is certified, either by the Professional Association of Diving Instructors (PADI), or the SSI (Scuba Schools International).
Pay full attention to your pre-dive briefing, especially if it is your first time. You will be taught about the rules, techniques and safety measures for proper diving.
Do not be overconfident and venture out on your own; you should always be close to your instructor.
Communicate freely with your instructor and let them know if you are having any problems, even if it does not seem like anything significant.
Leave your personal belongings with a friend who isn't diving, or if that isn't possible, hire a locker. Lockers can be found at most beaches and dive agencies.
You must not be under the influence when you're going diving.
Koh Tao is one of the best places in the world for scuba diving. No matter if you're a professional diver, or someone who has never been underwater before, you simply cannot miss the diving opportunities here.