The Ancient streets of
Hoi An
paint a picturesque sight during the day, but when the sun sets, the old town acquires an entirely different vibe. Trendy bistros, cafes, live music bars and artistic lounges come to life, and the bustling streets of the Ancient Town and the Riverside transform into a vibrant display of colourful lanterns, traditional folk dance performances, street-side stalls and lit candles floating on the river.
Though not on the scale of Ho Chi Minh City or
Hanoi
, Hoi An has its share of nightclubs and bars. Hoi An is a city that arguably serves the cheapest beer in the world and also offers spectacular happy hour deals. While a lot of Vietnamese cities have regulations on closing time, Hoi An is not one of them, and this makes it easier for travellers who wish to party the night away. Take a look at this list for some of the best nightlife options in Hoi An. Remember not to dress too flashy as Hoi An is a town that stills hold steadfast to its traditional values.
1. Dive Bar
Dive Bar is one of Hoi An's most popular bars. This bar is 'dive' themed and attracts a large number of diving enthusiasts, expats, travellers and locals alike. Owned by the Cham Island
Diving
Centre, this glitzy club plays house to some lounges, pool tables, sofas, garden cafes and an Internet café. The drink menu consists of an assortment of cocktails, wines, whiskeys and mocktails both imported and local. Every Night between 5:00 PM and 9:00 PM, you can mix your cocktails under the supervision of an expert mixer. The music genres range from a relaxed acoustic to a more loud rock or metal. Shisha is also available, and the room can often get quite smoky.
Cost:
25,000 VND - 110,000 VND
Opening Hours:
10:00 PM - 3:00 AM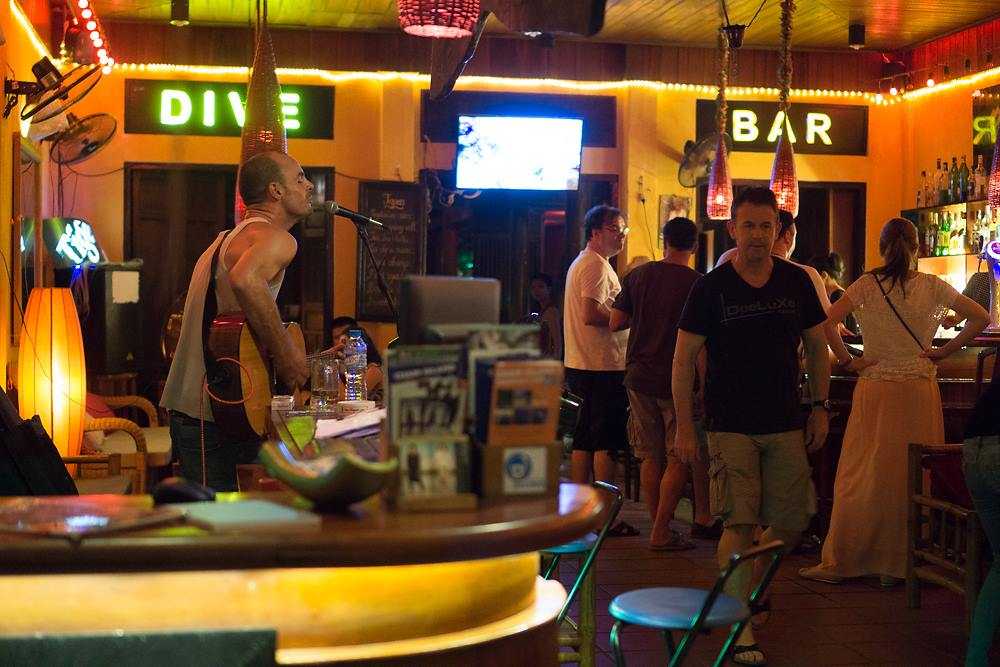 2. Q Bar
Q Bar is an opulent lounge bar that attracts an affluent crowd of celebrities, ultra-hip expats and tourists and locals who don't mind spending a little more than necessary. It has the swankiest menu of cocktails, beers, spirits and Japanese snacks that cater to its affluent clientele. It features an array of oriental décor with lit paper Mache lanterns, wooden communal tables, cosy lounge seats and colourful silk pillows. The interiors have a very flashy appearance and are lit up with flashing LED lights in red and blue. The music is electric and has a beat tempo.
Cost:
50,000 VND - 150,000 VND
Opening hours:
11:30 PM - 3:00 AM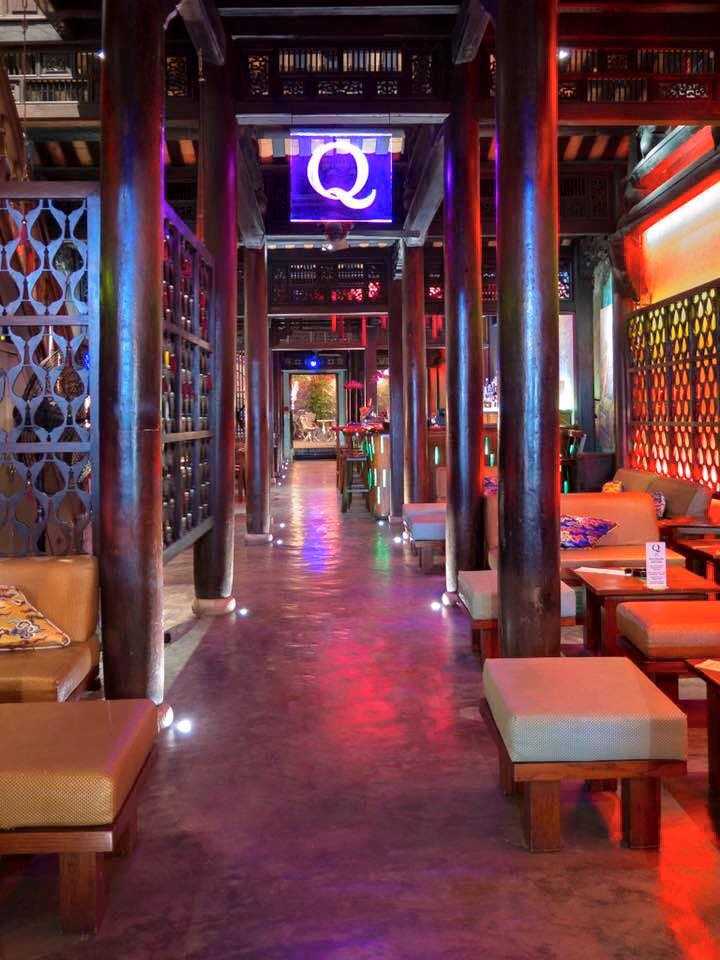 3. Zero Sea Mile Beach Club
The beach is the most happening place and plays host to the wildest parties. This is where all the revellers head to after bars close down and they aren't tired of the party yet. Zero Sea Mile Beach Club is a complex of entertainment with a conventional bar, a DJ and an enormous dance floor to accommodate all the party animals.
Cost:
25,000 VND - 100,000 VND
Opening Hours:
12:00 AM - 4:00 AM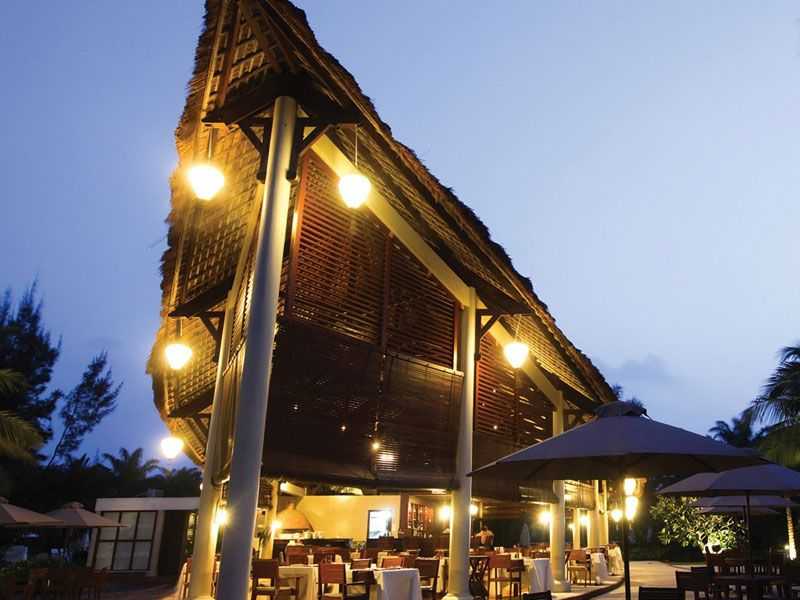 4. White Marble Wine Bar
White Marble Wine Bar is one of the most high-end resto-bars in Hoi-An. This tastefully furnished space is a gentle mix of new and old, consisting of some bar stools colourful pillows, marble flooring, vintage photographs and wooden shelves showcasing the wine collection. For 50,000 VND, the Wine bar serves an assortment of 14 different wines in embellished wine glasses. In addition to that, they also have a selection of reasonably priced vodka, rum, whisky and other spirits, both local and from around the world. The unobtrusive jazz music playing in the background adds to the charm and makes it an ideal location for a calm night out.
Cost:
30,000 VND - 130,000 VND
Time:
7:00 AM - 11:00 PM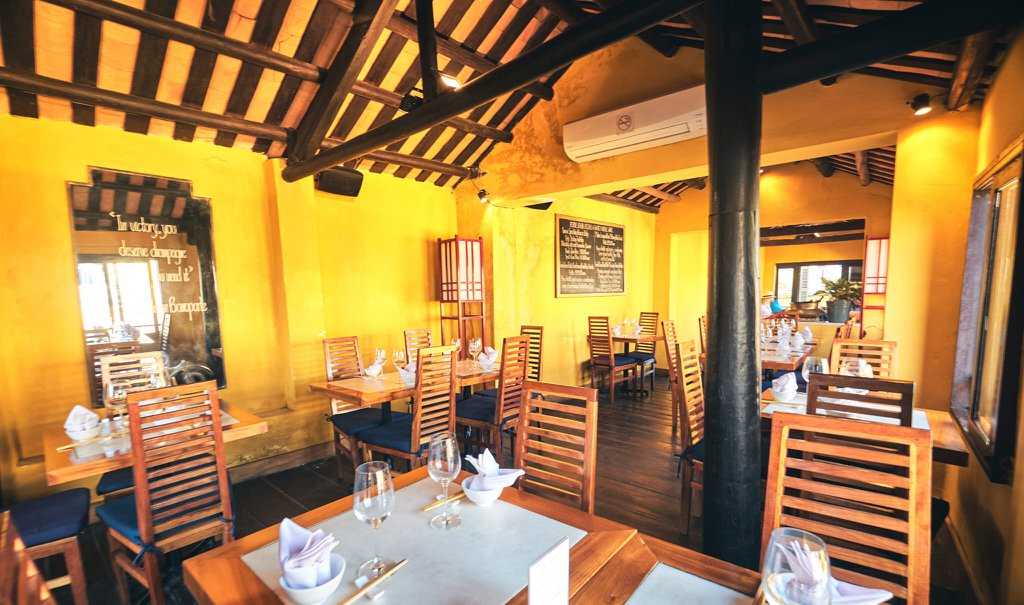 5. Tam Tam
Tam Tam is an upmarket, light and friendly venue to relax at night. Housed in an old building, Tam Tam is not very loud, and hence it is an excellent place to relax, drink in hand and catch up with an old friend or get to know a fellow traveller you just met. Arrive early at Tam Tam to grab one of the coveted balcony seats.
Cost:
30,000 -120,000 VND
Opening Hours:
8:00 PM - 2:00 AM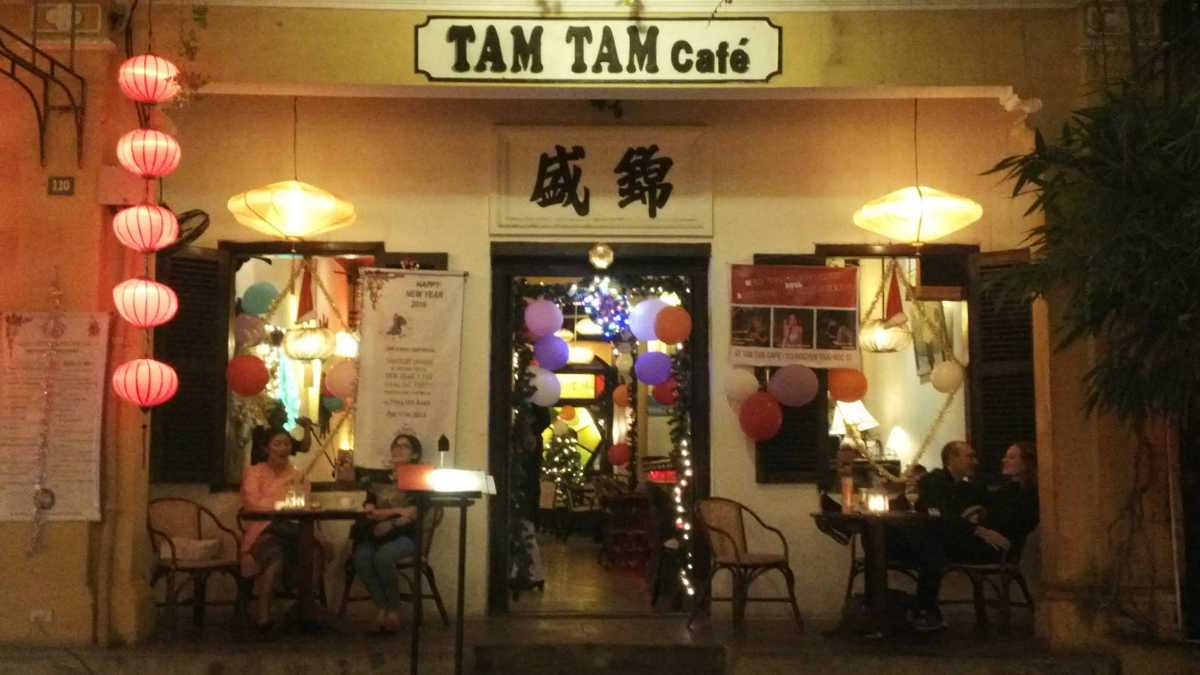 6. Before And Now Bar
Before and Now is Hoi An's noisiest nightclub but what makes it more attractive is its special two-for-one offers and its four-hour long happy hours. The club attracts aloud clientele that is down for pretty much anything; from downing six shots of tequila straight to dancing till your feet hurt. You are guaranteed to have fun in this high energy atmosphere and might even make a few friends.
Cost:
40,000 VND - 120,000 VND
Opening Hours:
6:00 PM - 12:00 AM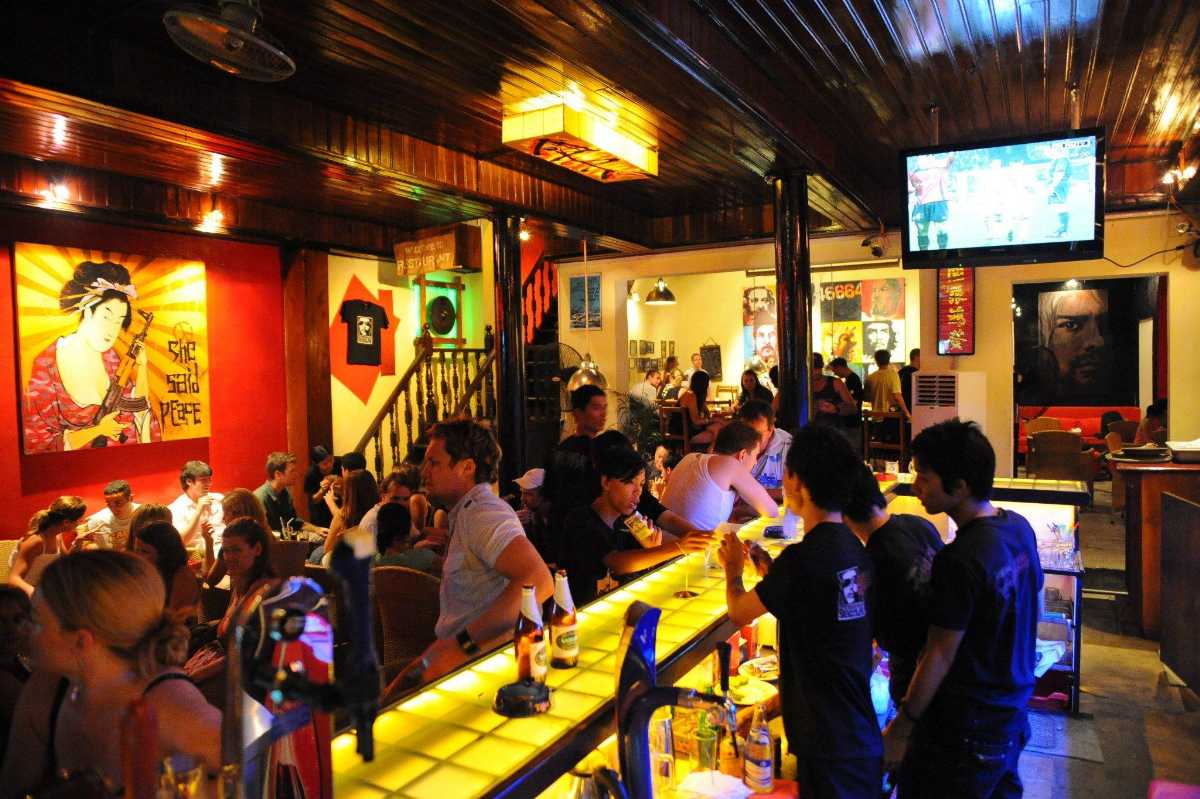 7. Café 96
Café 96 is the ideal location for the budget traveller. The paint peeling, exposed brick ambience of Café 96, along with the economical prices gives Café 96 a rustic and edgy feel. The beer served is local, and the food is fresh and locally prepared. The café is located right next to a river, and the entire setting of the café and the river next to it is almost poetic
Cost:
20,000 VND - 80,000 VND
Opening Hours:
9:00 AM - 10:00 PM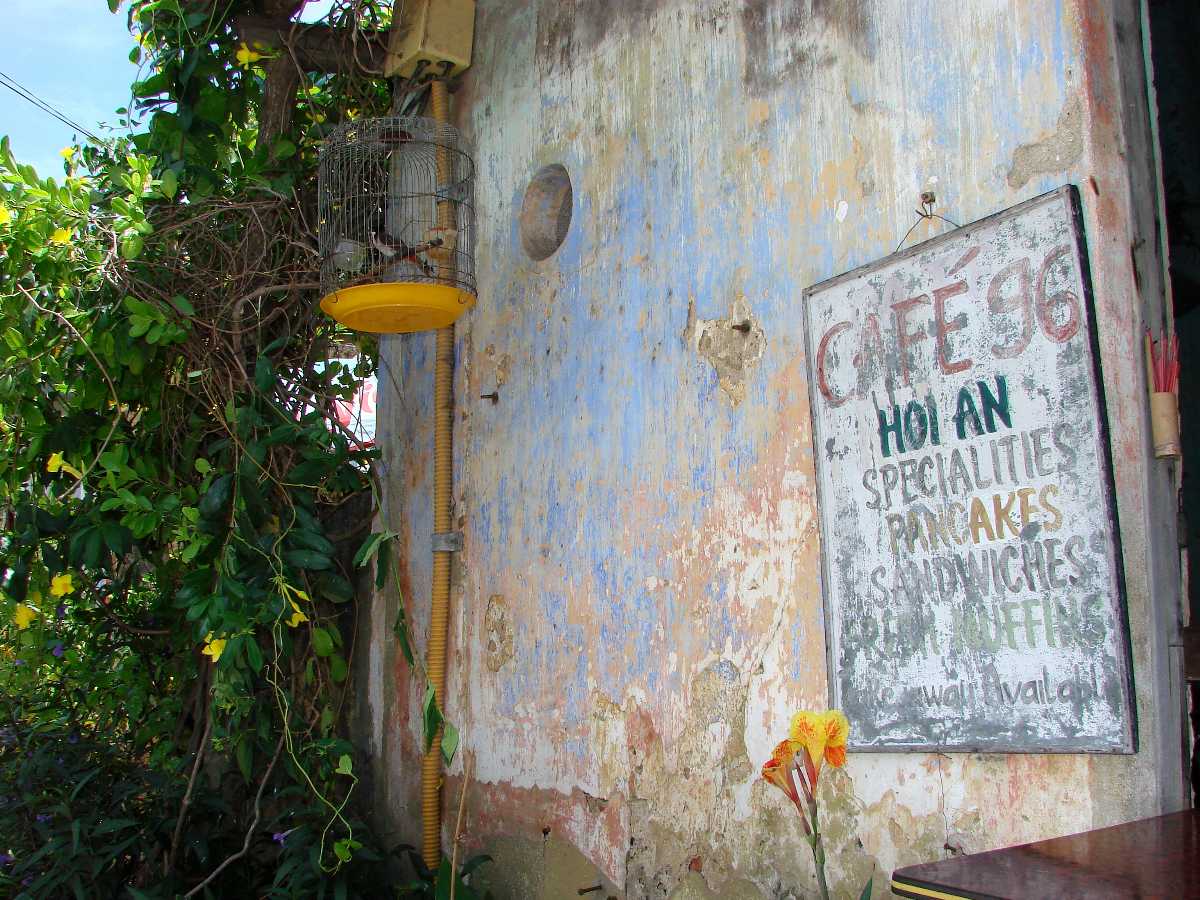 8. Visit the Japanese Covered Bridge
The Japanese Covered Bridge looks beautiful during the day, but it seems ten times better at night! It is situated in the heart of the old Japanese town and is considered a symbol of Hoi An. You will find numerous couples taking wedding photographs and little children selling lanterns. The bridge is lit up with yellow colour LED lights. The lit up bridge coupled with the rustic town around it gives off a romantic vibe. This is a great location to visit with your significant other or your family.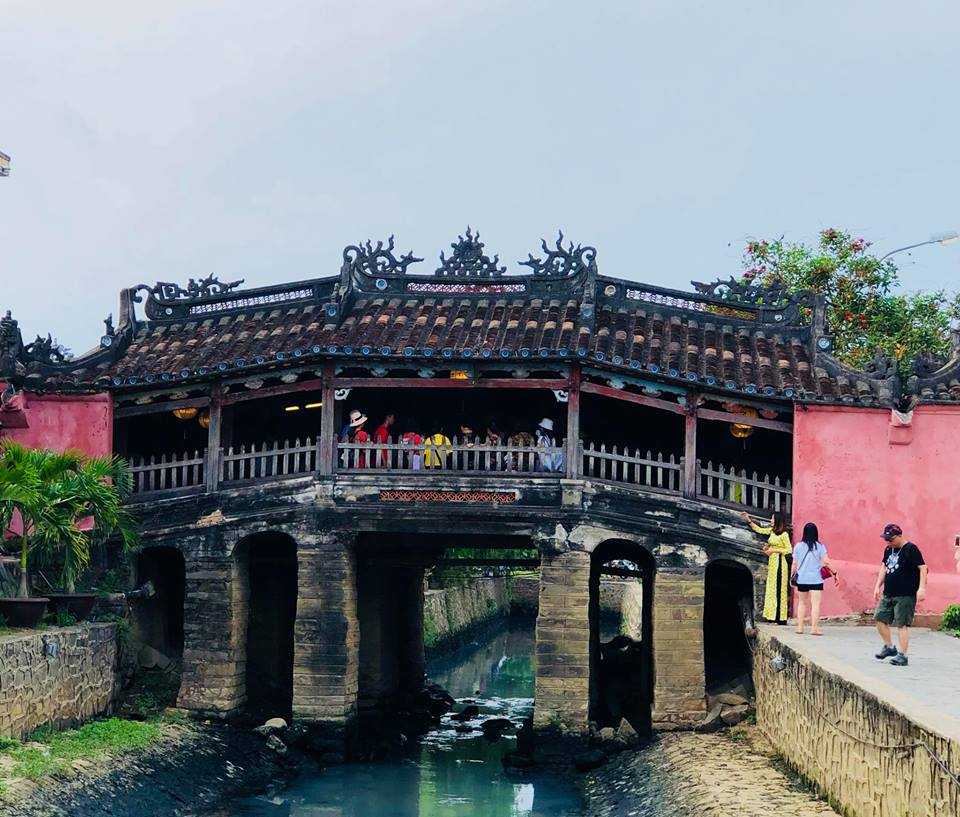 9. Take a Food Tour
Hoi An offers numerous walking food tours, and if you are a foodie or interested in sampling the local cuisine, you should definitely not miss out on one of these. The Hoi, An Food tour group, organises street food tours at night. Each tour lasts for about 4 hours. You are assigned a local 'friend' who will take you around and show you all the famous street food places and let you sample the local cuisine. Join the tour on your first night so you can have an insight into the local food before your stay.
10. Play Bai Choi
Bai Choi is a traditional game played near the Hoi An Bridge every night. At the beginning of the game, you purchase three cards. The game masters sing three folk songs and recite lores of the land. At the end of each game, there is a name of a card. If the three names they recite are the same as your three cards, you are the winner, and you receive a gift. It is a great way to interact with the locals and understand the culture and customs of the area.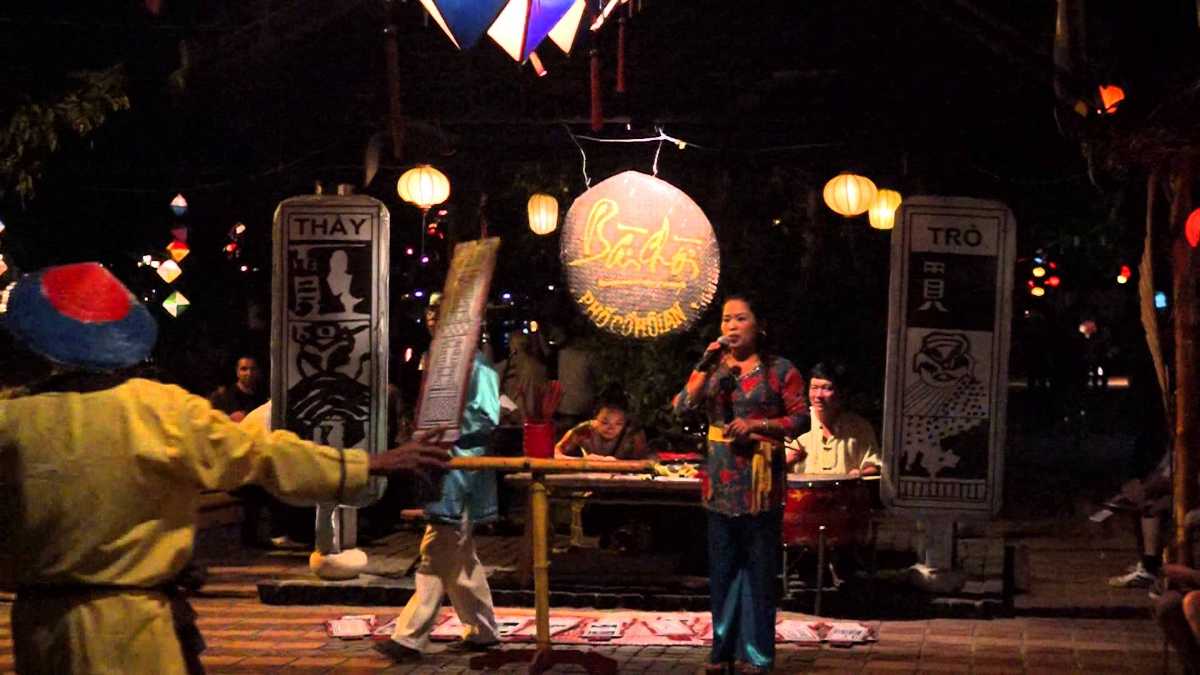 Hoi An has a slightly unconventional yet wildly enthusiastic nightlife that you are bound to enjoy. In fact, many tourists find the nightlife of Hoi An relaxing, yet full of energy, but you have the liberty to explore and revel in the peaceful nights of Hoi An.