2019 is off to a great start with the magnificent Kumbh Mela just around the corner. A fair visited by over 100 million devotees from all over the world, Kumbh Mela is the largest religious gathering of the world. This one of a kind festival is recognized by UNESCO and is part of its Intangible Cultural Heritage of Humanity list as well. With so much going on, you wouldn't want to miss out on this Mela which is held only 4 times in 12 years. Here's a guide if this will be your first time at Kumbh Mela 2019.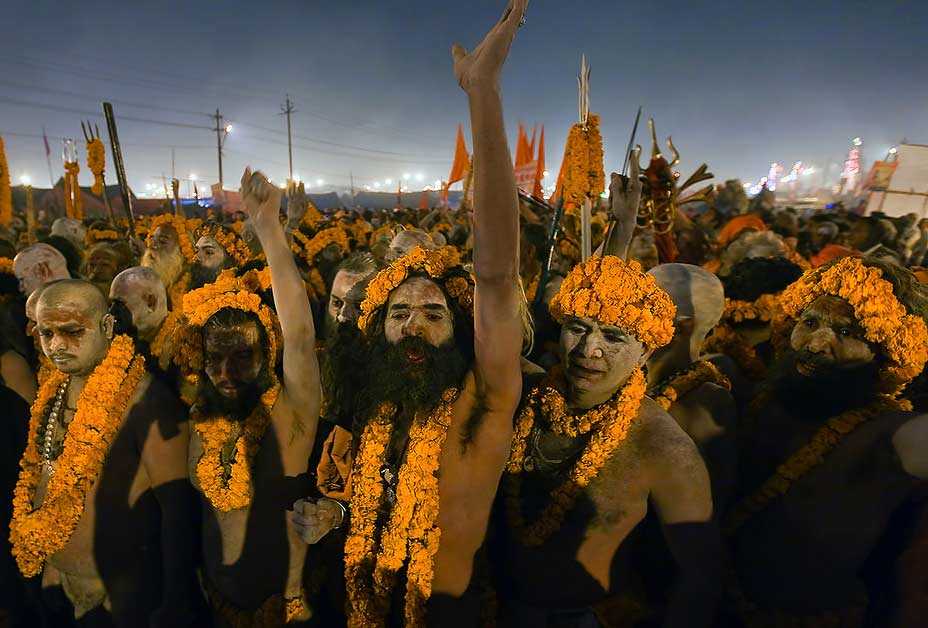 Where is it Happening?

Kumbh Mela 2019 will be held in Allahabad. The location of the fair keeps switching between four of the holiest places in India - Nashik (banks of Godavari river in Maharashtra), Â Ujjain (banks of Shipra river in Madhya Pradesh), Haridwar (on the banks of river Ganges in Uttarakhand), and lastly, in Allahabad (Uttar Pradesh), where Ganges, Yamuna, and Saraswati rivers meet. (Uttar Pradesh). The confluence of these 3 rivers is commonly known as Sangam.
When is it Happening?
The 3-month long fair starts on 14th January 2019 and ends on 4th March 2019. According to the holy scriptures, the Mela should happen every three years. However, the exact date and place of the fairs depend on religious considerations and astrology. So going by that, the Mela is sometimes scheduled at different places only a year or two apart.
Types of Kumbh Mela
Every year, there is a Maagh Mela held in Allahabad. Ardh Kumbh Mela is celebrated in every 6th (out of 12) year, which is happening this year in January. The most important and auspicious of them all is the Maha Kumbh Mela, held once in every 12 years.
Following the 2019 Kumbh Mela, the schedule for the next Mela is:
1. Kumbh Mela in Haridwar (2022)
2. Maha Kumbh Mela in Allahabad (2025)
3. Kumbh Mela in Nashik (2027)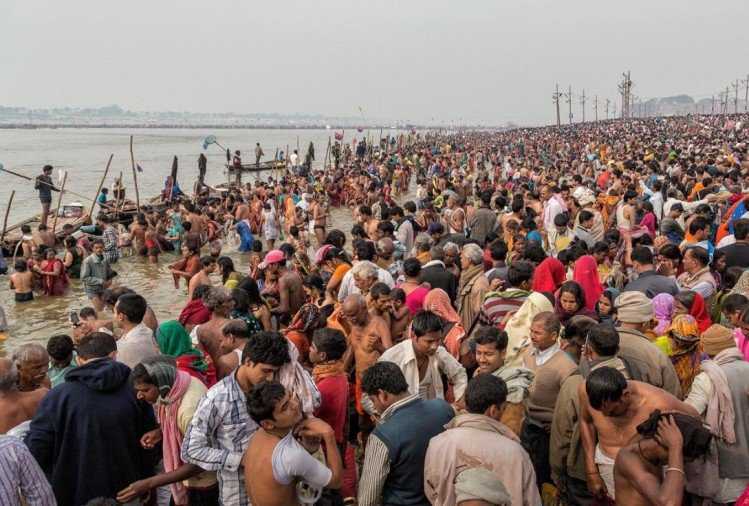 What to Expect
The Kumbh Mela consists of rituals. The most significant amongst them is the bathing ritual. Millions of devotees join in to perform this sacred ceremony by taking a dip in the holy waters at the Triveni Sangam. Bathing can be done on any day of the Mela. However, there is a list of auspicious days when you should definitely go the river for a dip. These include:
1. Makar Sankranti (Shahi Snan), January 15, 2019
2. Paush Purnima, January 21, 2019
3. Mauni Amavasya (main Shahi Snan), February 4, 2019
4. Basant Panchami (Shahi Snan), February 10, 2019
5. Maghi Poornima, February 19, 2019
6. Maha Shivratri, March 4, 2019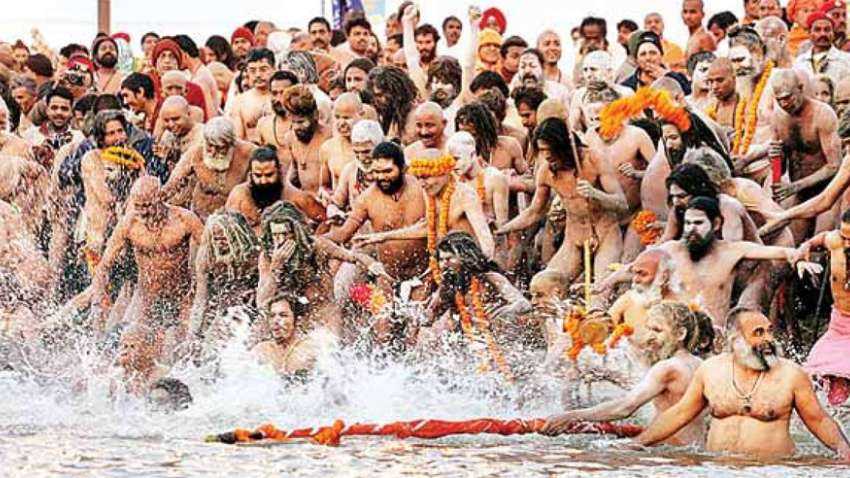 Religious and Cultural Events
The state cultural departments of Uttar Pradesh have mobilized resources for exhibiting their rich and diverse culture. Kumbh Mela 2019 will be featuring 5 cultural Pandals. These Pandals will be displaying a series of cultural events such as folk dances, musical performances, and more daily. The Ganga Pandal, biggest of them all, will be hosting all the major events. Various spiritual events including Satsangs and Pravachans by renowned Sadhus will be held at the Pravachan Pandal and 4 other convention centers set up especially for these events.
Peshwai (Praveshai)
Peshwai is a significant event held at the beginning of the Mela. This grand procession involves welcoming saints to the fair who arrive in groups on elephants and horses with bands. People gather in thousands to cheer and welcome the saints by showering them with flower petals. The enthusiasm during this ceremony is surely unmatchable. There are special routes demarcated for the processions. They are led by saints from several Akharas.
Laser Light Show
The otherwise laid back city of Allahabad will be as lively as you can imagine during the course of the Mela, even at night. Hence, the Government of Uttar Pradesh have made arrangements for laser light and sound shows at Prayagraj Fort Wall for the public's entertainment during night time
Thematic Gates
The 2019 Kumbh Mela shall also include more than 25 gates at the entrance of various areas within the fair. The gates are covered in attractive designs and beautiful lights to increase the aesthetic value of the fair. The designs are worth looking out for as they are deeply inspired by the country's culture and traditions. These eco-friendly thematic gates are new to the Mela this year.
Waterways
Another element of the Kumbh Mela to look out for is the waterways. Allahabad has always been important due to its river. Inland Waterways Authority of India has created 4 Ghats in the river connecting the Kumbh Mela to other parts of the state. Boats running at frequent intervals can transport people from one Ghat to another. Hence, opening a new route in addition to roadways and railways to travel to the fair. Not only that, but the rides can also be taken to explore the most ancient river routes. There are fixed charges for boat rides. Tickets for the same can be purchased at designated counters and online as well. There are several boat options to choose from such as the CL Kasturba, a semi cruise on which you can enjoy dinner as well.
Tourist Walks
There's a lot to see in and around Allahabad. And the best way to do that is to engage in tourist walks. These delightful treks include attractions like Bade Hanumanji Temple, Akshaya Vat, Ram Ghat, Patlapuri Mandir, Allahabad Fort, and more. More details about the trek routes can be found online.
Kalagram
With over 13 pavilions showcasing unique designs and glimpses of Indian art and culture, Kalagram is a creative hub located in sector 19. There are 8 other pavilions in addition to show varieties of art. The pavilions have shops where visitors can purchase souvenirs and other art collectables to take back home. Kalagram will be open all days of the fair except 14th to 16th January, 2nd to 11th February, and 17th to 19th February.
Some Tips
1. Book hotels in advance as good rooms will not be available at the last minute.
2. Travel light. Always wear good running shoes and keep medicines with you at all time.
3. Make sure to know where emergency facilities are.
4. Include buffer time while making travel plans as the place tends to get crowded.
5. Take care of yourself and your surroundings, especially kids.
6. Don't carry valuables with you because of the risk of getting them stolen increases in the crowded Mela.
Contact:
Address: Triveni Bhawan, Veni Bandh Daraganj, Prayag, Prayagraj, Uttar Pradesh
Phone: +91 532 2500775 / +91 532 2504011
Email:
[email protected]
Getting There
By Air
Lal Bahadur Shastri International Airport in Varanasi (120 km) is the nearest airport from Ardha Kumbh Mela in Allahabad. Taxis are easily available from there to reach Triveni Sangam. Another nearby airport is Amausi International Airport in Lucknow (200 km). Make sure to check out Air India while booking your tickets as they are running special flights for Kumbh Mela.
By Train
The main station in Allahabad is Allahabad Junction. There are direct and indirect trains from all across India to reach Allahabad. Buses, auto rickshaws, and taxis are readily available from the station to Triveni Sangam.
By Road
Allahabad's bus depot is well-linked to all major cities in North India and Central India as well. The city closest to Allahabad are Varanasi (120), Mirzapur (86 km), and Satna (180 km).
Get ready to have a memorable experience at this year's Kumbh Mela.